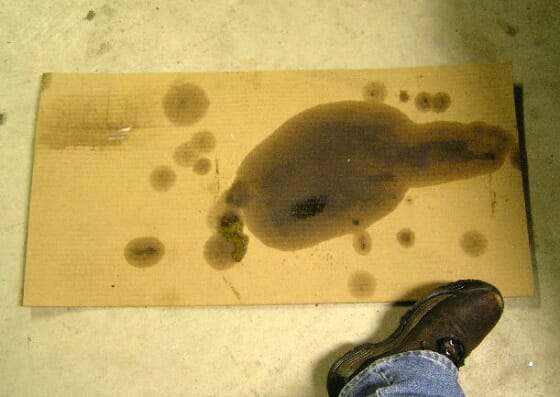 If you are tired of using ugly cardboard mats in your garage to catch oil drips, there are much better garage oil absorbent mats available that not only look nicer, they work much better too. There is nothing worse than an older vehicle or some sort of machine like a motorcycle or lawnmower that leaks or drips oil onto the garage floor. That is why we have decided to feature what we feel are the best oil absorbent garage mats that you can purchase for your floor.
Abzorb Garage Oil Mat
Our first choice for the best performing garage oil mat and one that gets great reviews is the Abzorb Oil Mat. These mats are 1/8" thick and have an ethylene-vinyl backing that is non-penetrable. This means that the oil and fluids that they slowly collect will not seep through and stain your garage floor. They even have a three year guarantee against leaking, tearing, and cracking.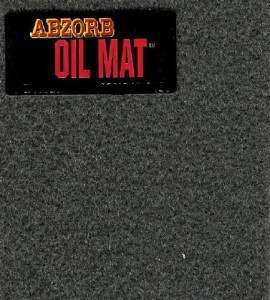 Available in 3 sizes; 3' x 8', 6' x 8', and 3' x 50ft rolls, they are medium grey in color and made of durable oil absorbent fibers. These sizes are perfect for fitting under small cars and motorcycles to larger trucks. They can hold up to a few gallons of fluids depending on the size. If you have a fleet of oil leaking vehicles, the best deal is the 50ft roll which you can easily cut to fit each one. You can find the best pricing for Abzorbs Oil Mats here
.
Though most oil absorbing garage mats are designed to be disposable, we've had good luck with reusing this one under a messy lawn tractor that drips gear oil and some grease. When the mat starts to smell from the gear oil, we lightly scrub it down with a bucket of warm water and strong solution of Dawn dish soap. While this has worked well so far, we advise against doing this with a mat that is fully soaked with oil and recommend disposing of it properly instead.
Oil-Dri Garage Guard Oil Mat
If you don't need a very large oil mat for your garage, then the smaller sized Oil-Dri Garage Guard Mat is a good value for the money. These are made with a slip resistant poly backing that will not allow fluids to leak through to the concrete as well. Made from recycled fabrics, the oil absorbing material resembles felt and can hold up to two quarts of leaked fluids in the smaller size.
These are available in 2' x 3', 3' x 5', and 3' x 50ft rolls. The 2' x 3' size works well to catch drips during oil changes and for other small oil leaks. One advantage to these mats is that they are easy to cut to size to fit in car trunks, use as temporary floor mats, and variety of other uses where liquids are a concern. You can find the
best price on Oil-Dri Garage Mats here
.
Pig mat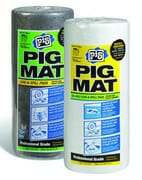 Our Honorable Mention goes to the extremely versatile Pig Mat product line. Our favorite of these is the 15"x50' shop roll. These are extremely handy oil absorbing shop towels/mats on a roll.
They are made of 8 layers of thermal bonded 100% polypropylene that is highly absorbent and very strong. They will absorb anything from oil and gas to battery acid. You can even soak them in water or washer fluid and then air dry for reuse.
I have a roll of these in my garage and use them all the time. They come in handy for oil and fluid changes under the cars, as well as making for a nice mat to sit parts on when cleaning with solvents such as carb or brake cleaner. After working on a car project, I usually place my hand tools on these for cleaning.
Because they come with perforations every 10", you can peel off larger sizes if necessary. You can find the best prices on the Pig Mat Shop Roll here.
One thing to be aware of when purchasing an oil absorbent mat for the garage is that these are intended for use under a vehicle and not as a conventional car mat. They are light in weight and designed to be disposable at some point due to the nature of the caustic fluids that they can collect.
If you like the idea of a larger mat like these that can be driven on, then you should consider the Drymate Fabric garage floor mat instead.
So if you want to get rid of that cardboard oil slick in your garage, replace it with a mat that will soak up oil leaks and look better for doing it. Your garage floor will thank you as well as your spouse.