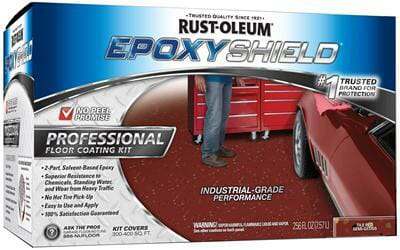 Because DIY garage floor epoxy paint kits purchased at your favorite home improvement center are still very popular, we like to inform our readers of the realities of these products and what to expect. Occasionally we come across some great articles someone has written about a product or past experience with a product and we like to share that information.  Bellow is an example of a husband and wife who used a professional version of RustOleum's epoxy coating kit that they installed themselves.
            5 Things I Wish I Knew Before Epoxying My Garage Floor- husband edition. Last summer, we applied the epoxy to our garage floor and we learned a few things!  I'm *letting* my husband post about our experience below. Ha! You can buy epoxy […]
Click here to view original web page at sunlitspaces.com
Though they did make some mistakes, they are happy with the outcome overall and offer some very valuable tips if they were to do it over again.  The most important tip that you can take from this is to trust the directions of the product you are using.  They are there for a reason and are not considered "general guidelines" to follow.  Also be aware of the what some epoxy companies claim about ease of installation.
Also, they noted how slippery the floor is when wet.  An anti-slip additive such as Shark Grip would have been a good choice.  They did use the professional version of this kit however, which is a much better value for the money than the standard version.  It provides for a more durable and thicker coating.  It's also important to know the differences in epoxy before you make a purchase.
Just remember, don't confuse these kits with a multi-layer epoxy garage floor system.  They do serve their purpose however for an economical floor coating that will hold up fairly well in a low traffic garage if applied correctly.