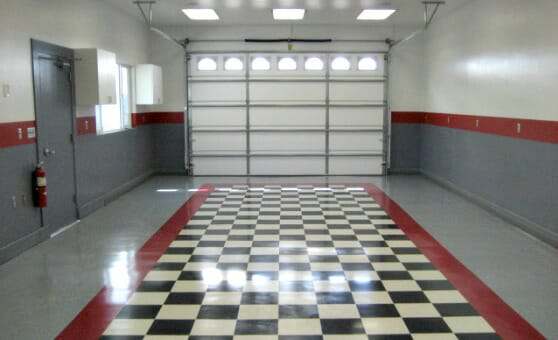 So you want a great looking tiled floor, but the least expensive interlocking tiles just don't fit into your limited budget.  What are you going to do?  Do your garage floor in vinyl composite tile!  That's right, the same commercial grade tile that you have seen in grocery stores, schools, and businesses can be put down in your garage over the weekend for a price that may surprise you.  Waxed and buffed, this tile will give your floor that showroom shine that your neighbors will envy.
Vinyl composite tiles, or VCT, are 12" square tiles created with vinyl colored chips that are heated and pressed into sheets.  Glued to your floor, they are extremely durable, resilient to chips and impact, and easy to keep clean.  VCT will stand up to most automobile chemicals and can be sanded if stained.  The most common of choices are the black and white checkered flag motif, but you can design your floor with a variety of color options to choose from.
Starting out as little as .69 cents a square foot, a VCT floor can be one of the least expensive garage floor tile options that you can install in your garage.  With a little patience and shopping around, readers have reported finding tiles on sale or in overstock for even less per square foot.
Installing VCT tiles for the garage
Installation is more labor intensive but it can still be done in a weekend and doesn't require quite the same tedious floor prep as an epoxy coated floor.  Armstrong Flooring has good instructions for tile installation and layout as well.  You need to start by thoroughly cleaning your floor with a good concrete floor cleaning solution.
Fill in all your contraction joints, large cracks, and holes in the concrete with a good epoxy based crack filling compound or polymer repair mix.  If you have any areas of large pitting you may have to use a premixed polymer based concrete topping or repair mix to fill in the pitted areas.
The reason for doing this is that you can't have any gaps or holes underneath the tile or it will cause the tile to crack or pull away from the seams of adjacent tiles.  If any of the floor's contraction joints have small ridges built up, you will need to grind these smooth.  If not, it will show through in the surface of the tiles.  If you don't have a grinder, sometimes a hammer and chisel will get the job done.  Let the floor and any repairs dry overnight.
              This is a good video on how to install a VCT floor for the garage
The next day snap or draw a line down the center of your garage floor for a reference to lay the first tiles.  Make sure to measure out to the edges to insure that you end up with at least half a tile left when you need to cut for the ends.  If you don't, move your line over the appropriate amount to insure that you do.  Spread the glue with a 1/32" notched trowel on a large area of the concrete.  When the glue turns color it has dried enough and is ready to accept the tile.
Lay the tile along your center line and build it out from there in a pyramid style.  This will make sure that all your edges are square and you won't have any misalignment issues.  Any cuts can be made with a utility knife or heavy duty paper cutter.
A great tool to rent for around $20 is a vinyl floor roller.  After the tile is laid, use this roller to press out any trapped air under the tile for the best adhesion as you build the tile out.  If you like, you can install a metal edge strip at the garage door to give it a professional finished look.  When you are done, be sure to apply a good industrial floor wax and buff it to a nice shine.  This wax is what gives the tile an extra layer of protection as well.
Drawbacks of a VCT garage floor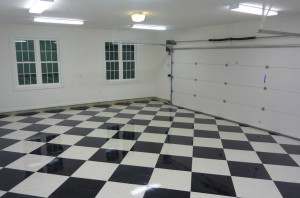 One thing to keep in mind is that as durable as this garage floor option is for the price, it does have some drawbacks.  In order to keep the nice shine on the floor you will have to give the floor and occasional wax.  Depending on how much use your garage gets, the build-up of wax will need to be stripped and reapplied again about once a year.
Something else to consider with vinyl composite tile is car tires.  They can leave rubber marks on the tile occasionally and will need to be buffed out.  They can also spin tiles loose sometimes if you turn the front tires in place without moving.  No worries though if this does happen.  You can easily replace or re-glue a spun or damaged tile.
If using car jacks or jack stands, it's best to place a spare tile or piece of wood down first to prevent any compression marks that may occur in the tile.  Also, if any petroleum product makes if past the wax and onto the tile it will stain it yellow.  This usually requires sanding the tile to remove the yellow color or replacing it.
If you are on a budget, you can't beat the durability and looks of a vinyl composite tiled garage floor.  It can be installed for much less when compared to other types of floor tiles and high quality epoxy floor systems. And the best part is that it looks like a million bucks!