This post may contain affiliate links. If you use these links to make a purchase, we may earn a small commission. As an Amazon Associate, All Garage Floors earns from qualifying purchases. You can read our full disclaimer here.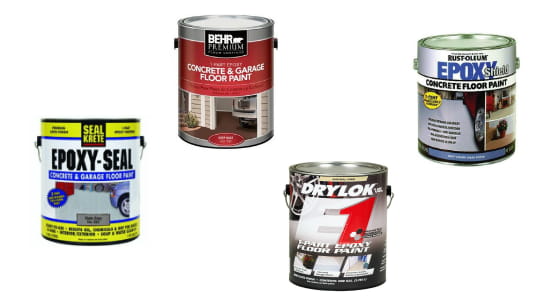 So you've finally decided to spruce up your garage by adding some color to the concrete and you want to find the best garage floor paint that won't break the bank. It must be easy to apply and reliable. With so many products available today, it can be difficult making a good decision on which to purchase. So, let's take a quick look at which type of paint is best for your garage floor and why.
One of the biggest advantages to garage floor paint is the relatively inexpensive cost to completely change the look of your garage when compared to other floor coverings. But first of all, we need to make sure that it's paint you are after and not an actual epoxy coating. If you aren't sure what the difference is, then we suggest you take a moment to learn about epoxy vs. paint. If it is paint you are after, then read on!
Best type of concrete floor paint
Since paint is not as durable as other garage flooring options, the key is to choose the right formulation for the best wear. There are generally two types to choose from – latex acrylic paint for concrete floors and 1-Part epoxy garage floor paint. Hands down, your best choice between the two is the 1-Part epoxy paint.
The reason 1-Part epoxy paint is the better choice has to do with the properties of the epoxy ester resin that is mixed in with the acrylic latex. It helps to provide for a paint that is more resistant to mold and mildew, chemicals, gasoline stains, oil, scuff marks, and chipping.
It also tends to bond to the concrete better than standard latex acrylic concrete paint. Additionally, the better bond helps to resist peeling and problems with hot tire pick up.
Typical latex acrylic floor paint needs to be retouched or painted over about once every 6 months to a year depending on how much use and vehicle traffic that your garage sees. 1-part epoxy paint can last almost twice that long for an additional expense of only $10 – $20 per gallon depending on brand.
Best garage floor paint by brand
The problem with choosing good garage floor paint is that reviews for these products are all over the map in terms of good and bad. Part of the problem is just poor garage floor preparation and application and not with the product itself. Plus, this type of garage floor paint does best with foot traffic and not so much with vehicle traffic.
With that in mind, we've selected a few brands that we can recommend and a one that falls in the honorable mention category.
Our first choice that we recommend is Drylok E1 by United Gilsonite Laboratories. We feel that this product is one of the best garage floor paints that you can purchase.

It has the highest moisture tolerance of other paints, it dries to a thicker coating, and it is one of the few paints that don't require a primer to work at its best. It also has better reviews regarding resistance to hot tire pick up among other 1-part epoxy garage floor paints.
Dryloc E1 is available in 4 popular colors. You can usually find a good selection here at Amazon
.
*** UPDATE ***
Lately it has come to our attention that Dryloc E1 can be harder to locate and purchase. Home Depot is one possible source.
As a result, our readers have been informing us of a different brand that has introduced a new 1-part epoxy paint that they have had good results with so far.
This new paint is Kilz 1-Part Epoxy Concrete and Garage Floor Paint. Like Dryloc E1, Kilz 1-Part epoxy paint does not require that a primer be used. It comes with a satin finish and requires two thin coats to achieve the best results.

One gallon can cover 300 – 500 ft² depending on whether you have a rough surface or smooth surface. Kilz garage floor paint is availabe in either Slate Gray or Silver Gray colors.
Etching of the concrete is required. If you can't find Kilz at your local home improvement center or hardware store, you can find it here at Amazon.
Our honorable mention would be Epoxy-Seal garage floor paint by Seal-Krete. This is a 1-part epoxy/acrylic hybrid.

This garage floor paint used to be available in multiple colors. However, since they were acquired by Rust-Oleum in 2016, Slate Gray and Armor gray are your only choices.
Hot tire pickup seems to be more of an issue with this paint if the surface is not prepped well and/or the recommended primer is not used.
If you can't find it at your local home improvement center, you can usually find it here at Amazon
.
Application is easy, but if you read their application instructions, they recommend applying Lock Down bonding first to achieve the best performance. Lock Down can sometimes be found at your nearest home improvement center. If you can't find it locally, you can find it at Amazon.
The video below is a great example of how Epoxy-Seal is applied to your garage floor. These same instructions are fairly basic for all 1-part epoxy paints for a garage floor.
Most 1-part garage floor epoxy paints will cover an average of 300 – 400 square feet per gallon depending on surface porosity. They have a long pot life, meaning that you can pour the paint into a tray and not race to get it applied to the concrete.
One advantage with paints and coatings is that your garage floor will be much easier to clean. A soft bristle broom works great for loose dirt and debris, while a mop and mild detergent works great on the tougher stuff.
A word about hot tire pick up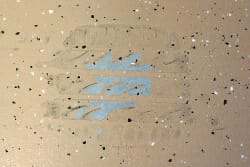 Unlike a good epoxy coating, most garage floor paints will experience hot tire pick up at some point in their lifespan.
When hot tires sit on paint, the heat tends to soften the bond that the paint has on the concrete. The footprint of the tire eventually constricts as it cools, which in turn causes the paint to collect up with the tire. When you back out of your garage afterwards, you end up with a bare spot where the tire was.
This can be greatly reduced if you park your car on a mat, tire runners, or some other type of covering such as pieces of old carpet under the tires. If you do this, you may prevent the frustration that can develop from this annoying characteristic of garage floor paint.
Note: One important bit of information that we want to point out is that standard latex garage floor paint or even 1-Part epoxy paints such as these are not designed for a clear coat.
Most clear coats are solvent based and will soften the paint if applied. Technically you could apply a 2-Part water based epoxy, but the cost is much higher than the paint. With the expense, it's not wise to apply a higher performing clear top coat to a lower performing color base coat.
Choosing the best paint for your garage floor is important in order to obtain the best performance. Make sure you follow all manufacturers' instructions to insure a successful installation and be sure to pay particular attention to cleaning your floor properly. If you do this, you should get good results and a much better looking garage floor.
Update:
There is a newer and much longer lasting concrete paint on the market that is being used on garage floors now with great success. It has us fairly impressed. Read our
latest post about this paint here
.