If you are on a tight budget and looking for a cheap option to enhance the looks of your garage floor, then look no further than paint.  That's right, if your floor has become more of a distraction than an attraction, then you can paint a typical 2- car garage floor for less than $60 in paint plus a few dollars in supplies if you don't have them.
Why paint your garage floor?
Maybe the rest of the garage is clean and orderly but the floor draws attention due to some dated stains and repairs.  Or, maybe it's just old and worn looking with a few cracks and some pitting.  To top things off, you are on a tight budget and just want to rid yourself of the eyesore your garage floor has become.
With some good old fashioned elbow grease, you can paint the garage floor in a weekend and completely alter the look of your garage.
Garage floor paint has been around for many years and hasn't shown signs of leaving anytime soon.  The reason?  It's cheap.  There is nothing else on the market that can transform the look of a floor for less amount of money.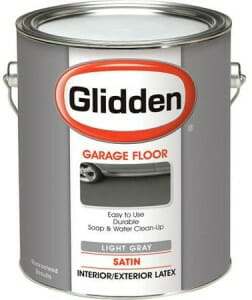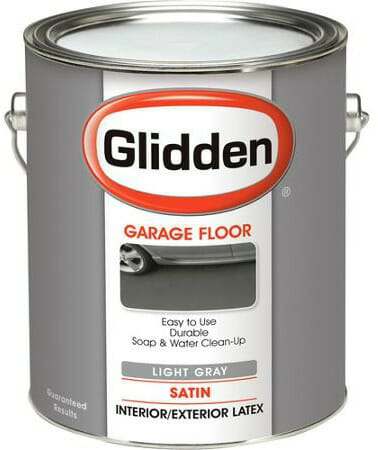 As an example, a gallon of Glidden latex acrylic concrete paint can currently be purchased at your local Walmart for less than $30 a gallon.  For most brands, a gallon of latex acrylic will cover up to 400 square feet.  Two gallons will give you the optimal coverage of two coats for a typical 2-car garage.  A 1-car garage would only need one gallon.
Will it last forever?  No.  Paint will wear out. It can also start to flake and peel prematurely if the floor was not cleaned properly.  You will most likely experience hot tire pick up at some point as well.  Expect a paint application to last about a year on a garage floor with moderate traffic.
The nice thing about using paint however is that it can easily be touched up or reapplied when it starts to show signs of wear.  Just run a scraper over any areas that are peeling, clean the floor well, and then touch up or add another coat when the floor is dry.
Try to stay with a light color if you want to take advantage of good light reflection off the floor in your garage.  Light tans and grays are the most popular and are also neutral in color.  If you live in a wet climate and are worried about paint making the floor slippery, you can purchase an inexpensive anti-slip additive to add to the paint.
One of the advantages to paint is that you are not limited by these colors if your palette and style dictate something other.  If it's in your budget to splurge a little, you can purchase a bag of paint chips to spread on the surface to add color and texture to the finish as well.
Are better garage floor paints available?
If you can afford to spend a little more money, 1-part epoxy paint will give you a better value for your dollar.  Because they use epoxy resins in the paint, they will adhere better to the concrete and provide for a longer wearing surface.
They are just as easy to apply as latex acrylic paint and will do a better job at resisting hot tire pick up.  Your color choices are limited with epoxy paint however.
The key to getting the best life from painting your garage floor is to make sure your concrete is cleaned and prepared properly before it goes on.  Make sure all oil spills are cleaned up first.  TSP or Tide laundry detergent and a stiff brush work great for cleaning concrete and are inexpensive as well.
One recommendation we can make is to use a combination concrete cleaning and etching product.  You can usually pick these up for less than $15 from your local home improvement center.  This will gently etch the finish of the concrete and open up the pores so that the paint can adhere to the surface better.  Let the floor dry overnight and you can start painting the next day.
How we really feel about paint
Paint is far from the best option for a garage floor.  However, we feel that under certain circumstances there are some compelling reasons to use it.
If money is tight and you live in an older home with a worn out looking garage floor or if you can't afford to repair an older floor that has some cracks and pitting, then garage floor paint can be the perfect solution.  It will literally transform the looks of a garage for very little money.  It will help protect your garage floor surface from further damage as well because it will act as a sealer.
If at some time you decide to make repairs and want to apply a better quality coating, it's not that hard to remove with a floor grinder.  You can also leave it as is and apply garage floor mats or interlocking tiles over it at a later date.
While not the most practical choice, garage floor paint can enhance and improve your garage floor for little money invested.  If you are on a budget and are looking for a cheap garage flooring option, then paint may be the answer for you.