To our Reader's: This post may contain affiliate links. If you use these links to make a purchase, we may earn a small commission. As an Amazon Associate, All Garage Floors earns from qualifying purchases. You can read our full disclaimer here.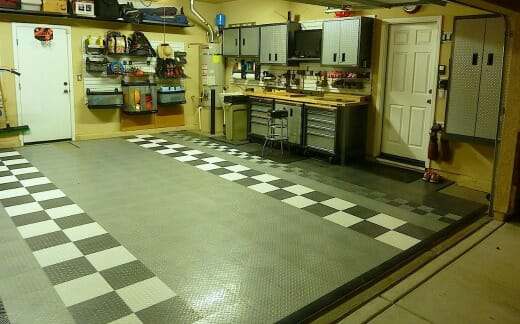 If you are one of those budget minded people who refuse to pay full retail for stuff you want but don't necessarily need, then Matt's account about installing garage floor tiles at half the price should give you inspiration.  In fact, Matt's entire garage project has been an exercise of resourcefulness and patience in acquiring most everything in his garage for less than retail.
You see, Matt set a goal to tile his entire 2-car garage floor with Gladiator floor tiles for less than $700 and he has almost accomplished it.  So click on the link below to take a look at how his floor turned out, as well as the rest of his garage, and what he did to cut his garage tile costs in half.
I started staking out deals on Gladiator Tile since the Spring of 2013 and have been looking and looking to see how cheap I can get this premium garage tile. I knew this was going to be tough…
With the many options available in garage flooring, interlocking tile is one of the easiest installations that you can make.  And unlike epoxy flooring for example, they are ideal for bargain hunting like this.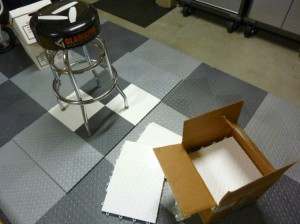 One thing to keep in mind is that there are some disadvantages to acquiring garage floor tiles in this manner however.  When purchasing from auction houses, outlet stores, and the classifieds, you won't get the benefit of warranties in most cases as well as the customer service that comes with purchases from a regular flooring supplier.
Also, we recommend staying away from plastic garage tiles made overseas and brand names you do not recognize.  As good as a deal you think you may have found, these tiles almost always end up being a headache in the long run due to breakage issues and just poor quality.
However, installing a name brand tiled garage floor at half the price is a hard deal to pass up.  We think most people would take the small risk of dealing with the chance of manufactures defects when purchasing quality interlocking garage tiles at these prices.  Plus, there are many resources to turn to if questions pop up about installation.
So for all you bargain hunters out there, take some inspiration from Matt's garage project.  If you have the time and a little bit of patience, you just may be able to get that garage floor done yet.