To our Reader's: This post may contain affiliate links. If you use these links to make a purchase, we may earn a small commission. As an Amazon Associate, All Garage Floors earns from qualifying purchases. You can read our full disclaimer here.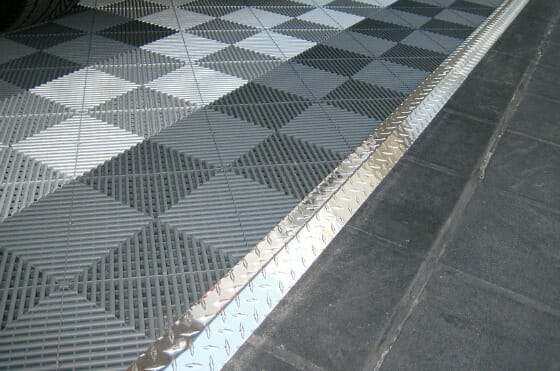 Recently, a product that has caught our attention is diamond plate transition strips for interlocking garage floor tiles.  Made of aluminum diamond plate, these transition strips are designed to fit over the factory tile edge pieces that are provided by the manufacturer.  When installed at the entrance of your garage, they can offer a nice custom accent between the interlocking tiles and the garage floor or driveway.
One such company that makes this product is Tread-Ware.com.  Started as an offshoot of DiamondBack Truck Covers in Pennsylvania, they use the left over drop from their truck covers to provide a variety of good-looking diamond plate trim pieces for the garage from baseboards, to chair rails, crown molding and more.  As a result, they can offer reasonable prices for these trim pieces and transition strips.
The diamond plate transition strips for garage floor tiles are made of 3003 aluminum alloy and are available in 48" and 72" lengths.  They come standard in a 4.5" width with a ¾" drop.  You can find their order page here.  The ¾" drop was originally designed for the Ribtrax model tile by Swisstrax as the pictures illustrate on their webpage.  What it doesn't take into account is the ½" width tiles by the rest of the Swisstrax line or most other popular interlocking tile manufacturers such as RaceDeck.
After contacting Tread-Ware about this we found that they will happily create a ½" drop for you at no extra charge.  All you need to do is contact them by telephone or email when placing your order.  Since they do offer custom lengths, widths, and drops, we highly recommend giving them a call if you think you have any other issues with sizing that would prevent you from placing an order.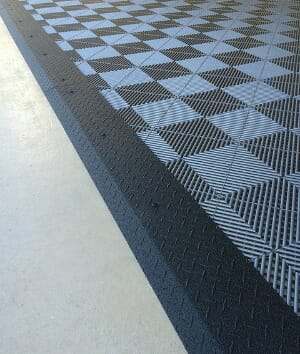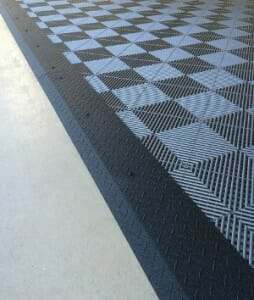 One option worth noting is that they offer a black, spray on non-skid coating by Line-X for an additional charge.  This can provide for a nice contrast if you don't care for the polished look of the diamond plate.  Lead time for a standard order is usually 3-5 days while custom orders such as the Line-X coating can take an additional 2 days or so.
When purchasing this product you need to be aware that Tread-Ware does not provide for installation hardware.  They recommend using double sided tape, liquid nails, or screws. Just ask if you have any questions about installation.
Our suggestion for the best installation would be the use of ¼" stainless concrete anchor screws in the proper length depending on tile width.  This will allow for easy removal if necessary and will also facilitate in stopping "tile creep" that the occasional floor can experience from steep driveway to garage floor transitions.
So if want to add a bit of the hot rod or industrial look to your garage floor tile, we recommend taking a look at these diamond plate transition strips for your interlocking floor tiles.