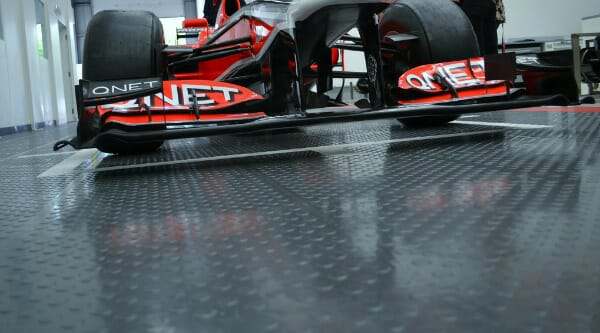 As an Amazon Associate All Garage Floors earns from qualifying purchases.
Garage floor mats might be the easiest and quickest solution for those seeking to upgrade their garage flooring with a custom finished look. They protect the concrete, hide ugly cracks and stains, and make your garage look like new in minutes.  As one of the more popular garage flooring options, these vinyl floor coverings come in a variety of sizes, colors and styles.
You can choose from stylish parking mats, roll out mats that cover the entire floor, containment mats, and even lighted floor mats for the mechanic just to name a few.  With so many options available, let's explore the world of these vinyl and rubber floor coverings to help give you some ideas for a garage floor mat for your home.
Parking mats for the garage
Garage floor parking mats come in a variety of sizes to fit your vehicle and are used primarily as a parking pad. They will protect your garage floor from the various elements that can be deposited from your vehicle.  Like most garage floor coverings, they will keep your floor free from oils, anti-freeze, road salts, and other vehicular fluids. They can also collect mud and debris that you don't want tracked onto your garage floor.  You can find some of the current pricing on Diamond Deck mats here at Amazon
.
Made of polyvinyl, these rubber-like mats can be from 55 mils to 85 mils thick depending on the application.  They are available in different patterns such as coin, ribbed, or diamond and in an assortment of colors as well.  They are easy to clean and can be pulled out onto the driveway to be hosed down if you like. They even make parking mats for motorcycles.  Better Life Technologies makes a high quality line of mats that are made in the U.S.A.  Shop here at Amazon
.
If you like the idea of a carpet mat for the garage, there is also a soft fiber mat that looks a little like felt. These have a waterproof backing and are designed to absorb water, oils and fluids.  Like the polyvinyl mats, these can be swept, vacuumed or hosed down to clean.  They are fairly durable and less expensive than a polyvinyl mat, but they will not wear as well.
Roll Out Garage Floor Mats
For those of you that want to give your entire garage floor a full makeover, then a complete system of roll out garage floor mats could be what you are looking for.  These are made up of the same material as the parking mats, but are available in longer lengths to cover the full length of the garage floor in widths up to 10 feet.
You can butt them up against each other using seam tape on the bottom or overlap them to appear almost seamless.  They are cut to fit with a razor knife or heavy duty scissors and installed in minutes instead of hours or even days like many other floor covering options.

                       See how easy a garage floor mat system is to install
The advantage to roll out garage floor mats is that they easily hide all the cracks, stains, and other defects in your entire floor. They give your garage a nice finished look and can even get rid of that musty garage smell. Furthermore, cleanup of the floor is so much easier. Just a soft broom or light mopping is all that is required for most debris.
If you like the idea of carpet for your garage floor, you can do your whole floor in the absorbent cloth mat to give your garage that indoor carpet look.  Unlike epoxy and some interlocking tiles, an entire floor mat system will also absorb sound and not create that hollow sound to your garage when it's empty.
Containment garage mats
If you live where the weather conditions are more extreme and your vehicle tracks in an abundance of debris, then a containment parking mat might be what you need.  These garage floor mats are designed with a raised edge around the mat which enables it to contain gallons of liquid at a time without leaking onto the garage floor.
These come in handy in really wet or snowy climates where all that rain water, snow, slush and road salts can deposit itself onto the floor making for a slippery mess.  When you are ready to clean out the mat, you just squeegee all that water out the garage door and onto the driveway. You can find the two best performing containment mats here.
Specialty mats for the garage
There are a variety of specialty mats for the garage that can perform many functions as well. If your time in the garage is spent hovering over a workbench or possibly doing the laundry, then you might want to invest in an anti-fatigue mat.  These mats are designed to help keep your legs and feet feeling fresh when standing on a hard surface such as concrete for extended times.
There are also oil drip garage mats that are great for absorbing leaks from your car. They are good for extra protection when changing the oil or working on your vehicle.
You can even purchase mats for your golf cart, lawn tractors, or snow blowers. The first is the EZGO Parking Mat. It is made of poly fibers to create a soft feel and absorb liquids. See it here at Amazon
The second is the Diamond Deck polyvinyl mat such as what we listed above
. This is the same type of parking mat that is used for vehicles but made in  smaller sizes to accommodate many types of equipment.
As you can see, there are many types of garage floor mat ideas and styles to choose from.  This type of floor covering is hard to beat for ease of installation, protection from the elements, and good looks. And did we mention that you can take them with you when you move? So whether you need a covering to spruce up the look of your garage or to protect the floor from projects and vehicles, garage floor mats are a tough investment to beat.