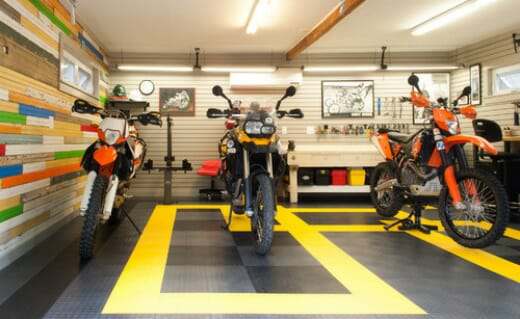 Coming up with ideas for garage flooring isn't always as easy as one might think.  After all, there are numerous flooring options to choose from with a variety of materials available.  One needs to take into consideration how the garage is going to be used and what is going to be required of the floor.
This is what Dennis Reed and Rita Hendricks discovered when they were remodeling their 400 square foot detached garage for his motorcycles.  Fortunately the discovery of interlocking garage floor tiles made their decision much easier.
"The floor was a big debate," says Hendricks. "I thought it was just going to be painted concrete."

Reed did not want to go that route. "I did some research on floors in motorcycle forums where they have all of these debates on the best flooring," he says. "I found a plastic modular flooring that I liked, and Rita helped me create the design."
 More pics and the story in "Backyard Shed to Motorcycle Haven"
Follow how Dennis and Rita came about designing this awesome garage remodel and how Dennis decided to incorporate interlocking garage floor tiles into the design.  It's very pleasing to the eye, compliments the garage decor, and fits his requirements nicely.
The great feature of interlocking garage tiles it that you can really customize your floor.  Not only do you get to choose from a wide variety of colors and come up with a garage flooring design that compliments your tastes, you also get to choose how you want the tiles to function within your garage.
As an example, you have choices of self-draining tiles, carpet covered tiles, and solid tiles with diamond or coined treads.  You can even purchase polished diamond plate interlocking tiles to display your favorite ride.
When exploring the options for garage flooring ideas, remember to take into consideration interlocking garage floor tiles.  Once you decide how you want to use your garage and what you want the flooring to do for you, you may be surprised at how well they can meet those needs and still be a tough garage flooring of choice.