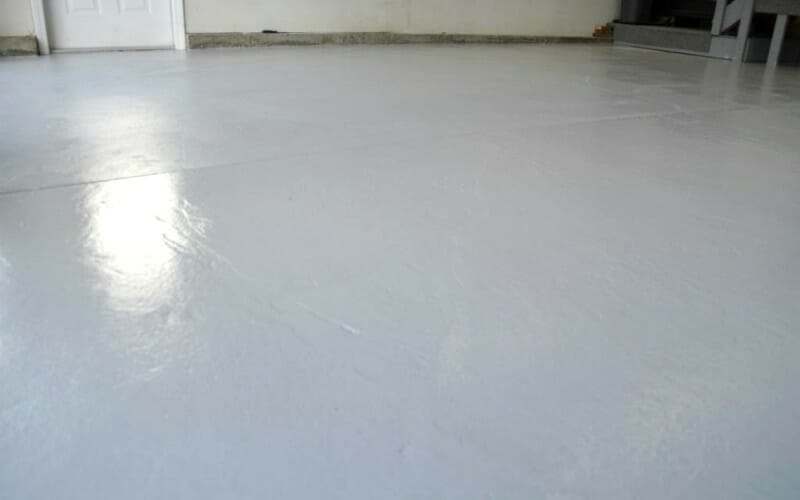 If you have been searching for an easy concrete prep epoxy coating for your garage floor or basement that produces no VOC's or chemical odors, but is better than the typical home improvement store DIY epoxy paint kits, then look no further. Garage Flooring LLC has introduced their new All Weather Floors high solids, water-based epoxy that produces no odors and breaks many of the traditional rules that apply to epoxy application and protection.
We understand that one of the benefits that attract people to water-based epoxy is the easier application with no fumes or VOC's to worry about. This is particularly true if applying the epoxy in a basement or attached garage where the occupants may be particularly sensitive to smells.
The problem, however, is that most water-based epoxy kits are purchased from your local home improvement centers and don't have the best of reputations. These kits are typically low solids (thin) and suffer a variety of issues over time. This includes peeling, hot tire lift, discoloration from chemical spills, and poor wear.
Conversely, higher solids water-based epoxies and 100% solids epoxy coatings which produce no fumes require more attention to detail during application. They also require more concrete preperation which can discourage the inexperienced from using them.
In addition, many of the high quality DIY garage floor coatings tend to have some form of solvents in the product. These solvents can produce some fumes and smells for a day or two which some people are sensitive to. Thus, those who don't want to deal with the application and initial smells of a quality garage floor coating are generally left with the poor quality, water-based epoxy paint kits.
This is why we admit to being caught a little off guard when Garage Flooring LLC first announced the release of a simple water-based epoxy. It seemed contrary to their standards and reputation for providing high value garage flooring products.
After all, they sell a variety of quality garage floor coatings including the newer single-part polyurea coatings that we recommend. They were also the first to react to an article we wrote which lead them to launch Rust Bullet as a durable no prep garage floor coating. So why promote a water-based epoxy?
Why we like All Weather Floors epoxy
As stated, we were first surprised about the release of a simple water-based epoxy, but we should have known better. Once we took the time to dig into the technical data sheets and learn a little more about this new coating, we quickly understood why it has become part of their product line.
All Weather Floors water-based epoxy should appeal to those who have had reservations about applying a quality epoxy to their garage floor or basement due to application anxieties or concerns about smell.
All Weather Floors epoxy is designed and formulated as a basic and simple water-based epoxy coating for your garage floor or basement that is thicker and much more durable than traditional water-based epoxy kits. It has a glossy finish and is available in gray, dark gray, tan, and clear.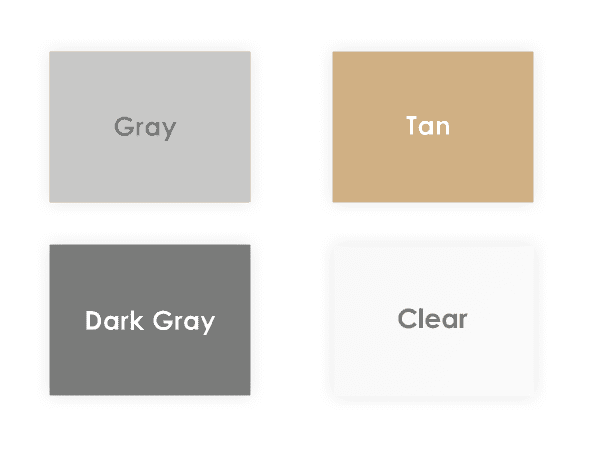 Now that you know the basics, let's discuss how this epoxy performs and why we like it.
No fumes or odors to worry about
All Weather Floors epoxy uses water as the carrying agent. This means that there are no solvents or other chemicals in the coating that will evaporate and create a smell during the application and curing process.
This is an important factor for those who are sensitive to fumes and is a big reason why this makes for an excellent choice for those who want to apply epoxy to their basement floor.
High solids content
Solids content is important when comparing coatings. It reveals how much of the product is going to remain on the concrete once the water or solvents evaporate from the coating surface. All Weather Floors is a 2-part water-based epoxy that is 70% solids. Simply put, this means that you get a thicker coating which is longer lasting and more durable than the traditional water-based epoxy kits which are typically in the 50% solids range.
Using Rust-Oleum as an example, their water-based garage floor epoxy kit has a dry film thickness of approximately 3 mils. All Weather Floors water-based epoxy has a dry film thickness of approximately 6 mils. Keep in mind that this does not include any of the coating that is absorbed into the concrete upon application of the first coat.
Easier Application with Less Concrete Prep
This is what makes this epoxy coating so simple. It has us really impressed and is the primary reason why we state this epoxy breaks many of the traditional rules.
All Weather Floors epoxy can be applied directly to bare concrete that has not been previously sealed. This means no grinding or acid etching. This is excellent news for basement applications. The only requirement is that the concrete be clean, dry, and not too smooth. Power troweled concrete is an example of what would be too smooth.
In order to apply the epoxy without grinding or etching you must follow the two coat application process. The first coat is thinned by adding 25% water (1 quart) to the initial mix. This thinning acts as a primer and allows the coating to better penetrate into the concrete in order to achieve a good bond. A second coat is then applied to add thickness, durability, and color uniformity.
Coverage rates are 400ft² per gallon kit for the primer coat and 300ft² per gallon kit for the second or subsequent coats.
We know that Garage Flooring LLC has done testing regarding this application method. It has proven to work and they have many customers who can attest to that. However, we know from experience that nothing beats good concrete preparation.
If you have any doubts about how smooth your concrete is or you desire to get the best bond possible, we suggest doing a mild concrete etch first with one of the environmentally safe citrus etch products that you can purchase from your local home improvement center.
Another feature that makes this epoxy so simple is the very long pot life. You have 4 hours of working time out of the bucket. That is twice as long as traditional store bought water-based epoxy and should erase any concerns you may have about not having enough working time to apply it.
With the conditional requirements for no concrete preparation and long working time for application, All Weather Floors water-based epoxy should appeal to those who have had reservations about applying epoxy to their garage floor or basement due to application anxieties or concerns about smell.
If you can apply paint to a wall, then you should be able to apply this epoxy to your garage floor or basement.
No Hot Tire Lift or Peeling
The most common complaint of store bought epoxy kits are hot tire pickup and peeling. When applied as directed, All Weather Floors epoxy will not lift from hot tires or peel up.
This is mostly due to the greater thickness of the epoxy and its ability to resist heat much better than the thinner epoxy kits. The thinner store bought epoxy paint kits can soften down to the surface. When epoxy softens under the weight of a hot tire, it will get pulled away from the surface due to the tire constricting as it cools.
Additionally, the All Weather Floors epoxy resists peeling much better since the first coat acts like a primer and allows the epoxy to penetrate and bond better with the concrete.
Highly Resistant to Chemicals and Stains
This is another example where we feel All Weather Floors water-based epoxy breaks some of the traditional rules. Though a high solids epoxy coating can offer excellent protection against stains and some chemicals, most that do provide this type of protection are solvent-based or 100% solids. This kind of protection from a water-based epoxy is exceptional.
It has little or no visible damage from long term exposure to many acids, gasoline, oils, and harsh automotive chemicals such as brake fluid. This rivals some high performance polyurethane and polyurea coatings. You can view the technical data sheet here to see the entire list of chemicals as well as application instructions.
Your typical water-based epoxy kits do not come close to this type of protection. While most of these kits don't even provide actual data about chemical resistance, wear, and etc, we know from experience that they can suffer visible damage and discoloration from many of the chemicals that are listed in the All Weather Floors data sheet.
Long wear anti-slip additive
One characteristic of epoxy is that it typically does not wear or resist scratching as well as other coatings. All Weather Floors water-based epoxy is no different. However, these wear rates are relative and it does not mean that it won't last long.
Examples of coatings with better wear and scratch resistant ratings would be polyurethane, polyurea, and polyaspartics. That is why these type of coatings are typically used for high performance applications as well as clear coats or top coats. They are also more expensive and one of the reasons why epoxy is still the preferred coating for color coats and high build (thick) coating systems.
Although All Weather Floors water-based epoxy has a comparable abrasion rating (wear) as other epoxy products of similar solids content, they do offer a glass bead additive that increases this wear rate. Most importantly, however, it also increases the durability, impact resistance, and provides an anti-slip surface for those who encounter wet garage floors due to weather or other considerations.
The glass beads are mixed into the final coat and will provide some texture to the coating. Something to consider is that they will also reduce the gloss of the coating to more of a matte finish. Unlike aluminum oxide additives, these glass beads still make for easy cleaning of the coating and are safe on bare feet and knees. They cannot be used in clear epoxy, however.
With the addition of the glass beads, this epoxy would also be an excellent choice for those that want a simple solid color coating that is durable and will stand up well to automotive repairs and other projects in the garage.
What about color flakes or a clear coat?
All Weather Floors water-based epoxy was designed as a simple, but durable water-based epoxy coating system with basic colors including clear. However, color flakes can be applied to achieve a more decorative look, but it does require a coat of their clear to lock in the color flakes.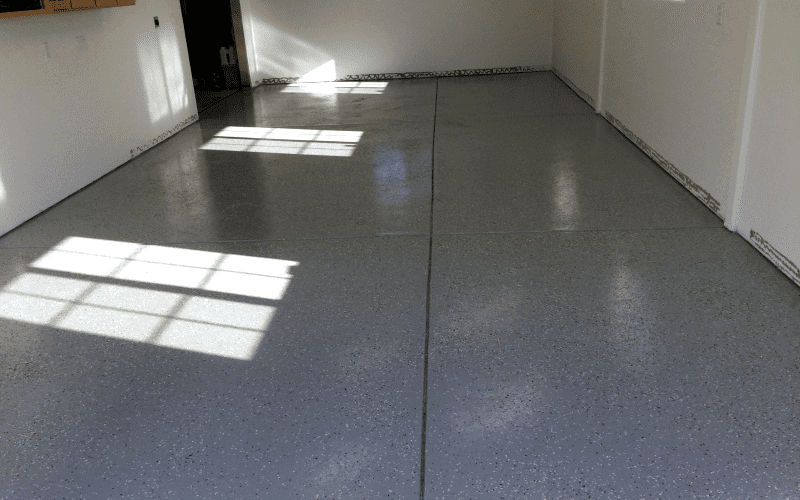 This can create a very attractive epoxy floor coating system that is much more durable than what you can achieve with your typical store bought epoxy paint garage floor kits.
Where to purchase All Weather Floors epoxy
You can purchase All Weather Floors water-based epoxy directly from Garage Flooring LLC. They have terrific customer service and excellent shipping policies.
If you have any questions about the product, application, or what you want to use it for, please give them a call. They are experts in garage floor coatings and want you to be satisfied with your purchase. We have had many or our readers email us about the good service and information they have received.
Final thoughts
As much as we like All Weather Floors water-based epoxy, the one thing we don't want to do is oversell it. Let me explain.
As well as this coating performs for a water-based epoxy, it does not surpass the performance of a high quality polyurea, polyaspartic, or traditional multi-coat high performance epoxy coating system.
In addition, though it has U.V. inhibitors, it will amber (yellow tint) over a period of time if exposed to direct sunlight or very strong indirect sunlight. This is true of all epoxy coatings regardless of what any manufacturer may state. Of course this is of no concern for basement applications. Only polyurethane, polyurea, and polyaspartic coatings are truly U.V. stable.
Lastly, while it has impressive chemical and stain resistance, the scratch resistance and wear resistance (as stated earlier) is not as high as other coatings such as polyurethane and polyurea. That is why they are popular as clear top coats over a full flake epoxy coating or partial flake polyurea coating. However, the wear rate and durability is increased significantly when the glass bead additive is used.
Nevertheless, despite some of these considerations, we are very impressed with All Weather Floors water-based epoxy. It genuinely is a simple, yet durable epoxy coating that can be a great choice for garage floors and especially basements, particularly if chemical smells and application anxiety is a concern.
Though it is moderately more expensive than your typical water-based epoxy paint kits, it is by far a much better value in the long run in terms of durability, ease of application, and protection.