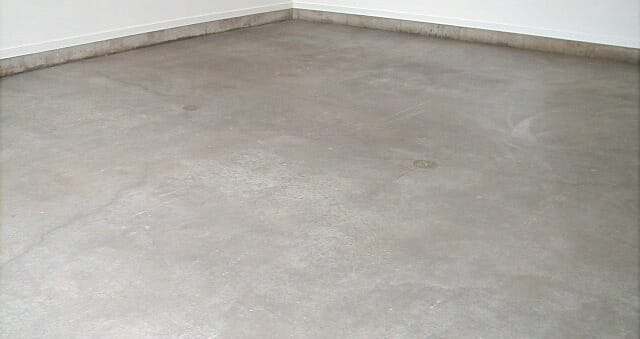 For many home owners a primary concern is to seal the concrete of their garage floor in order to protect it from water intrusion, dusting, road salts, pitting, and most important, to help resist oil stains. If you want to do this at the best value and without concern about having the latest decorative finish or coating for your garage floor, then a siliconate penetrating concrete sealer may be all that you need.
Why? Although decorative garage floor coatings such as epoxy look great and do a good job of sealing the concrete, there are people who have simple "working" garages. They are not as concerned about how nice a concrete sealer looks, but rather how well it performs without a lot of expense and preparation. If you think this may be you, then here is why you need to consider a siliconate concrete sealer.
What makes a siliconate sealer different than a coating is the fact that it actually penetrates (hence the name) into the concrete floor to create a protective barrier at the sub surface. Other garage floor sealers such as acrylic, epoxy, and polyurethanes are topical in nature. They sit on top of the surface to form a protective film or coating.
A siliconate sealer works by permeating into the pores of the concrete and chemically reacting with carbon dioxide. This reaction creates a cross-linking molecular membrane barrier that is hydrophobic. This barrier is effective at repelling water and other liquids such as chemicals, salts, and oil. It's this barrier that helps prevent liquids from transferring through the surface. In essence, water, automotive fluids, and most other liquids will tend to bead or sheet instead.
How a siliconate penetrating sealer works on a concrete garage floor
Furthermore, the chemical reaction that fills the pores and capillaries within the upper surface of the slab also tends to strengthen the surface of the concrete as well. While not as effective as a densifier for surface strength, it does help with surface wear none the less.
Concrete Siliconate Sealer Benefits
Forms a hydrophobic barrier to help prevent intrusion of water and other liquids
Reduces staining including oil, gas, and other automotive fluids
Helps to prevent pitting, spalling, and surface cracks from water absorption
Reduces concrete dusting and helps prevent efflorescence
Helps to prevent the harmful effects of road salts and deicing fluids
Inhibits mold and mildew growth
Breathable, water based and low in VOC's
Excellent for garage floors, driveways, walkways, patios, and basement floors
Low cost delivers one of the best values in concrete sealers
As stated, additional benefits to consider include mold and mildew resistance as well as protection from the harmful effects of road salts and deicing fluids. This means that if your garage temperatures drop below freezing overnight, the surface will be protected from the pitting and spalling that can occur due to the expanding effects of freeze thaw cycles from melted snow and deicing fluids that can seep into the concrete.
Siliconate sealers dry to a natural looking finish without any sheen. And because a penetrating sealer is non film forming, it allows for the same anti-slip protection as bare concrete. Furthermore, you don't have to worry about damaging the sealer if you drag sharp objects across the garage floor when working on cars or projects. They are also a favorite concrete sealer for driveways, walkways, and patios.
Other factors to consider are expense and ease of application. This is what makes a siliconate concrete sealer for your garage floor one of the best values you can find. Most 2-car garages will require only one or two gallons of sealer depending on the manufacturer. Cost is usually less than $50 a gallon for a quality product and application is much easier than applying a coating or even paint for that matter. Expect it to last up to 10 years or more before a new application is necessary.
One thing to be aware of is that penetrating sealers for concrete do not seal cracks. Cracks will still need to be repaired first in order to seal the garage floor properly.
Will a siliconate sealer stop oil stains in concrete?
There is one point that we want to make clear. Though siliconate concrete sealers can be fairly resistant to oil stains, they are not stain proof. In fact, there is not a penetrating sealer available that is. Only a commercial quality garage floor coating will provide close to stain proof oil protection.
The reason for this is that penetrating sealers are non-film forming. Unlike coatings, they seal the concrete at the subsurface. However, what makes a siliconate sealer unique is that they consist of a relatively larger molecular structure than most other penetrating sealers. This allows for better surface protection and better resistance to oil stains than most other concrete sealers.
For the best protection from oil stains when using a penetrating sealer, it's important to clean them up as you see them and not let them dwell or sit for a long time. If they do sit, they will eventually seep into the very upper layer of the concrete surface and can possibly leave a faint stain once cleaned.
Siliconate sealers that we recommend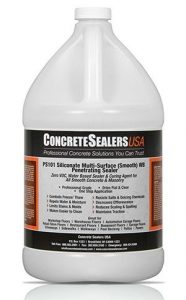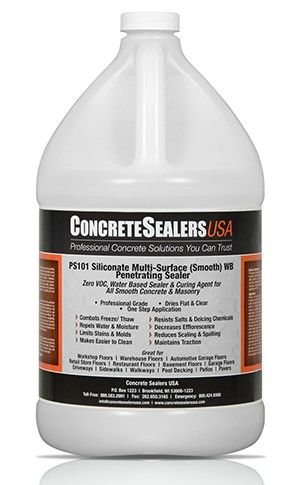 There are two products we like to recommend that work extremely well and get great reviews. The first is PS101 by Concrete Sealers USA
. This siliconate sealer has a strong reputation for great performance and is known for lasting years. In fact, the reviews are outstanding.
It only wears down as the concrete wears down and can also be used as a "cure and seal" for new concrete. Application is easy with no special mixing required. The coverage rate is 300 – 450 ft² per gallon for machine troweled and smooth finishes.
Purchase PS101 here from Amazon
After speaking with a representative from Concrete Sealers USA, they recommend their PS102 if you have a broom finished garage floor. It's formulated for the more porous surface that a broom finish provides.
PS102 also works extremely well for driveways, walkways, and patios since these are typically a more porous finish as well. Expect a coverage rate of 200-300ft² per gallon for these type of applications. Just as the PS101, it can be also be used as a "cure and seal" for newly poured concrete.
Purchase PS102 here from Amazon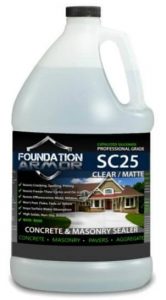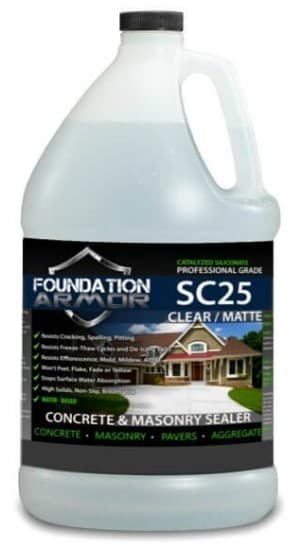 The second product we can recommend is Armor SC25 by Fountation Armor. Besides garage floors, this penetrating siliconate sealer is developing a strong reputation for use on driveways, walkways, patios, and basements.
The coverage rate is 200 – 250 ft² for machine troweled or smooth dense surfaces and 100 – 150 ft² for a broom finish or rough surface. Just as the PS101, SC25 is water based and no special mixing is required. One note to make is that Foundation Armor does not recommend SC25 as a "cure and seal" for freshly poured concrete.
Purchase SC25 here from Amazon
One thing to pay close attention to is the spelling for penetrating sealers. For instance, a popular seller at home improvement centers is silicone sealers. Notice the difference? Silicone versus siliconate. It's easy to miss this.
We do not recommend a silicone sealer for a garage floor or outside on walkways, driveways, and patios. The reason is that they tend to sit more on top of the surface and do not penetrate as well.
Though they have good hydrophobic and oileophobic properties, they wear down at the surface extremely quick and lose their sealing properties. Yearly reapplication is recommended. They also are not U.V. resistant and will deteriorate over time when exposed to sunlight.
Applying a penetrating sealer to your garage floor
Make sure the surface of the garage floor is free of dust and oil. Clean up any oil spills that may have accumulated and scrub the surface of your garage floor with TSP and a stiff bristled brush. A floor maintainer with a black pad works even better.
Rinse off the surface with a hose and let it thoroughly dry – usually 24 hours is sufficient unless the humidity is up. When ready, apply the sealer with a low pressure pump sprayer or roller and paint brush. Do not let it puddle till dry or it will leave a white chalky substance that is hard to remove. The area should be ready for traffic in 12 hours. That's it!
Once done, you will have a natural looking surface that is protected for the next 10 years or more depending on traffic. So if you are the no frills, "working" garage type of person that wants to protect their garage floor with minimal preparation and expense, then a siliconate penetrating garage floor sealer is definitely worthy of your consideration.