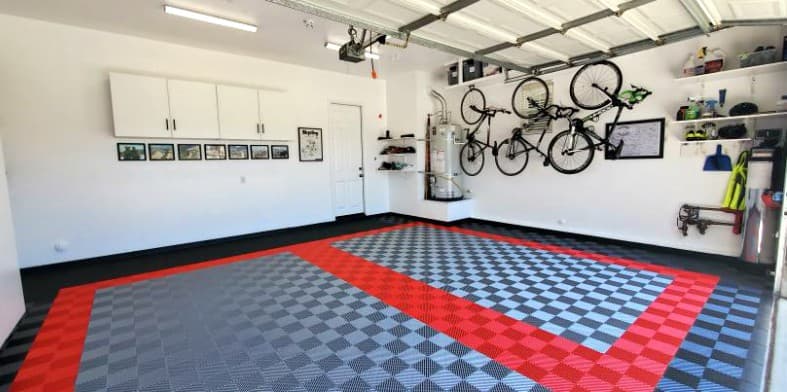 When your garage is the hangout and hub of social activity for you and your buddies in the neighborhood, having just a clean looking garage may not cut it. This is why Neil from Southern California decided to deck out his already nice garage with this great looking HD TrueLock Ribbed garage floor tile.
We first became aware of Neil's plans to upgrade the flooring of his garage earlier in the year when he had contacted us to ask questions about garage floor coatings. It was during this question and answer session via email that he finally came to the decision to install the HD TrueLock Garage Tiles by Garage Flooring LLC.
Once he had the flooring completed, we purposely waited a few months for the newness and excitement of the new tile flooring to fade a little. We wanted to get an unbiased review of the HD TrueLock tiles after he had a chance to put them to use.
In addition, because Neil did such a great job with the small finishing details, we wanted to share with our readers how he addressed the molding at the walls, as well as the unique floor tile that he used at the back of the garage.
Bonus update!
We have provided Neil's latest 1 year update and review for HD Truelock garage tile. He lets us know what how they have performed and if he would make the same decision again.
Why HD TrueLock Garage Tiles were the best choice
With the many types of garage floor tile options available, it was fun to learn why and how Neil decided on TrueLock HD tiles. He actually spent over a year analyzing and studying garage flooring options (no worries Neil, many of our readers can relate 😊).
However, every time he thought he had come to a decision, he would back away because he was not 100% confident that the flooring choice was the best for his garage floor requirements.
We thought it best to use Neil's own words to describe why the garage and flooring choice was so important to him.
I live in Southern California and my garage is my basement and my meeting place for sitting with buddies from the neighborhood. I spend time out there every day, so I wanted it to look nice. I keep two cars in this garage and I also store six or seven bikes here as well.

When we lived in the Midwest, we had a nice basement where my buddies and I would hang out, but in Southern California the retired guys in the neighborhood all tend to gather in my garage or on my driveway every day at 4:00 or so. I have 3 or 4 chairs that I keep out there so we can sit and chat about world issues every afternoon.
So, with the subject of world issues and other important topics about the neighborhood setting the stage for this upgrade, Neil had some top priorities for the flooring of his main garage.
These priorities were as follows:
It had to be dramatic!
The floor had to be relatively impervious to tire marking over time. He had a really bad case of brown tire prints on the concrete floor and didn't want to see them again for a long time.
The floor had to go with the white walls and white LED lighting.
The new flooring had to properly cover the concrete covers for the sewer cleanout.
The new flooring had to address the cosmetic issues of crumbling concrete at the front of the garage.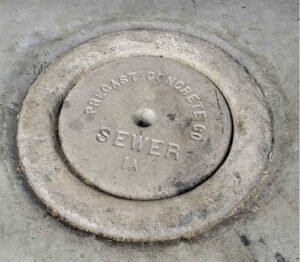 Neil really liked the idea of a white garage floor coating, but the two sewer cleanout covers were an issue.
He felt that they were just going to be an eyesore and would distract from the "perfect" garage flooring look he was after.
In addition, he was worried about repairs to the surface at the front of the garage floor that would have to take place if he opted for a coating. Most of the homes in the neighborhood have the same issue.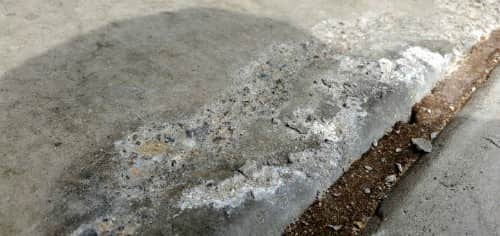 Because many garage slab pours can take place on the same day in a housing development, our guess is that it rained that day shortly after. The front edge of the slabs were most likely not protected and received too much water. This would make the surface soft and prone to crumbling.
After learning of these concerns when he was asking about particular coatings, we asked why he was not considering interlocking garage floor tiles?
We knew that his third car garage had black and white checkered RaceDeck tiles installed 15 years ago that he was very happy with. He had posted on the Garage Journal forum how his tiles looked brand new after he had cleaned them up with RaceDeck's Restore tile cleaner.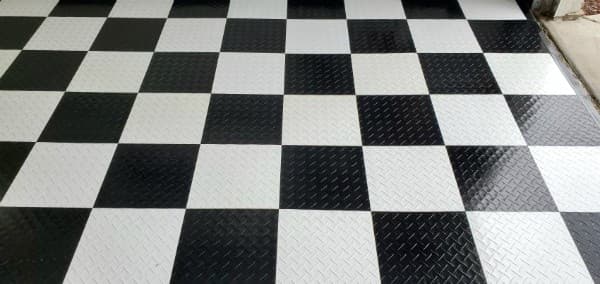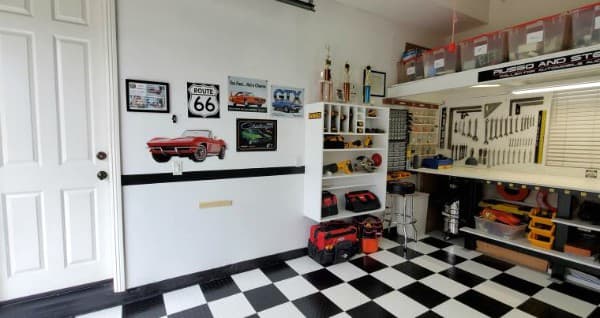 In addition, we shared some of the other benefits of interlocking garage floor tiles that Neil was not aware of. Lastly, we explained how installation of interlocking garage tiles is very easy.
To our readers: This post may contain affiliate links. If you use these links to make a purchase, we may earn a small commission. As an Amazon Associate, All Garage Floors earns from qualifying purchases. You can read our full disclaimer here.
So, based on this new set of information and the fact that he was very happy with interlocking garage tiles in his third garage, Neil finally made his decision. After doing some research, he decided upon TrueLock HD Ribbed tiles.
We think this was a great choice. The TrueLock line of garage tiles are of excellent quality. We had performed a review of the TrueLock HD Extreme tiles previously and tested them for ourselves.
Neil chose the Ribbed Flow Through design for a couple of reasons, the first of which is the looks.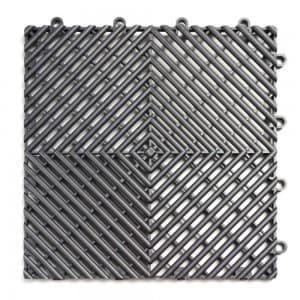 The surface of one 12"x12" tile has four separate ribbed sections.
Each rib is shaped like an upside-down letter V, but with a much more rounded point.
Furthermore, the ribs on each section run 90° to the ribs of each neighboring section.
As a result, light reflects differently off the side of the ribs in each section to create a two-tone or 3-dimensional color effect that is very pleasing to the eye.
The second reason for choosing the Flow Through design was because his garage gets direct sunlight in the afternoon with the door open. Solid top interlocking tiles can experience thermal expansion when exposed to direct sunlight for periods of time. This can occasionally cause the front sections of the floor to expand to the walls and buckle.
The Ribbed design, on the other hand, is not affected by thermal expansion because it has less actual surface area to absorb heat. They will not expand much (if at all) when exposed to direct sunlight.
Other benefits to the Ribbed design is that it remains clean looking for long periods of time due to less surface area to collect dirt.
In fact, this tile design is arguably the easiest of all garage flooring options to clean. A 1/4" cup of ammonia cleaner to 1 gallon of water and a microfiber mop pad will get the job done quickly.
Once the tile decision was finally made, Neil set about reviewing the various Garage Flooring LLC galleries to help him make a decision about color preferences. He eventually chose Graphite, Alloy, and Red.
Though he is a fan of white, he wanted to stay away from that color since he had learned with his RaceDeck flooring that white was more susceptible to stains and tire marking over the years.
Once the color theme and style of tile was chosen, Neil used the online design tool to plan the layout and design for his garage floor. After that, he placed his order.
The week he spent waiting for his order was used to apply a fresh coat of semi-gloss white paint to the walls and ceilings to help brighten the garage for the dramatic look he wanted. He added two more LED light fixtures and got rid of some items he didn't need that were cluttering the garage.
Once the tiles arrived, Neil recruited the help of his son for the install. Remember the part about easy installation? Not counting the wall molding, Neil and his son had the complete floor installed in two hours.
He said the install process was very easy and he did not have any issues. In addition, his layout and tile count from using the online design tool was "spot-on".
Click on images for larger view
Remember the unique floor tile we mentioned? Well, one tile option that Neil chose for the back section of the floor was SnapCarpet tiles.
SnapCarpet is an interlocking tile that is compatible with the TrueLock HD tile line. Both brands lock together snuggly with each other.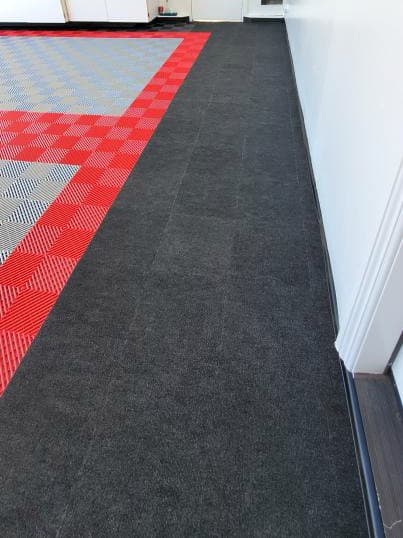 This back area is a path he travels every morning when taking out the garbage. The carpet provides for a relatively warm and soft surface to walk while in your bare feet. Plus, Neil feels that it creates an upgraded and more finished look.
Installing baseboard cove molding in the garage
Another great feature of Neil's garage flooring is that he took the time to professionally trim the borders of the garage with a 4" tall rubber wall cove base which he acquired from Home Depot.
He had mentioned that while looking at garage floor galleries, he was disappointed when many of these nice floors were not finished off properly and lacked this detail.
At issue though were two different type of wall structures to work with. The first was a concrete stem wall.
This problem was tackled by first painting the stem wall the corresponding semi-gloss white. He then placed the cove molding down to the concrete surface and used a cove base adhesive and caulking gun to glue the rubber cove molding to the wall.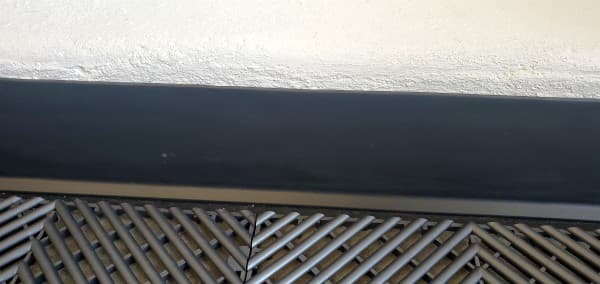 Because the tile flooring requires a 1/2″ gap between a wall or other non-movable objects in order to allow for expansion, Neil didn't like the fact that the lighter concrete surface would stand out between the cove molding and darker tile. With attention to detail being paramount, he carefully painted the small gap of concrete floor black to match the cove molding.
The other wall structure to deal with was the drywall that went down to the floor. This was much easier since all it required was gluing the rubber cove molding to the wall without further painting required.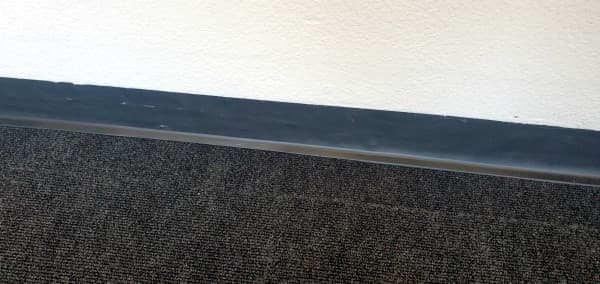 It took a few additional hours to complete the molding project, but Neil said it was well worth the extra time since it provided the finished look that he was after. We couldn't agree more.
Needless to say, this is a fantastic looking garage tile installation and it complements the separate third car garage very well.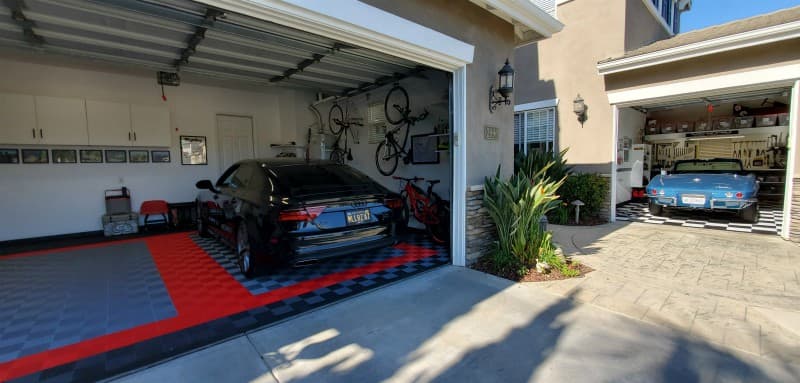 If you want your garage floor to look as nice as this one, then we suggest you contact Garage Flooring LLC to get more information.
Not only will you get great pricing, you will receive excellent customer service and free shipping.
This is what Neil had to say about the whole process;
I worked with Justin at Garage Flooring LLC on this project. He answered a million questions and displayed unbelievable patience as I went through the decision making process. He was instrumental to my success with this project. Shea Walker of All Garage Floors was also very helpful – I found him to be very helpful as an independent source of information.
Review of HD TrueLock Ribbed Garage Tile
With the garage tile installed a few months prior, we wanted Neil to give us his thoughts of the tile now that he had some time to put the floor to use.
This first thing he noticed is that the floor is completely silent when walking on it with exception to the area with the SnapCarpet tiles. Due to their solid top, they produce a very small sound with each foot step when walking on them. Plus, they feel wonderful on his bare feet.
Most noticeable is the fact that the Ribbed design always looks clean and does not show the dirt. He loves the way it looks, including the 3-dimensional effect when looking at it from different angles.
In addition, he sometimes drives his car into the garage to dry and detail after washing it on the driveway. He likes how the water that drips off the car just passes through the floor and requires no mopping or cleanup.
The underside of interlocking tiles is designed to allow airflow. When you combine that with the flow through ribbed design, any excess water on the garage floor will evaporate fairly quickly.
According to Neil;
I am 100% happy with my floor – it looks even better than I had hoped for and has exceeded all expectations. My neighbors have all stopped by to check it out and they have all given it glowing reviews. Best of all, the wife loves it too!
We have to say that it looks as though Neil has achieved his goals. He has a dramatic and inviting looking garage that has proven to be the envy of the neighborhood. It just might be the perfect place to hang out with buddies and solve world problems.
1 year review update!
We first published this article in August of 2020, a short time after Neil had installed his TrueLock garage flooring. He has since provided an update of the floor after one year. We quoted his exact words below.
I can't believe it's been over a year since I installed my tile floor in my main garage. I've lost count of the number of times neighbors have stopped in to see it and compliment me for the choice.
Having had it for over a year now I feel like I can give it a final review:
I have not had to sweep or clean my floor for the entire year – it looks exactly like it did the day I installed it.
I love the way it feels on my bare feet.
I feel like it has quieted the sound levels in my garage – maybe it absorbs a little sound?
The flooring has not moved an inch since I put it down. I drive in and out every day with two heavy cars and it hasn't moved at all.
The sun has not affected the flooring at all. I know that some solid plastic tiles can experience heaving due to thermal expansion on a warm sunny day, but the ribbed design of these tiles prevents that from happening.
At least two different neighbors have installed the same flooring in their garages – so I should feel a little flattered I suppose.
I wash my cars and detail them with lots of tire shine gloss and I am always concerned about staining below the tires – but I have seen zero evidence of this issue.
Bottom line, after over a year of living with the new floor I would not change a thing – I am 1000% happy with my choice and I would do it again at the next house (but we aren't going anywhere anyway).
Neil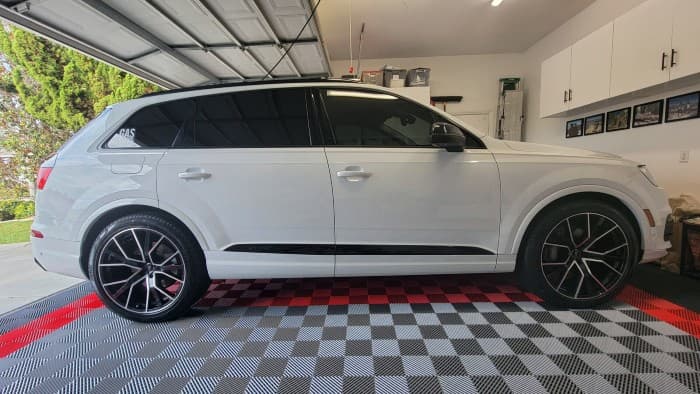 This one year review is a great testament to the quality and performance of the HD TrueLock garage tiles. Thanks for the update Neil!