To our Reader's: This post may contain affiliate links. If you use these links to make a purchase, we may earn a small commission. As an Amazon Associate, All Garage Floors earns from qualifying purchases. You can read our full disclaimer here.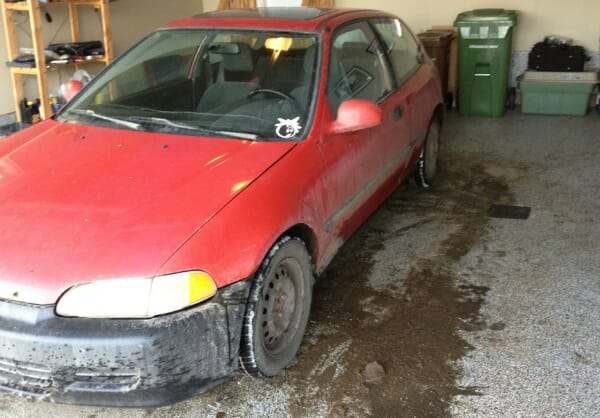 Winterizing your garage floor may not be the first thing you think of when the temperatures start to drop, but it is an important step to insure the protection of your concrete.  As winter creeps in, with it come the harmful rock salt and road deicers that attach themselves to the bottom of your vehicles, only to get deposited on your garage floor.  If you have bare concrete without any protection, then you may be all too familiar with the upcoming salt stains and possible damage from spalling that reveals itself in the spring time.
Protecting your garage floor from winter
The good news is that it's never too late to protect your garage floor from winter.  The first thing you want to do is give your concrete a thorough cleaning to remove any contaminants that may be on the concrete.  Once this is done, now is a good time to make any floor repairs that may have been revealed that can't wait till spring.  After this, you are ready to protect the floor.
The quickest and easiest way to protect your concrete is to use a garage floor containment mat. These mats collect the deicing solutions, road salts, snow melt, and other debris that are deposited from vehicles and keep it off of your floor. They are easy to clean out and don't make a mess.  Once winter is over, just pack them up and store them out of the way until next winter.
If you want to protect the entire garage floor from winter with mats, there are a variety of choices available for roll out garage floor mats. Many of these do a good job at insulating your feet from the cold concrete as well.  The small coin mat by BLT is one of our favorites.
Another solution would be to seal your garage floor. A siliconate penetrating sealer is the easiest to apply while an acrylic sealer will provide a glossy finish. These sealers will create a barrier that will prevent deicing solutions and salt from entering into the pores of the concrete.  They can be applied by the novice DIY homeowner and are relatively inexpensive to purchase.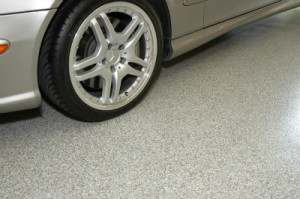 Other popular choices to winterize your garage floor are coatings such as epoxy.  These tough garage floor sealers will stand up to any deicing chemicals or salty road slush that you can track into your garage.  Best of all, they are the easiest of the different garage flooring options to clean, but can quickly become the more expensive choice depending on the quality of epoxy used and whether you install it yourself or not.
One thing to be aware of is that most epoxy floors can't be installed in cold temperatures because it needs to be warmer than 50 degrees in order for it to cure properly.  Not to worry though.  If the temperatures have already dropped, you can always have a polyurea or polyaspartic coating installed instead.  These are just as durable as epoxy if not more so and can be installed in temperatures below freezing.
More winterizing tips
If your garage floor has already been winterized, you can always add a runner mat or two in the winter time to run alongside your vehicles.  This will provide for an added non-slip benefit as well as keep you from tracking any deicing chemicals into your home.  You can find them here at Amazon
.
If you feel you don't need a runner mat, then it's always wise to invest in a good floor mat to clean your feet with before you walk into your home.  Deicing chemicals and salt don't do well in carpet and can even stain stone tiles as well.
Lastly, now may be a good time to check on the condition of your garage floor door seal.  If your garage door isn't sealing properly, you could be letting in cold winter air or snow that can create a slippery slush on your floor.
Remember that's it never too late to winterize your garage floor.  Take advantage of the numerous flooring options available to protect your concrete and prevent the hazards of winter damage.  The time and effort spent now may save you from the headaches and site of a damaged floor later.