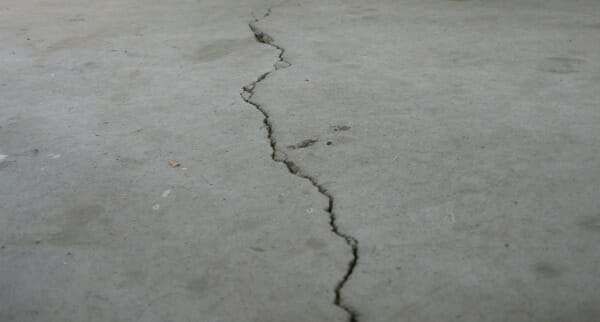 Learning how to repair a garage floor doesn't have to be as scary as it sounds. You may be surprised to learn that many repairs can be done easily by yourself and for less expense than you think. Typically with a garage floor there are three types of repairs that are the most common; surface cracks, pitting, and spalling. Pitting and spalling can be just as easy to repair as most cracks, it just takes a little more work.
If you are applying a sealer, paint, or an epoxy system, then you will want to make sure your garage floor is repaired properly to make it is as blemish free as possible. If you are covering your floor with a tile or mat flooring then repairs may not be necessary unless you are trying to stop a continuing problem like pitting and spalling or you are worried about water penetration.
Why garage floors crack
Garage floors crack – period. Concrete is not a ductile material, meaning that it neither stretches nor bends without breaking. It does shrink and expand with temperature, however, and as a result it cracks.
Most floors have contraction joints built into the slab that allow for this cracking. These are usually those deep grooves or saw cut joints that you see in the concrete that appear to divide a typical two-car garage into four separate slabs. These grooves create a weakened line in the concrete that encourages cracks to follow the groove instead of wondering across the surface.
As well as contraction joints work though, you still can get cracks in other parts of the concrete due to the settling of the earth underneath the slab, curing issues, or other variables beyond your control. The good news is that the majority of cracks are cosmetic and not structural in nature. This means that they can be repaired to accept most any garage flooring.
Recommended crack repair products
Always use an epoxy, polyurethane, or polyurea based crack repair or crack filling compound that is sandable. These cure and harden at a strength greater than concrete and will prevent water intrusion as well. You can grind or sand them flush with the concrete and they will accept paint or an epoxy coating.
Do not use inexpensive water based or latex based concrete crack filler and repair products. This is what most home improvement centers carry since they are cheap and easy to use. The problem with them is that they are not sandable, they will not accept paint, and they will shrink over time and pull away from the repair. Do not use a self leveling sealant either as these are designed mostly for sealing control joints in the concrete.
This post may contain affiliate links. If you use these links to make a purchase, we may earn a small commission. As an Amazon Associate, All Garage Floors earns from qualifying purchases. You can read our full disclaimer here.
One such example of an epoxy based crack repair product that we know works very well is Simpson Strong-Tie Crack-Pak at Amazon. It comes in a 9 oz. cartridge that requires a caulking gun to apply it. The 2-part epoxy is separated inside the container. The self mixing cartridge tip eliminates the need to mix the 2-parts together and makes application easy.
Because it flows very easily, it's a great choice for repairing garage floor cracks less than 1/8″ wide. For deep cracks or cracks larger than 1/8″ wide, you will want to partially fill the crack with clean play sand or silica sand first when using this product. This will slow the flow of epoxy from going deep into the crack and using more than necessary.
Another excellent crack repair product that we have experience with is PC-Concrete Epoxy Crack Repair at Amazon. It is a thicker flowing epoxy that requires using a putty knife to work into the crack. It also works well for filling small holes and divots in the concrete. Like other cartridge epoxy repair products, it comes with a self mixing tip as well.
What we like about PC-Concrete is that it fully cures in only 4 hours. This means that you can repair your cracks and grind them flush the same day.
A third product that we can recommend is Rust-Oleum's EpoxyShield Concrete Patch. This is a 2-part epoxy as well that requires you to mix the separate Part-A and Part-B materials together on a piece of cardboard or wood.
When mixing the two components together, be careful not to mix too much at any one time. The epoxy does set fairly quick and you will only have a short time to use it. If your repairs are not all ready to be filled, you will run out of working time and the epoxy will become too thick to use.
You can sometimes find it at most home improvement centers or you can purchase it here at Amazon
.
If you are repairing numerous cracks larger than 1/4″ wide, then your best bet would be an epoxy concrete patch kit that is available in 1 gallon containers or larger. This type of product is an excellent choice for deeper and larger width cracks that span a long length of the garage floor.
These usually consist of a 100% solids epoxy gel that has a sand aggregate that you can mix in as a filler. Once you apply it to the crack it can be troweled smooth with a concrete float. One of our favorites that we recently reviewed is Xtreme Set 100 by Legacy Industrial.
You will not find product like this at a home improvement center either. Instead, they are much more common in the professional floor coating industry and will need to be purchased online in most cases. You can find a good example of such kits from Legacy Industrial or this one from EpoxyMaster.
Repairing Cracks in Your Garage Floor
The first thing you need to do when making a crack repair is to chase the crack. This is the process of using a hammer and cold chisel to break way any loose edges or material within the crack. The repair is only as strong as the material it adheres to.
If you don't have a cold chisel, you can easily find them at your local home improvement center or purchase them online from Amazon
. We prefer the ones with the hand guard.
Chase the crack by placing your cold chisel at an angle that runs in line with the crack.  Firmly hit it with a large hammer or small hand held sledge hammer.  The chisel will break away any loose material as you hit it with the hammer.  Continue in this fashion until you have chased the entire crack.
Use a shop vac to clean out the loose debris and then scrub the crack well with a stiff wire brush. This will remove any weak laitance and prep the surface for the repair material.  Vacuum out the crack again and then you are ready to apply your repair.
Be sure to follow the directions carefully for the product that you use. If you use a 2-part epoxy gel or 2-part epoxy sand slurry, work it good into the crack in order to push out any trapped air. Once it's worked in, trowel it as smooth as you can before the material begins to set up. Watch for any low spots that may need additional repair material added.
If you are using the Simpson Strong-Tie or similar product for larger cracks, it works best to fill 3/4 of the crack with silica sand first. Apply the Simpson Strong-Tie over the sand up to the top of the concrete. Allow a couple minutes for it to soak in and then apply it again to fill in the low spots.
Once you do that, apply more sand loosely over the repair and let it set for 20 minutes. After it has set, you can scrape off the top layer with a paint scraper or putty knife.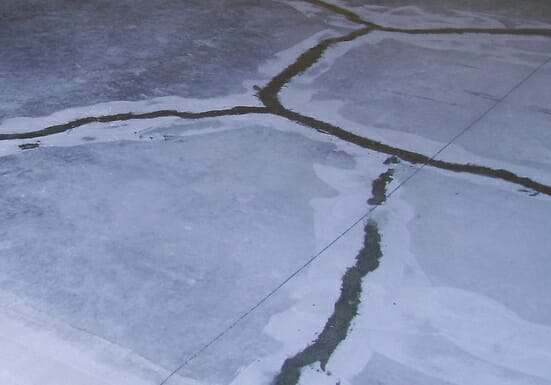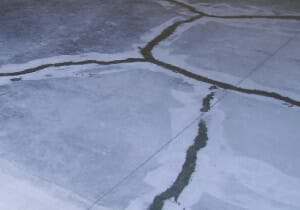 Once the repair has cured, you can grind it flush to create an even transition if you will be applying paint or an epoxy coating. This will prevent most repairs from telegraphing through the coating and you will not see them.
Contrary to some information out there, you do not need to chisel cracks to form an inverted or backward-angled cut. This is only required of large repairs that are made using concrete or a cement based patch.
Since new concrete does not adhere well to previously cured concrete, the backward-angled cut helps to keep the material from lifting out. Epoxy, polyurethane, and polyurea crack repair products on the other hand form a tenacious bond to properly prepared concrete and do not need an inverted cut to stay in place.
Another process which works well for chasing cracks is to use a small 4″ angle grinder with a crack chasing masonry wheel. The wheel is tapered to form a nice clean groove in the concrete. You can see how it works in the video below.
Chasing a crack with 4″ angle grinder and a crack chasing wheel
When repairing deep cracks, it's best to fill the crack part way with silica sand. This will prevent the repair material from seeping down deep into the concrete and settling. It saves you from using excess material as well as creating low spots that need to be refilled.
Repairing Spalled and Pitted Garage Floors
Pitting of a garage floor can be caused by improper finishing of the concrete or a bad mix. Sometimes it is most notable at the edges of contraction joints or where the concrete might meet up with another slab.
Spalling on the other hand is generally caused by freeze-thaw cycles in colder climates and aggravated by deicing salts. Water migrates into the surface of the concrete and freezes. The expansion of the water causes microscopic damage to the concrete and after a few years of this it starts to breakup in small dusty pieces and chips.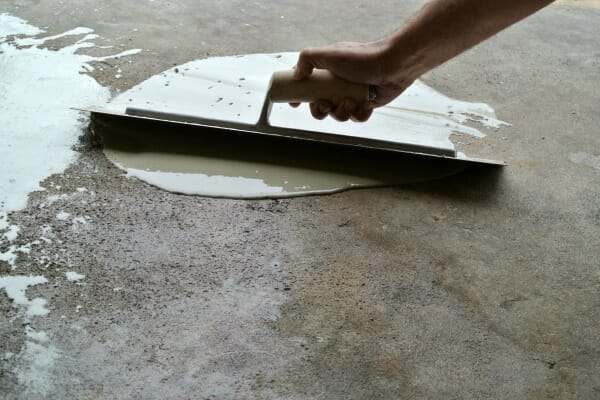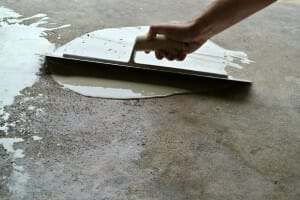 For repair of the floor you will want to use an epoxy sand slurry or a polymer-modified cement topping or patching mix. Which type you use depends on the extent of the repair. It requires a little more effort that repairing a crack, but it's not that hard to do.
After the surface has been prepared properly, you apply the mix over the pitted areas using a trowel. Some mixes are self-leveling and can be applied with a metal squeegee. Be sure to feather-in smooth and let it cure according to the instructions.  You may need an additional application to fill in any small divots or low spots you missed.
You should end up with a nicely repaired surface that won't be noticeable once it is painted or epoxied over. We cover this in more detail in our article on how to repair spalled or pitted concrete.
One thing to be aware of if you are planning on applying a clear coat sealer to your concrete is that any patchwork that you have done will be enhanced by the sealer. However, if you are applying a colored paint or colored epoxy sealer, then you should have the appearance of a nicely smooth concrete slab free of blemishes.
With the multiple coat epoxy floor coatings you shouldn't have to worry about filling the smaller hairline cracks as the thicker surface coat of epoxy will do this for you.
Low Spots and Other Repair Issues
One thing we did not cover is sunken slabs. Unfortunately these are not a quick fix and can be costly to repair. These can be caused from severe settling of the soil, poorly reinforced slabs, or something worse such as underground water problems. Sometimes the only alternative is to tear out the old slab, address any soil compaction requirements, and pour new concrete.
However, if you just have low spots in your slab that collect water due to a bad finishing job, there is an answer. You can use a self-leveling polymer-modified topping or epoxy slurry to fill in those low spots. Don't fill in any of your contraction joints. If you do, you can scrape it out later as it starts to harden. Just make sure the product you use is designed for outdoor use.
Properly completed, repairs can last for years if not the lifetime of the garage floor. If you can patch a wall before painting, then you have the skills to do the same for your floor and avoid the much more expensive option of having someone do it for you.