This post may contain affiliate links. If you use these links to make a purchase, we may earn a small commission. As an Amazon Associate, All Garage Floors earns from qualifying purchases. You can read our full disclaimer here.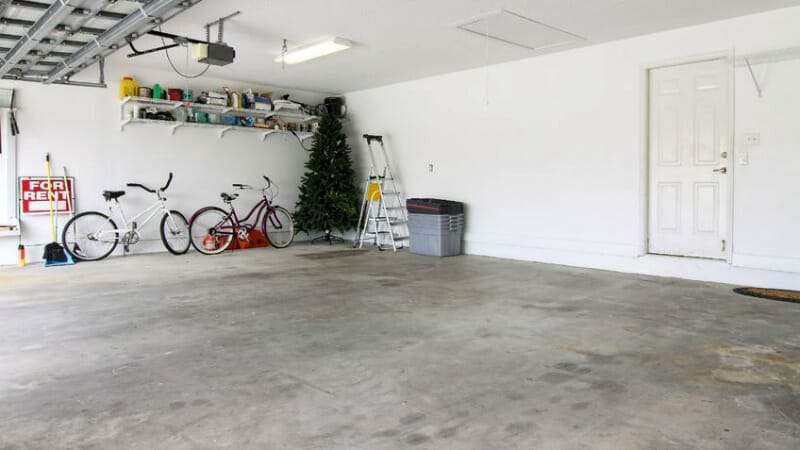 Do you sweep or clean the concrete of your garage floor only to have it feeling gritty and dusty the next day? Even after washing it down, can you can run your fingers over the concrete once it is dry and get a white, dusty film on your fingertips? If so, you may have a problem with concrete dusting.
The good news is that dusting of a garage floor can be reduced in many cases and sometimes stopped completely depending on the severity and the solutions that are applied.
What is concrete dusting and what causes it?
Dusting is the white chalking and/or powdering of concrete at the surface. It is primarily caused by the slow disintegration of a weak top layer of concrete. Foot traffic, cars, and even cleaning can enhance the problem.
There are many reasons for this weakened layer of concrete. It can range from poor mixing at the concrete plant, excess clay or silt in the concrete mix, old age of the concrete, or even insufficient curing.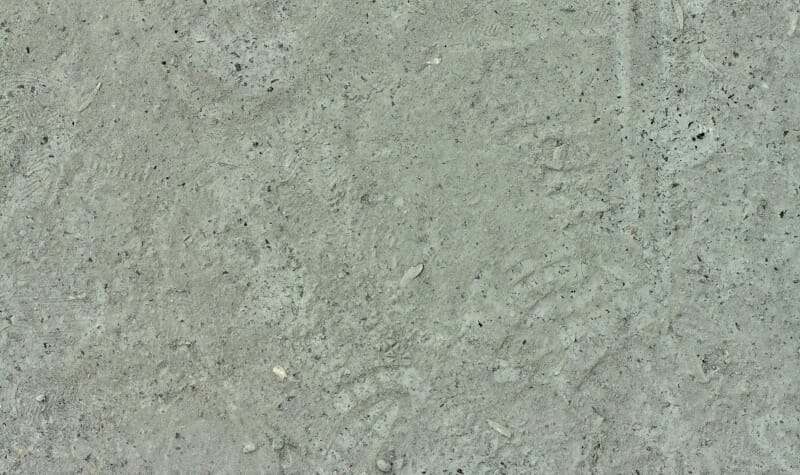 The most common reason, however, is excess bleed water at the surface. If there is too much water in the concrete mix, this water will rise to the surface during the finishing process (troweling). This bleed water can carry finer particles and cement to the surface, forming a weak layer of concrete at the upper most top of the slab.
This surface laitance is actually a porous layer of softer concrete that slowly breaks down, thus creating the white powdery surface. In some cases, the surface can be so soft that it can easily be gouged with a sharp screwdriver or nail.
In addition, this same condition can be caused when water is added to the surface during the finishing process. This is commonly done by less experienced and DIY concrete finishers in a last-ditch effort to create a smooth troweled surface.
Unfortunately, sweeping and even pressure washing of the concrete never seems to get it completely clean since the surface is in a constant state of disintegration.
If left untreated, this fine concrete dust can become extremely annoying as it finds its way onto the surface of cars, work benches, laundry machines, and anything else kept in the garage. It can also be tracked into the house on the bottom of your shoes.
How to stop a dusting garage floor
There are a few solutions for stopping or reducing dusting of your garage floor. However, how effective they are is dependent upon the severity of the dusting to begin with.
For light dusting, the easiest solution in many cases is to apply a quality densifier. Typically used for warehouse floors and polishing concrete, they have other uses as well, including the reduction of concrete dusting.
Densifiers are non-film forming and do not change the look of concrete. They work by penetrating into the upper layers of the concrete surface to create a chemical reaction with the minerals. This reaction forms a hard substance called calcium silicate hydrate (CHS) which fills many of the open pores and capillaries at the concrete surface.
The resulting reaction is reported by various manufacturers to increase the surface strength of concrete by 20% – 40%, depending on the initial condition of the concrete to begin with – and that is the odd paradox of a densifier.
The best way to explain it is like this. Densifiers tend to be most effective the better a concrete surface is and less effective the worse a concrete surface is. As a result, the worse the concrete dusting, the less effective a densifier will be. That is why they work best at reducing or stopping light dusting only.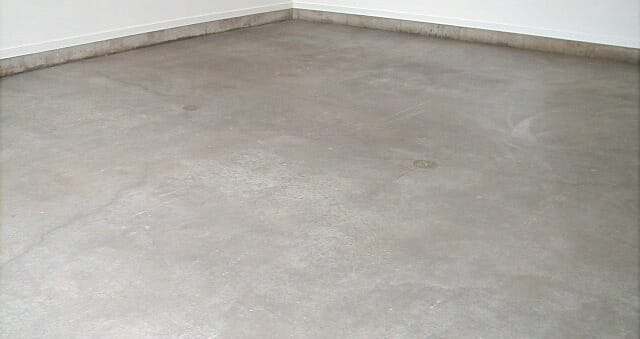 Lithium based densifiers are the easiest to apply and typically the most effective. They are relatively inexpensive and all that is required is to clean the concrete before application.
One product that we highly recommend is PS104 by Concrete Sealers USA. It's a lithium densifier with a siliconate sealer added.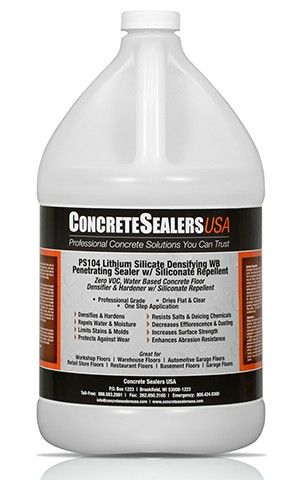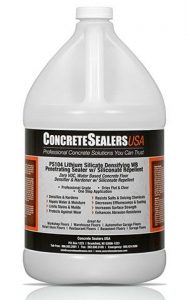 Not only will it densify your garage floor to reduce or stop dusting, the added siliconate sealer will also seal the surface to protect it from water and salt damage as well.
You can check the latest price of PS104 here.
We also have an article that explains in more detail how a densifier with siliconate sealer works.
Another option for light to moderate dusting would be the application of an acrylic topical sealer.
Acrylic sealers are film forming and create a protective coating on top of the surface. This thin coating layer acts as a barrier over the concrete thus sealing in and stopping the dusting.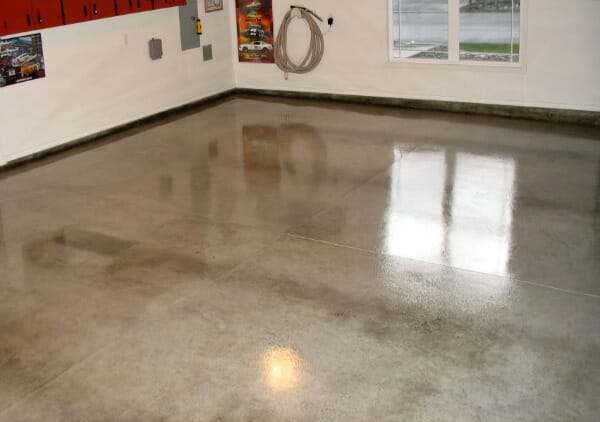 If the garage will encounter vehicle traffic, then our recommendation would be an MMA acrylic sealer.
This type of acrylic sealer is the most durable and will not suffer from hot tire pickup and will resist staining and chemicals much better than water-based and standard solvent-based acrylic sealers.
An epoxy floor coating or similar is another option to stop dusting of a garage floor. However, grinding of the concrete surface would be the required concrete prep when dusting is an issue.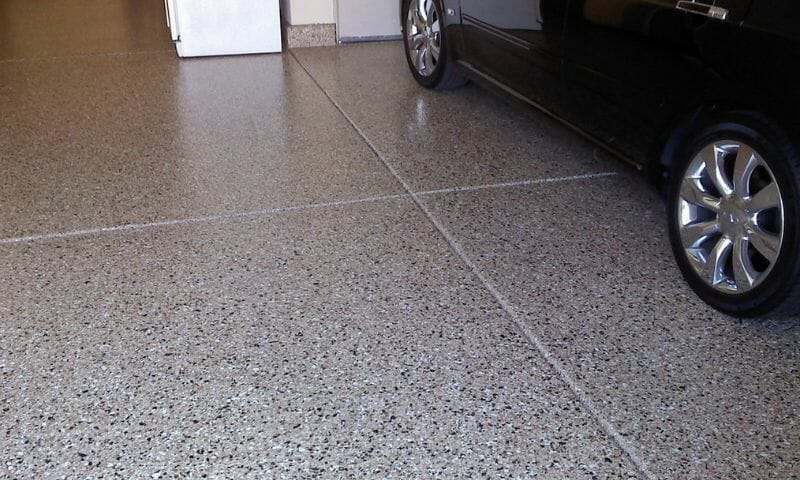 The reason is that grinding will remove the excess laitance and thin layer of soft concrete at the surface. Acid etching will not.
If epoxy or a similar coating is applied to dusting concrete that was prepped only with acid etching, the epoxy will peel up at a later date, exposing a thin layer of concrete dust on the bottom of the epoxy.
Stopping moderate to severe concrete dusting
If the surface of your concrete is soft enough to easily gouge with a screwdriver or your dusting is more severe, then aggressive grinding, shot blasting, or scarification of the concrete surface is going to be required.
This type of aggressive mechanical process effectively removes the soft upper layers of concrete to expose the harder surface underneath. It also leaves the concrete with a very rough finish.
This leaves you with a couple of options. The first is to coat over the rougher finish with a thick, multi-layer commercial epoxy coating system.
The second option is to smooth out the surface of the concrete with less aggressive grinding stones. After that, you can then properly seal the concrete.
Final thoughts
Though concrete dusting can be a real nuisance in your garage, it doesn't mean that you can't tackle the issue with a little bit of DIY effort on your part.
Unless the dusting is moderate to severe, an application of a quality densifier, an acrylic sealer, or a garage floor coating system will usually get the job done.
If the dusting is severe or the concrete is so soft that it can be gouged fairly easily, then we recommend contacting a garage floor coating company or concrete grinding contractor to discuss your options.
Lastly, do not rely on a home improvement center to help solve your problem. They typically are not well educated on such topics and most do not carry the proper products to use.
Instead, we recommend contacting a quality vendor who specializes in concrete floor coating and sealing products to ask questions. Their knowledge and experience can help you to successfully stop concrete dusting of your garage floor.