Sealing your garage floor to retain the bare concrete look is a project that should not be that difficult.  In fact, when using the correct application techniques it can usually be completed with little if any problems.  So in an effort to help you along, we have listed 8 concrete sealer application tips that should help to insure a successful outcome for your garage floor.
Note:  These sealer application tips are intended for those who want to seal and retain their bare garage floor look with a penetrating sealer, densifier sealer, or thin film forming sealers such as acrylics and hybrid acrylic blends.  Though most concrete densifiers are technically not a sealer, they are now available with silicone and siliconate agents added to repel liquids and is why we have included them as well.
If you intend on sealing your garage floor with a thicker resinous coating such as epoxy, polyurethane, or polyurea blends, then we recommend that you read these application tips here.  For more information about garage floor sealers, we recommend that you read this article here.
Concrete Sealer Application Tips
1.  Follow the manufacturer's directions
Believe it or not, quite a few mistakes are made from not following the directions.  Even if you have applied a sealer to your garage floor before, each manufacturer has its own specific set of instructions to follow.
If ever in doubt, contact the manufacturer first before you apply the sealer.  Trust us; there isn't a question they haven't heard before.
2.  Proper concrete preparation
Preparing the concrete of your garage floor properly is the key to any successful sealer application.  This includes making sure it is squeaky clean and has the correct surface profile.  Other than densifier sealers, most concrete surfaces need to have a somewhat porous surface in order for the sealer to penetrate into the concrete or adhere to the surface.
Check with the manufacture to see what type of surface profile is required.  In addition to cleaning the surface, you may need to lightly sand or apply a mild acid etch solution first to the surface to insure proper sealing.
Tip:  Make sure that the concrete of your garage floor is bone dry before applying the sealer.  Most sealers will have an adverse reaction to concrete that is still releasing moisture into the air from being wet.
3.  Use a quality and appropriate lint free roller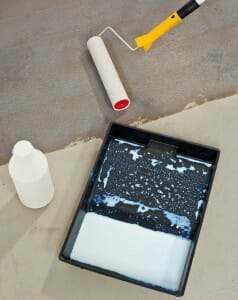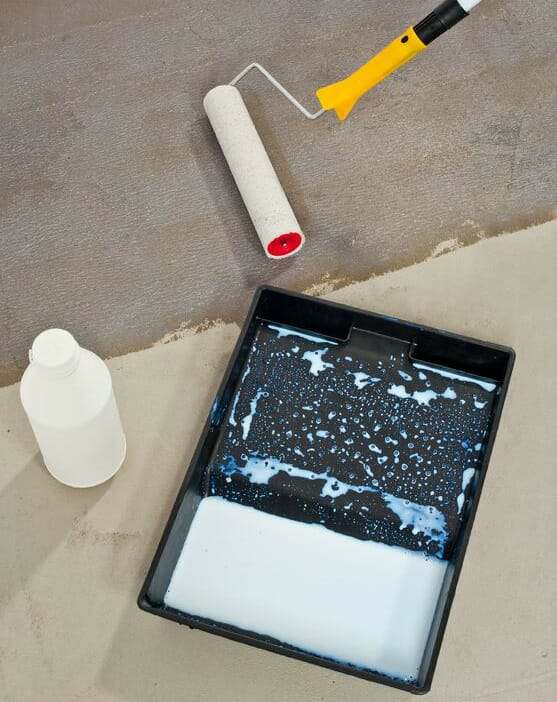 Don't buy cheap roller covers to save a dollar or two.  Use quality lint free roller covers like the Purdy White Dove
line or the Wooster Doo-Z
line of roller covers.  These are shed resistant rollers that won't deteriorate from the solvents of some sealers.
Tip:  Run the roller cover over a strip of duct tape to remove any loose lint that may still be present from the manufacturing process.  This will insure that you will have zero lint stuck to the surface of your garage floor.
Pay attention to the proper nap thickness as well.  Most sealers are applied with 1/4" or 3/8" nap rollers.  Anything thicker will result in a heavier application which can cause problems with the looks and performance of the sealer.  See tip #5.
4.  Keep a wet edge
Complaints about seeing roller marks or lap lines are common when applying thin film forming sealers such as acrylics.  To avoid roller marks, always keep a wet edge and do not try to stretch the sealer by letting the roller run dry.  Keep it wet and run over the previous pass an inch or two in order for the two passes to blend in together as they cure.
Tip:  Never run the roller over a section where the sealer has already started to cure.  This will result in a blotchy looking mark as wide as your roller.
5.  Thin to win baby
Yep, this saying applies to sealers as well.  Film forming topical sealers such as acrylics need to be applied in multiple thin coats to be most effective.  If applied too thick, they can develop blisters, bubbles, hazing, foam, and appear milky as they cure.
Stress fractures that appear as cracks within the sealer can develop also when it is applied too thick in one application.
6.  Use a cone shaped nozzle for pump-up sprayers
If applying your sealer with a pump-up garden type sprayer, be sure to use a cone shaped nozzle and not a fan shaped nozzle.  The cone shape will create the most even distribution of the sealer and helps to avoid heavy overlap marks and dark stripes in the concrete.
Tip:  Apply in a circle pattern and not side to side for even distribution and keep a constant air pressure to the spray nozzle in order to provide a consistent spray pattern.
Another application tip when using a pump-up sprayer is to filter the sealer first with a paint strainer.  This will keep your nozzle from clogging from clumps of sealer material.  If you don't have a paint strainer a coffee filter will work in a pinch.
7.  Do not let sealers puddle on the concrete
When applying a densifying sealer and penetrating sealer to a concrete garage floor, do not let the sealer puddle.  The general rule is that if it has not been absorbed into the concrete after 8-10 minutes, back roll the excess sealer to remove it.
Some densifiers and penetrating sealers require agitating with a stiff brush to promote absorption into the concrete.  Check with the manufacturer first.
If puddles are left to dry, they will form a white hazy substance on the surface that takes some time and scrubbing to remove.  Puddles of acrylic sealer will turn hazy and can show internal stress fractures that look like cracks.
8.  Check the air temperature before applying sealers
Film forming sealers like acrylics should be applied in temperatures between 50 and 80 degrees.  If it's warmer than that the sealer can cure too quickly causing bubbles to form from evaporating too fast.  Avoid applying if rain is expected within 24 hours of application or the humidity is above 85%.
Penetrating and densifying sealers can usually be applied in temperatures between 40 and 90 degrees.  Always check with the manufacturer's installation instructions first to verify temperatures.
If you put these concrete sealer application tips to use you shouldn't have any problems when sealing your garage floor.  Contact the manufacturer with any questions you may have before application and never use a product if you are unsure of how to apply it effectively.