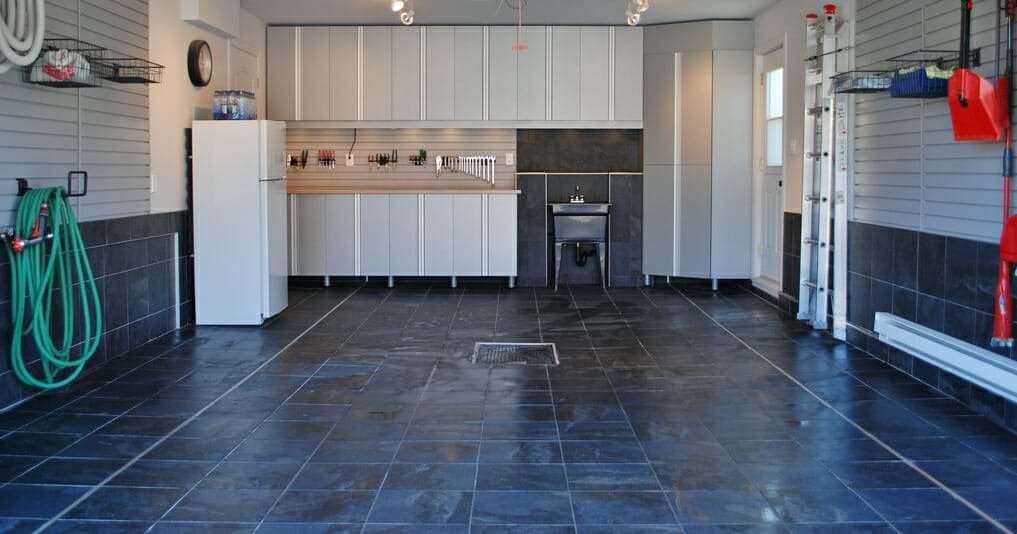 To our Reader's: This post may contain affiliate links. If you use these links to make a purchase, we may earn a small commission. As an Amazon Associate, All Garage Floors earns from qualifying purchases. You can read our full disclaimer here.
When choosing garage floor tiles for your home, never before has there been such a large range of styles and materials to choose from.  Some of your options include interlocking floor tiles from popular companies like RaceDeck and SwissTrax.  PVC or rubber garage floor tiles, porcelain, and even peel and stick vinyl garage tiles.
Garage flooring can now be custom designed with color, texture, pattern, and durability in mind to match your flooring needs.
Besides the fantastic looks that garage floor tiles can offer, they provide tremendous benefits as well.  The best part is that some tile garage flooring can easily be installed in less than a day by the average person.  With that in mind, let's take a look at the different tile options to see what the best garage flooring tiles are based on your needs and budget.
Interlocking Floor Tiles
Interlocking garage floor tiles are gaining fast momentum as some of the best options in garage floor coverings today.  Homeowners are quickly realizing how easy they are to install as well as the good looks and benefits that this modern day product delivers.  One of the more appealing aspects of interlocking tiles is that it enables the homeowner to custom design the floor of their garage to whatever suits their needs.
In fact, many companies have online tools that let you design your floor right on your computer.  You can choose an all solid color, multiple colors, do racing style checkered flag themes, create colored borders for car parking and storage areas, or even design walking paths between vehicles if you like.
Interlocking garage tiles are available in either the rigid polypropylene plastic or more flexible rubber like PVC tiles.  The benefits of this kind of garage floor coverings are impressive.  They are resistance to stains, chemicals, oils, and road salts.  The tiles are non-slip, U.V. resistant so they won't fade in sunlight, and are mold and mildew resistant.   Sizing starts at 12″x12″ and can be as large as 24″x24″.
There are many surface patterns and sizes to choose from such as simulated diamond plate, coin pattern, free flow, and ribbed, all of which can stand up to the rigors of an active garage.  The best part is how easy they are to install.  Since they are "free floating", meaning that they are not affixed to the floor, they just snap into place.  You can do an average garage in just a few hours.
            A nice example of how easy interlocking tiles assemble
Cost, of interlocking garage floor tiles can start as low as $1.90 per square foot for the least expensive rigid polypropylene and over $3.00 per square foot for the rubber-like PVC.  When choosing which tile is right for you, don't forget to look at the warranties.  While the less expensive brands are attractive, they usually have a much shorter warranty. The more premium brands have warranties as high as 15 years.
Vinyl Composite Garage Floor Tile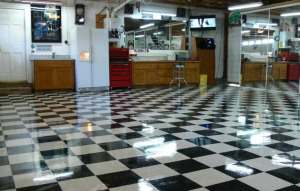 Vinyl composite tile for a garage floor, otherwise known as VCT, is another nice choice that is fairly easy to install if you like to do your own projects. These are the same sturdy tiles that you see in grocery stores and school hallways that are buffed to a high glossy shine.
Depending on the colors selected, they can provide a nice "retro" look to your garage floor that many people find appealing.  These tiles are generally 12"x12" x 1/8" thick and are glued into place.  The traditional black and white checkered look is easily the most popular.
Vinyl garage tiles have a nice glossy finish when waxed and buffed, are resistant to stains, automobile fluids and road salts though they can sometimes be a little slippery when wet.  As tough as these tiles can be, VCT can gouge from sharp objects and it might be wise to place a board under jack stands if you like to work on your car.
In terms of cost, VCT is the least expensive alternative in garage floor tile and can sometimes be found for as low as .69 cents a square foot with a little searching.  They are a great choice for a budget garage flooring.  Keep in mind that they still require general maintenance such as waxing and the occasional buffing to keep looking nice.
Installation is not as easy as interlocking tiles since the cement floor must be cleaned and prepped properly to accept the adhesive, but they can be installed in a weekend.  For the price and looks, this garage floor tile is by far the best option if you are on a budget.
Peel and Stick Vinyl Garage Tile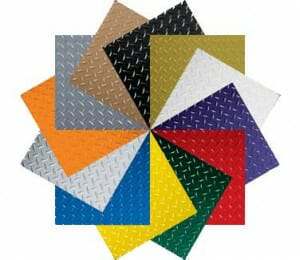 A close cousin of VCT is the new polyvinyl peel and stick garage floor tiles.  These come with a pressure sensitive adhesive on the back that is exposed when you peel the release paper off.  This means that there is no glue required to put down on the concrete when you install them.  They also have a very glossy, non-porous finish that doesn't require any waxing or special treatment like VCT and provides for even better protection from stains and spills.
Available in a diamond or levant (smooth) tread pattern, these durable tiles come in 12 different colors and two sizes, 12″x12″ and 24″x24″, to customize the look of your floor.  Cost is a little over $3.00 a square foot and they can be installed in a weekend.
Some people say that the hardest part about choosing this kind of tile is trying to determine which colors to go with since there are so many to choose from.
Porcelain Garage Floor Tile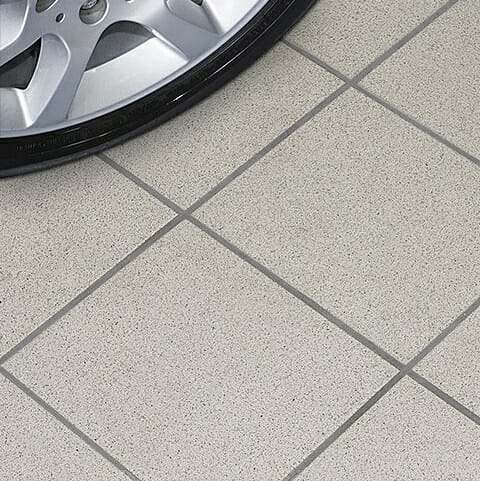 Surprising to most people, one of the most durable and beautiful flooring options that can be installed is porcelain tile for the garage.  Porcelain is rated for both hardness and slip resistance and contrary to many beliefs, it is extremely difficult to scratch, break, or even chip.  Porcelain has been used for years in professional garages as the flooring of choice.  It stands up well to abuse, moisture, oils, stains, road salts, and more.  It even does well in cold climates where garage floors routinely see temperatures below freezing.  It is also very easy to keep clean.
Available in a multitude of sizes and color, it can be found for less than $1.00 a square foot with the appropriate ratings for your garage floor.  If you have some experience laying tile you will find that these can be installed without too much difficulty.  If you are unsure of your abilities then you can always find someone to install it for you for a fair price depending on your area of the country.
You can actually have a beautiful and professional looking porcelain garage floor installed for less than you think – especially if you do it yourself.  This is by far the best garage floor tile that you can install in terms of durability and resistance to staining.
No matter which type of product you choose, you can't go wrong with garage floor tiles. They can add character, flair, class, and even attitude depending on your design.  Plus, you get a floor that is easy to maintain and one that all your neighbors and friends will envy.