This post may contain affiliate links. If you use these links to make a purchase, we may earn a small commission. As an Amazon Associate, All Garage Floors earns from qualifying purchases. You can read our full disclaimer here.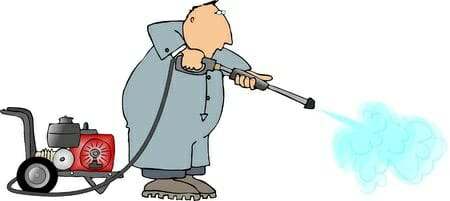 Using a pressure washer to clean an unusually dirty garage floor of oil stains, ground in dirt, and other debris can be highly effective and requires less work than other traditional methods.  The key however is to choose the correct type of pressure washer to use on your garage floor in order to get good results.  Choose the wrong one and you will be less than happy.
So let's discuss what type of pressure washer to use, tips for cleaning your garage floor with a pressure washer, and some important safety guidelines to consider.
Pressure washer or power washer?
Before we start, we need to learn the difference between a pressure washer and a power washer.  Many times these terms are used interchangeably by the novice without realizing they are two different types of machines.
The main difference is that a pressure washer is a cold water unit while a power washer is a hot water unit.  Power washers are much heavier due to the heating coil that is used to heat the water and they are much more expensive to rent.
While hot water does work better at breaking down oils, pressure washers work great at cleaning concrete for most situations and are the better value when renting.  Only if you have a seriously oily garage should you consider renting a power washer instead.
Tip:  Don't hook a pressure washer up to a hot water line in your home.  The seals and gaskets used for the pump are not designed for hot water temperatures and will deteriorate quickly if you do.
Choose the correct pressure washer
Pressure washers come in both electric and gas engine models and each model is rated for how much water pressure they produce.  This pressure is measured in pounds per square inch or PSI at the tip of the nozzle.  As well as being rated for PSI, they are also rated for water flow which is how much water they produce in gallons per minute or GPM.
So what kind of pressure washer should you use for a garage floor?  For a bare concrete garage floor you want to rent a gas powered pressure washer with a minimum rating of 3,000 PSI and a water flow rate of 3 GPM or more.  Anything less will not be as effective and will take longer to get the job done.
This is a good video showing how set up a rented pressure washer
The reason for this is that dirt encrusted and oily concrete does not clean as well with anything rated for less than 3,000 PSI.  The minimum 3 GPM will also enable you to work quicker because you won't be pushing around a pile of dirt and debris due to a lower flow of water.
You can usually rent these from $45 – $65 a day depending on where you live and the rental store you are dealing with.
Electric pressure washers are not a good option for garage floors as they rarely rate over 2,000 PSI.  They are fine for general purpose cleaning but not for heavy duty jobs.
Once you have selected a pressure washer to rent, make sure you know how to start it before you take it home.  Start it yourself at the rental facility to ensure that it runs correctly and to ask any questions about the operating procedures that you find confusing.
How to pressure wash a garage floor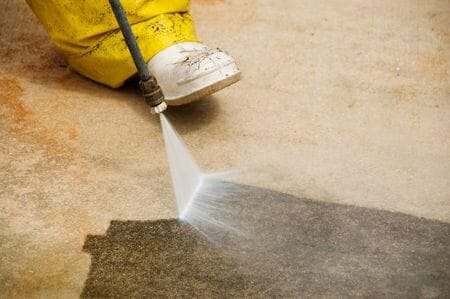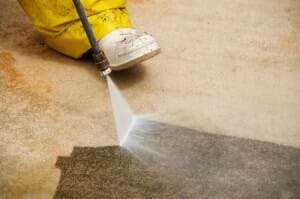 Be sure to wet down the floor first before cleaning with the pressure washer.  This will eliminate streaking that can occur in the concrete after it dries.  Sometimes it's best to work in sections.
Pretreat any oil or grease stains with a strong concentrate of degreaser.  It helps to scrub it in with a deck brush if you have one.  Be sure to let the stains soak for 15 to 20 minutes without drying out.
While your stains are soaking, you can turn your attention to the rest of the floor.  In order for a pressure washer to work best at cleaning the garage floor you need to soak the remaining concrete with a degreasing solution as well.  Many pressure washers have a separate reservoir to add a degreasing product.  We like Simple Green Concrete and Driveway Cleaner.
While your pretreated stains are soaking, add the degreaser to the reservoir of the pressure washer and select the low pressure tip for the cleaning wand.  This is usually the black tip.  Start the pressure washer up and apply the degreaser to the garage floor.  It should create a nice foamy solution.  Make sure to turn off the valve that allows the degreaser to enter the hose when you are done.
If your pressure washer doesn't have a reservoir for a degreaser, just mix up a strong solution in a bucket and spread it out on the floor.  Either way, let the degreaser soak for 15 – 20 minutes without drying out.  Spray some water on the surface if necessary to keep it wet.  Once the concrete has soaked you can start pressure washing the garage floor.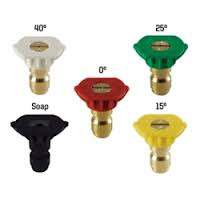 Select the yellow 15° spray nozzle.  This works best for heavy cleaning in most areas.  If the floor isn't too dirty, you can try the green 25° nozzle as it will cover a larger area but uses less force.  The key is to keep the tip of the wand 6" -12" from the surface while pressure washing the concrete.  Always keep the wand moving and don't linger in one spot too long or you can possibly etch the concrete.  A deliberate and methodical pattern works well and will keep you from missing any areas.
Pay particular attention to any oil spots that you have pretreated.  Sometimes it may take a second application to get them completely clean.
Safety tips and tricks
Pressure washers can be dangerous and cause bodily harm if you are not careful.  Never pressure wash in your bare feet.  The high pressure spray can rip the skin right off the top of your feet.  Wear an old pair of shoes or rubber boots.
Never run your hand through the spray to check the pressure.  It will damage your hands immediately.  It's a good idea to wear eye protection as well.
We recommend taping up some cheap plastic drop cloths to the lower 3 ft. of your walls to protect electrical outlets and finished drywall.
Because pressure washers actually use less water per minute than a regular hose, it's a good idea to hose down your driveway before you start.  The dirty water that is flushed from the garage is fairly concentrated and this will prevent the contaminants from the garage getting deposited on your driveway.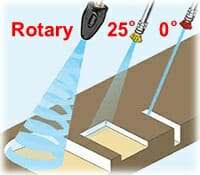 To speed up the cleaning process and get the best results for extremely hard to clean spots you can use a special rotary tip called a turbo nozzle.  They work by spinning a 0° spray pattern in a 4" to 8" circle at 3000 RPM's.  This allows the 0° spray to attack the concrete from various angles at once which will reduce the cleaning time considerably.
Most rentals don't come with a turbo nozzle so you may have to ask for it as an accessory or purchase it separately.
Lastly, don't forget to purge your hoses and the pressure washing unit of air before you start it up and make sure it's set on level ground.  Depending on the unit you have, some have a low oil level engine shut off switch that may be triggered if it is sitting at an angle.
Using a pressure washer on your garage floor is not hard.  The key is choosing the correct one to get the best outcome.  Don't use something less just to save a few bucks on a rental.  If you follow these tips, you should be very satisfied with your results.