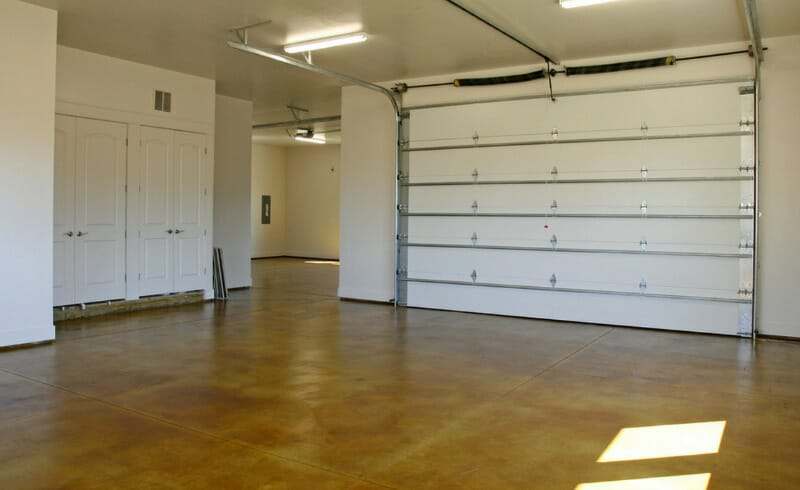 Color dyed and acid stained garage floors are fast becoming a popular DIY trend. They provide a lower budget option for those that desire a decorative appearance that looks other than traditional for a garage. Furthermore, these translucent color additives for concrete can create a vibrant-looking floor with multiple color hues and lots of character.
One fascinating aspect is that no two stains or dyes for a garage floor look alike. This is because the density, porosity, finishing process, and regional concrete mix for each slab always varies. As a result, the stains and dyes will react to the concrete differently as well.
In addition, true concrete stains and dyes cannot peel, crack, or delaminate. Once applied, the color is permanently imparted to the concrete surface. One single color can be applied or you can apply multiple colors to create your own unique color palette.
After application, it is important to protect the stained or dyed surface with a clear topical sealer. The sealer is what makes the colors pop and come alive as well as protects the stain.
Non-film forming sealers can be used, but they will not make the colors look vibrant and they will not protect the colored concrete from wear or other physical damage like a topical sealer will.
Important to note is that most colored concrete stains are translucent. They will not hide or cover up irregularities in your garage floor surface. Examples are spider cracks, crack repairs or discolored concrete.
Instead, they tend to highlight these imperfections. This can create character in the floor that many desire. If you want a more solid-looking colored floor with a fairly even color tone, then a concrete stain may not be for you.
Learn more: Don't Use These Fake Stains on your Garage Floor
Once the decision has been made to color stain your garage floor, it's important to decide which type you want to use. Your choices are acid stains or colored dyes. They can also be used in conjunction with each other in some circumstances.
Furthermore, it is very important to choose which type of concrete sealer you want to use. Sealer choice will determine how durable the stained garage floor will be. Many clear sealers will stand up to heavy abuse, automotive repairs, oils, and other garage projects.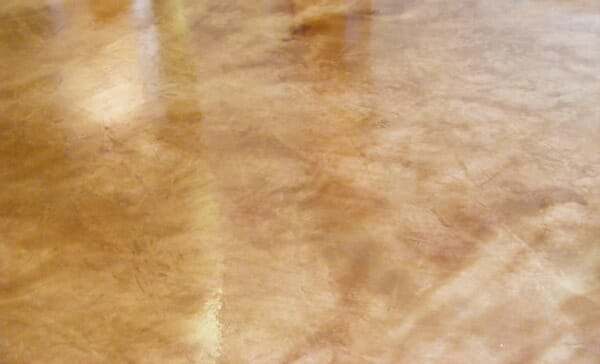 So, let's discuss the differences in concrete stains, how to choose a sealer, and the application process required. Once you learn the details of stains, dyes, sealers, and application, it can be a fun and rewarding DIY project to do.
To our readers: This post may contain affiliate links. If you use these links to make a purchase, we may earn a small commission. As an Amazon Affiliate, All Garage Floors earns from qualifying purchases. You can read our full disclaimer here.
What is the difference between acid stains and dyes for concrete?
We understand how choosing a stain or dye for your garage floor may be confusing. "Stained concrete" is a term that is used loosely in the industry and does not necessarily define what method was utilized to color the concrete.
The industry even has a hard time distinguishing the difference between a stain and a dye sometimes. The terminology is not as important though as learning the features of each and how they work. Each has its own coloring characteristics as well as requirements for application.
Acid Stains for Garage Floors
Acid staining is a chemical method of coloring bare concrete. And until recently, it has been the favored method of staining concrete for years. Acid stain consists of water, acid-soluble metallic salts (colorant), and hydrochloric acid. It works by penetrating the concrete and causing a chemical reaction with the hydrated lime present on the surface.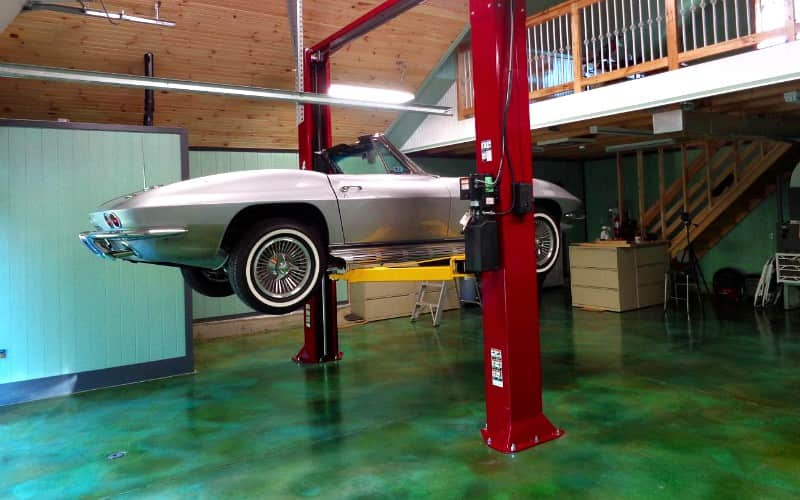 The chemical reaction lightly etches the concrete and deposits the metallic salts into the concrete surface. This produces a natural-looking, translucent color that is permanent. It is often beautifully mottled or marbled in appearance.
Coverage rates for acid stains are approximately 200 – 250 square feet per gallon. The rates will increase for multiple applications.
Because acid stains are organic, color selection is limited to 8 basic earth tones. Examples are golds, browns, terra-cottas, reds, tans, and soft blues and greens. Black is an option, but it looks more like a very dark brown.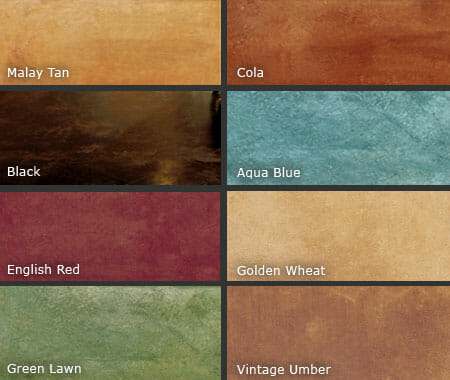 Colors can vary in intensity depending on the concrete surface of the garage floor. Very smooth, dense concrete will not allow much of the stain to penetrate and react. This can produce a very light coloring effect. On the contrary, the more a stain can penetrate, the richer the colors tend to be.
The application of acid stains for a garage floor is a more time-consuming process. Unlike concrete dyes, acid stains may need to be agitated with a broom or deck brush during application to encourage better penetration and robust reaction with the concrete.
See here: Dazzling 6 Color Acid Stained Garage Floor
In addition, acid stains need to dwell for a minimum of 5 hours to be most effective. You can then add a different color or determine if more stain needs to be applied to make the color darker or richer looking. Furthermore, acid stains create fumes and need good ventilation.
Lastly, once the staining process is complete, the surface needs to be washed, scrubbed, and neutralized with an alkaline soap or ammonia solution. This is an important and often overlooked step.
Though a porch, the video below is an excellent example of how an acid stain is applied.
The scrubbing is required to remove unreacted acid stain and stain residue. And because the concrete is now in an acid state, the alkaline solution effectively neutralizes the acid and returns the concrete to its natural, basic pH state. Multiple scrubbings may be required to remove all the residue.
Check Price of Acid Stains we Recommend
An important note to make is that acid stains typically cannot be applied to concrete that has been sealed. The sealer effectively limits the penetration and reaction of the acid stain to the concrete.
Grinding is the standard process of removing a sealer. However, it can also remove most of the free lime that the stain reacts with to impart its color. If your garage floor has previously been sealed, then removal of the sealer and application of a concrete dye would be the better choice.
Concrete Dyes for Garage Floors
This is where the industry can cause some confusion. If a colored concrete stain is not acid-based, then it is typically considered a dye. Dyes can be either water-based or solvent-based. However, some water-based concrete colorants are sometimes referred to as stains.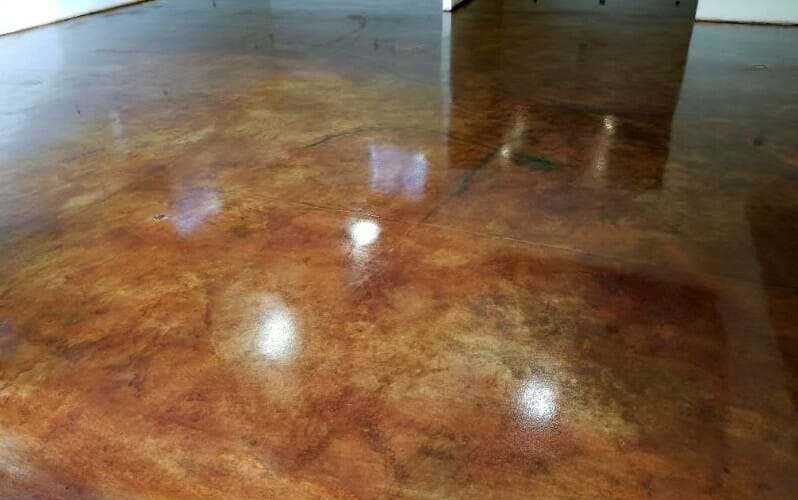 The terminology that each manufacture or vendor uses is not as important. What is important is the process of how water-based and solvent-based dyes work to permanently color the concrete compared to acid stains.
Unlike acid stains, concrete dyes are non-reactive. They penetrate the concrete to deposit their colored pigment into the many pores, nooks, and crannies of the concrete surface. And because their pigment particles are much smaller, they can achieve higher color saturation than acid stains.
In addition, concrete dyes are not organic like acid stains. As a result, dyes have more colors available to choose from other than earth tones. White can even be a color option.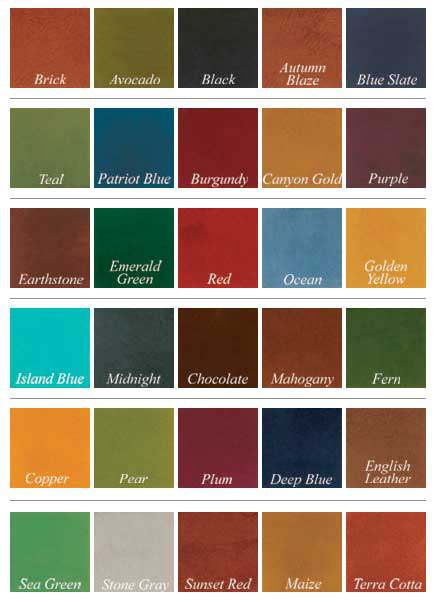 Coverage rates for concrete dyes tend to be higher than acid stains. Expect an average of 250 – 300 square feet per gallon for the first application. Multiple applications may increase up to 400 square feet per gallon.
Water-based dyes are more common than solvent-based and are the preferred choice for garage floors. Like acid stains, water-based dyes produce softer colors and hues that are more translucent. They also create a mottled and variegated look that is similar to acid stains. And like acid stains, most are U.V. stable and will not fade in direct sunlight.
Learn more: Our Review of DeltaDye water-based stain
Solvent-based dyes, such as acetone, tend to produce brighter coloring that is more uniform and less translucent. They also are not as U.V. stable and the colors can fade over time in direct sunlight. This is why they are not preferred for a garage floor or outdoors.
Because the coloring agents in dyes are smaller, they can be used in conjunction with acid stains to darken parts of the concrete where the acid stain did not take as well. They are also used for shading and helping to create a worn or weathered look on the floor as well as 3D effects.
The video below is an example of how a water-based stain and polyurea sealer are applied. The clean and prep involve an etching solution.
Lastly, the application process for concrete dyes on a garage floor is much easier. They take approximately 1 – 2 hours to dry before adding more color. In addition, the concrete does not need to be neutralized. Cleaning and scrubbing of the surface are not required in most cases. Heavy scrubbing of the surface before sealing it can lighten the color/s if you are not careful.
Sealers for Acid Stained and Color Dyed Concrete
The selection of a proper clear coating sealer for acid stains and dyes for a garage floor is extremely important. It is what protects the stain or dye. In addition, it will also determine how well the floor will stand up to vehicle traffic, garage projects, automotive repair, and other activities. The durability of the coating is a key component.
Many of the clear coating sealers that you see applied in videos for patios, walkways, and inside a home are for foot traffic only. They will not perform well in a garage environment. Most are water-based acrylics and are a good example of a type of sealer that should not be used.
When selecting a clear coating sealer, it's also important to consider the concrete prep required for the sealer. Many coatings require that the concrete be etched first for the coating to adhere properly. This is why it's necessary to do your homework and determine how the stain or dye may work in conjunction with the clear coating sealer you prefer.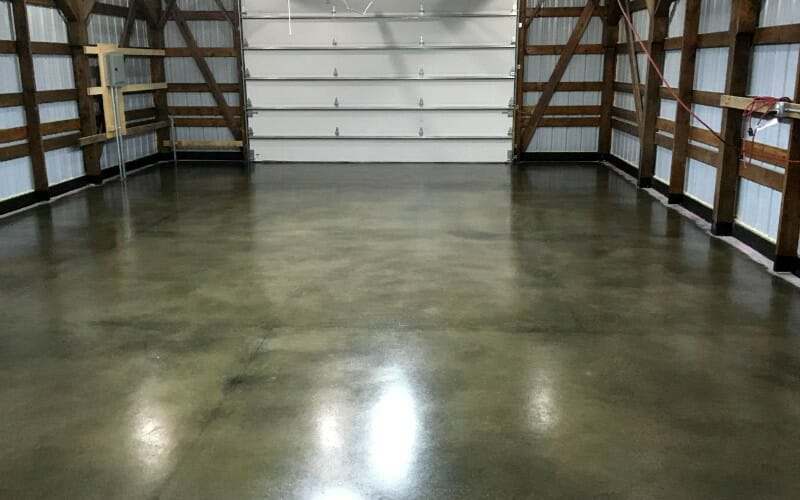 Below are the scenarios for clear coating acid stained and dyed concrete that you need to consider.
Dyes do not need further surface prep of the concrete if they can penetrate on their own. If etching the concrete is something you want to avoid, then you need to use a clear coat that does not require it. As a result, your choices for a clear sealer can be limiting.
However, if you etch the concrete before application of a dye, then your choices for a quality clear coat are many. Just keep in mind that it will require the application of more concrete dye to get your desired results. This is because the etching will open up the pores of the concrete and allow it to absorb more dye.
One advantage to acid staining a garage floor is that the acid in the stain etches the concrete. Unless you use a very light application of the stain, a typical application will etch the concrete enough to accept a low solids clear epoxy coating or a high-quality solvent-based coating.
Sealers for concrete stains/Dyes that do not require etching
The following are examples of clear coat sealers that can be applied to concrete and garage floors that were color dyed. If the concrete accepted the dye, then it will accept these sealers.
MMA Acrylics. Technically known as methyl methacrylate copolymer (MMA) acrylic resin, these high gloss, solvent-based acrylic coatings are much more durable than water-based and non-MMA solvent-based acrylic clear sealers.
They will not suffer from hot tire pickup, they are U.V. stable, and they do a decent job of resisting stains and chemicals as well. Reapplication of the sealer should not be required for 3-5 years depending on use. This one here is an example we can recommend.
Acrylic modified, aliphatic polyurethane sealers. These are thin and long-wearing polyurethane coatings/sealers for bare concrete or stained/dyed concrete. Durability is superior to MMA acrylics and should last 7 – 10 years or more depending on use.
They will not suffer hot tire pickup, they are U.V. stable and provide excellent protection against road salts, automotive fluids, and other chemicals. They are not recommended for rough surfaces. Our favorite is TS210. It comes in a matte finish. Another is CoverShield U140.
DuraGrade Concrete. DuraGrade is a single component, moisture-cured polyurethane coating, and sealer by Rust Bullet. It has a glossy finish that is more durable than modified acrylic polyurethanes.
Available in clear, it will not suffer hot tire pickup, it's U.V. stable, and will last 10 years or longer depending on the use. In addition, it has excellent resistance to road salts, chemicals, automotive fluids, and wear. You can learn more about DuraGrade here.
Sealers for concrete stains/Dyes that require Etching
If the garage floor concrete is etched or an acid stain is used, then the number of options for a quality clear coating sealer improves greatly.
All of the above-mentioned clear sealers will work well. In addition, you can apply the following examples listed below.
Water-based epoxy. Clear water-based epoxy is going to have a matte to a semi-gloss finish. It is a low solids coating that will provide good resistance against staining from oils, automotive fluids, chemicals, and road salts. However, such fluids should not be allowed to sit for too long. Two thin coats should last 5 – 10 years before reapplication.
One important fact to point out is that epoxy is not U.V. stable and can turn a slight yellow tint if exposed to direct sunlight for periods at a time. This can affect how the stained and dyed colors in the concrete appear.
Hot tire pickup can be an issue as well. Rust-Oleum EpoxyShield is a prime example. Many of these DIY water-based epoxy coating available from home improvement centers and big discount online stores are old epoxy formulations that do not perform well. We recommend using water-based epoxy from vendors that specialize in concrete coatings. Here is an example.
One exception is RockSolid, by Rust-Oleum. Their clear coating rarely suffers from hot tire pickup and is more durable than many water-based clear epoxies. Like epoxy, it is not U.V. stable.
Solvent-based epoxy. Solvents in coatings help with concrete penetration. In fact, many solvent-based coatings that have a higher solids content (thicker dry film thickness) than water-based coatings will penetrate better to create a good bond.
Resistance to oils, chemicals, automotive fluids, and road salts is better than water-based epoxy. Abrasion resistance and wear are slightly improved as well.
Single-part polyurea. Single-part polyurea is a high-performance, U.V. stable, moisture-cured polyurea. It's a commercial quality coating that is highly resistant to staining from oils, chemicals, road salts, and other automotive fluids.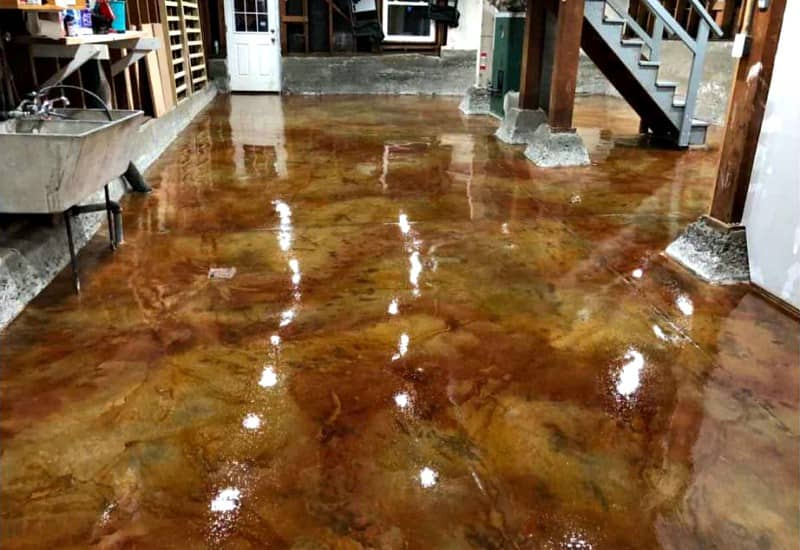 In addition, it is very abrasion resistant and long-wearing. You can expect it to last 10 – 15 years or more depending on the number of coats applied and type of use. It's an excellent choice for a very busy garage floor. Furthermore, it's one of the easiest coatings to apply.
We discuss the advantages of single-part polyurea here. Included is an image of clear applied to bare concrete. This here is an example of where it can be purchased.
Characteristics of Garage Floor Stains and Dyes to Consider
As we mentioned earlier, concrete stains and dyes tend to highlight imperfections in the concrete. This includes any repairs to the garage floor surface that may need to be made beforehand. Examples are cracks repairs or filling of divots, pitting, or spalling.
Proper crack repair materials consist of epoxy or polyurea. They are resistant to staining and typically will not accept color. As a result, such repairs will stand out against the colored concrete.
Small divots, pitting, or spalling can be filled with a polymer-modified, cementitious repair or overlay. These typically accept stains and dyes fairly well. However, the coloring effect will not be the same as the surrounding concrete surface. The actual repair will also look different compared to the surrounding concrete.
Another consideration is that discolored concrete sections or areas where oil stains were effectively cleaned will react and look differently than surrounding areas. This is not necessarily bad or something to avoid. It's just something to consider when choosing your color or color combinations.
If you have a garage floor in need of many repairs and don't want the repairs highlighted, then a concrete stain or dye may not be for you. A garage floor coating would be a better option.
Some people choose not to repair small cracks, pits, or other irregularities. This can help to create a softer and more natural look to the concrete. Combined with an earth tone color or two, this can give the floor a weathered or broken-in appearance that creates character. A matte to semi-gloss clear sealer finishes off the look.
Lastly, grinding of the concrete surface can pose cosmetic issues. Swirl marks from the grinding process will be highlighted and generally do not provide a nice look.
If the floor needs grinding, we suggest following up with a second grind of finer 100 – 120 diamond segmented discs. This will smooth out the swirl marks and provide a more consistent finish.
Garage Floor Prep and Application for Stains and Dyes
It is important to test how well your garage floor will accept an acid stain or dye. You can do so by using a pump-up garden sprayer. Apply a heavy mist of water to the surface and observe how well it is absorbed. If the concrete will absorb the water within a few minutes, then it typically will accept the stain.
Areas of concrete where the water beads or sits for a long period will not accept a stain. If this is the case, sanding of the surface will be required to provide a profile that will allow the stain or dye to penetrate.
A floor maintainer with a few 60-80 grit sanding discs works well for large areas. For small areas, you can use a hand-held orbital sander. The goal is to break up the smooth surface so that the stain will penetrate.
Contaminants such as old oil stains that tend to bead or repel water will be a problem. They will need to be properly cleaned and degreased as well. We have more on oil stain removal here.
Some acid stain manufacturers and vendors include a prep solution that will mildly etch the surface to provide better penetration for the stain. These solutions usually will not disturb the free lime required for the acid stain to react properly.
Once any possible repairs are finished and penetration issues addressed, it's very important to thoroughly clean the concrete. Dust, dirt, and other contaminants will prohibit the stain or dye from working properly.
Always follow the manufacturer or vendor's instructions when applying stains and dyes. Not following application instructions for the exact product being used is the leading cause of errors and cosmetic problems.
Both acid stains and dyes are best applied using a pump-up sprayer with a conical spray nozzle. Care must be taken not to step in the stain or cause heavy puddling. Acid stains are typically applied at a flow rate close to a mist. Water-based dyes and stains require a heavier flow rate.
Make sure to use a quality pump-up sprayer. The cheap ones tend to drip or deposit droplets when the trigger is first pulled and when it is released. This can create cosmetic issues that stand out.
In addition, use a sprayer approved for acids when applying acid stains. If not, the acid will eat through the seals before you can finish. We recommend a Chapin acid sprayer for both acid stains and water-based stains. You can find them here from Amazon.
As a tip, test the spray pattern in a large bucket first. Once you are satisfied, start the spray in the bucket and quickly transfer it to the garage floor. When you are ready to stop the spray, quickly transfer it back to the bucket first. This will prevent errors with dark droplets.
Also, quickly brush or roll out any heavy drips or lines created by the sprayer. If allowed to sit for long, the drips and lines will stand out in the final finish.
Once the stain or dye has sat long enough, you can apply more if desired or apply a different color. When applying multiple colors, the rule of thumb is to apply the lightest colors first. You cannot lighten a darker color stain or dye with a lighter color.
Lastly, it's very important to let the concrete thoroughly dry before the application of a sealer. And we don't mean just the surface.
This step may require up to 48 hours if you applied an acid stain. All of the water required for scrubbing and neutralizing needs to evaporate out of the concrete. If it doesn't, a clear sealer can trap bubbles from the moisture vapor trying to escape out of the concrete.
Final Thoughts
Many vendors that sell acid stains and dyes for concrete offer sample color kits. We highly suggest testing a few colors in an inconspicuous area of the garage floor if you can. This will give you a much better idea of how the stain or dye will look.
Also, keep in mind that colors will look dull until you apply a clear coat. If you want to get a better idea of how a sample color will look with the clear coat applied, apply some water to the surface of the stain after it has dried.
Multiple colors can look fantastic. Just be careful of overlapping too many or the concrete can begin to take on a dark brown tone.
In addition, densifiers, penetrating sealers, or other non-film forming sealers can be applied to acid stained or dyed concrete. However, they will not make the colors pop and the surface of the stain will not be protected very well from scratching or staining.
Though this can be a fairly inexpensive project, the most expensive investment will be the clear coat sealer. The sealer is what will determine how well the floor will perform in the long run. If you are trying to keep costs down, purchase the best sealer that your budget will allow.
There is no doubt that an acid stained or color dyed garage floor can completely change the look of your garage. It's a fun project that tends to bring out the artist in everyone. Once you are done, get ready for the compliments from your friends and neighbors as well as the invitations to stain their garages as well.