This post may contain affiliate links. If you use these links to make a purchase, we may earn a small commission. As an Amazon Associate, All Garage Floors earns from qualifying purchases. You can read our full disclaimer here.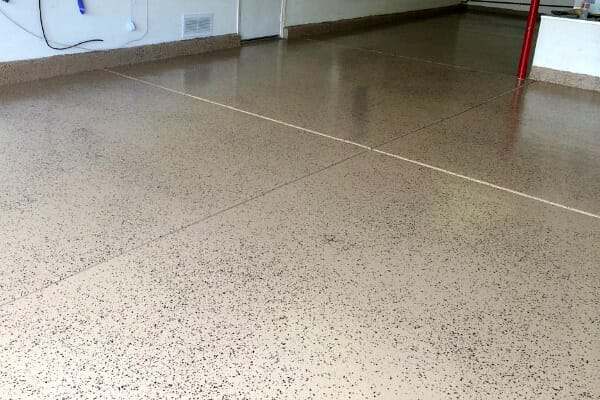 Two questions that we are often asked is how to recoat or apply a new coat of epoxy to an older epoxy floor that has already cured and can you apply a clear coat to an older epoxy garage floor coating? If you've done a little bit of research on epoxy application, then you know how important floor preparation is. So let's discuss how to determine if your floor qualifies for a recoat and then how to prep the floor before you do.
When can you apply epoxy over an older coating?
There are many examples of when you can apply a new coat of epoxy over an older cured coating. The most common of these are for people who had previously applied a color coat and now realize that they want the glossy looks and advantages of adding a clear coat.
Sometimes it's as simple as someone who planned a multiple coat flooring system and waited too long between coats, allowing the epoxy to cure, before applying the next coat in order to get a chemical bond.
Another reason is to renew the clear top coat.  After many years of service in a busy garage, the clear top coat of an epoxy floor can start to show its age.  With the proper floor preparation, you can add another coat of clear and make the floor look brand new again.
And then finally, you may have an older existing coating that is showing wear from years of heavy traffic and getting thin.  As long as the floor is not experiencing any delamination issues, many times you can recoat right over a worn epoxy floor to create a brand new looking finish.
As long as the existing garage floor coating is a 2-part resinous product such as epoxy, polyurea, polyaspartic, or polyurethane, then you should be able to apply an additional coat of a compatible product without issue.  However, to be safe you should always consult with the manufacturer of the new coating first.
When not to apply epoxy over an older coat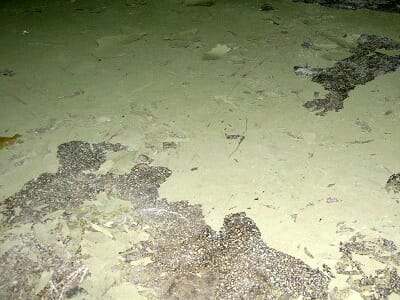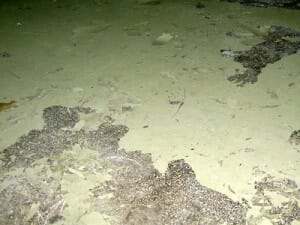 If the existing epoxy floor coating is peeling up or showing other signs of delamination, then you do not want to epoxy over it. There are bigger issues at play here that are causing the delamination. Applying a new coat of epoxy over such a coating will only lead to more problems. A complete removal of the old coating by grinding would be required.
If the coating is fairly worn with more concrete showing through than there is epoxy, then you will want to start fresh by grinding the floor.
Do not attempt to apply epoxy over existing concrete sealers. These need to be removed first as epoxy will not adhere to them.  Also, floor paint is not a good base for epoxy and needs to be removed as well.
How to prep epoxy for another coat
The key to applying a new coat is to mechanically rough up the surface of the older coat to create enough bite for the epoxy to adhere to it. There are a couple of ways to achieve this.
The first is to use 120 grit sandpaper on an orbital sander or pole sander like this one at Amazon
. What you are trying to do is rough up the surface, not remove it.  The surface should look deglossed after sanding.
Once done, sweep up the heavy stuff and then vacuum the entire floor with a shop vac.  Next, use denatured alcohol on a small towel and wipe down the entire surface.  The denatured alcohol will remove all the fine dust particles, evaporate quickly, and make sure that the surface is clean.
The other option is to use a floor maintainer (buffer) with a 100 grit sanding screen.  You can usually rent these fairly inexpensively from your local home improvement center.  They should have the sanding screens to purchase as well.
This method will go faster than the pole sander and cover a lot of floor quickly if you have quite a bit of square feet to prep.  Just remember to occasionally check the sanding screen for wear and to make sure it hasn't clogged up.  After you are done, vacuum the floor and use denatured alcohol as described with the sanding method.
If you have an older clear coat that you want to renew, then you will want to use 80 – 100 grit sandpaper or a 60 – 80 grit sanding screen first to actually remove a small layer of the coating.  This will help to eliminate any deeper scratches and/or embedded dirt that has marred the finish.
Do the same if you have a worn coating that is adhered very well but has some spots where the coating has worn through to the concrete.  The more aggressive grit will insure that the bare concrete will be prepped properly as well.
Floor prep such as this goes fairly quickly. Once you wipe down the floor with the denatured alcohol, your floor is ready for a new coat of epoxy or floor coating of your choice.