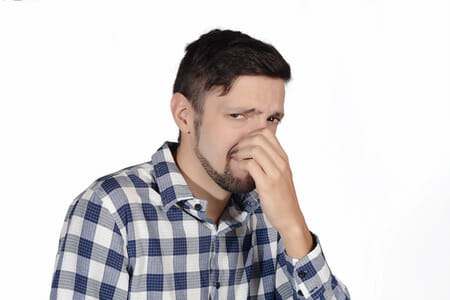 There is nothing worse than trying to get rid of the foul urine smell from pets, dogs, and cats out of the concrete of your garage floor or basement. It seems like no matter how much you clean, the smell just won't go away. We will cover the best methods for getting rid of pet urine odor in your concrete as well as how to seal the garage floor or basement to block any odors that may remain from concrete with particularly heavy urine issues.
Most concrete with pet urine odor needs to be treated in a two-stage process. Sometimes it may even require an additional stage depending on the type of urine odor remover or pet enzymatic product that is used.
In addition, it also helps to use a wet vac if you have one, particularly if you have a basement with urine odors and no drain available. The wet vac helps to draw bacteria out of the concrete during the cleaning process. Carpet cleaners can work in a pinch for vacuuming up liquids as well.
Pet urine odor and stains won't go away with normal cleaning
Our guess is that you may have already tried cleaning the urine stains to remove the odor in the concrete and without good results. The stain may or may not be gone, but the smell remains. That is why it's important to learn why the urine odor still exists and why conventional cleaning methods do not work. Doing so can save you some time and expense.
Concrete is actually porous like a sponge. If liquid is allowed to sit for a period of time, it will absorb most anything. This is why it's hard to get stains out of concrete.
When urine is introduced to concrete and allowed to dry, the uric acid crystals present in urine bond tightly to the concrete. Unfortunately, these crystals form deep within the pores and capillaries of the concrete since the urine was allowed to soak – sometimes multiple times for days or even months.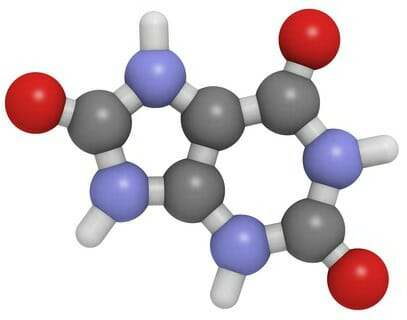 Despite numerous cleanings, uric acid crystals are insoluble and will not bind with regular soaps and other cleaning agents. Thus, the crystals stay attached to the concrete and the smell remains.
The smell may dissipate temporarily after a good cleaning, but as soon as any type of moisture is introduced again, it can come back just as strong as before. Basements can be particularly susceptible to this.
The reason for the smell returning is that uric acid crystals will release a gas as soon as moisture (humidity for example) is introduced. This gas is what creates the pungently strong odor. The best way to stop the smell is to use an enzymatic cleaner that attacks and breaks down the uric acid crystals and separates them from the concrete.
Steps for removing pet urine odors from concrete
Identify urine areas in concrete using a U.V. light or black light
Clean the affected areas with proper cleaner to remove bacteria
Let affected area dry throughout – not just the surface
Treat the affected areas with an enzymatic pet odor remover
Do not skip any steps or take short cuts
This post may contain affiliate links. If you use these links to make a purchase, we may earn a small commission. As an Amazon Associate, All Garage Floors earns from qualifying purchases. You can read our full disclaimer here.
How to identify urine odor stains in concrete
In order to get the best results from an enzymatic pet urine cleaner, you must first identify the exact areas in the concrete affected by the urine.
Many times the source of pet urine odor can easily be identified, such as an area where pets where kept in a pen. However, sometimes it may not be so easy to detect.
This is often the case for people who have moved into a home that previously had pets, only to find that the garage floor reeks of a foul urine smell. Stains may have previously been cleaned thus hiding the source of the odor.
One tool that does a good job at identifying pet urine is a U.V. light or black light. These here from Amazon do a good job.
Close the doors and then turn on the black light. Hold it no more than three feet off the concrete as you scan the floor in sections. Old urine stains will stand out as blue, green, or yellow markings on the concrete.

We like to encircle the far outside area with arrows pointing towards the urine stain. Chalk works well for this providing you don't get it wet. Be sure to check the first two feet of your walls from the floor up as well. Sometimes pets will urinate on the walls which will require removing and replacing the affected section of drywall to get rid of the smell.
If for some reason the U.V. light does not reveal any stains, the old standby that will work is your nose. This takes longer but it is effective. Open the doors to air out the garage and get rid of the immediate smell. After that, get down on your hands and knees and start sniffing. Trust us; you will know when you find it!
Clean the pet urine stains with TSP
After you have identified where the urine is located, it's important to properly clean the area to rid the concrete of bacteria and other residual urine elements. Contrary to popular belief, most enzymatic cleaners do not remove bacteria.
Once you know where the urine stains are, the first step will be to scrub the area with a strong solution of ½ cup TSP (Trisodium Phosphate) to 1 gallon of hot water. TSP mixed at this ratio is very strong. Gloves and eye protection should be worn for safety.
What the TSP does is remove all the bacteria, most if not all of the stain, as well as remove other residue left from the urine. It will leave only the uric acid crystals behind. This will allow the enzymatic pet urine cleaner to work faster and more efficiently at removing the uric acid crystals.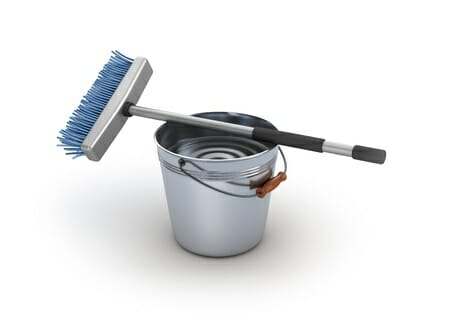 Pour the hot TSP solution onto the urine stain or identified area and scrub it with a short bristled nylon brush. A deck brush works well for this. Make sure that you keep the area wet for at least 10 minutes or more to allow it to soak into the concrete. The solution will follow the same paths as the urine did and will need some time to work its way down into the concrete.
Do not be surprised if the smell increases as you soak the concrete. It is a combination of urine residue and the uric acid crystals reacting and releasing gas from contact with the water.
Once the area has been scrubbed and allowed to soak long enough, pour clean hot water over the treated area again and then vacuum up the water with the wet/vac. Carpet cleaners will work for this as well. You will want to do this at least twice. For heavily treated and soiled areas, three times would be better.
This hot water rinsing will remove the TSP solution and help to suck up any remaining urine residue that is in the concrete. Treat any additional areas in the same fashion (scrub, soak, rinse) and then allow the concrete to dry at least overnight. 24 hours or more is best. Pet urine enzymatic cleaners work best when the concrete is completely dry before treatment.
As a note, the TSP may create a whiter looking area or areas on your garage floor since it is getting the concrete very clean. If that is the case, you may want to scrub the rest of your concrete after you are done with the same TSP solution in order to achieve a more consistent (and clean) look to the floor.
Using a hose with a high pressure nozzle works fine for this in order to speed up the rinsing process. You are just removing dirt at this point and not sucking up urine residue. We have more tips for cleaning a garage floor here.
Apply pet urine enzymatic cleaner to concrete
Pet enzymatic cleaners work by using bacteria (the good kind) to digest malodors, waste, and stains. These bacteria produce enzymes that break down the molecules of the uric acid crystals into smaller bits. This allows the bacteria to digest the smaller bits and break them down into the two basic components of carbon dioxide and water.
Because you are working with concrete and not carpet, we suggest using a product that is available in a concentrate or gallon jugs and not something that comes in a spray bottle. Unlike carpet, you will need to use liberal amounts of the cleaner.
The reason for this is that most enzymatic products need some sort of an exchange with air. Since most of the uric acid crystals are deep in the concrete, it takes more time for the required air exchange. It will also take time for the concrete to absorb the enzymatic cleaner. Since some of the cleaner will evaporate on the surface as it soaks in, more will need to be used.
A product we can recommend that has worked wonders for us in the past is Rocco & Roxie Professional Strength Stain and Odor Eliminator.
It has stellar reviews and we know of more than one kennel that uses this as their go-to odor eliminator. Further more, it's available in gallon jugs and does an excellent job when given time to work. You can find it here on Amazon.
There are many other products with good reviews that you can shop for here if you prefer. We recommend staying away from the products that require mixing with a carpet shampoo as these will not be as effective on concrete.
Be sure to follow the directions of the product you choose. Pour it onto the stained area and then start scrubbing it in with a deck brush. Keep it wet for at least 10 minutes or more. You want the concrete to absorb as much of the solution as possible.
For the best results, temporarily cover the wet area with a cheap painter's tarp to help avoid evaporation of the solution. This will give it more time to soak into the concrete. Rinsing is not required. The enzymatic cleaner will break down the uric acid crystals into carbon dioxide and water which will dissipate on its own.
Particularly bad smelling areas may require multiple treatments. This is because it will take time and more enzymatic cleaner to soak into the concrete and do its work. Remember, you may be dealing with an area that allowed the concrete to soak in urine for weeks or months.
Sealing concrete from pet urine odors
On rare occasions it may require sealing the concrete to prevent any residual pet urine odor from working its way back to the surface. Sometimes people want to do this regardless of the fact that the odor is gone, they just don't want to take the chance of it returning.
The only type of sealer that will work is a garage floor coating. The reason is that garage floor coatings are film forming and do not breathe. They will block odor molecules from transferring through the coating. Acrylic sealers and penetrating sealers will not work. They are breathable and will allow the odor molecules to pass through.
Applying a garage floor coating requires grinding or acid etching the concrete before application. If you know that you will be applying a coating before you treat your garage for pet urine odor, we recommend treating the concrete after you grind or acid etch.
The concrete prep process will open the pores of the concrete and allow pet enzymatic cleaners to be absorbed into the concrete more easily. It will allow slightly more air transfer as well. The result will be a quicker and more effective use of the cleaner.
Once the coating is applied and has cured, it should effectively block any odors that remain in the concrete.