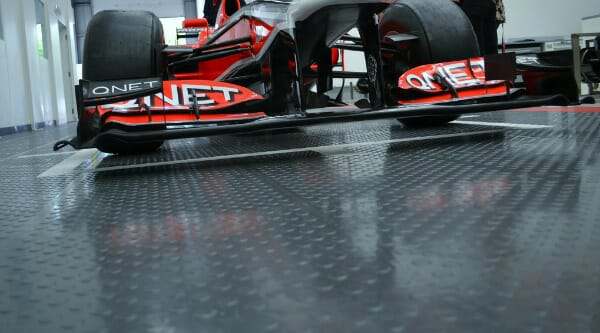 To our Reader's: This post may contain affiliate links. If you use these links to make a purchase, we may earn a small commission. As an Amazon Associate, All Garage Floors earns from qualifying purchases. You can read our full disclaimer here.
Garage floor mats for your vehicle are an easy solution for those seeking to protect their garage floor from oils, stains, and fluids, as well as transform their floor to a more finished look at the same time. As one of the more common garage flooring options, these floor coverings come in a variety of materials, sizes, colors, and surface tread patterns.
Despite this, we still get the occasional question asking if garage floor mats are worth buying. The short answer is, yes!
Garage floor mats will protect your concrete from oil stains and chemicals deposited by your car. They can also hide ugly cracks and stains in the concrete, as well as protect your garage floor from winter weather.
In addition, they tend to be a popular choice since they are the easiest of all garage flooring options to install.
With so many options available, let's explore the differences in the various types of garage floor mats in order to give you a better idea of what may be best for you and your needs.
What types of garage floor mats are there?
Garage floor mats are typically manufactured to provide up to 6 different functions or purposes. Many times, one style of mat can serve more than one purpose. They are as follows:
Parking mats or parking pads
Roll out mats
Water absorbing mats
Oil absorbing mats
Winter containment mats
Carpet mats
So, let's briefly discuss what the purpose for each of these mats is. We will then examine what materials they are made of and how durable you can expect each garage floor mat to be.
Parking mats / pads
Garage floor parking mats are exactly as described. They are available in various widths and lengths to be slightly larger than the size of your vehicle. They even have sizes for motorcycles.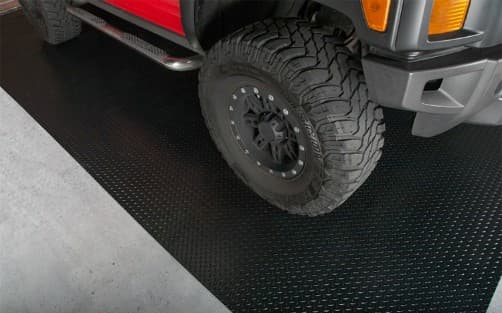 They will protect your concrete garage floor by collecting any debris that may be tracked in from your vehicle including; dirt, mud, water, road salts, oils, and etc.
Available in a few different materials and surface tread patterns, some parking mats are easier to keep clean than others.
However, you do have the advantage of pulling the mat outside onto the driveway to wash if you like.
Roll out garage floor mats
Roll out mats are larger than parking mats and get their name due to the ability to roll them out to cover the entire garage floor.
The advantage to roll out garage floor mats is that they can give your garage a full makeover by easily hiding all the cracks, stains, and other defects in your entire floor. They are also a great choice to cover up issues with dusting concrete. Not only do they give your garage a nice finished look, they can even get rid of that musty garage smell.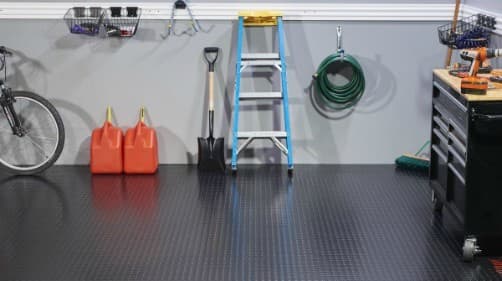 Unlike epoxy and sealers, an entire roll out garage floor mat system helps to absorb sound so your garage won't have that echo-like ring to it when talking or making noise.
They are normally available in the largest widths up to 10' and lengths up to 24' or more depending on the brand. They can be laid next to each other and trimmed to fit using just a razor knife or heavy-duty scissors.
The seams of two or more mats are butted up next to each other or slightly overlapped. You can also opt to use seam tape on the underside.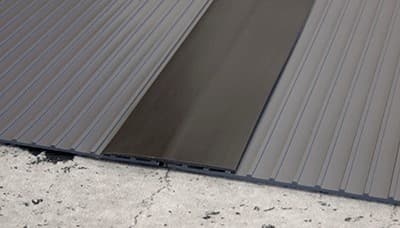 In addition, some brands have an optional center strip to hide the joint as well as optional edge trim strips.
You can learn more from a review of our favorite roll out mat here.
Water absorbing garage floor mats
If you live in fairly wet climate or one that has wet seasons, then a water absorbing garage floor mat may be for you.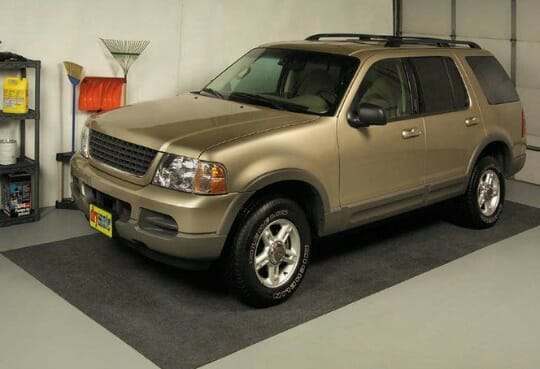 These mats will collect and absorb water and light snow melt that drips off your vehicle.
Designed to hold up to a few gallons of water at a time, they work to keep the rest of your garage floor dry. This can prevent slip fall hazards from a wet or icy garage floor as well as prevent water being tracked into the house from foot traffic.
Oil absorbing garage floor mats
Like mats designed to absorb water, oil absorbing garage floor mats will collect oil and other petroleum-based fluids that you don't want deposited onto the garage floor and possibly stain.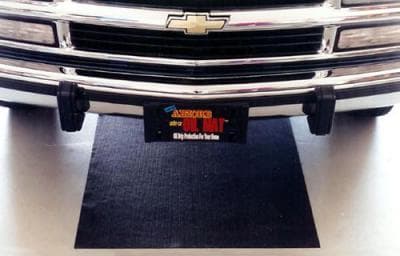 These types of mats will reduce slip fall hazards from slippery vehicle fluids, they prevent staining of the concrete, and they stop foot traffic from tracking oil and other petroleum-based fluids into the house.
Mats that absorb oil are available in a large range of sizes. Some are considered specialty mats and made in sizes small enough to park your vehicle over them and not be seen. Others are designed as parking mats / pads or even as roll out mats.
We discuss the top oil absorbing drips mats here.
Winter containment mats
Garage floor containment mats are considered a specialty mat designed for one purpose; they will contain multiple gallons of water, heavy snow melt, road salts, slush, and deicing fluids during the winter months.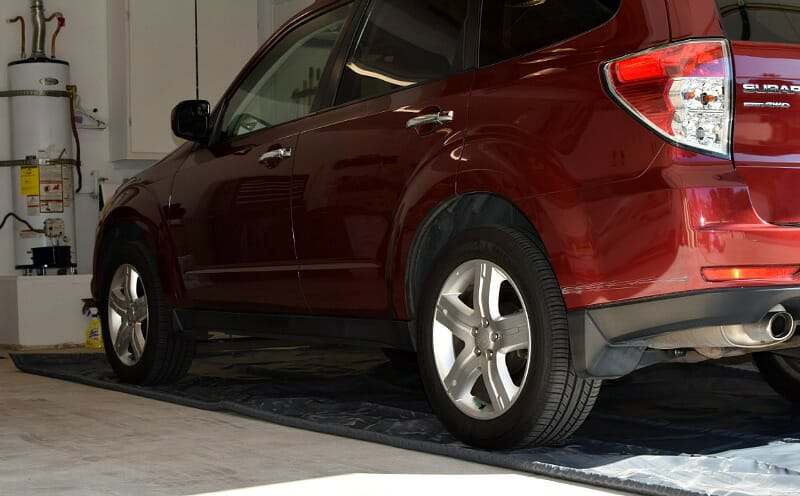 Most have a raised edge all around the perimeter of the mat that allows water and snow melt to pool and be contained within the confines of the mat.
When laid with one edge near the garage door, you can simply squeegee or broom the water and/or unmelted snow onto the driveway to drain away or later melt. When the winter season is over, these mats can be stored away until they are needed again.
You can learn more in our review of the best winter containment mats for your garage.
Carpet garage floor mats
Carpet mats for the garage floor are designed to create the softer look and feel of carpet without the hazards that traditional carpet on a garage floor can create.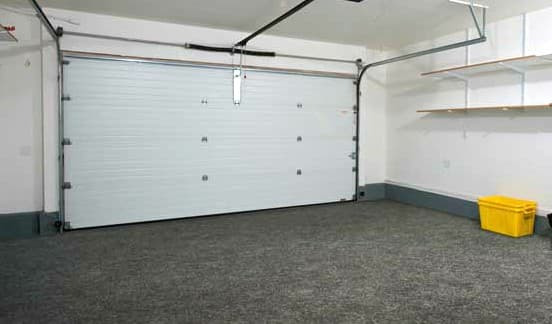 They are not affected by water, oil, and other petroleum products that can cause standard carpet to break down and disintegrate or even become flammable.
In addition to creating a softer look to the garage, they absorb sound, and do a good job of insulating from the cold concrete below.
As an Amazon Associate All Garage Floors earns from qualifying purchases.
What are garage floor mats made of?
As you have probably guessed by now, garage floor mats are made from a variety of materials depending on the intended purpose of the mat.
100% Polyvinyl
The most popular and longest wearing garage floor mats are made of heavy-duty 100% polyvinyl. Polyvinyl is a rubber-like material that is extremely durable and stain resistant. Known to last for years, this solid construction means that the mats won't peel, crack, or delaminate.
In addition, polyvinyl is the most popular material of choice for parking pads and roll out mats. While some surface tread patterns are better than others for containing water and other spills, most polyvinyl mats are best when used primarily for cosmetic, long-term garage flooring protection.
Polyvinyl garage floor mats are highly resistant to mold and mildew, they are water proof, and they provide good traction when wet.
Their construction provides excellent impact resistance and will protect your garage floor from oils, anti-freeze, road salts, and other vehicular fluids. They also do a good job of collecting mud and debris that you don't want tracked onto the concrete of your garage floor.
Furthermore, polyvinyl garage floor mats are available in a large variety of surface tread patterns and colors. They vary in thickness from 55 – 114 mils, some of which is dependent on which tread surface pattern is chosen.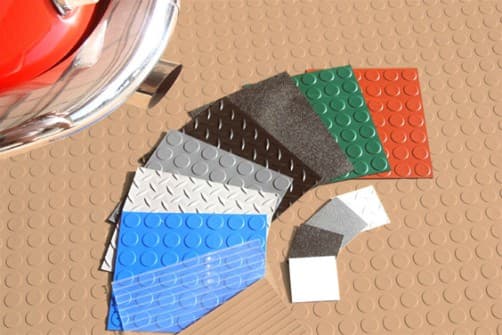 One of the more popular benefits is that polyvinyl mats are very easy to clean. Dirt and mud will not stick and spills just wipe right up. A soap and water solution are all that is needed for routine cleaning.
Lastly, polyvinyl is the only mat material that will hold up long term to automotive repair, jacks, jack stands, and other garage projects.
See how easy an entire roll out garage floor mat system is to install
One of the best garage floor mats that we can recommend are those by G-Floor. Manufactured by Better Life Technology, these are high quality 100% polyvinyl mats made in the USA.
You can find them with excellent pricing and free shipping here.
In addition, if you are a fan of Amazon, you can view the entire G-Floor line up here.
The one known disadvantage of polyvinyl garage floor mats is that car tires can sometimes stain the mats where they regularly sit. How much they stain is actually dependent upon the type of tire and brand. They all tend to leach out various amounts of plasticizers (oily additives) which is the cause of the stain.
If staining from car tires is a primary concern, we recommend choosing a darker colored mat so that possible tire print stains are less noticeable.
Beware of garage floor mats made overseas! The majority of these mats rarely use 100% polyvinyl. Instead, they use fillers to reduce material costs. These fillers make up the bulk of the mat and are sandwiched between two thin layers of polyvinyl.
This type of construction leads to delamination from hot tires, exposure to sun, and general use. In addition, these types of garage floor mats do not like to lay flat and relax since the edges curl. Lastly, the thin polyvinyl surface layer is not very durable.
If you are on a budget, then the one exception we can recommend if you are looking for a less expensive garage floor mat is Diamond Deck.
Though these mats are made overseas, they do not use fillers. In addition, they are stored in large bulk rolls here in the U.S. This helps the mats to relax and prevent curling when they are installed.
Amazon actually has some of the best selections of Diamond Deck mats. You can check pricing here.
These are heavy-duty mats, measuring 2.9 mm (114 mils) in thickness from the top of the diamond tread to the bottom of the mat.
Absorbent Polyester Fibers
Mats made with polyester fibers are constructed with a slip resistant, bonded water-proof backing. The tough polyester material is very absorbent. It will contain water, spills, and petroleum chemicals such as oil.
These mats have a felt-like texture that is soft and resembles carpet. This type of material is used primarily for carpet garage floor mats as well as water and oil absorbing mats. Polyester is a good example of a material that can serve multiple roles and will not deteriorate from petroleum products.
Drymate and Armor All are examples to two very popular garage floor mats that are made of polyester fibers. You can read our review to learn more or view their entire line with pricing from Amazon.
Most of the water absorbing mats and larger oil absorbing mats that you can drive on are constructed of 100% polyester fibers. The smaller oil absorbing specialty mats are generally constructed of recycled polyester fibers and other oil absorbing materials.
One important characteristic of polyester garage floor mats is that they are not thick like polyvinyl. They are fairly durable up to a point. In fact, they are thin enough to be easily trimmed with scissors if necessary.
The advantage to the thinner material is that they will dry out fairly quickly in the right conditions. Like the polyvinyl mats, these can be swept, vacuumed or hosed down to clean.
However, thinner mats such as these do not last as long as polyvinyl and it is reflected in their price point. As a result, water and oil absorbing polyester garage floor mats are typically less expensive than the more durable and heavy-duty polyvinyl mats.
PVC coated polyester scrim fabric
Polyester scrim fabric is a unique material that is used exclusively for containment mats when used as garage flooring. It is unlike the polyester that is used for water or oil absorbing mats, however.
Instead, long woven polyester strands are chemically bonded together and then coated in PVC. This construction makes the scrim fabric very strong, thin, and 100% water-proof. The fabric can be sewn or in the case of containment mats, it is actually heat sealed to form strong water proof seams.
Tarps in the commercial trucking industry are a good example of polyester scrim fabric in use.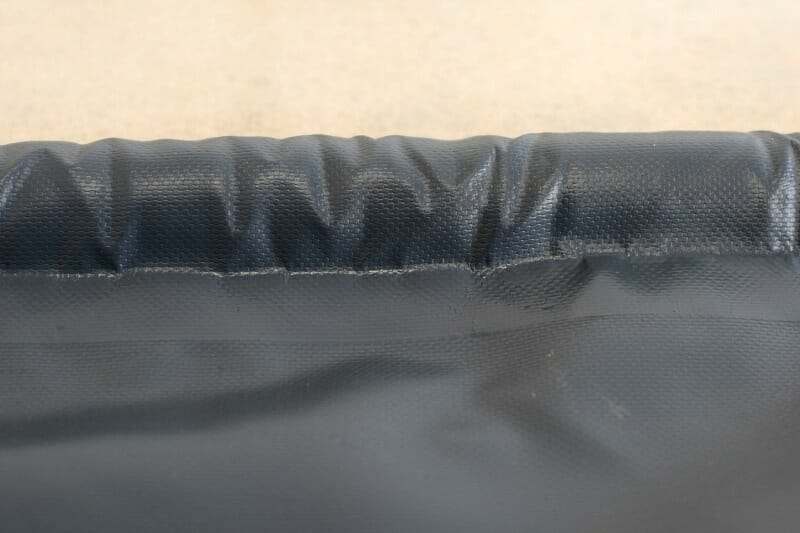 For a containment mat, one large piece of polyester scrim is cut and then the edges are rolled over high density foam rolls that are over 1" in diameter. This forms a barrier to contain liquids. The seams are then heat sealed to prevent any leaks.
Though durable, we do not recommend year around use for polyester scrim. Abrasion from the tires will eventually wear the PVC coating and expose the polyester scrim, thus creating leaks.
Pros and Cons of Garage Floor Mats
As with all garage floor options, garage floor mats are not perfect. They have their own list of advantages and possible disadvantages that you should be aware of.
Pros
Protects your garage floor from abuse, stains, and water intrusion
Great looks
Absorbs sound and insulates against cold concrete
Polyvinyl mats can provide moderate anti-fatigue properties
Anti-slip protection
Hides ugly cracks and stains in the concrete
Covers up dusting concrete
Easy to keep clean
Moderately priced for those on a budget
Easy to install
Cons
Can be susceptible to bunching when tires are turned
Only polyvinyl mats are considered long wearing
Will trap water vapor if concrete has moisture issues
Polyvinyl is susceptible to tire staining
Conclusion
As you can see, there are many types of garage floor mats and styles to choose from. What you decide on just depends on your budget and what you want the mat to do for you and your garage.
Furthermore, they are hard to beat for ease of installation, protection from the elements, and good looks. And did we mention that you can take them with you when you move?
So, whether you need a covering to spruce up the look of your garage or to protect the floor from projects and vehicles, garage floor mats can be a good investment and a tough option to beat.