This post may contain affiliate links. If you use these links to make a purchase, we may earn a small commission. As an Amazon Associate, All Garage Floors earns from qualifying purchases. You can read our full disclaimer here.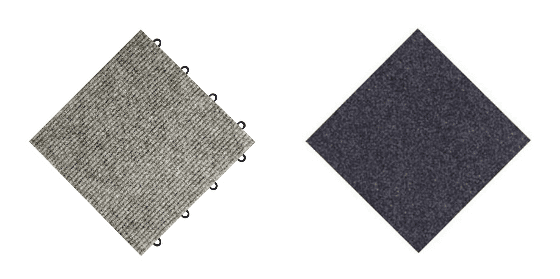 Garage floor carpet tiles or squares, is one of the lesser known options in garage flooring that people have been using with mostly good results.  Available in a modular interlocking tile and as a peel and stick design as well, these carpet tiles will give your floor the soft feel and look of carpet while still offering good resistance to staining and some chemicals.
If you are not familiar with the pros and cons of using carpet in the garage, we suggest that you read this post first to learn more about this garage flooring option.
Interlocking Garage Carpet Tiles
The easiest of these selections to install are the carpet covered interlocking garage floor tiles.  These are the same tiles made by companies such as RaceDeck and BlockTile.  These 12"x12" polypropylene tiles are covered with Olefin synthetic carpet.  They are available in up to 6 color options and are easy to assemble.  You can even incorporate them with the other interlocking tile designs that are available from these manufacturers.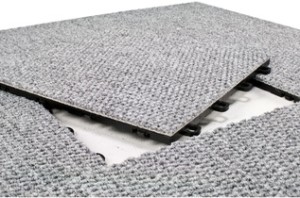 The advantage to these interlocking carpet tiles (besides ease of installation) is that the hollow core construction allows for air flow underneath the tiles for damp garages.  Issues with efflorescence and condensation will not be a problem.  This construction also helps to insulate the surface of the flooring from the cold concrete temperatures of winter.
You also don't have to worry about floor prep.  The interlocking tiles will easily span most joints and cracks that you may have in the concrete.  Since sweeping and a general cleaning of the concrete is all that is required, installation in a typical 2-car garage can be completed in as little as a few hours.  They are more expensive however, starting at a bulk rate of around $4.50 a square foot.  If you like the idea of interlocking tile for your garage but at a lower price, you can always take a look at budget garage floor tiles instead.
Self-Stick Carpet Tiles or Squares
Another lesser known option that has been successful is self-adhering garage carpet tiles.  The company Diamond Life makes a product called TuffCarpet that is designed specifically for the garage.  These peel and stick carpet tiles are 18"x18" in size and cost about $3.00 a square foot.  They are available in 13 different colors and can be mixed and matched however you like.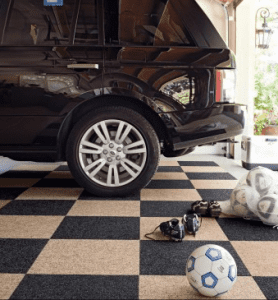 These particular carpet tiles are designed for high traffic areas and are petroleum resistant.  Diamond Life even claims that gas spills are not a problem.  They are designed not to absorb liquids so that water will evaporate quickly.  In the event of an oil spill, just clean the carpet tiles with warm water and an oil cutting detergent.  They can even be cleaned by pressure washing.
Installation is fairly easy with their pressure sensitive adhesive backing.  In fact, it's very similar to the installation of the peel and stick vinyl garage floor tiles.  You do have to make sure your floor is clean and that any major cracks, pits, or spalling is repaired properly.  Saw cut contraction joints are not a problem, but if you have the deep V grooved contraction joints you will need to fill those prior to avoid creating a depression in the carpet tile that will pull the edges away from its neighbor.
Carpet tiles or squares may not be the best option for the highly active garage floor that sees many home projects and car repairs, but it can be a very satisfying choice for those looking for a comfortable and unique garage flooring that will stand up to normal use.  It creates a warm feel to the garage as well as the feet.  And if you do damage or stain a tile, they are easily replaced one at a time instead of the entire flooring.