This post may contain affiliate links. If you use these links to make a purchase, we may earn a small commission. As an Amazon Associate, All Garage Floors earns from qualifying purchases. You can read our full disclaimer here.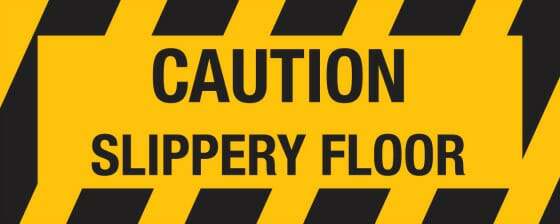 One of the primary concerns about epoxy flooring or any other coating for the garage, is how slippery it may be when wet and what can be done in terms of an anti-slip additive to create a non-skid surface.  Is it even necessary at all?  The topic can get confusing with manufacturers recommending a wide variety of additives from sand, to aluminum oxide, or a small polymer based grit like Shark Grip.
Because resinous garage floor coatings such as epoxy, polyurethane and polyurea are non-porous, the surface created can be very smooth, almost like glass in some cases.  While this type of surface is fine when dry, it can become as slippery as an ice rink sometimes with the introduction of water, mud, oils, or snow.  So let's try to determine if you need a non-slip additive in the first place and then take a look at what type is best for your epoxy floor and how to use it.
Do you need an epoxy non-slip additive?
When deciding whether or not you need a non-slip additive for your garage floor coating, one of the first things to take into consideration is the climate in which you live.  If your garage will see an abundance of water from wet cars or melting snow, then a non-skid floor is worth considering.  Snow and ice in particular doesn't mix well with coated garage floors.  If you live in a more arid part of the country it may not even be necessary.
Another consideration is how you plan on using the floor.  If you are always involved with projects that can involve spilled fluids such as oil, anti-freeze, chemicals, or etc. that can create a slip fall hazard, then an anti-slip additive would help.  Then again, there is nothing like cleaning up spills immediately that will alleviate slip fall accidents and not require a non-skid surface.
The type of floor coating system that you install can be a factor as well.  If you choose a floor without paint chips or some other media such as quartz, then you will have a very smooth surface which is the most conducive to being slippery when wet.  However, a floor with a ¾ to full color chip application will create a slightly irregular texture when top coated with polyurethane or a thinned epoxy or polyurea coating.  This irregular texture can provide additional grip in a wet environment that a smooth floor will not.
Two little known facts about newly coated garage floors have contributed to some unwarranted claims about epoxy and other coatings being slippery as well.  The first fact is that the coating will develop a static charge during the application and curing process that will last a few days or so.  This charge will draw all the fine dust particles out of the air to collect on the floor and make it slippery.  This charge will dissipate after a while however and the slippery dust problem will go away.
The second unknown fact is that a brand new floor coating will be extremely smooth (like glass) after the initial installation which can make it slippery when wet.  Once the floor develops some traffic, microscopic scratches on the surface will appear (these are not visible in most cases) and increase the grip of the floor tremendously.
If you don't want to wait for traffic and normal use to create these microscopic scratches, then you can always lightly scuff it with a pink or white buffing pad which will create a better grip.  This will slightly remove some of the gloss of the floor, but it will still remain highly light reflective and be glossier than a matte finish.
Non-slip additives for coated garage floors
The most recommended additive to create a non-slip surface for epoxy, garage floor paint, and other garage floor coatings is ground polymer grit such as Shark Grip. You can find it here at Amazon
. This grit consists of very small micronized polymer beads that are soft to the feet and skin.  It becomes translucent when added to a coating and will create very small bumps for grip when mixed into the final top coat of your floor.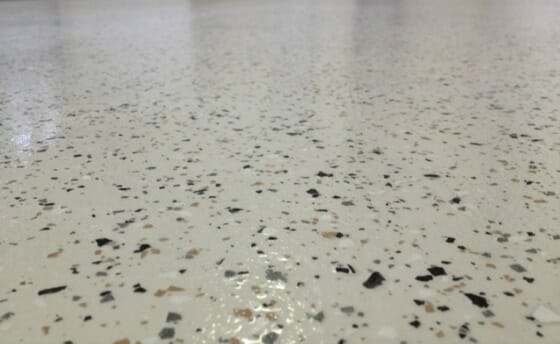 Because the grit from products such as Shark Grip is so small, it works well with a thin floor coating such as polyurethane.  It also works well with a thinner water based epoxy like Rust-Oleum and Quikrete products which you can get from home improvement centers.
If your final top coat is thicker, such as 100% solids epoxy or a polyurea product, then you will need to go with slightly larger polymer grit.  The micronized grit like that of Shark Grip and similar products is too small for the thicker coatings and has a tendency to sink below the surface and not be effective.  You will want to use a grit size with a mesh between 30 and 60 (smaller numbers are larger in size) to achieve good results.  You can find an example of that here from Legacy Industrial.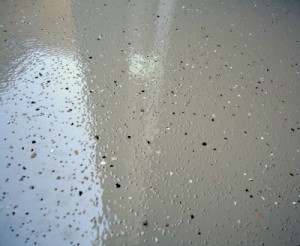 Another material that creates an excellent non-skid surface for epoxy coatings is an aluminum oxide additive.  This is a more aggressive grit that is suspended in the final top coat like polymer grit.  It works well in industrial type settings where maximum grip is desired or where extremely slippery conditions exist.
Despite claims from some companies however, this type of non-slip additive is not the most friendly to bare feet and skin.  It's aggressive nature can also create problems with catching mop strings and dirt when cleaning the floor.  While it works well as a non-slip additive, it can be more than what most people want for a garage environment.  It's not the best floor surface either for young children that may trip and skin themselves on the floor.
Finally there is the use of fine silica sand.  This works best when dispersed on top of the coat prior to the final top coat.  The final top coat is then applied over the sand to create the bumpy surface required.  While this type of non-skid will work, it's best when used with a colored top coat because the sand is visible with a clear coat.
Some drawbacks to sand is that it can be too aggressive for a garage environment like aluminum oxide.  Some say that the surface is similar to fine sandpaper and that it makes it harder to mop.   It also has a tendency to break down over time and cause small cracks and pockets in the surface of the top coat as it wears.
How to apply non-slip additives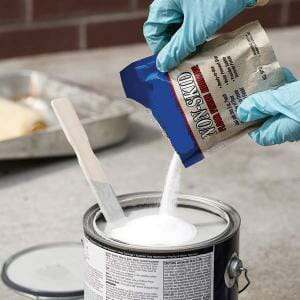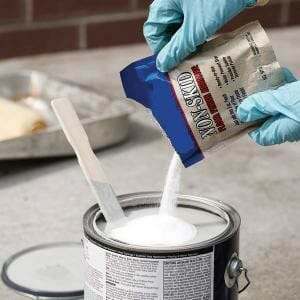 When installing a garage floor coating yourself, the generally accepted method to applying a non-slip additive such as polymer grit or aluminum oxide is to mix it into the final top coat prior to rolling it onto the floor.  3 to 4 ounces per gallon of epoxy or other coating is the recommended ratio.  Any more than that will introduce clumping of the material and is not a desirable affect for the finish of the floor.
When applying it to 100% solids epoxy or polyurea, it's best to mix it into the final top coat first and then pour the contents in ribbons across the floor.  You can then roll and back roll the coating as usual.  The non-slip grit will tend to disperse itself evenly across the surface of the floor this way.
If you are applying a polyurethane top coat or a thinner water based epoxy kit, then you will be working by rolling the contents out of a paint tray.  It's best to mix the additive into the coating then pour it into your tray.  It's important to note that while these additives do fairly well at staying suspended in the mix for a short while, they will sink to the bottom and should be remixed each time before pouring the contents into the tray.
Other methods involve sprinkling the additive on top of the coating or base coat before applying the final top coat or just tossing the non-slip additive on top of the final top coat.  The problem with this is that you can get poor distribution of the non-slip aggregate or when applied to the top of the final coat, it can pull away with wear and create pockets in the surface that collect dirt.
Out of the different methods to achieve an anti-slip surface for garage floor coatings, our favorite is the mixing of polymer grit into the final top coat.  It makes for the softest feel that won't scratch your back up if working under a car or walking in your bare feet.  Plus, it's the least visible of the anti-slip additives, especially when applied to a floor with color chips.