This post may contain affiliate links. If you use these links to make a purchase, we may earn a small commission. As an Amazon Associate, All Garage Floors earns from qualifying purchases. You can read our full disclaimer here.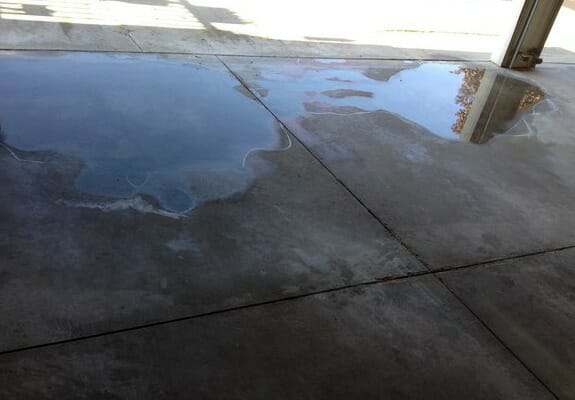 We've all seem them.  Those annoying puddles of water that collect in the low spots of your garage floor soon after you have pulled your car in from the rain or snow.  Some are shallow enough that the water will evaporate in a few hours or so, but it seems the deeper ones can linger long enough to start breeding mosquitoes if you didn't mop it up or push the water out the door.
If you are going to paint, seal, or apply an epoxy coating, then one of the first things you will want to do is try to level-out these unusually low areas of your garage floor before you start.  Even if you aren't planning a garage flooring upgrade, these low spots can create a safety hazard when they puddle or can cause damage to the concrete if you live in a cold winter climate.
Why your garage floor is not flat and level
Before you get too excited about these uneven areas of your floor, the first thing you should know is that garage floors are rarely level or flat without the occasional low spot, high spot, or raised edges that trap water.  Most of these spots are acceptable but sometimes you get low spots that are just too deep or too large to ignore.
Part of the reason for this is that garage floors are not always given the same close attention by builders as other areas of the home that require the floor to be as flat and level as possible.  They are usually finished by hand and are rarely machine or hard trowelled.  Bad lighting when finishing, poorly set forms, overly wet concrete, and poor finishing techniques can all contribute to low spots in your garage floor.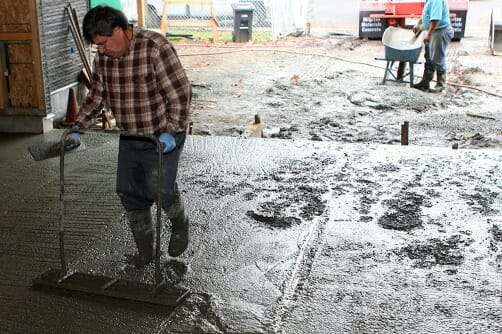 Depending on what area of the country you live in and whether you have a basement or not, some building codes require that garage floors meet a minimum pitch toward the garage door.  This is to facilitate drainage or to allow for noxious, heavier than air gasses to flow out the garage door.  This can make it more difficult to get the concrete flat (not level) if the finisher is not paying close attention.
Drains are another consideration.  If you have a drain in your garage floor, then the floor can't be level at all since the slope of the floor has to pitch towards the drain.  The slope can be flat though. Nothing is more frustrating however when you have areas that puddle and don't flow toward the drain.
And then finally, there is the issue of the floor being nice and level.  What??
Think about it.  Concrete floors need a minimum pitch of 1/8" to 1/4″ per foot (depending on finish) to allow water to flow. That is a minimum 2.5″ – 5″ drop over 20 feet. If your garage floor is nice and level, the water will just puddle and not go anywhere, sometimes making an area of your garage seem like a low spot when it actually isn't.
Garage floor repairs are never fun, but the good news is that many of these low spots can easily be fixed with a little bit of work.  The type of repair you make may depend on the size of the area, that type of flooring you want to install, or what the actual cause of the low spot may be.
mark the low areas of your garage floor
The first thing you want to do is to identify the low spots that need to be fixed.  You probably already know the general area.
The easiest method is to flood these areas of the floor with some water and then outline the low spots with some chalk once most of the water has drained or settled.  The other method is to place a straight edge or long level across the suspected areas of the floor to identify and chalk the low spots.
One important bit of information you need to investigate is where this water will go once the low spot is made level to the surrounding area.  You don't want to be chasing a puddle of water all around your garage floor because you did not take this into consideration.  It should be moving towards the garage door, a contraction joint, or a drain.
Repairing the low spots
Fortunately most low spots are not very large and not as deep as you think – usually less than 1/4″. For these areas we like to use an epoxy slurry for the repair. This is a mixture of 100% epoxy with a silica sand aggregate.  This is the same type of product used to repair pitting and spalling.
This type of repair is extremely strong (stronger than the concrete) and ideal if you are going to paint, epoxy coat, or cover your garage floor afterwards.  The sand acts as a filler and gives the epoxy the ability to be troweled smooth with a cement float.  You can see an example of such a product here.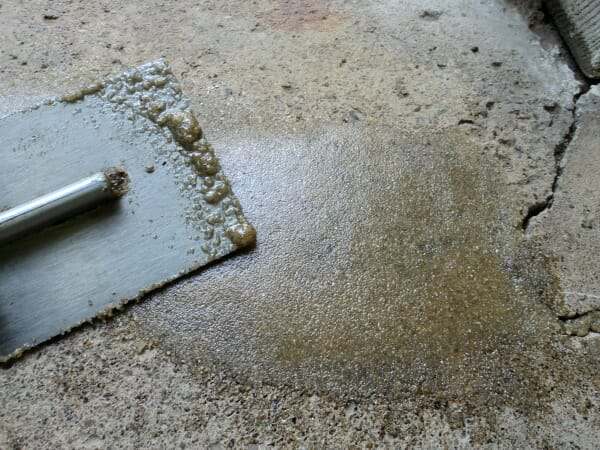 This is a small example of an epoxy sand slurry used to repair pitting in a garage floor. When mixed in larger quantities it works very well to fill and level low spots as well.
The areas to be fixed need to be clean and dry, free of all oil stains, waxes, or sealers.  Prep the surface by grinding or sanding with 40 grit sandpaper. If you aren't sure about what type of grinder to use, you can get more info about 4″ angle grinders and the proper concrete grinding wheels here.
An orbital sander is handy if you don't have the proper grinder. Sanding will only work for this as long as there isn't a sealer or other coating on the concrete.  They will not work to sand a repair flush however. If you are going to prep your garage floor for a coating by acid etching, then do that first before making the repair as it will prep the concrete for you.
Follow the mixing instructions of the epoxy patch repair material. Once it is mixed, you need to start working as you will only have 20 – 30 minutes of working time.
Dump the repair material onto the low spot and start troweling it in using firm pressure.  Once it is spread out over the area begin troweling it smooth with a cement float.  You can achieve a nice, clean finish if you wipe the blade of your float with Windex or acetone before the final passes. Use a straight edge or level to check your work.
After the repaired area has cured for 24 hours, you can finish prepping the repaired area by grinding the surface and the edges to make for a smooth and even transition.
Tip: Measuring how much water it takes to fill-in a low spot is a fairly accurate gauge to help determine how much repair material you will need to mix for each area.
For low spots that cover larger areas of the floor, such as a 5'x5' area in a corner for example, we like to use a polymer-modified cement topping.  These are self-leveling and adhere very well to concrete.  They consist of a mixture of Portland cement, sand aggregate, and polymers.  You just add water.
The nice thing about using polymer-modified cement is that it will accept a sealer, stains, and coatings after it has cured.
The chemicals in the polymers of the cement help act as a bonding agent.  Never use regular cement mix.  It will not adhere well to the concrete and will break apart because it will not meet the compressive strength required for shallow fills and feathering edges.
Polymer-modified self-leveling cement being used for a garage remodel
You can find most self-leveling toppings from concrete construction supply stores.  Your local home improvement center usually is not the best source for this.  An example of such a product would be Ardex K-301 self-leveling concrete or MG-Krete self-leveling concrete.  Just contact the manufacturer to find the nearest distributor or visit your local concrete construction supply store to see what product they have on hand.
Do not use self-leveling cement designated for use as an underlayment or indoor use only.  They are not as strong, they will fail in freeze/thaw conditions and they wear quickly since the surface is not designed for traffic.  If in doubt, contact the manufacturer.
Pay close attention to the surface prep instructions.  Some product just requires a clean surface while others may require that it be profiled similar to the epoxy repair.  Others may require the use of a primer.  Don't worry however as the process is very straight forward and not hard to follow.
Once your surface is prepped properly and the repair material mixed, slowly pour it out onto the floor.  It will naturally fill in the lowest part first and then work its way toward the edges of your low area.  Be careful not to let it run far past your chalked borders.
The material does a good job of lying flat on its own.  Use a trowel or cement float to feather the edges to the garage floor.  Once it has cured for an hour or so, you can take heavy grit sandpaper to any raised edges or lines that were created from the trowel or float.
Once it has cured for 24 hours you can grind the surface for the proper profile if you are going to be applying a garage floor coating.
It's important not to let the repair material cover up any contraction or expansion joints.  If it does get in one of these joints, it easiest to clean out with a putty knife or flat bladed screwdriver about 20 to 30 minutes after it has begun to set up.
Raised edges that create low spots
Believe it or not, you could have a fairly flat garage floor that traps water and creates the illusion of low spots.  This is most common if you have larger "V" shaped contraction joints in your garage floor that were created via hand trowelling.  It can also happen with saw cut joints as well but is usually not as predominant.

What happens is the surface of the concrete can contract more than the rest of the slab if it was allowed to cure or dry much quicker.  As a result of this contraction, the surface pulls at the edges of the concrete and causes these joints to curl up.  These curled up edges then create a nice dam that can trap water instead of letting it flow into the joint.
The easiest way to correct for this is to grind these raised edges flat to the rest of the concrete.  This will effectively remove the dam and allow water to move into the contraction joints.
Final thoughts
These methods for fixing low spots in your garage floor are extremely effective.  We recommend though that you don't get overly concerned with chasing down every spot you can find.  The water has to go somewhere and if you have a fairly level garage floor then you will be chasing your tail.
Remember that garage floors are not perfect and rarely completely flat.  It's normal to have the occasional few spots that will puddle slightly when water is introduced.  However, if you have large areas or deep spots that puddle and do not evaporate within a day, it will benefit the life of your garage floor as well as your safety to have these low spots fixed.