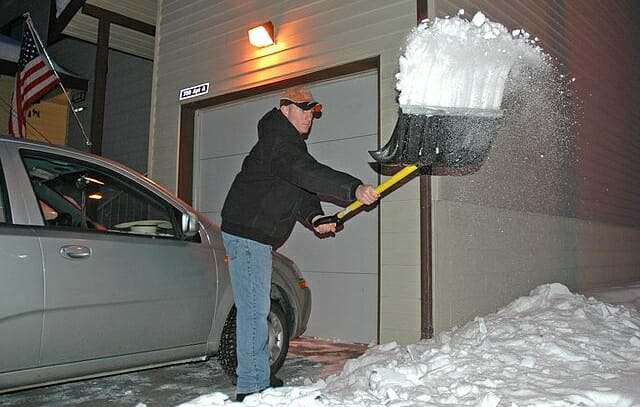 Choosing the best garage floor mat for snow and winter weather is an important consideration when it comes to protecting your garage from the icy grip of winter. The proper mat will keep damaging road salts and deicing fluids away from your bare concrete, prevent slip fall accidents from the water that can pool up and freeze overnight on your garage floor, and do a good job helping to keep your garage floor clean.
Best containment mats for snow
If you live in a climate with large snow falls, then a containment mat would be the best choice by far. These mats are designed to hold gallons of water for those days when the bottom of your car resembles more a snow plow than your daily vehicle. Snow, ice, and water are collected on the mat instead of your garage floor. They actually contain all the liquids that drop from the sides and bottom of your vehicle, hence the name.
After reviewing a variety of containment mats that are available, we have three different brands that we can recommend.
Park Smart containment mat
The first is the Park Smart Clean Park containment mat. These mats have been around for quite a while now and are available in a variety of sizes from 3'x4' to 9'x22'. You can park something as small as a snow blower to as big as an SUV or large truck.
Made of polyvinyl, these mats come with plastic snap-in borders that contain the water and snow. You can remove the liquid with a wet vac, mop, or just unclip the edge near the garage door and squeegee the water out to the driveway.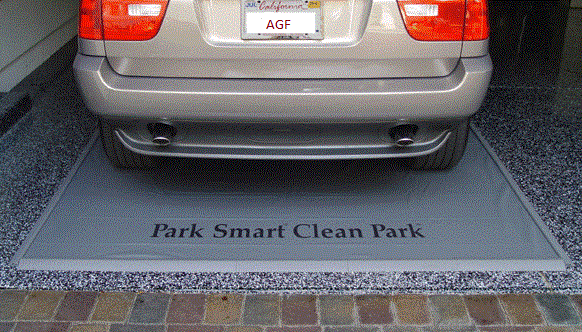 Available in a standard 20 mil and heavy duty 50 mil thick polyvinyl, we recommend the thicker 50 mil mat as the best choice of the two. The 20 mil mats have developed a reputation of not holding up nearly as well to repeated use and will need to be replaced sooner.
You can find both the heavy duty 50 mil and 20 mil options with the best prices and free shipping here.
One benefit with this mat is that people have had success with studded snow tires if you purchase the additional 50 mil thick protector strips
for the tires. Just lay the additional strips within the mat to provide the extra protection from the studs.
One thing we want to mention is that while these containment mats work well, some people have voiced frustration over having to clip the edges in for installation and removal of the edges for storage. We feel that it's not that inconvenient if you are only installing and storing the mats once a year, but there have been reports of the occasional edge that can break.
Auto Floor Guard containment mat
Next on our list is the  Auto Floor Guard containment mat
. These were a fairly new introduction to the market a few years ago and have been getting great reviews. In fact, until just recently Auto Floor Guard used to be our favorite winter containment mat.
What makes these mats unique is that they are made of a very durable PVC coated Polyester Scrim fabric instead of vinyl plastic sheeting. It's the same type of material that is used for tarps in the commercial trucking industry and makes for a tough and flexible mat. Because it is made of a fabric and not plastic sheeting, it isn't measured in mils of thickness like vinyl mats are.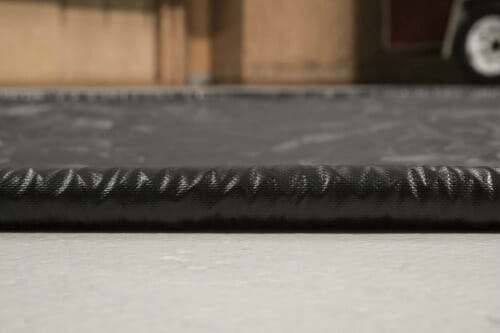 The edges of the mat are constructed of 1.25" round high density foam that is heat sealed into the mat. This allows you to drive over the edges without damage and the tall sides will retain gallons of water from snow and ice without fear of it spilling out onto the garage floor.
These mats are less expensive than the heavy duty Park Smart mats and you don't need to assemble any parts. You just roll it out and you are ready to go. They also roll up fairly easy to store away again for the next winter.
The mats come in black and have three different sizes to choose from. Compact is 7'9"x16', Midsize is 7'9"x18', and SUV/Truck is 8'6"x20'. You can find all available sizes with the best price and free shipping here.
One other feature that we like about the Auto Floor Guard mat is the ease of removing liquids and snow from it. It is easier than the Park Smart mat since you can squeegee water right over the rounded edges without having to unsnap anything. They are not recommended for studded snow tires however.
TruContain Containment Mat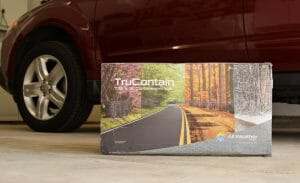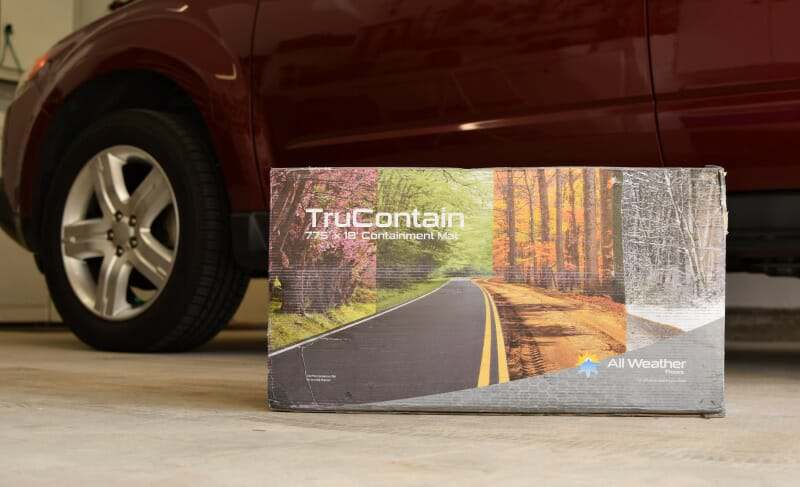 The TruContain Containment Mat is a brand new introduction this year and is now our most recommended mat of all the containment mats that we have reviewed to date. There are a few reasons for this actually.
Based on the same design as the Auto Floor Guard containment mat, the TruContain mats are manufactured with a slightly thicker Polyester Scrim fabric. We could actually feel the difference when we compared the two. This only adds to the durability of an already tough containment mat design.
The heat welds for the high density foam edging are very high quality also. TruContain elected to move the welds to the underside of the mat instead of the top. This produces a nicer look and does a better job of protecting the welds from the elements.
Besides the thicker material and better location of the welds, the TruContain mat also comes in a much more attractive dark grey color instead of black. In addition, they include a free squeegee attachment with each mat shipped. They are the only manufacturer that we know of to do this.
Finally, TruContain backs their mats with a 1 year warranty instead of the 90 day warranty for the Auto Floor Guard mat. This is all achieved at a similar price point as well. As a result, we feel TruContain is the best value for the money for a winter containment mat.
You have four different sizes to choose from. They are 7'9"x16', 7'9"x18', 9'x20', and 9'x22'. You can find all the sizes with the best price and free shipping here.
One other point to consider with this style of containment mat is that it is very easy to store for the winter. Just fold it long ways and roll it up like a large sleeping bag. It's that simple.
Attention Canadian Readers!
If you are from Canada and want to know how you can purchase one of these winter containment mats and have it shipped to you, there is now a company we can refer you to who can do this. CLICK HERE to visit their website.
Garage mats for light snow and rain
For those of you who get the occasional snow fall and don't feel the need to contain such large amounts of water and debris, there are two more mats that are worth your consideration.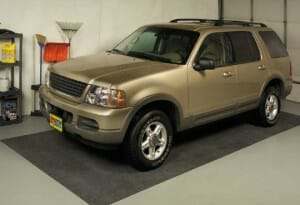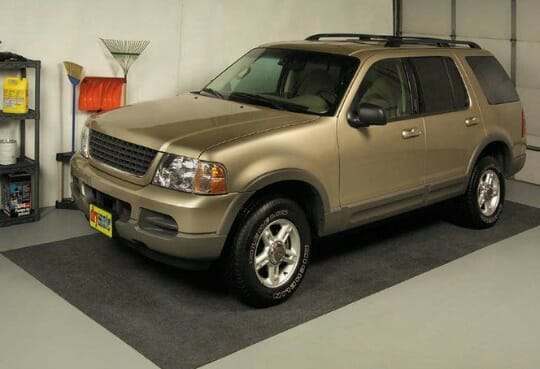 The first would be the Drymate Fabric Garage Floor Mat
. These work well at absorbing liquids from snowmelt and provide for a soft ant-slip surface.
Made with waterproof, bonded backing, these mats will not let snowmelt, road salts, or deicing fluids reach your floor. The material is made of 50% recycled fabric that can hold up to 5 times its weight in liquids.
They are available in a 7.4'x8.4' size for small vehicles, motorcycles, or ATV's and two sizes for cars and trucks – 7.4×17' and 7.4×20'. You can purchase them with the best pricing and free shipping here from Amazon.
You can clean these mats with a vacuum once dry or use a wet vac on them when wet.  You can also drag them onto your driveway and hose them down with soap and water if needed.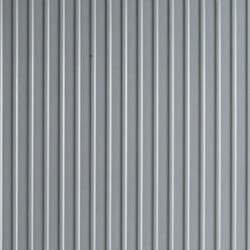 Finally there is the ribbed garage floor mat
.  Though technically not a containment mat for snow or water, the ribs do work at holding moderate amounts of liquid if you have a level floor.
They can be mopped dry or use a wet vac to remove water and debris.  A squeegee does not work as well due to the raised ribs on the surface.  A broom is a better choice.
Made of polyvinyl, they are available in a variety of sizes from 7.4'x14' to 10'x24' and come in a standard 55 mil or commercial 75 mil thickness.  The ribs help to create an added non-slip benefit as well. You can purchase them at the best price with free shipping here from Amazon.
Best outdoor mat
With all the talk about winter mats, we thought we would update you with what we think is one of the best outdoor mats available.  We purchased one of these before last winter and have been thoroughly impressed.
Made of recycled materials, this mat does not have a rubberized or foam backing that you need to worry about deteriorating or leaving imprints on your garage floor, entryway, or porch.  It is especially nice to use on an epoxy garage floor coating.  The stiff bristles do a great job of cleaning the underside of your shoes from loose snow, mud, and other gunk.
Debris from the bottom of your shoes falls through the slats and is neatly deposited on the floor.  Just lift up the mat and sweep up or vacuum the debris away.  Though a bit pricey, this mat is designed to last for years and may well be the best investment for a floor mat that you could make in the long run.  You can find the best price with free shipping here
.
Final thoughts
Just remember to be smart when choosing what the best winter garage floor mat is for you.  If you deal with an abundance of snow then a containment mat is what you really need. Our advice is to always purchase the heavy duty or commercial grade mat if it's an option and your budget allows it.  The few extra dollars is money well spent.  We've heard more stories from people who purchased a cheap mat that didn't make through the winter when others are on their third or fourth winter with the better mat.
If you only deal with light snow falls or water only, then the lighter duty mats such as the DryMate fabric mat or BLT ribbed mats should work just fine.