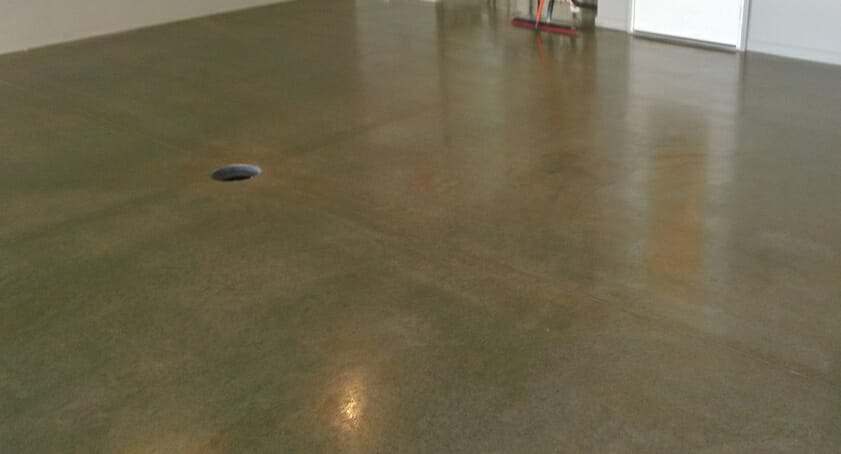 A garage floor sealer sounds simple enough if you want to protect and seal the concrete in your garage. But what does a sealer do for the concrete and which type should you use? Which sealer is best for your requirements and budget? Options include densifiers, siliconates, oil repelling sealers, salt repelling sealers, epoxy, polyurea, acrylics, and more. Getting bewildered yet?
Don't fret, it's not as confusing as it may seem at first. Our goal is to explain the differences in sealers for a garage floor so that it's much easier to understand. We will discuss how they work, how they are applied, and the benefits of each. This should help you determine what sealer will be best for your needs.
We include economical sealers that protect the bare concrete for a nice clean look, sealers for working garages and workshop floors, as well as decorative sealers and coatings. That's right, garage floor coatings are sealers as well.
Penetrating Sealers VS Topical Sealers – What's the Difference?
There are two distinct categories of garage floor sealers that determine performance, looks, and application requirements. They are penetrating sealers and topical sealers.
Though both types seal the concrete, they look and perform much differently from one another. With so many garage flooring options available, it's important to get a basic understanding of each.
Penetrating Sealers
Penetrating sealers work by penetrating into the concrete upon application. They react with the minerals in the concrete to form a hard, gel-like molecular barrier at the subsurface. Otherwise known as non-film forming sealers, they are breathable and do not form a coating on the concrete surface.
As a result, penetrating sealers do not change the look of bare concrete. And because they are non-film forming, they cannot be scratched if you drag a sharp object across the concrete surface. In addition, they will retain the same wet slip resistance of the current concrete surface.
Furthermore, penetrating sealers typically are the most economical sealing solution for a garage floor and one of the easiest of all garage flooring options to apply.
An important fact about penetrating sealers is that they are not waterproof as some people assume. Nor are they stainproof. This is due to the non-film-forming properties of the sealer.
Though they do a good job of repelling water and resisting automotive fluids, all liquids will eventually penetrate the concrete surface if allowed to sit long enough. How long they sit before penetration is determined by the type of sealer and the porosity of the concrete.
Lastly, liquids such as oil, automotive fluids, and other contaminants can stain if allowed to sit. How much they stain and how easy an oil stain cleans up are determined by the type of penetrating sealer applied and how long the oil or other contaminant was allowed to sit.
When it comes to stain resistance, the goal of a penetrating sealer is to provide enough time for spills and leaks to be cleaned up first before they have a chance to stain. This includes some of the newer oil repelling sealers the industry has introduced to provide better stain resistance.
Topical Garage Floor Sealers / Coatings
Topical sealers adhere to the concrete surface with only slight penetration. Also known as film-forming sealers, they are more widely known as floor coatings or garage floor coatings. They form a protective layer that is typically non-breathable and can be impermeable depending on the coating used.
Many are 2-part resinous coatings that require mixing before application, though there are exceptions. They chemically cure and create a hard coating that is extremely durable. The thickness, abrasive properties, and chemical resistance of these coating sealers can vary depending on the type and quality of the coating that is used.
Paint and 1-Part epoxy paint are not sealers or coatings. Don't make this mistake! We discuss why here.
Most coatings are also considered decorative. Clear coatings will enhance the look of the garage floor surface. They tend to darken bare concrete, add character, and provide a matte to glossy finish.
In addition, clear coating sealers are used to protect and highlight the colors of stained or dyed concrete. They make the colors pop with vibrancy and add shine.
Colored coatings completely change the look of the garage floor. Epoxy and polyurea garage floor coatings are great examples. You can opt for a solid color or add multi-colored acrylic flakes with a clear coat to create your own unique color palette.
Unlike penetrating sealers, topical sealers and coatings prevent the bare concrete from being stained by oils, automotive fluids, and chemicals. This is because the coating acts as a sacrificial barrier.
Furthermore, one large advantage of topical sealers over penetrating sealers is that the surface is very easy to keep clean.
Higher-performing coatings can also be extremely stain resistant. Oil, chemicals, salty road brines, and other fluids can sit for much longer periods. All that is required in most cases is wiping up the mess with a rag. A shot of Windex can remove any leftover film residue.
Lastly, many topical sealers and coatings will prevent the penetration of water and liquids into the concrete. This doesn't necessarily make the entire garage floor waterproof. Exposed cracks and concrete joints can still allow water to seep into the concrete.
Now that we better understand the difference between penetrating garage floor sealers and topical garage floor sealers, let us discuss the various types available and what we can recommend.
To our readers: This post may contain affiliate links. If you use these links to make a purchase, we may earn a small commission. As an Amazon Associate, All Garage Floors earns from qualifying purchases. You can read our full disclaimer here.
Recommended Penetrating Sealers for Garage Floors
There is a wide range of penetrating sealers for concrete to choose from. Therefore, it can easily become overwhelming if you don't know what to look for.
There are silane concrete sealers, silicone sealers, siloxane sealers, siliconate sealers, densifiers, oleophobic concrete sealers, and more. Many are hybrids of each. Some are water-based, while others or solvent-based. Many do not work very well for a garage floor.
As a result, we will only discuss those penetrating sealers that we recommend and know to work best for a garage or workshop floor. In addition, we will discuss concrete prep that may be required and sealer application.
Siliconate Sealers
Siliconate sealers are a great choice for homeowners who just want good general protection of their bare concrete at a minimal cost with ease of application. Often considered the "all-purpose" sealer for garage floors and workshops, they are a great value as well.
Compared to other penetrating sealers, their medium-sized molecular structure does not allow the sealant to penetrate too deep. This provides for better coverage rates and more importantly, better protection of the concrete surface.
As a result, they provide good water repellency including repellency against, moisture, road salts, and dirt. Siliconate sealers also resist efflorescence and provide good protection against freeze-thaw, which is the leading cause of spalling of concrete.
One thing to keep in mind is that siliconate sealers do not repel oil. Though they will buy you some time for cleanup by slowing down penetration into the concrete, a stain can occur if oil is allowed to sit for long. However, the resulting stain will not be nearly as bad as an oil stain on untreated concrete.
As with the majority of penetrating sealers, the application is very easy. For most concrete surfaces, the only preparation required is to clean and degrease. Once the concrete has thoroughly dried, one coat of the sealer is applied using a low-pressure pump-up garden sprayer with a conical spray nozzle.
Densifiers and Densifier Sealers
Densifiers are a type of silicate sealer. They had been used primarily in the process of polishing concrete and for adding strength to newly poured concrete floors. However, with the introduction of easer to apply lithium silicate densifiers, they have become more popular for garage, workshop, and warehouse floors.
Densifiers work by reacting with minerals in the concrete to form a very hard substance called calcium silicate hydrate or CSH. The CSH fills many of the empty voids and pores of the concrete at and near the surface. This increases the density, strength, and hardness of the concrete in these areas.
Check Current Price on our Top Recommended Densifier
In addition, the filling of these voids with CSH reduces concrete dusting. Furthermore, it slows down moisture intrusion from below the slab to help prevent efflorescence and moisture vapor. However, silicate densifiers do not repel water or other liquids.
As a result of their increasing popularity, manufacturers began adding siliconate to densifiers to provide water and liquid repelling characteristics. This new type of densifier with siliconate sealer added provides the characteristics of a densifier plus, the same protections as a siliconate sealer as well.
As with siliconate sealers, densifiers do not repel oil. However, testing has shown that densifiers with siliconate sealer added do a better job at resisting oils stains than a stand-alone siliconate sealer only.
Application is similar to that of a siliconate sealer. However, more importance is emphasized to not let the densifier puddle. If it does, it's important to use a paint roller to roll out the excess or use a broom to work it into the concrete.
If allowed to dry with excess sealer on the surface, a white powder will form and requires heavy scrubbing to remove.
Oil Repelling Penetrating Sealers
Oil repelling penetrating sealers are fairly new to the market. They've come about due to the constant demand for a better performing sealer against staining from oil and other automotive fluids for garage floors and workshops.
A unique ingredient of these sealers is the use of fluorocarbons to create an oleophobic barrier. Oleophobic refers to the physical property of a molecule to seemingly repel oil.
Oil will lay flat or even run on a concrete surface treated with typical penetrating sealers. This characteristic does not resist the penetration of oil nearly as well as water which typically beads from being repelled.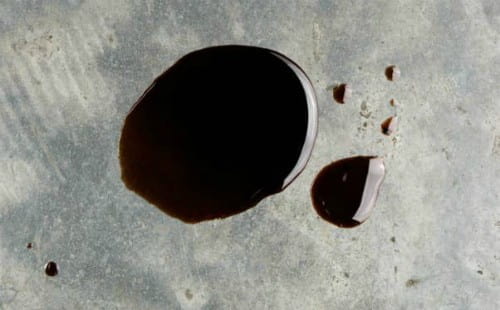 However, oil tends to bead somewhat on a concrete surface treated with an oleophobic sealer. This repelling action allows the oil to sit for a longer period with less chance of penetration into the concrete.
This repelling action allows for an easier cleanup of oils and other automotive fluids and less chance of an oil stain. However, this does not mean the concrete can't be stained. As with all penetrating sealers, oil and other offending contaminants will stain eventually if allowed to sit long enough.
What oil repelling penetrating concrete sealers do is allow more time for the oil to sit before cleanup. In addition, it can also make the removal of any offending stains easier.
The raw materials used for oil repelling sealers are more expensive. As a result, these types of sealers cost more than typical penetrating sealers. In addition, one popular oil repelling sealer that is known to work well also requires the application of a densifier first.
Oil repelling sealers in most cases are the better choice to use on garage floors and workshops. However, the importance of oil repelling characteristics versus cost is something to consider if you are on a budget.
Application of these sealers is a bit more involved but still fairly easy. The concrete must be degreased, clean, and dry. Depending on the sealer used, the application can require a wet flood coat using a pump-up sprayer or application via a lambswool pad or microfiber pad.
Topical Garage Floor Sealers and Coatings
The number of options for garage floor coatings and topical sealers is large. There are acrylic coatings and sealers, epoxy, polyurethane, polyurea, and polyaspartics. In addition, there are single-part moisture-cured coatings and 2-part coatings, not to mention clear or colored.
Furthermore, the application process, performance characteristics, durability, and what chemicals, stains, and abuse they can withstand vary greatly.
As a result, this is an area where research before a purchase is paramount. Marketing campaigns by large corporations such as Rust-Oleum, Behr, QuikRete, H&C, and others have only served to confuse the consumer. This has lead to many unhappy or misinformed purchases.
In addition, do not rely on information from your local home improvement center. They are not knowledgeable about concrete coatings and they do not carry quality products in their inventory.
The following topical sealer options below are listed from low to high in approximate cost.
Acrylic concrete sealers
Acrylic concrete sealers form a thin protective layer on bare concrete. Most are clear, but some can be tinted for color. Expect 1 – 1.5 mils dry film thickness per coat on average.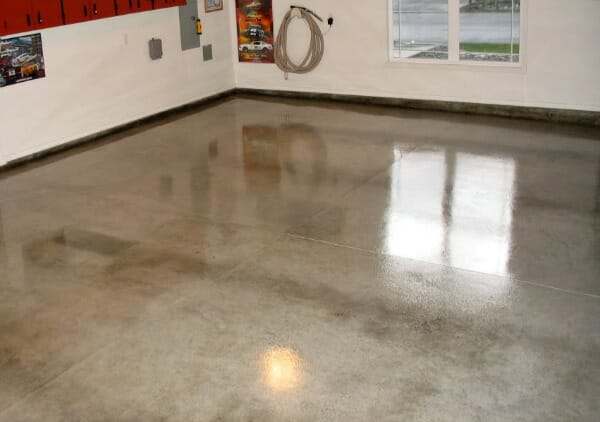 They will enhance the look of the garage floor and make the concrete look slightly darker. The floor will attain a somewhat wet and glossy look or you can opt for a less flashy matte finish. Glossy finishes tend to be more durable.
In terms of performance, acrylic sealers will protect the garage floor from water and chloride intrusion. In addition, they provide light to moderate protection against oil, vehicle fluids, hot tire pick up, and road salts.
Most acrylic sealers are also U.V. stable. This means that they will not turn a yellow tint if exposed to direct sunlight.
Water-based acrylic sealers are the least durable of all concrete coating options and the easiest to scratch. Solvent-based acrylics increase durability, scratch resistance, and chemical resistance from automotive fluids.
For a more durable alternative, we recommend the performance of MMA acrylic sealers. These have longer endurance properties than standard acrylics sealers and can withstand harsher chemicals.
Acrylic sealers perform best with light to moderate traffic. Reapplication may be required once every 18 to 36 months depending on the sealer used.
One DIY advantage to acrylic sealers is that they are fairly easy to apply. The concrete needs to be degreased, clean, and dry. Etching of the concrete is typically not required unless the surface is extremely smooth.
You can use either a low-pressure pump-up sprayer or apply it with a paintbrush and rollers out of a tray. The key to a successful application is to apply the coating thin or problems will develop. Typically, two coats are applied for the best protection.
Modified Acrylic Polyurethane Sealers
If you like the look of a clear sealer on bare concrete, then one of the best performing values is a modified acrylic polyurethane.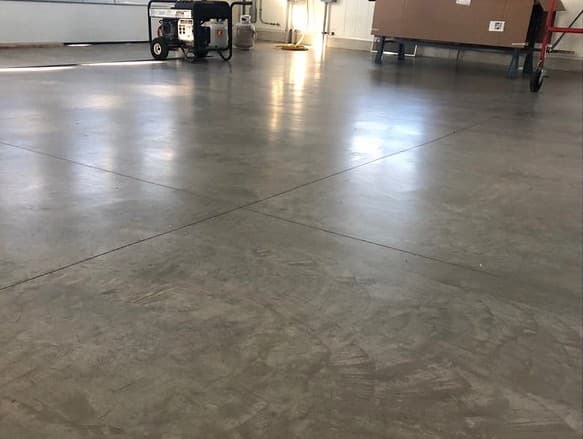 This is a somewhat new sealer for garage floors that we feel is going to explode in popularity once the word gets out. It combines high performance and ease of application at a budget price.
Technically, they are a thin, 2-part water-based, high-performance, acrylic modified, aliphatic polyurethane coating and sealer. Aliphatic means that they are U.V. stable and will not amber. In addition, they are Eco friendly and no etching of the concrete is required.
Acrylic modified polyurethane sealers provide better abrasion resistance, chemical resistance, and stain resistance than most epoxy. They are a true workhorse sealer for garage floors and workshops.
A minimum of two thin coats is required. This will result in a dry film thickness of just under 2 mils. Three coats are recommended for commercial applications. They are one of the few topical sealers that will adhere well to machine-troweled concrete.
These are best used on smooth concrete with few repairs. Due to their thin nature, they are not recommended on rough garage floor finishes or concrete with numerous repairs. They are not thick enough to provide self-leveling properties such as epoxy or polyurea.
Furthermore, they will only adhere to bare, unsealed concrete and are not compatible as a clear sealer over epoxy or other coatings.
Application requires that the concrete be clean and dry. No etching of the concrete is required. The sealer is best applied using a low-pressure pump-up sprayer with a conical spray nozzle in conjunction with a microfiber application pad or 1/4″ low nap roller.
Epoxy Concrete Sealers
Undisputedly, the most popular sealer is garage floor epoxy. Epoxy is a 2-part thermosetting resin that is applied as a coating. It chemically cures to create polymer structures that are closely cross-linked. This is what gives epoxy its superior strength and durability.
Epoxy is available as a clear coat to bare concrete but is more commonly applied in solid colors. Finishes range from satin for low-budget formulas to a high gloss for commercial quality epoxy.
The most durable applications are epoxy systems that include a minimum of a color coat, optional decorative color flakes, and a clear coat. Professionally installed garage floor coatings consist of such systems.
In addition, epoxy coating sealers are much thicker than acrylics. They can be applied thicker than any other coating available. Depending on the solids content, one coat of epoxy can be applied at 2.5 – 12 mils dry film thickness and higher.
Epoxy sealers can withstand heavy traffic and are abrasion resistant. Furthermore, most are non-breathable and will prevent water and chemical intrusion at the surface. They are resistant to most chemicals, oil, vehicle fluids, road salts, and hot tire pick up.
One disadvantage is that epoxy is not U.V. resistant. If exposed to direct sunlight or strong indirect sunlight, it can turn a yellow tint (amber) over a period of time.
Single coat DIY garage floor epoxy kits purchased from local home improvement centers are the least durable epoxy coatings. We explain more in detail here.
Epoxy sealer application is more involved and time-consuming compared to penetrating sealers. However, DIY application is very common. Application is done using paintbrushes and paint rollers.
Proper concrete preparation is essential or the coating will not adhere properly. Etching the concrete is required at the minimum. Grinding of the concrete may be preferred for some applications, but it is not mandatory.
In addition, epoxy application is time sensitive. Once the two parts are mixed, you typically have 30 – 40 minutes to get the epoxy applied before it hardens up. Low-quality epoxy allows for more application time. This time limit is dependent on the solids content. The higher the solids content (thicker, higher-performing coatings), the less time you have to apply it.
Moisture Cured Direct to Concrete Polyurethane Sealers
Polyurethane is a high-performance coating with increased benefits over epoxy. Depending on the quality, it is typically more abrasion and scratch resistant than epoxy. It wears longer and is more chemical and stain resistant. And unlike epoxy, most polyurethanes are U.V. stable and will not amber.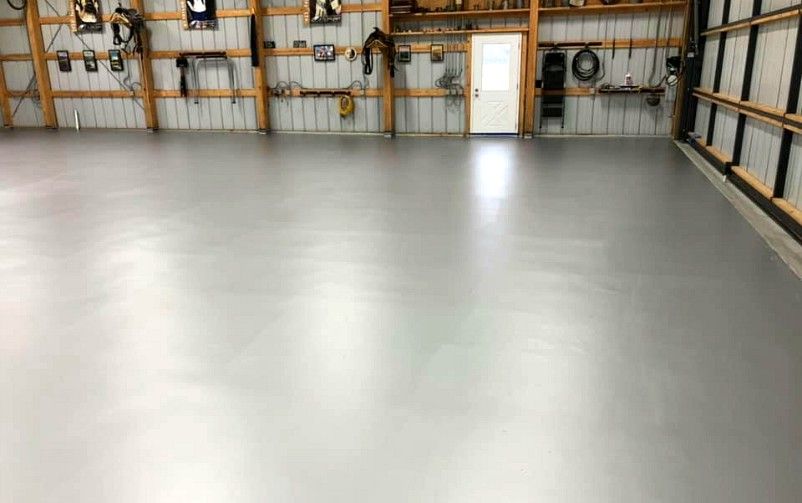 Traditional polyurethane coatings are available in 2-part formulas or single-part moisture-cured formulas. Like acrylics, they are applied thinly with an average dry film thickness of 2-2.5 mils.
However, one issue with traditional polyurethane concrete coating sealers is that they do not bond well directly to concrete. Instead, they are used as a U.V. stable colored coating over epoxy or more commonly, as a clear coat over epoxy.
Fortunately, this bonding issue has recently changed with the introduction of newer moisture-cured polyurethanes designed specifically to bond directly to concrete. Moisture cured coatings are single-part and do not require mixing in a second part to act as a catalyst to start the chemical curing process.
Instead, it uses moisture in the air as the catalyst. The coating is not activated until it is applied to the concrete and exposed to the moisture in the air. As a result, you have a much longer working time to apply the coating as compared to epoxy. This is a nice benefit for DIY installations.
Because these coatings are thin, they typically require a minimum of two color coats. One clear coat is sufficient if being applied to bare concrete. However, two are recommended for more durability if it's a busy working garage or workshop.
This type of coating sealer will not do a good job of hiding irregularities in the concrete due to its thin nature. High solids epoxy is better for that.
Application of direct to concrete moisture cured polyurethane sealers is varied. The concrete must be clean, degreased, and completely dry throughout.
In addition, most require that surface be acid etched. However, polyurethanes such as DuraGrade Concrete by Rust Bullet do not require etching in many cases. This can be a huge benefit to DIY installers that do not want to deal with additional concrete prep. Like most coatings, it is applied with paint rollers and brushes.
Polyurea and Polyaspartic floor sealers
Last on the list is the newer polyurea and polyaspartic floor coating sealers. These are a sub-group of polyurethane and have a similar finish to epoxy and polyurethane coated floors.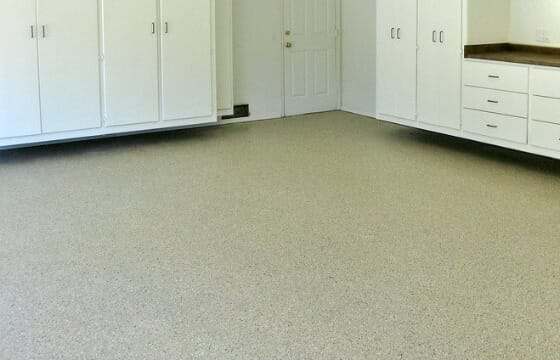 They are U.V. stable and can provide better protection than polyurethane. They also provide the best resistance against brown tire prints in the coating.
Unlike epoxy and polyurethane, many of these coatings can be applied in extreme temperatures from below freezing to over 100 degrees, depending on the formula.
What makes these coatings popular is their extremely fast return to service times. They can be installed on your garage floor in one day and driven on the next. Most polyurea and polyaspartic coatings need to be applied by a professional due to their very short working time. Twenty minutes or less is typical.
There are newer polyurea coating sealers that have been introduced that are much more DIY friendly. They can provide up to two hours to get the coating applied depending on the polyurea or polyaspartic formula.
These long application times reduce the common anxiety of getting the coating applied in enough time. As a result, they can be an excellent choice for a DIY application.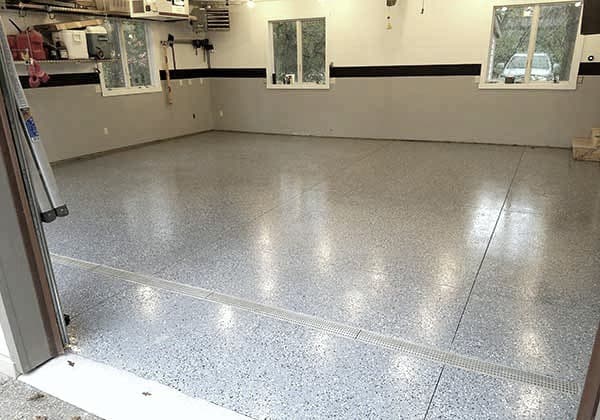 We highly recommend the newer single-part polyurea coatings. These are commercial quality, moisture-cured coatings that will last 10-15 years or more on a garage floor.
Final thoughts
We have a few considerations for you to keep in mind when deciding which garage floor sealer is best for you.
If you have issues with moisture coming up through the concrete, a penetrating garage floor sealer is generally the better choice. Because they are breathable, they will not be affected by moisture vapor. As we discussed, they may also serve to block or reduce moisture coming up from underneath the concrete slab.
Acrylic sealers are breathable and will tolerate low levels of moisture. Resinous topical sealers and coatings such as epoxy, polyurethanes, and polyurea will not allow for moisture transfer. They can peel and even pull small chunks of concrete up with it if moisture gets trapped under the coating. Moisture testing should be conducted if you suspect it may be an issue before applying a topical sealer.
If you use your garage or workshop for metal fabrication and welding, a penetrating sealer may be the better option. Coatings will get damaged if sharp metal objects are dragged across the surface. They will also incur burn marks from welding slag or heavy metal grinding.
Lastly, take the time to evaluate your requirements. Be realistic in terms of what you want a concrete sealer to do for your garage floor or workshop. No penetrating or film-forming topical sealer and coating are perfect. Compromises may need to be made, particularly if budget is a concern.