This post may contain affiliate links. If you use these links to make a purchase, we may earn a small commission. As an Amazon Associate, All Garage Floors earns from qualifying purchases. You can read our full disclaimer here.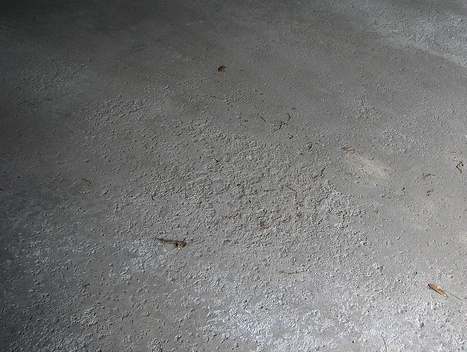 Don't hold off any longer on your garage floor project just because of some concrete pitting or spalling. Repairing a pitted or spalled garage floor is only intimidating because most people don't know what to use or how to start. It really isn't that difficult and in most cases can be tackled by the average DIY handyman. Once you understand what to do and which products to use, you will find that it's much easier than you think.
What is concrete pitting and spalling?
Pitting and spalling can sometimes look very similar to one another. Spalling will usually cause the surface of the floor to crumble or separate in thin layers. Pitting on the other hand can create smaller, deeper holes that have a more distinct jagged look.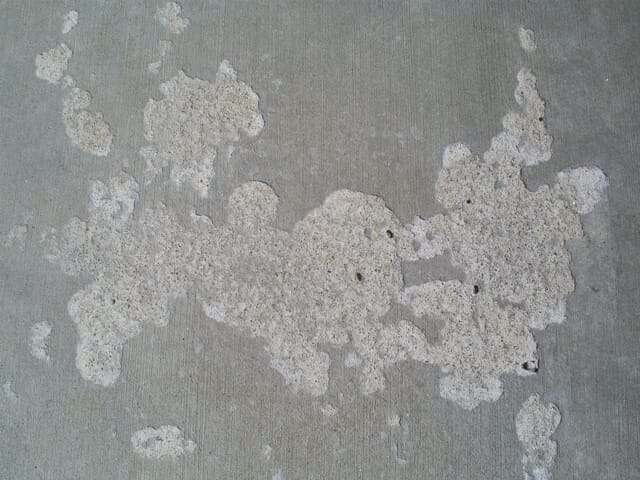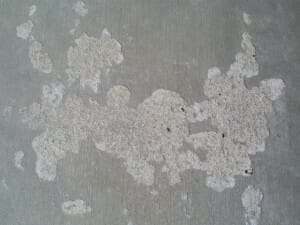 Spalling is generally caused from cold winter climates that subject the concrete to freeze thaw cycles. What happens is water is deposited on the garage floor and works its way into the capillaries of the concrete. When the water freezes, it expands and causes microscopic damage to the surrounding concrete.
Over a few winters this constant damage weakens the surface and as a result, it starts to separate in sheets or crumble.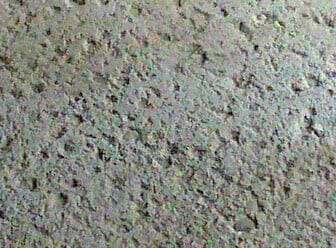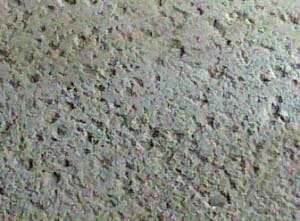 Road salts and deicing fluids only contribute to making the problem even worse because it will allow the water more time to penetrate deeper into the concrete before it freezes.
Pitting however can be caused from improper finishing of the concrete, an inadequate mix, improper use of an accelerator or even old age. Pitting can sometimes cover large areas of the floor while spalling may be more localized.
Prepping the concrete for repair
Fortunately the majority of pitting and spalling in a garage can easily be repaired and isn't as bad as it can be for concrete that is outdoors. Generally for a garage, the depth of the damage is usually less than ¼" for spalling and ½" for some pitting. Many times it is less than that.
The first thing you want to do is clean the area to be repaired of any oil stains, wax, sealers, or anything that would be considered a bond breaker. Next, remove all broken and loose concrete with a hammer and chisel. It's extremely important that you remove all loose or suspect material.
Because spalling starts damaging concrete from just underneath the surface, there can be surrounding areas of your garage floor that haven't weakened enough to break freely on its own and may be hidden. We highly recommend firmly tapping the surrounding areas with a hammer and listen for a hollow sound.
Areas that sound hollow have deteriorated underneath and should be hit hard with the hammer to expose the damage for repair. This will eliminate the possibility of having to do any more repairs in the near future.
After you are done, sweep the area clean and then vacuum the remainder of the dust from the surface.
Note: Many times instructions for concrete prep may state grinding or shot blasting of the concrete is recommended. If you are repairing smaller areas in which you have broken away all loose material with a hammer and chisel, then the surface profile of the concrete should be satisfactory.
Repairing the pitting and spalling
There are a variety of products to use depending on the size of the repair you are making, how deep it is, and in some cases, how you want it to look. The type of product used is usually broken down into two categories; epoxy and polymer-modified cement.
Epoxy based patch repair products
If you are going to be coating your garage floor with paint, epoxy, or covering it with a garage floor mat, then we recommend using an epoxy based product for most of these repairs. The exception to this is very large areas, which we will discuss shortly.
If you just have a few small holes from pitting, then we recommend using something like Rust-Oleum's EpoxyShield Concrete Patch. This is the same product that works well for crack repairs. If it's not available from your local home improvement center, you can find it at a great price here at Amazon
.
The EpoxyShield patch is a 2-part epoxy gel that you mix as you need it. Mix the Part-A and Part-B product according to the directions. Apply it to the repair area making sure to work it in good in order to push out any trapped air. Smooth it out best you can with a putty knife or margin trowel. Within 24 hours the repair will be hard enough to grind or sand flush.
For larger areas of pitting and spalling, we recommend using a 100% epoxy concrete patch with a sand aggregate. The silica sand is mixed in with the epoxy to act as a filler. Legacy Industrial's HD-110 Concrete Patch is a good example of this.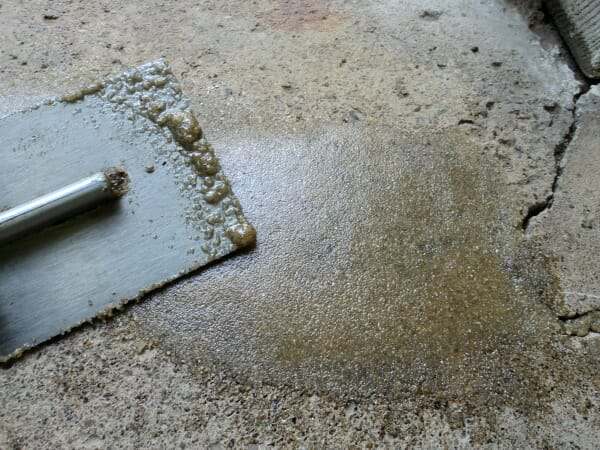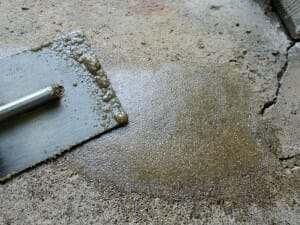 This type of repair works extremely well and is a popular method among floor coating contractors. It does a good job at filling larger holes as well as having the ability to be trowelled out fairly smooth over larger pits and spalling. Once cured, these repairs are actually stronger than the concrete.
If you are using such a repair for spalling, 1 gallon will usually cover up to 8 – 10ft² at a depth of 1/4", depending on how much aggregate is mixed in.
After following the mix instructions from the manufacturer, you will want to trowel the batch onto your damaged area. Be sure to trowel it with some pressure. This forces the mix into the crevasses of the damaged area and works out any trapped air at the same time.
Once it's trowelled in, you can smooth the mix with a cement float and feather it to the existing surface. One industry trick is to spray the float with a little Windex. This will keep the trowel from sticking and provide for a nice surface.
Rust-Oleum TurboKrete Concrete Patching Compound works similar to the HD-110 epoxy patch. It uses a 100% solids epoxy resin as well. We've used this kit before and have found that the required mix of sand to epoxy is a bit too much. Reducing the amount of sand in the mix by 10-15% provides for a smoother finish and easier application.
You can find the Rust-Oleum TurboKrete here at Amazon.
Polymer-modified cement patches and toppings
Another product that works well is polymer-modified cement. These are a mixture of Portland cement, sand aggregate, and polymers. You just add water. They are used for patching concrete, overlays, and as concrete resurfacing cement toppings.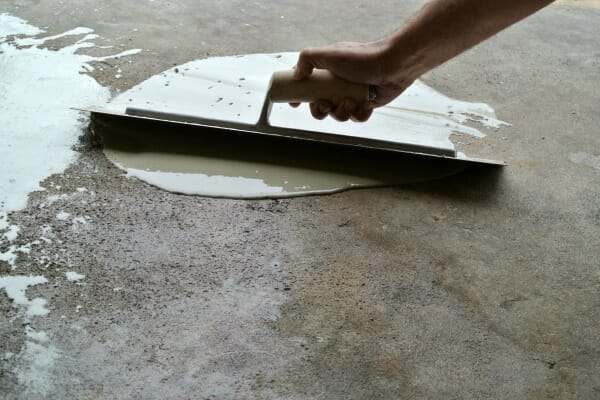 The nice thing about polymer-modified cement products is that they are very easy to work with and adhere much better than standard concrete mix. Some can be mixed thicker or thinner depending on the depth of the damage that is being repaired.
Another nice feature is that many can be feathered to as little as 1/16" and can cure quickly, ready for an epoxy coating, paint, stain, or sealer, sometimes within hours. They are also a good choice if you just want to seal your concrete from the elements after you make repairs as they are available in a natural grey finish and can be troweled smooth.
Pay close attention to what the manufacturer offers as some have special mixes for patches deeper than ½" and other mixes for overlays, shallow pitting, spalling and complete resurfacing. They may require prepping the area with a priming liquid before application so be sure to read the instructions carefully. Don't worry, it's a simple process.
Note: Never use standard cement mix to repair a garage floor. These will not adhere well and will start coming loose and breaking away after a short while.
Polymer-modified cement patches are a good choice for areas of very deep pitting, broken concrete lips and edges, deep holes, and other areas where the repair may need to be shaped, such as the edge of a concrete apron.
One example of a product that we know works well is manufactured by Ardex. Ardex CP is their concrete patch and Ardex CD is used for resurfacing and shallow repair areas. Just do an internet search to find a dealer in your area.
This is a good example of how a polymer-modified cement overlay is applied.
If you have large areas of shallow pitting and/or spalling, then a polymer-modified overlay or topping would be the best choice. These work well in areas where the damage is not much more than 1/8" to 1/4", especially if you want to retain a standard grey color.
Mixed to a thinner consistency than a patching mix, a polymer-modified cement topping can be poured directly on to the area and spread using a hand trowel or stand up metal edged squeegee. If you have any spots that are deeper than 1/4″ within the area you want to cover, it's best to mix a small, thicker batch first to patch over these spots.
In about an hour or so you can rough these spots over with a mason's stone, grinder, or a block of 60 grit sandpaper. Once you do that, sweep and then apply the topping directly over it.
Because these products setup quickly, you should be able to tell fairly soon if you have any areas that settled and created a low spot that needs a second application. Usually within 4-6 hours you can rough up the area with 60 grit sandpaper and apply another coat.
Note: If you are dealing with a very large area, it may be best to prep the surface with a floor grinder.  This will remove all weak surface material and laitance from the surface of the concrete.  Also, any cracks that run through an area patched with polymer-modified cement should be filled first with an epoxy patch.
Once you have finished and the repairs have cured, you may need to lightly grind any ridges or areas where the mix didn't feather nicely to the existing concrete.  This will help to create a nice smooth transition.
Final notes
Remember – If you are going to follow up with an epoxy coating or paint, these repaired areas will still need to be prepped by grinding just like the rest of the existing concrete. Also, always honor all contraction and expansion joints. Repair materials such as these are not designed for filling these joints up and will lead to surface cracks if you do.
When making repairs to your garage floor, be sure to pay close attention to the mixing instructions and any tips that come with the product. After all the repairs are made, be sure to protect the garage floor from further pitting or spalling by sealing the floor or applying a coating.
Like anything else, there is a bit of a learning curve to deal with depending on the product. Once you get started however, you will find that doing most of these repairs on your garage floor is not as difficult as you may have thought.
Note:  If your garage floor has been spalling due to a moisture problem other than water and salts that are deposited on your garage floor in the winter, then you may have a moisture barrier issue that is allowing water from under the slab to transmit to the surface. Surface repairs for such a problem may only be temporary. If you suspect this, conduct a moisture test first.