This post may contain affiliate links. If you use these links to make a purchase, we may earn a small commission. As an Amazon Associate, All Garage Floors earns from qualifying purchases. You can read our full disclaimer here.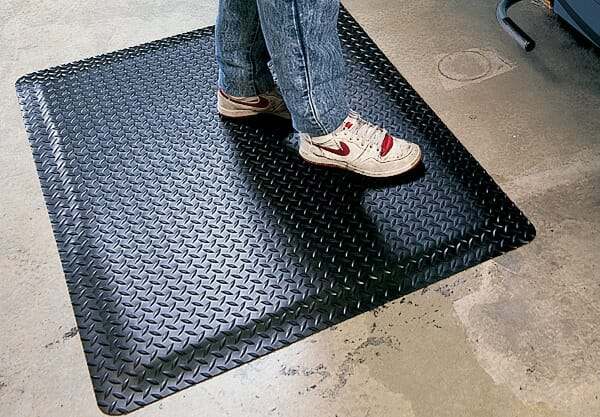 Admittedly, most of us don't give much thought to an anti-fatigue mat for a garage floor. If you spend time at the work bench in your garage, work on projects, cars, or even fold laundry, you might be surprised to learn the huge benefits of these oft forgotten mats. Therefore, we decided to list the advantages to these mats and review our picks for the best anti-fatigue mats for a garage floor.
Benefits of garage Anti-Fatigue mats
When your body stands on a hard surface for any length of time, the muscles in your legs and back immediately start to become restricted from trying to keep you in a static, upright position. This reduces blood flow and oxygen to the muscles which can cause fatigue. Your heart actually works harder to move blood through these constricted areas.
The anti-fatigue mat works by causing the muscles in the body to make very small movements to adjust to the flexibility in the mat. It is these small changes that the body is forced to make that increases the blood flow to the muscles while standing on the mat. This helps to greatly reduce fatigue and also feels good on the feet!
To illustrate this point, my Father used to come in to work occasionally complaining of back pain and tired legs. We soon figured out that it usually only happened on Mondays. As it turned out, he was spending some time on the weekends before, standing at his workbench in the garage working on various projects.
After purchasing an anti-fatigue mat to place on the floor in front of his bench, his tired legs and back pain suddenly went away – and so did his complaining!
Needless to say, he soon purchased a mat for Mom to have in front of the washer/dryer in the garage since she likes to stand there to fold and sort the laundry.
As an Amazon Associate All Garage Floors earns from qualifying purchases.
Best Anti-Fatigue mats for a garage floor
We realize that declaring the best anti-fatigue mat for a garage floor can be somewhat subjective depending on how it will be used. Falling under the garage floor mat category, there are many quality mats that work well depending on the job. With that in mind, we decided to list our picks for the top mats based on value, construction, and how the mat will be used.
Guardian Air Step Anti-Fatigue Mat
First on our list is the Guardian Air Step Anti-Fatigue Mat. Available in black and gray, this is a good general multi-purpose anti-fatigue mat that is made in the U.S.A. and gets great reviews.
What we like most about this mat is the fact that it comes in various sizes and is priced at a good value for what it does.
Like most mats in this price range, it is made of a vinyl construction with a foam structure. This mat however is 1/2″ thick compared to most that are only 3/8" thick. It can be cut with scissors if you need a custom fit and the vinyl construction makes for easy cleaning.
Best uses for this mat would be for a laundry area or the front of a work bench, table, or other areas that see light duty use.
While this mat is good for general purpose use, we do not recommend it for heavy duty activities that may encounter materials such as metal shavings, oil spills, strong chemicals, or solvents.
Saddle Trax Grande anti-fatigue mat
Next on our list is the Saddle Trax Grande anti-fatigue mat by No Trax.  This is a dense closed-cell vinyl foam mat with a diamond plate design to offer slip resistance.
It is 1" thick with a beveled edge to increase safety. This feature will help to prevent tripping and allows for carts to roll up onto the mat. It is available in black, gray, and black with safety yellow borders.
The closed cell vinyl design allows for better chemical resistance and easier cleaning. This mat also has their exclusive Red Stop technology on the underside of the mat that creates a non-skid bottom that helps to prevent mat creeping.
Available in 3 different sizes, this mat is suited for more heavy duty activity at work benches and tables that may see the use of chemicals and solvents. It's also a good low cost choice for use in front of heavy duty equipment such belt sanding machines or sand blasting boxes as an example.
This is the exact mat that our father is using in his garage. It has seen quite a bit of use for almost 2 years now and still looks new.
T30 General Purpose Rubber Competitor
Next is the T30 General Purpose Rubber Competitor by No Trax. This is a more serious rubber mat that does well in wet and dry conditions and provides general oil and grease protection as well.
Available in two sizes at 1/2″ thick, it comes with a beveled edge that provides a low profile for rolling hand carts over them and preventing tripping. These are a good general purpose mat for heavy duty work.
Besides using in front of a workbench, they can be placed under car lifts to provide a non-slip surface in the event of oil or coolant spills and are a good choice at cleaning stations as well. They also make for an excellent mat to use in front of drill presses and lathes. Metal shavings are easier to vacuum up and don't get stuck to the surface like a typical closed cell foam mat.
This is the mat we have in our garage in front of the workbench and it has performed flawlessly. When needed, we do drag it up under the car lift for jobs that require some time to complete. It really does make a difference over standing on solid concrete for longer periods of time.
T15 Heavy Duty Nitrile Rubber Optimat
For those that need maximum oil and grease protection in an anti-fatigue mat, then the T15 Heavy Duty Nitrile Rubber Optimat by No Trax may be what you need. Nitrile rubber mats provide the best protection against grease, oil, chemicals and acids.
At 1/2″ thick, it's available in both red and brown colors and comes in 4 different sizes.
This mat is ideal for standing long periods under a car lift or at a parts cleaning station if you frequently are encountering issues with spilled fluids from vehicles or cleaning solvents. Not only will it provide for a non-slip surface, the mat will not be damaged by oils and solvents and will give you years of anti-fatigue service.
One thing to be aware of however is that this mat does not have a beveled edge. It can be a trip hazard if you tend to drag your feet and carts will not roll up onto the mats as easily.
422 Nitrile Rubber Hog Heaven anti-fatigue mat
Finally we have the 422 Nitrile Rubber Hog Heaven anti-fatigue mat by Anderson. These mats are constructed of a solid nitrile rubber surface with a closed-cell nitrile/PVC cushion backing.
These mats are 7/8" thick with a beveled edge and are available in a few different sizes. They have a nice looking textured surface for non-slip resistance.
This type of anti-fatigue mat is of very high quality for the garage and can take just about anything you throw at it.
Besides offering an excellent chemical and oil resistant surface, Hog Heaven mats are also welding safe and anti-static. These make for an excellent choice for protecting a garage floor coating or other garage flooring options from welding sparks and slag.
My brother uses two of these mats in his garage and absolutely loves them. Since he is the welder in the family, he has a larger one that he uses near his welding table and a long, narrower one in front of his work bench. They can mar slightly from heavy welding, but it's not that noticeable with the textured surface. Plus, it provides for a nice surface to stand on for those tedious welding jobs.
Final Tips
When choosing an anti-fatigue mat, be sure to select one that is best suited for the environment in which it will be used. Oils and grease for example can be hard on some vinyl mats and you may want to choose a more chemical resistant mat made with rubber or nitrile rubber instead.
One important benefit we failed to mention earlier is that that anti-fatigue mats are a great insulator against cold winter concrete as well. If you spend time in your garage during the winter months, it's amazing how much of a difference these can make.
So if you want to give your feet a break and improve the way you feel after spending time in the garage, then an anti-fatigue mat is definitely something you should consider.  Like our father, you may not know how much you have been missing out on one of these mats until you try one out for yourself.