This post may contain affiliate links. If you use these links to make a purchase, we may earn a small commission. As an Amazon Associate, All Garage Floors earns from qualifying purchases. You can read our full disclaimer here.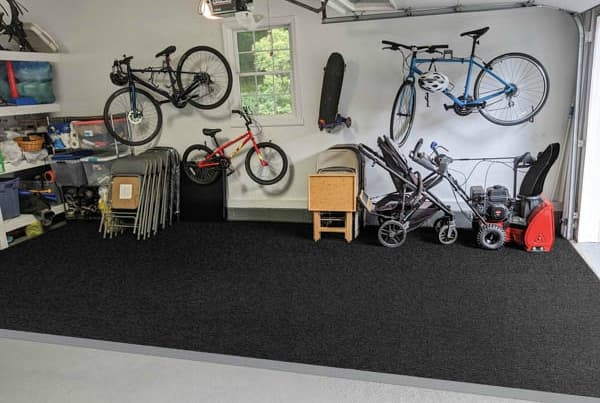 The available options for a good carpet parking mat for a garage floor or carport have always been limited. The typical mats are thin, light weight, and not known for their long-term durability. Well, we are happy to report that those days appear to be over with the introduction of the new Garage Grip™️ Carpet Mat. This may be the best carpet mat for garage floors and carports offered today.
Admittedly, we had never heard of Garage Grip. So, who are they and why do we like this new garage floor parking mat so much?
As it turns out, Garage Grip is manufactured in the U.S. by Rig Grip Incorporated. Rig Grip is a leading supplier and manufacturer of premium containment systems for oil and gas well sites. Their mat flooring systems are assigned the task of containing oil and gas spills.
The Garage Grip mat is a brand-new introduction to the garage flooring industry, born out of the same materials and construction as Rig Grip's oil and gas containment systems.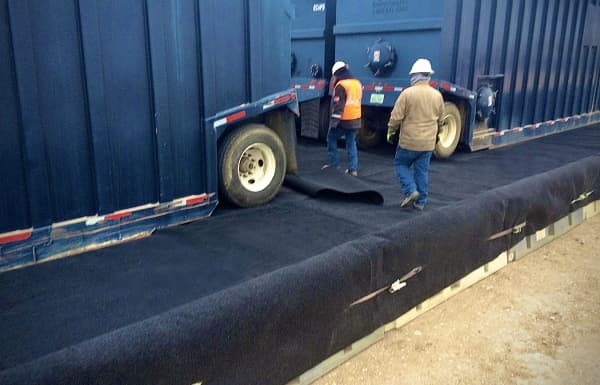 We only recently learned about them when we were contacted by the president of the company and asked if we would like to review their new Garage Grip mat.
Why Garage Grip is a Premium Garage Floor and Carport Parking Mat
There are pros and cons of carpet garage floors. Materials to consider are important. So, the first thing we want to discuss is the quality construction and materials of the Garage Grip mat.
The foundation of this carpet mat begins with the waterproof thermoplastic polyolefin backing, otherwise known in the industry as TPO.
TPO is a resin blend of polypropylene, synthetic rubber, and polyethylene. It was originally developed for use as pond liners. Besides being waterproof, some primary characteristics of TPO are high chemical resistance and impact resistance.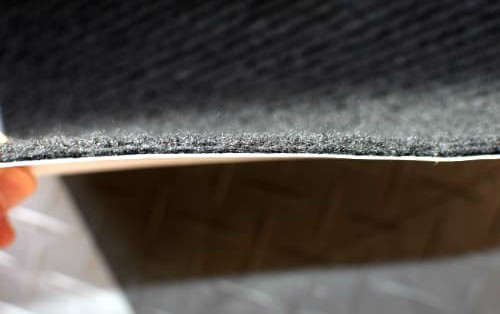 The Garage Grip backing consists of two layers of TPO that is 36.7 mils thick. Sandwiched between these two layers is a polyester scrim reinforcement material that helps to give the mat its strength. This scrim fabric is the same strong material that is used in some of the winter containment mats that we recommend.
In addition, the scrim fabric gives the mat stability. Large temperature swings in the garage or from being outdoors as a carport parking mat can cause unreinforced TPO to expand and contract. As a result, it can buckle if it's held down in places by heavy objects or double-sided tape.
The reinforced scrim fabric within the TPO of the Garage Grip Carpet Mat prevents this expansion and contraction so that buckling will not occur. This is a huge benefit for permanent installations or when heavy objects such as cabinets, work benches, or laundry machines may be resting on the carpet mat.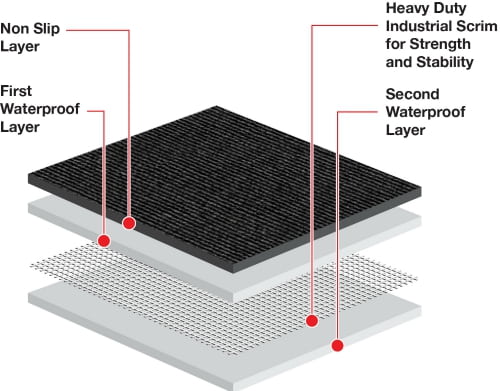 The top layer of the mat consists of a recycled, non-slip, synthetic polyester plastic fiber that is woven to resemble carpet. It provides for a very durable and anti-slip surface that is highly resistant to staining, yet soft on bare feet at the same time.
With a total thickness of 200 mils, the Garage Grip mat is almost twice as thick as the leading carpet mat. Besides being extremely tough, it also has some definite weight to it because of the durable materials used.
For example, the leading garage floor carpet parking mat by DryMate and ArmorAll in the similar 22' length, weighs approximately 19 lbs. The Garage Grip mat weighs in at 70 lbs. That's a 51 lb. difference!
You can view the complete specifications of the Garage Grip mat here.
This heavier weight is also what makes the Garage Grip Carpet Mat an excellent choice for carports. Only the strongest of winds have a chance of getting under the mat and blowing it out of position if a vehicle is not parked on it.
Benefits of the Garage Grip Carpet Mat
Now that we know the mat is made of durable materials that are thick and heavy compared to other carpet parking mats, let's discuss the benefits of this mat for a carport or garage floor.
The first, of course, is the waterproof TPO backing. It will not allow oil, water, or other liquid chemicals to penetrate the mat. This will protect your concrete from oil stains and other automotive fluids.
It is also highly resistant to mag chloride and calcium chloride. As a result, it will prevent damage to the concrete from road salts and deicing brines that can get tracked onto the garage floor during the winter months.
Another important feature is that the TPO backing passes the ASTM G21 anti-fungal resistance standards and it will not mold or mildew.
Besides protection of the concrete, the recycled polyester fiber surface of the Garage Grip mat has an attractive carpet-like look to it. It's actually made from recycled plastic bottles – cool!
It resists staining from a variety of automotive chemicals, salts, chlorides, and organic materials. This would include pets as well.
Though the carpet weave is soft to the bare feet, it is extremely tough and provides an anti-slip surface. In addition, it is U.V. stable. So, if you use it as a carport mat or like to keep your garage door open for periods of time, you don't need to worry about color fade.
Cleaning of the mat is easy as well. Dirt, leaves, twigs, small bits of gravel, and other non-liquids can be vacuumed up with a shop vac or house vacuum. Mud can even be allowed to dry and then get vacuumed up with a shop vac.
Liquids spills, automotive fluids or other chemicals can first be blotted up with a towel or pulled up with a wet shop vac depending on the liquid. However, you will most likely need to treat spills other than water with a warm solution of liquid detergent or a degreaser.
In addition, you can hose off the Garage Grip mat, use a pressure washer on it, or a carpet cleaning machine. This comes in handy to remove mud or soapy solutions to remove oil or other contaminants.
Lastly, unlike most other carpet mats, the Garage Grip mat can be anchored to the concrete with double sided tape if you want a more permanent installation.
Our Review and Testing of the Garage Grip Carpet Mat
When we were asked to review the Garage Grip Carpet Mat, we requested a 4' x 4' piece of material to examine and perform our own unscientific tests.
When we received the mat material it was folded up in a large vinyl envelope. Needless to say, it had a few creases in it and we were curious if the mat would lay completely flat at first.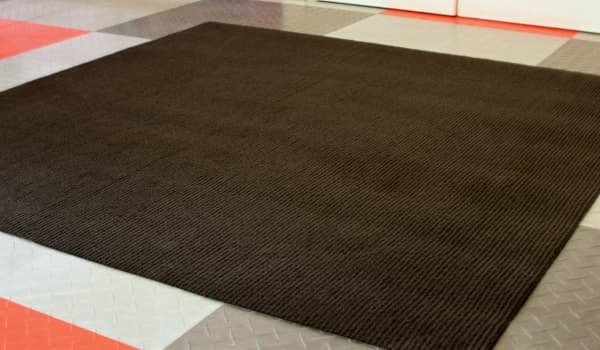 When placed on the garage floor, the material laid flat and the creases came out in less than 24 hours. It only had some small waves in the mat that eventually went away after a few days or so.
The first thing we did was position it to receive the most foot traffic near the entrance of the door that leads into the house. We left it there for well over a week to accumulate dirt and debris.
We noticed that though the black color hides dirt well, little things like bits of grass or other debris that may be tracked on the mat tend to stand out. However, after taking a vacuum to it, it cleaned right up and looked the same as it did new.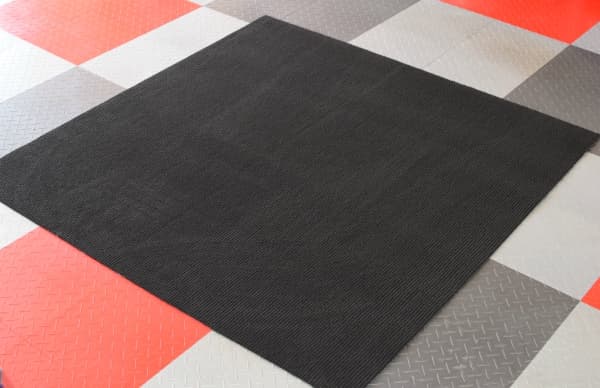 We then laid the Garage Grip mat out on one side of the garage floor to pour almost a gallon of water on it. We knew it was waterproof, but we wanted to see what the water would do and how the carpet material would react. Plus, we also wanted to see how slippery it might be.
What was interesting is that as the water started to spread out initially, it also started flowing to one end of the mat. Like most garages, the garage floor is not perfectly level and it has a very slight slope. The area where the water was flowing was towards the lower end that leads to the garage door.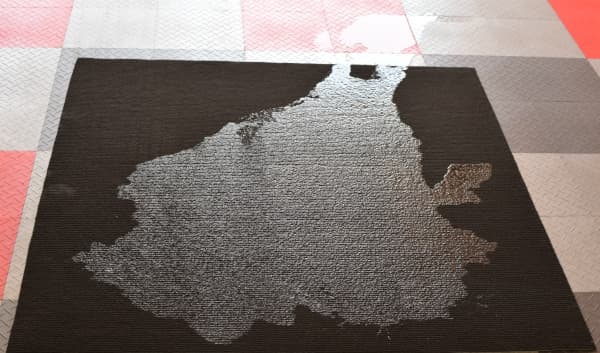 This isn't too surprising since the mat is not designed to absorb water. After all, the TPO liner is waterproof and the carpet material is a synthetic plastic polyester fiber.
However, it did tend to hold onto the water and keep a large part of it from freely flowing since it was caught up in the carpet fibers. This is good if you want to use the Garage Grip mat for containment of snow or water. Once it begins to fill up, you can squeegee it right out the door.
Speaking of that, we found that the Garage Grip mat material reacted very well to a squeegee. We were able to push most of the water right off the mat without issue. This will allow the carpet like material of the mat to dry much quicker.
Next, we conducted a slip test when the mat was wet – or at least we tried. We wore tennis shoes, a flat leather sole, and bare feet. After trying to make our feet slip, we found that the mat wasn't much more slippery when wet that it was dry.
If you want a mat that provides the best non-slip surface when wet, then the Garage Grip Carpet Mat is it.
Next, we decided to conduct a mud test. We threw a shovel full of dirt onto the mat, spread it around a bit, and then poured water all over it. We then proceeded to walk on it and did our best to grind the mud into the mat.
After that, we laid it out so that one of the vehicles that parks in the garage could roll up onto the muddy carpet each day and park. It was left there for a few days until it completely dried up.
We then swept the surface to collect the heavy dirt and then proceeded to vacuum it with a small shop vac. As you can see in the picture below, all the dried dirt and mud came right up in the area we vacuumed.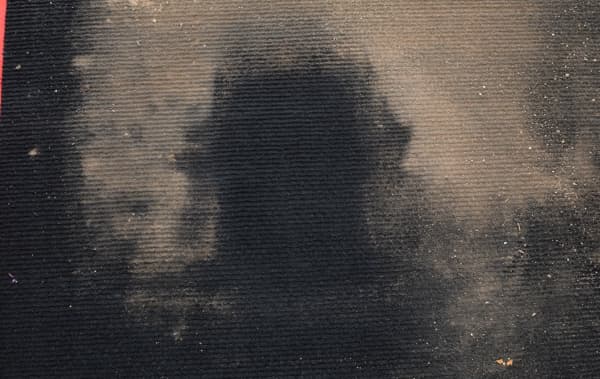 Finally, we conducted an automotive fluid and chemical stain test. We were curious how well such fluids would clean up and whether they would stain.
From left to right in the image below, we poured onto the mat 1/2 cup of used motor oil, 1/2 cup of anti-freeze, and 1/4 cup of brake fluid. The anti-freeze really blended in with the material when we took the picture almost immediately afterwards.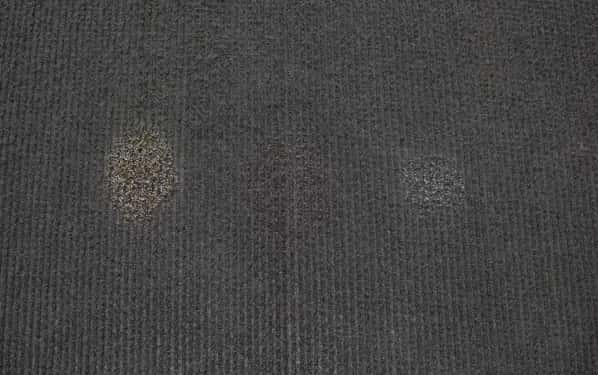 After leaving these fluids on the mat for a few days, we blotted the surface with an old towel and then cleaned the Garage Grip mat to see what we would get.
Something we need to mention that caught us by surprise, is that the camera really pulls out every little detail. It makes very small changes in color and texture of the carpet mat stand out much more than what is noticeable with the naked eye.
We first used a warm soapy solution of liquid Dawn. It didn't do as well as we had hoped with the oil. It still had an oily film on the fabric. It did fair with the anti-freeze and brake fluid, though you could still tell where the fluids had been.
We then used a solution of liquid Tide detergent and warm water. After it was applied to the general area, we added some Purple Power degreaser over the area where the oil was. Next, we lightly scrubbed the Garage Grip Carpet Mat material with a stiff brush.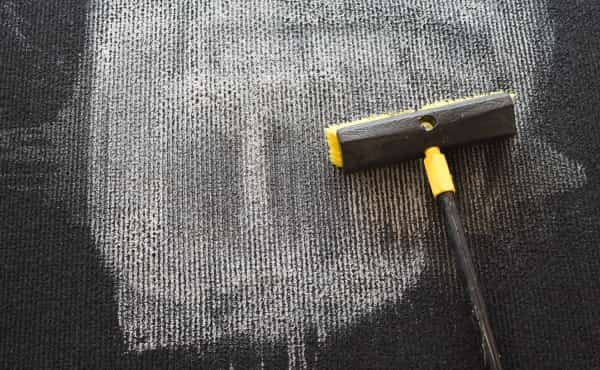 When we added fresh water and used a wet vac to pull it up, we couldn't tell where the anti-freeze and brake fluid had been, but there was some evidence of the oil. So, we added more soapy solution and Purple Power to the oil part and scrubbed harder. You can see the result in the image below.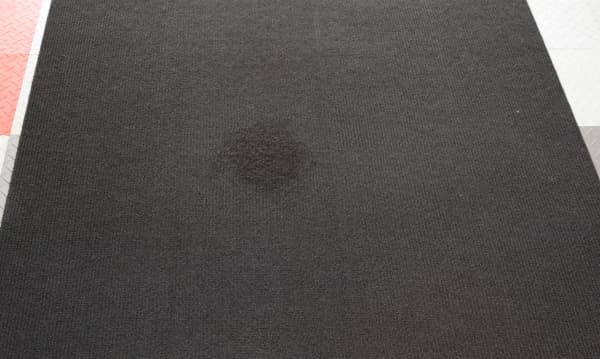 What is interesting is that there is absolutely no evidence of the anti-freeze and brake fluid. The oil is complete gone as well. However, the camera really pics up where we scrubbed hard with the brush since the carpet fibers where disturbed. It's not nearly as obvious with the naked eye though.
As we continued to use the Garage Grip mat material in front of the workbench and tool box area, we took a picture about a week later in different light to see if we could better replicate how it is seen with our own eyes.
The image below is about the best we could do. As you can see, it's not nearly as obvious as when first cleaned.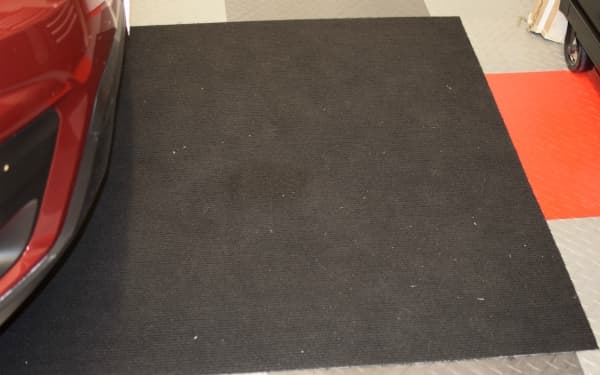 The used motor oil we poured on the mat is a nasty concoction that also includes some old brake fluid, brake cleaner, and carburetor cleaner. It's the same stuff we use for testing high performance coatings.
Base on the outcome, we are very pleased with how well the Garage Grip Carpet mat stood up to it and came out oil free.
Garage Grip Carpet Mat Sizes and Pricing
Currently, the Garage Grip Carpet Mat is available in four different sizes. They are 10′ x 5′, 10 x 10′, 10 x 17′ and 10′ x 22'.
Something to note is that 3″ of the 10' width is exposed TPO material. This allows you to use double sided tape to run two or more mats side by side without an obvious seam. You can always cut the 3" off if you are using a single mat.
In addition, you can order custom sizes with welded seams, just as they do on the oil and gas well sites.
We will be the first to tell you that these garage floor carpet mats are not cheap. However, they are not constructed with cheap materials either. As a result, they are a good value and should last for many years.
The best place to purchase Garage Grip Carpet Mats currently is from Garage Flooring LLC.
They provide excellent customer service and have a low price guarantee. If you have any questions, just give them a call or use their online chat system.
Final thoughts
We must admit that we did not expect the Garage Grip Carpet Mat to be as good as it is. The materials, weight, long term durability, and stain resistance far exceeds any other garage floor carpet mat that we are aware of. Plus, it just looks good.
In addition, the added benefit of being able to use it as a winter containment mat and then store it away (if you desire) until the following winter is nice as well.
And don't forget, it can be used as a permanent and safe solution for an all carpet garage floor if that is what you are looking for.
Lastly, we can see why the Garage Grip mat would make for an excellent carport parking mat. The heavier weight to keep it in place when the wind blows and the U.V. stability are huge benefits.
No garage flooring option is perfect, however, and the Garage Grip Carpet Mat isn't either.
The first thing that we want to make you aware of is that a carpet mat would not be our first choice for a busy working garage. As nice as the carpet like material is, trying to keep it clean in such an environment would not be something to look forward to.
Also, we would like to see another color option. As we mentioned in our review above, debris tends to stand out more on the black surface. It would be nice if there was a tan colored option. Tan is a neutral color that tends to camouflage or hide debris much better. The good news is that tan may soon be available.
Finally, though the mat has a soft feel to it, it is not going to provide an abundance of anti-fatigue properties.
Is it better than standing on bare or coated concrete? Absolutely. And it will help to insulate you from the cold surface as well. However, it's not going to provide the same anti-fatigue properties as padded carpet or interlocking garage flooring.
To sum up, there is not a garage flooring carpet option that comes close to competing with the Garage Grip mat. If you want a high performing carpet mat for parking your vehicles in the garage or need a carport parking mat, then the Garage Grip Carpet Mat is by far the best performing option available.