This post may contain affiliate links. If you use these links to make a purchase, we may earn a small commission. As an Amazon Associate, All Garage Floors earns from qualifying purchases. You can read our full disclaimer here.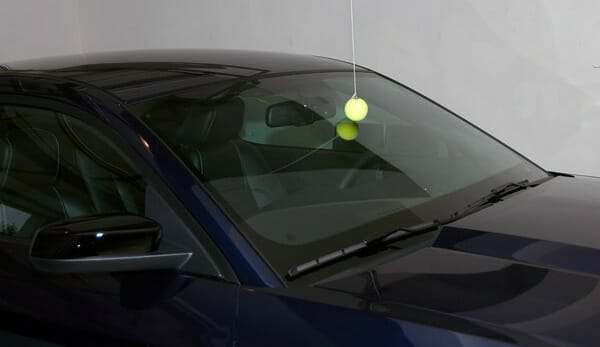 Are you looking for the best garage parking aid, sensor, or parking stop? We know it can be frustrating when you have a tight space to park in your garage. Fortunately, there are great parking assist products available now that can help you park your vehicle in the same spot of your garage every time, and they all do this without the nuisance of having to dodge low hanging objects when your car is out of the garage.
*** Newly Updated Parking Aids for 2019 ***
We originally did this review of parking assist systems because we received quite a few emails from readers asking what we can recommend for parking in garages with limited room. After all, no one likes bumping their car into the wall, tool boxes, or other objects in their garage.
So, as a result of having some experience with using a few of these wonderful gadgets, we decided to review the best garage parking aids that are popular and known to work well. In addition, new to our list are sensors that notify you when your car has cleared the path of the garage door as well.
Because we didn't want to create a large and complicated list, we thought it best to review the highest performing parking aid of each type instead. Our list includes the inexpensive, yet effective floor parking stops, as well as the newer products which include the use of laser lights, infrared, and ultrasonic parking sensors.
As helpful as this technology can be though, we have found that some of these products are not worth the money. After careful review, we have included only those that are easy to use and proven to work.
For those that don't want to read the review, we have included the table below that lists our recommended picks for the top garage parking aids.
As an Amazon Associate All Garage Floors earns from qualifying purchases.
Top

Top

IPI-100: Parking Target - Parking Aid Protects Car and Garage Walls - Easy to Install – Peel and Stick - Only 1 Needed per Vehicle – Mom and Dad and USA Decals Included

Prime

Eligible

Check Price

Top

Top

Maxsa Innovations 37358 Park Right 21" x 11" x 2" Parking Mat, Black

Prime

Eligible

Check Price

Top

Top

Cobra Tuning LED Stop Sign Parking Assistant for Garage with Flashing Signal

Prime

Eligible

Check Price

Top

Top

Measurement Limited Park Zone PZ-1900 Platinum Dual Power Garage Parking Aid

Prime

Eligible

Check Price

Top

Top

MAXSA 37310 Park Right Single Laser Parking Guide, Silver

Prime

Eligible

Check Price

Top

Top

Invis-a-Beam LLC Park-Daddy PDY-50-AA Single-Vehicle Precision Garage Parking Aid System, Maximize The Space in Front of Your Vehicle. No Hard Wiring! No Harmful Lasers!!

Prime

Eligible

Check Price
If you like information like us, however, you can read our reviews below to learn about the top aftermarket parking assist systems that we recommend. In addition, we have included some inexpensive parking accessories that we have found quite helpful.
Reviewing the 6 Best Garage Parking Aids
Listed below are our picks for the top parking stops and parking aids for a garage that will put your vehicle in the same spot every time. We start with the least expensive for the budget minded and work our way up. This list also includes the best laser, infrared, and ultrasonic parking aids. As a bonus, we have also included some low budget parking aids that actually work quite well for those that don't want to spend much money.
---
1. Parking target
First on our list is the traditional garage parking stop. As simple and inexpensive as this device is, it does exactly what it needs to.
Just slowly pull up towards the parking stop and when your tire gently bumps into it you know you are in the right spot. It's a breeze to install since they have a peel and stick adhesive on the back that adheres well to a clean surface.
Of those available, our favorite is the Parking Target. We installed this one for our mother and she really likes it. Its 16" wide, with a lower profile design that works great and allows her to confidently pull up to the same spot every time.
The only real complaint about these is that they can pull away from their adhesive backing on some occasions. We have found this is primarily due to bumping into them too hard. If this happens, the solution is to apply Gorilla Glue to reattach it afterwards. It rarely moves after that. After 5 years of use, this has not been an issue for our Mom yet.
Others have found that the slightly larger Parking Target HD rarely has the problem of moving. This is directly related to the larger surface area for the adhesive tape to adhere to.
Be aware that some directions state that you can set the parking stop just behind your front tire so that you know exactly when to stop after you roll over it. Do not do this. The force placed on the stop to drive over it is what leads to the stop pulling away from the adhesive.
One drawback to consider about using this type of parking aid, is that they might get in the way or pose a trip hazard if you are someone who is active in the garage when your vehicles are out. Other than that, they work very well and do exactly what they are designed for.
---
2. Garage Parking Mat
Next on the list is the garage parking mat. The difference between this and the Parking Target is that it works by giving tactile feedback to the driver by indicating when you are close to the stop after rolling over the first small bump in the mat.


This type of parking aid is great for people who may be apprehensive about rolling over a standard parking stop or bumping into it too hard. It effectively lets you know that you are close.
Our recommendation would be the MAXSA Park Right Parking Mat. It's inexpensive, easy to install, and comes in three different colors.
The same considerations apply with this garage parking mat as the one above. The only real complaint is the mat moving if not adhered well.
If this is a concern for you, we recommend that you apply some Gorilla Glue or additional double sided tape to the mat before you adhere it to the concrete. For some reason, parking mats of this design only come with one strip of tape.
---
3. LED Garage Parking Signal
Another product that works well and has a built-in fun factor is the flashing LED parking signal. The red stop sign actually flashes red LED lights when your vehicle gently bumps into the flexible pole that it is mounted on.


The advantage with this kind of parking aid is that it can easily be moved out of the way when necessary and put back when needed. Most are 4 feet tall, which works well with SUV's, and can be seen in the back window if you like to back your vehicle into the garage.
The best garage parking signal is the Cobra Tuning LED Stop Sign parking assistant. Unlike the other models out there, it has a base that is more stable which makes it more difficult to move or knock over. This is the biggest complaint about most of these type of parking aids and is why we recommend this particular model.
Despite having a more stable base, this model still gets the occasional complaints about moving. If you want to alleviate that altogether, we suggest weighting it down with something. We found that a 5-pound weight lifting plate like this one works nicely. The stop light pole easily fits right through the middle of the weight plate to keep it secured to the base.
These types of signs are battery operated and do not come with an AC adapter, so battery replacement is a consideration. However, even if the batteries run out and the sign does not light up, it will still jiggle and bounce around when your bumper comes in contact with it.
---
4. Ultrasonic Parking Sensors
As we stated, there are now a variety of parking sensors that can be mounted on the wall or the overhead ceiling of your garage. There are lasers, infrared, and ultrasonic sensors. We have broken these down to the best parking sensor in each category for your review.
The first of these is the ultrasonic parking sensors. These work by sensing how close your vehicle is to the sensing unit. The sensing unit then sends the information to a separate component that acts just like a traffic light.


Green is go and indicates it has detected your vehicle. Yellow is activated when your vehicle is 8 feet from the desired stopping location, and red is stop. The nice thing about these is that the light unit can be mounted in an easy spot to see.
To set the distance, park your vehicle in the desired location and then mount the sensing unit at bumper height to the wall, cabinet, or etc. Once the unit is activated, press and hold the programming button on the top of the light unit. Once it flashes three times through green, yellow, and red, the unit is set and ready to go.
The best of these is the Park Zone PZ-1900. This one is dual power and can run on batteries or the AC adapter. If using the AC adapter, the batteries act as a back up in case the power goes out. The Park Zone PZ-1600 is less expensive, but it's powered by batteries only.
My uncle uses the PZ-1900 and it's been working flawlessly for years now. He has an extra cab truck that he likes to back into the garage. The sensing unit is mounted on the wall with the light unit high enough that he can see it in his rearview mirror.
There are a couple of drawbacks with this type of parking sensor that you need to be aware of. First, it will not allow you to get much closer than 16 inches from the sensing unit. If you need to get much closer than that to the wall, you will need to choose a different parking aid.
Second, is that the sensor needs 3 feet of clearance on both sides to work effectively. For example, if you mount it on a wall between a cabinet and workbench, you need it to be 3 feet from each one to work correctly. Some people have avoided this issue by simply mounting the sensing unit to the front of a cabinet or object instead by using double sided tape.
---
5. Garage Parking Laser
Next on our list is the garage parking laser. These units are mounted to the overhead or ceiling and work when a motion detector senses your car pulling into the garage.

hen the unit is activated a red laser beam shines down to a fixed spot. As you pull your car into the garage, the bright red dot of the laser light works itself across the vehicle to a point predetermined by you – say the center of your dashboard for example. You then know when you are in the correct area to stop.
Our recommendation would be the MAXSA Park Right Garage Laser. This particular line of lasers is low profile and available as a single unit for one car or a dual laser unit for two cars.
Installation is easy. It only takes a few minutes to mount it in the preferred spot on your ceiling and power it up with the supplied power cord. You can even plug it into your garage door opener power source if you like. Once mounted, activate the laser and aim it at the exact point on your vehicle that will be your reference point to stop.
What's nice about a laser light is that you can use the red dot as a guide to steer the vehicle either left or right as the laser dot is moving up the hood. Once it arrives at the predetermined point on your vehicle, you have arrived in the exact spot you want to be at.
---
6. Infrared garage parking system
Last on our list of the top 6 best parking systems is the infrared parking sensor. Instead of using ultrasonic waves or laser light, these type of parking aids use dual infrared sensors, similar to what garage door openers use.

Instead of monitoring how far your vehicle is from an object or wall, they work by keeping your vehicle as close to the garage door as possible in order to create a maximum amount of space in front of the vehicle.
Of those available, the Park-Daddy Vehicle Precision Garage Parking System is the most impressive that we can recommend. Though fairly new to the market, it arguably has some of the highest reviews of all the modern parking sensors available today. It's also the most expensive.
Here is how it works. Two easy to install infrared sensors are mounted to the walls on both sides of your garage. You set them at bumper height just to the inside of the garage door. The Park-Daddy system also supplies you with an RF radio receiver unit that you plug into your cigarette lighter or power port.
The RF receiver unit lights up with a red light and sounds a tone when you intercept the infrared beam. Once you clear the beam, the sound stops and a green light on the unit comes on. You are now just clear of the garage door and have the maximum amount of room available in the front of your vehicle.
This same system can also be used if your goal is to keep the side of your vehicle a certain distance away from walls or other objects. Just install the infrared sensors up accordingly.
Something to be aware of is that the Park Daddy will not accommodate two separate garage doors that are offset from each other. You would need to purchase a system for each door.
An additional consideration is that not all cars have power ports that are convenient to access in the car with the RF radio receiver or they may already be in use.
One clever solution that someone came up with and seems to be gaining in popularity is to purchase a separate Cellet Universal 1000mA adapter.
You plug the RF receiver into the Cellet adapter and plug the Cellet adapter into an outlet in your garage that you can see from the car. When the car pulls into the garage and breaks the infrared beam, you can see the RF radio receiver light up red and then turn green when you have cleared the beam.
This solution would also reduce the need for two RF radio receivers if you can see it from both cars in a two-car garage.
---
Best Budget Garage Parking Aids
Yes, we know we made some fun of it, but the old tennis ball on a string
still works as a good alternative parking aid if you don't mind it hanging from the ceiling.
You can even purchase them pre-assembled with all necessary hardware and string for less money than a sleeve of tennis balls.
Then we have the simple and inexpensive Park Ranger Parking Aid. This really is an ingenious gadget that works extremely well.
It works by aligning two red sight lines on the Park Ranger with your point of vision when looking out the side window of your vehicle.
When the lines line up, you are at your exact spot on the garage floor.
It's easy to install. Just park your car in the desired place in the garage that you want it to be. While sitting in the car, have someone adjust the Park Ranger Parking Aid at a point on the wall where the all the red lines are lined up for you. Peel of the adhesive backing and stick it to the wall. You are done!
One drawback to this parking system is that it will only work for the same car and the same driver. Different drivers may have the seat moved to a different position which would alter where the car stops when the red lines are aligned properly.
---
Ampulla Garage wall car door protector
We decided to update our article with a new product that has come highly recommended by some of our readers. While technically not a garage parking aid, we can see why this product has become a very popular addition to the garage.
It's the garage wall and car door protector by Ampulla.
Made of a ¼" thick EVA material, it comes in a 79"x8" strip with a full adhesive backing. The material is similar to rubber but much lighter. The material can be trimmed to size and the peel-and-stick adhesive backing will stick to most concrete, brick, metal, and paint as long as it is clean.
Because EVA is much more elastic, it can be used to cover corners or bend around metal support columns that you can find in some garages. Plus, it's reportedly very easy to clean and is water resistant as well.
Whichever garage parking system you choose, we feel that these top 6 garage parking aids are the best options you will find available. They all have proven to keep cars and trucks from bumping into the walls and cabinets or clearing the garage door to create the most space in front of the vehicle.
If you want something cheap and inexpensive, then our alternative parking aid options would make a great choice.
Regardless, any of these will help to keep your vehicle parked in the right spot in your garage every time.