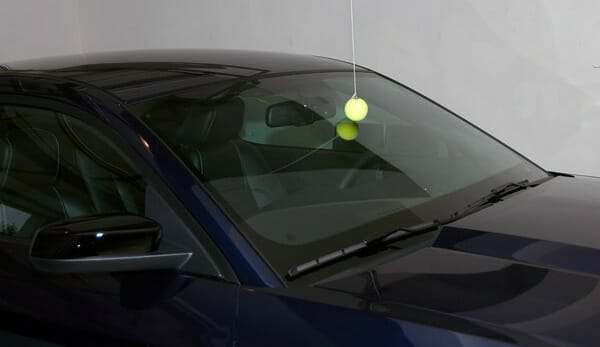 OK, so who hasn't seen the tennis ball on a string as a garage parking aid? Well as effective as this method can be, there really are better products out there that can assist in parking your vehicle in the same spot of your garage every time and without having to dodge low hanging objects from your ceiling when your cars are out.
Since we have received a few emails from readers asking about what we can recommend to assist with garage parking, we decided to compile a small list of products that are popular and do a good job. Some we have used ourselves.
5 Best Garage Parking Aids
Though our site is dedicated to garage flooring, we do like to cover something from time to time that helps us out in the garage that doesn't necessarily have anything to do with flooring itself. So let's take a look at what we think are the best garage parking aids that will help you find the same parking spot in your garage each and every time.
Parking target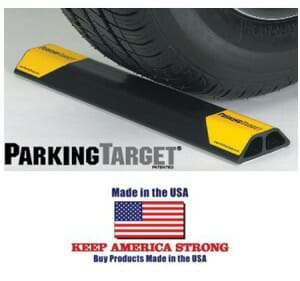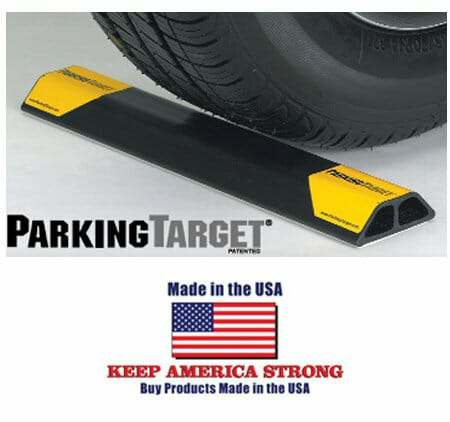 First on our list is the traditional garage parking stop. As simple and inexpensive as this device is, it does exactly what it needs to. Just slowly pull up towards the stop and when your tire gently bumps into it, you know you are in the right spot. It's a breeze to install as most have a peel and stick adhesive on the back that adheres well to a clean surface.
Of those available, our favorite is the ParkingTarget
. We installed this one for our mother and she really likes it. Its 16" wide, with a lower profile design that works great and allows her to confidently pull up to the same spot every time.
One drawback to consider about parking stops, however, is that they might get in the way or pose a trip hazard if you are someone who does a lot of projects in the garage that requires ample use of floor space. Other than that, the only real complaint is the occasional adhesive backing coming loose from the floor. If this happens, just apply some Gorilla Glue on it and it will never move again.
Garage Parking Mat
Next on the list is the garage parking mat. The difference between this and the Parking Target is that it works by giving tactile feedback to the driver by indicating when to stop after rolling over the first small bump in the mat. This type of parking aid is great for people who may be apprehensive about rolling over a standard parking stop. It effectively stops the vehicle in the same spot every time.
Our recommendation would be the
MAXSA Park Right Parking Mat
. It's inexpensive, easy to install, and comes in three different colors. The same considerations apply with this garage parking mat as the one above. Again, the only real complaint is the mat moving if not adhered well. If this becomes an issue, just use the Gorilla Glue.
LED Parking Signal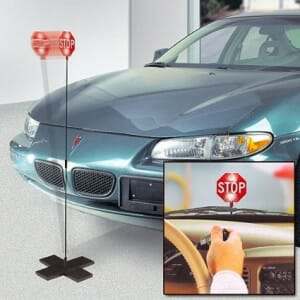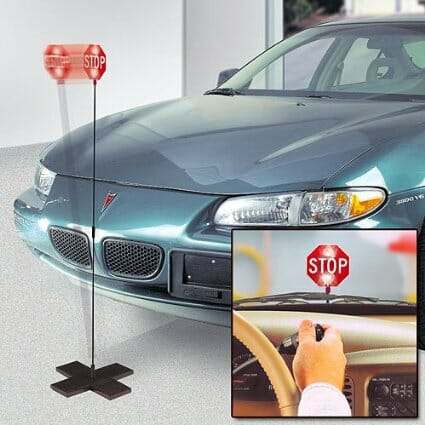 Another product that works well and has a built in fun factor is the flashing LED parking signal. The red stop sign actually flashes LED lights when your vehicle gently bumps into the flexible pole that it is mounted on.
The advantage with this kind of parking aid is that it can easily be moved out of the way when necessary and put back when needed. Most are 4 feet tall, which works well with most SUV's, and can be seen in the back window if you like to back your vehicle into the garage.
The best of these is the Homebrite Park N Place
. Unlike the other models out there, it has a weighted base which makes it difficult to knock over. This is the biggest complaint about most of these type of parking aids and is why we recommend this particular model. It costs a few dollars more, but it doesn't get knocked over easily. All are battery operated.
Ultrasonic Parking Sensors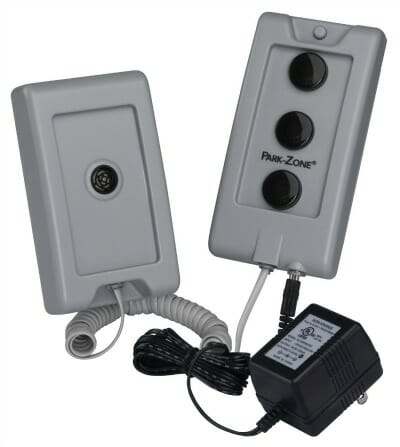 The two remaining parking aids are a little more high tech. The first of these is the ultrasonic parking sensors. These work by sensing how close your vehicle is to the sensing unit. It sends the information to a separate unit that acts like a traffic light. Green is go, yellow is slow, red is stop. The nice thing about these is that the light unit can be mounted in an easy spot to see.
Our favorite is the Park Zone PZ-1900
. It actually lets you set the exact distance you want, unlike others that have settings for predetermined distances.
My uncle uses this one and really likes it. He has an extra cab ¾ ton pickup that he likes to back into the garage. The sensing unit is mounted on the wall between his workbench and parts cleaner with the light mounted to the left above the parts cleaner. When he backs in he can see the light unit in his side view mirror.
The drawback with this type of parking aid is that they don't work well if you need to get much closer than 12" from the sensor. Also, some tend to be finicky if a different car other than the original used to set the sensor is parked randomly in the same spot.
Garage Parking Laser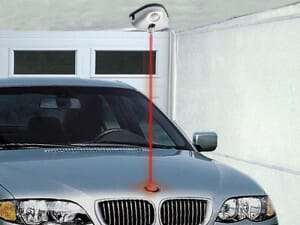 Last on our list is the garage parking laser. These are mounted to the ceiling and work when a motion detector senses your car pulling into the garage.
When the unit is activated, a red laser beam shines down onto your car. As you pull your car into the garage, the bright red dot of the laser light works itself across the vehicle to a predetermined spot – say your dashboard for example. You then know when you are in the correct area to stop.
Our recommendation would be the MAXSA Park Right Garage Laser
. This particular line of lasers is low profile and available as a single unit for one car or a dual laser unit for two cars.
Installation is easy. It only takes a few minutes to mount it in the preferred spot on your ceiling and power it up with the supplied power cord. You can even plug into your garage door opener if you like. Once mounted, activate the laser and aim it at the exact point on your vehicle that will be your reference point to stop.
What's nice about a laser light is that you can use the red dot as a guide to steer the vehicle either left or right as the laser dot is moving up the hood. Once it arrives at the predetermined spot on your vehicle, you have arrived in the exact spot you want to be at.
Alternative Parking Aids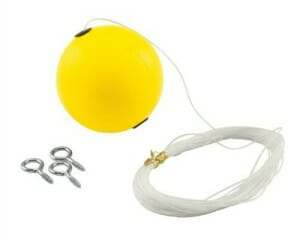 Yes, we know we made fun of it, but the old tennis ball on a string
still works as a good alternative parking aid if you don't mind it hanging from the ceiling.
You can even purchase them pre-assembled with all necessary hardware and string for less money than a sleeve of tennis balls.
Another alternative that doesn't cost anything at all is to align a particular part of your car with a mark or object on the side of the garage or wall. The side view mirror is always popular to use.
The only problem with this method is that it is not too precise and can create a problem if you inadvertently moved the object that you are aligning the mirror with. If you do, you can end up in the wrong spot. Worse, you can bump into something in front of you while starring at your mirror – oops!
Ampulla Garage wall car door protector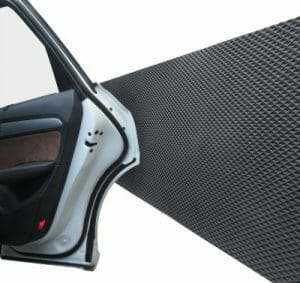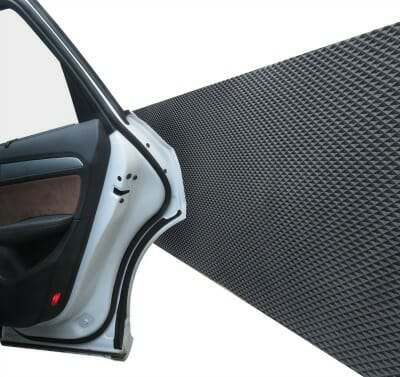 We decided to update our article with a new product that has come highly recommended by some of our readers. While technically not a garage parking aid, we can see why this product has become a very popular addition to the garage.
It's the garage wall and car door protector by Ampulla.
Made of a ¼" thick EVA material, it comes in a 79"x8" strip with a full adhesive backing. The material is similar to rubber but much lighter. The material can be trimmed to size and the peel-and-stick adhesive backing will stick to most concrete, brick, metal, and paint as long as it is clean.
Because EVA is much more elastic, it can be used to cover corners or bend around metal support columns that you can find in some garages. Plus, it's reportedly very easy to clean and is water resistant as well.
Whatever your methods may be, please review our top 5 recommendations for a garage parking aid. These are some of the best ways to keep yourself parked in the right spot in your garage every time.