This post may contain affiliate links. If you use these links to make a purchase, we may earn a small commission. As an Amazon Associate, All Garage Floors earns from qualifying purchases. You can read our full disclaimer here.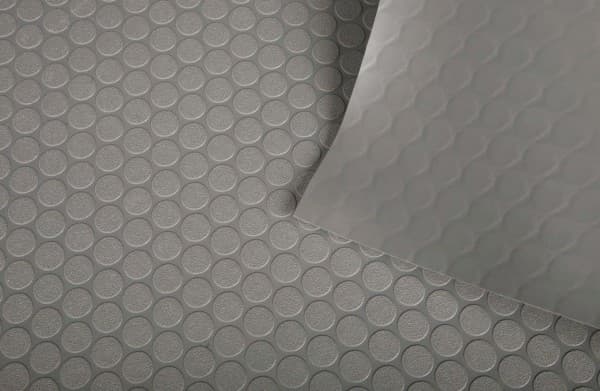 There are many factors that help to determine the best garage floor mat for you and your garage. It needs to be durable, stain resistant, easy to clean, and not slippery when it gets wet. Most importantly, it needs to look great. Based on these criteria, we believe that the small coin mat by G-Floor is the best garage floor mat that you can purchase for your garage.
It's not often that a new product comes out and catches our attention. Well, this is one of those times. With the introduction of the G-Floor Small Coin mat by Better Life Technology, we strongly feel that this is one of the best all-around mats that you can install in your garage today.
Why? A common question that we get is who makes the best garage floor mat or what garage floor mat can you recommend? Most often the answer is – it depends. The choices can be many as there are several variables to consider. One needs to factor in appearance, cost, function, quality, and resistance to stains and chemicals, as an example.
Based on these factors, the new G-Floor Small Coin Mat fulfills many of these variables and has just made our recommended list of garage floor mats much shorter.
Editor's note: We originally published this article in 2014. It has since been updated to reflect new information, sizing, and pricing.
WhY this Garage floor Mat is best
Besides the fact that it will transform the looks of your garage, the G-Floor small coin mat has many benefits over the competition, much of which is a result of the small coin design.
To better illustrate, let's take a look at the features and benefits of this garage floor mat as well as the specifications.
Function
What does this mean to you? With the smaller raised coin design, there is much more surface area to come in contact with compared to standard coined mats. In addition, with the added benefit of a textured surface, this mat has better anti-slip grip than most any other garage floor mat available.
The small coin design also allows for a reduced gap between coins. As an example, the standard G-Floor coined mat has a gap of approximately 5/16" between coins, while the gap in the small coin mat is only 1/16".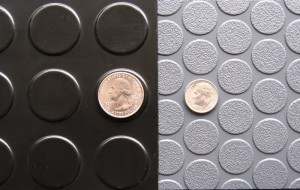 This reduced gap allows for the best rolling surface compared to other garage floor mats. Wheels from creepers, rolling chairs, carts, and tool boxes roll much easier compared to the standard coin design.
A larger gap makes it more difficult for such wheels since they do not span the gap as well. This creates a bumpier rolling experience that may require more effort since the wheels tend to roll up and down much more between the raised coins.
Available in Slate Gray and Midnight black, the G-Floor Small Coin garage floor mat is available in a variety of sizes from 5'x10' all the way up to 10'x24'. In addition, 100' rolls are available for special order.
Durability
G-Floor has since changed the way they measure mat thickness in order to reflect more accurately how the competition measures it. They used to measure by the thickness of the base only and did not account for the overall thickness when including the raised tread design.
With a 60 Mil thick base, the G-Floor Small Coin garage floor mat has a total mat thickness of 95 Mils. As thick as this is, with exception to G-Floor's Levant design, it is slightly thinner than the other mats in their lineup.
However, don't let the slightly thinner thickness of this design over other G-Floor mats fool you. This includes any competitor mats as well.
The reason why is that other than the Levant mats (no raised tread design), the small coin G-Floor mat allows for much more surface area than any other mat on the market. This translates to higher durability and wear.
As a result of this increase in surface area, we feel that the small coined mat will provide the same amount of wear and durability as the thicker and more expensive commercial grade mats.
High Resistance to stains and chemicals
This is what high quality garage floor mats are known for. Made of 100% polyvinyl, this mat is just as resistant to stains, chemicals, dirt, road salts, and additional debris as any of the best American made garage floor mats available today.
Gasoline spills, anti-freeze, brake fluid, solvents, and oil can be wiped right up. Less expensive garage floor mats that are made overseas are known to stain or break down from exposure to some of these chemicals.
One thing to be aware of is that the Achilles heel for all garage floor mats are car tires. Certain tires can leave black marks where they sit due to the chemicals that leach from them when they are warm. Tire marks are much less noticeable on darker colored mats.
Appearance
What can we say? For a garage floor mat there is something about this new small coin design that just looks good when laid out on a garage floor. It looks like it was meant to be in a garage – as it should.
An added advantage to the small coins is that it makes it more difficult to see where the seams butt up against each other and hides slight misalignment really well. Of course, you can opt for the center strips to cover where the mats join if you wish.
They are also easier to align when butting edges together. Compared to the larger coined mat and diamond tread mats, alignment has to be close to perfect when matching them up or you will see the difference due to the larger coins and bigger gap between them. This includes the diamond patterns as well.
Quality
Better Life Technology manufactures the G-Floor line of garage floor mats in Emporia, Kansas. They are made with 100% polyvinyl throughout the entire mat. You can't find better made mats.
Many of the garage floor mats made overseas and even some in the U.S. incorporate fillers in the material or they are made with a laminate construction that lays only a thin strip of polyvinyl on the surface.
These types of mats are known to delaminate after a few years and sometimes sooner if they are exposed to chemical spills.
In additions, G-Floor mats have a strong reputation as being the best quality garage floor mats that you can purchase for your home and they come with a limited lifetime manufacturer's warranty.
Best value garage floor mat
Due to the small coin design being slightly thinner than G-Floor's commercial grade mats, the price point is better. In fact, it's often cheaper than some of the overseas knock-offs of this design that is currently being sold today.
This is one of the key reasons we recommend this mat. When comparing the above features of the small coin mat to the competition or other G-Floor products for that matter, the overall value of the small coin garage floor mat is the best you will find anywhere.
We have found that the best place to purchase the G-Floor Small Coin garage floor mat is from Garage Flooring LLC. They have a 110% price match guarantee which includes free shipping. In addition, they have excellent customer service.
If you are an Amazon shopper you can find this mat in limited sizing there as well. You can CLICK HERE for Amazon pricing.
Final thoughts
The Small Coin G-Floor garage floor mat has been out for approximately 5 years now and has obtained high praise and reviews since its introduction. It has truly earned the reputation of the best garage floor mat.
No product is ever perfect though and one small issue we have with this mat is that it requires a bit more attention to how it should be cleaned. The smaller areas between the raised coins are not quite as easy to reach as it is with other mats.
We recommend using a soft bristle broom and/or a shop vac with the wide mouth or bristle floor attachment for most cleaning duties. A soft bristle broom reaches in easier and the shop vac is best for sucking up the collected debris.
For heavier duty cleaning, mopping with a mixture of 1-gallon warm water to ½ cup of ammonia will do the trick in most cases. In addition, Garage Flooring LLC recommends an occasional application of Hillway Direct Plus floor finish and cleaner maintainer to clean and maintain the shine of G-Floor mats.
The small coin design is not the best choice if looking to contain larger than normal amounts of liquid or snow from winter weather either. If that is your primary goal, then we recommend a containment mat for those purposes instead.
Those two small issues aside, if you are considering a floor covering for your garage then this mat is highly recommended. We feel that the G-Floor Small Coin mat is one of the best all-around garage floor mats you can purchase in terms of value, function, and durability.