It's not often that a new product comes out that makes us stand up and take notice.  Well, this is one of those times.  Better Life Technology has introduced their new G-Floor Small Coin garage floor mat and we feel that it is one of the best all-around mats that you can install in your garage today.
Why?  A common question that we receive at All Garage Floors is, "What garage floor mat can you recommend?"  Most often the answer is – it depends.  The choices can be many as there are several variables to consider.  One needs to factor in appearance, cost, function, quality, and resistance to stains and chemicals as an example.
Based on those factors, the new G-Floor Small Coin Mat fulfills many of those variables and has just made our recommended list of garage floor mats much shorter.
What makes the Small Coin mat unique?
Besides looking cool on your garage floor, the G-Floor small coin mat has many benefits over the competition due to its small coin design.  This includes G-Floor's own lineup of garage floor mats as well.  To further illustrate, let's look at the specifications of the mat first to get a better idea of how it compares.
The small coin mat is 60 mils thick and made of polyvinyl (PVC).  It is currently available in two colors – Slate Grey and Black.  Sizes are 8.5ft x 24ft and 10ft x 24ft.  8.5ft x 100ft rolls are available as a special order.  The diameter of the raised coin design is the size of a dime and it has a textured surface to it that aids in anti-slip grip.
Here are some of the reasons we recommend the Small Coin garage floor mat by G-Floor.
Function
What does that mean to you?  Due to the smaller raised coin design, there is much more surface area to come in contact with compared to standard coined mats.  With the added benefit of a textured surface, the small coin mat has better anti-slip grip than most any other garage floor mat available.
This design also allows for a much smaller gap between coins.  The standard G-Floor coined mat for example has a gap of approximately 5/16", while the gap in the small coin mat is only 1/16".  This small gap allows for the smooth rolling of wheels from creepers, carts, and tool boxes as compared to the standard coin design, which can make it more difficult for small diameter wheels as they have to roll up and down between the raised coins.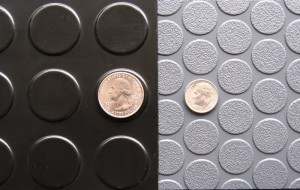 Ribbed mats and diamond tread mats do not allow for rolling as smooth as the small coin mat either.
The 60 mil thickness does a great job of protecting the floor as well.  It's slightly thicker than the G-Floor standard grade Ribbed and Levant mats at 55 mils, while the commercial grade large coin, diamond tread, and levant mats are 75 mils.
Durability
Don't let the slightly thinner design of the small coin mat over the commercial mats dissuade you.  G-Floor mat thickness is measured at the base.  That's the lower area in between the raised coins or tread pattern.
Because the small coins are so close together, they offer much more of the thicker raised surface area compared to standard coin and diamond tread mats.  This raised surface area is actually thicker than the 75 mil base area of the two commercial mats when you compare them.
As a result, we feel that the small coined mat will provide almost the same amount of protection in most cases as the commercial grade mats.
Resistance to stains and chemicals
Being made of 100% polyvinyl, this mat is just as resistant to stains, chemicals, dirt, road salts, and additional debris as the best American made garage floor mats available.
Gasoline spills, anti-freeze, brake fluid, and oil can be wiped right up unlike other garage floor mats that can stain or break down from exposure to these chemicals.
Keep in mind that certain types of car tires can leave marks on a polyvinyl mat however.  This is why the small coin mat is currently available in grey and black as they are the colors that show tire marks the least.
Appearance
What can we say, for a garage floor mat there is something about this new small coin design that just looks good when laid out on a garage floor.   It looks like it was meant to be in a garage all along.  An added advantage to the small coins is that it makes it much more difficult to see where the seams butt up against each other.  It hides installation mistakes really well.
Compared to the larger coined mat and diamond tread mats, your cuts have to be close to perfect when matching them up together or you will see the difference due to the larger coins and bigger gap between them and the diamond pattern.
Quality
Better Life Technology manufactures the G-Floor line of garage floor mats in Emporia, Kansas.  They are made with 100% polyvinyl throughout the entire mat.  You can't find better made mats.
Many of the garage floor mats made overseas and even some in the U.S. incorporate fillers in the material or they are made with a laminate construction that lays only a thin strip of polyvinyl on the surface.  Many times you will see these types of mats delaminate after a couple of years.
G-Floor mats have a strong reputation as being the best quality garage floor mats that you can purchase for your home and they come with a 5 year manufacturer's warranty.
Value
Because the small coin design is a bit thinner than the commercial grade mat, the price point is better.  In fact, it's actually cheaper than the overseas knock-off of this design that is currently being sold today.
This is the key reason we recommend this mat.  When comparing the above features of the small coin mat to the competition or other G-Floor products for that matter, the overall value of the small coin mat is the best you will find on the market.
So how much is it? Amazon has some of the best pricing you can find for the G-Floor Small Coin garage floor mat.
This includes free shipping which is a huge savings when having a heavy mat delivered. For most states there is no sales tax collected as well.
Final thoughts
No product is ever perfect and one small issue we have with this mat is how it should be cleaned when it comes to regular maintenance.  We recommend using a soft bristle broom and/or a shop vac with the wide mouth floor attachment for most cleaning duties.
The reason for this is that the smaller areas between the raised coins are not quite as easy to clean up as other mats.  A soft bristle broom reaches in easier and the shop vac is best for sucking up the collected debris.
Cleaning solution suds and water tend to get caught up between the coins and don't come up as easy as you would like if you try to mop the mat.  A good mop head helps.  We suggest using a highly absorbent cloth towel with your favorite cleaning solution (Simple Green works great) when spot cleaning.
It's not the best choice if looking to contain larger amounts of liquid or snow from winter either.  We recommend a containment mat for those purposes instead.
Those two small issues aside, if you are considering a floor covering for your garage, then this mat is genuinely worthy.  We feel that the G-Floor Small Coin mat is one of the best all-around garage floor mats you can purchase in terms of value, function, and durability.