This post may contain affiliate links. If you use these links to make a purchase, we may earn a small commission. As an Amazon Associate, All Garage Floors earns from qualifying purchases. You can read our full disclaimer here.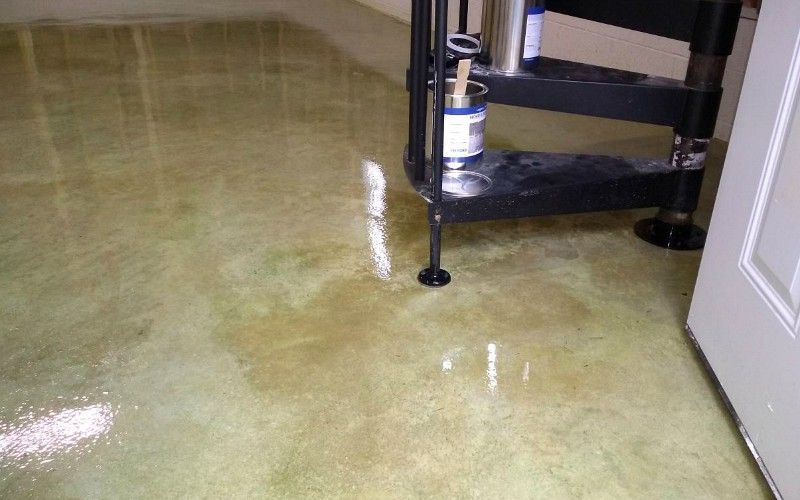 How do you protect and seal a brand-new workshop floor as well as improve the appearance at the same time? According to Matt from southern Maryland, you apply an amazing looking concrete stain and seal it with a high performance clear coating system. After reviewing Matt's choice of materials, we have to agree that his workshop floor is well protected and the looks are positively striking.
This garage flooring / workshop floor project came about after Matt built his large 28'x40' workshop in order to perform general home projects as well as various maintenance duties. This includes car maintenance and repairs in addition to some light metal fabrication work. Moreover, one half of his workshop will be dedicated towards wood working.
He initially explored the idea of polished and dyed concrete, but that proved to be cost prohibitive after receiving estimates of $5.75 per square foot from a local company. This quote was for the grinding and polishing alone and did not include any colored stain options or stain guard sealers.
That's a large investment for a workshop flooring option that would not provide the best protection from cars depositing road salts from Maryland winter weather or chemical spills from vehicles and solvents.
With those costs in mind, he found that turning his floor into a DIY project would be much less expensive. So instead of polishing the concrete of his workshop, he decided to go with an option that provides somewhat similar looks, but for less money and more protection.
Delta Dye Concrete Stain with Nohr-S clear polyurea coating
Matt learned that he could accomplish the look he wanted with a concrete stain and a high gloss coating. The stain would add color and character to the concrete while the clear coating would provide a glossy look that is similar to polished concrete.
For the stain he chose Delta Dye Concrete Stain in Olive by Legacy Industrial. Delta Dye is a water-based stain that is easy to apply and provides a look that is similar to acid staining.
Knowing that he needed a clear coat to protect the concrete and make the stain color pop with vibrance and gloss, he opted for the Nohr-S polyurea clear coating kit from Legacy Industrial as well.
Nohr-S is a single-part polyurea sealer and coating that is easy to apply. It provides excellent protection against automotive fluids, solvents, abrasion, and wear. In addition, it is U.V. stable and provides for a high gloss finish.
The kit also includes Nohr-S clear primer. This helps to ensure the best bond to the concrete. It adds build to the coating, and provides for the best coverage rate for the Nohr-S polyurea. In addition, the primer helps to prevent bubbles in the coating from porous concrete or surface moisture.
Total cost for the materials was approximately $1.30 per square foot. This is a huge savings over polishing and will provide better protection against staining as well.
concrete stain and coating Application
Delta Dye concrete stain can be applied to most concrete surfaces without further prep. However, the type of clear coating that is applied may require concrete prep and this was the case for Nohr-S. It requires either an acid etch or grinding in order to achieve a good mechanical bond.
So before applying the Delta Dye, Matt got to work making sure the surface was clean and then acid etched the concrete.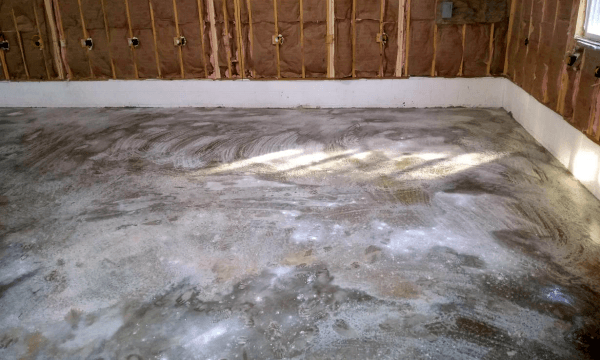 Interestingly enough, Matt commented that the etching was the more challenging part of the entire process. There were some areas where the acid solution left drip lines from the water cans he was using, but he said it turned out to be a neat effect.
In addition, it took some scrubbing with a broom to work the remaining baking powder neutralizer solution and silty concrete residue out of the pores in the surface after the first rinse. It wasn't difficult, but he did say that a pressure washer would have saved him some time. A little sweeping and vacuuming after it had dried finished up the job.
Once the concrete dried from all the etching, the Delta Dye was applied to his satisfaction. He then gave it time to penetrate and dry thoroughly.
The images below show the stain when it was drying and when the surface was being vacuumed before the application of the primer. You can click on the image to make it bigger. All stains will have this dull, matte look until a clear coating is applied to seal the concrete. The coating wets out the color and makes it pop.
Once the stain had dried, it was time to apply the Nohr-S primer. The primer is a specially formulated water-based epoxy that does an excellent job of penetrating the concrete in order to achieve an excellent bond. It will also provide an even better chemical bond with the Nohr-S polyurea when applied within the recoat window.
You can see how the primer has a milky white finish during application. It eventually turns clear as it cures.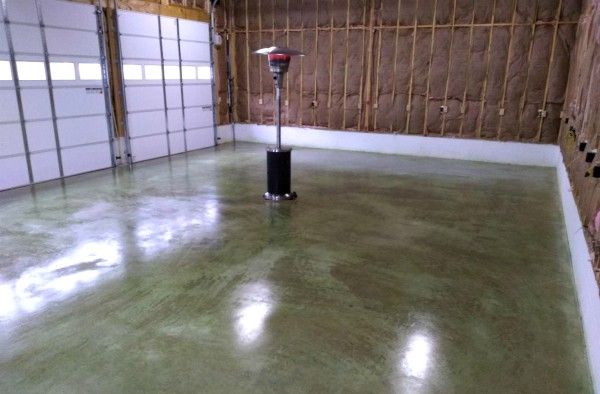 Once the Nohr-Prime has cured for a minimum of 3-4 hours, it's time to apply the Nohr-S clear polyurea. Matt stated that the single-part polyurea was very easy to apply.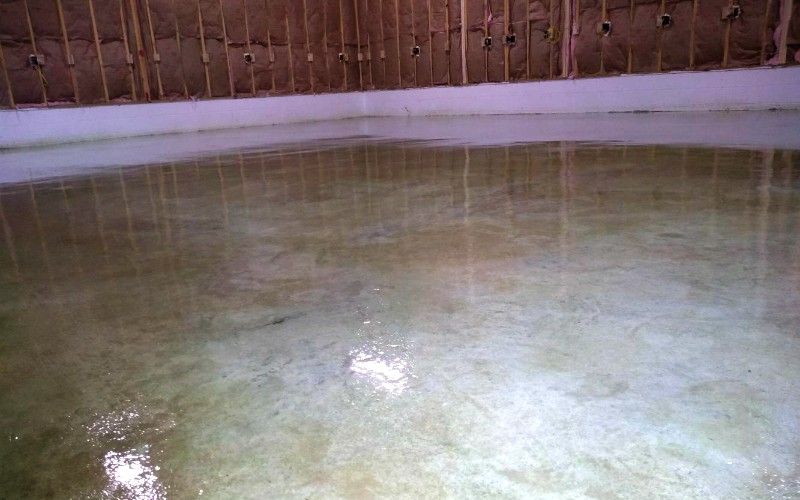 You can see how the polyurea adds a glossier shine than the primer. It's this shine and variegated look of the concrete stain that provides the striking appearance to this workshop floor.
Final thoughts
We think Matt's workshop is a great example of a successful DIY concrete stain project that does not require a lot of experience to complete on your own. The results are fantastic and he saved thousands of dollars compared to the option of polishing his concrete.
In addition, he will get much better protection and ease of maintenance with the clear polyurea coating versus polished concrete.
If you can paint a wall, you can do this

.
A couple questions we always ask with our readers projects is what tips do you have for the next person who wants to do a similar project and what would you do differently if you did it over again?
According to Matt, the most difficult part of the project was rinsing the neutralized acid solution from the concrete. He believes that a pressure washer would have saved him a lot of time. In addition, he would be more careful with the acid, as he had spilled some which seemed to really eat into the concrete in those areas.
Another tip he had was don't be intimidated. "If you can paint a wall, you can do this". Other than spending more time than he would have liked with the etching, the entire process was not that difficult. In fact, the coating was the easiest part.
We couldn't agree more. Staining your garage floor or workshop really is not that difficult. All it takes is choosing the right materials and providing a little time and labor on your part to accomplish the task. As you can see, the results speak for themselves.