This post may contain affiliate links. If you use these links to make a purchase, we may earn a small commission. As an Amazon Associate, All Garage Floors earns from qualifying purchases. You can read our full disclaimer here.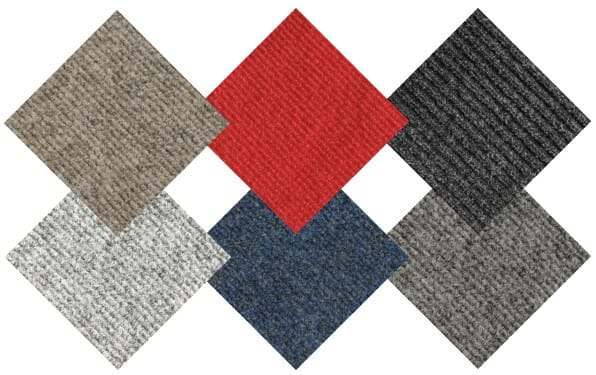 Installing carpet on the garage floor is an idea that is not new. In fact, people have been doing it for years and are attracted to the thought of a garage flooring option that creates a warm atmosphere and insulates from the cold of winter. But before you jump at the idea of laying your favorite threads in the garage, take a moment to learn about the pros and cons of garage floor carpeting, safety concerns, and how to choose which carpet is best for a garage environment.
Precautions for installing garage floor carpet
I'm sure most of us remember that one house on the block that had the shag carpeted garage floor. It was a novel idea that looked nice for a while but soon fell victim to wear and abuse and started to look shabby after a year or so. Well, people are still carpeting their garage, but many are not aware of the problems that the wrong carpet can create.
Standard carpeting is not designed for the garage, nor is it safe. While it might seem like an inexpensive garage flooring idea to use standard carpet remnants from the home, it poses many problems. It can create mold and mildew issues, it is tough to clean properly, and it breaks down from automotive fluids.
Most of all, it is a fire hazard. There are more cases than you think of homes burning down because of a fire started in the garage due to petroleum soaked carpeting. All it takes is an ignition source such as a spark or flame. In fact, many local ordinances do not allow for the installation of indoor carpeting in the garage.
Garage floor carpeting options
So what are you to do? The answer is to use carpeting that is made for outdoor or automotive use. Commonly known as indoor outdoor carpet, it is made of polypropylene fibers or a material known as Olefin synthetic fibers. This material is resistant to staining, abrasion, U.V. fading, as well as mold and mildew.
Most importantly, it is much more fire resistant and has a tendency to melt when exposed to flame or intense heat instead of catch fire. Fabric garage floor mats are made of such material.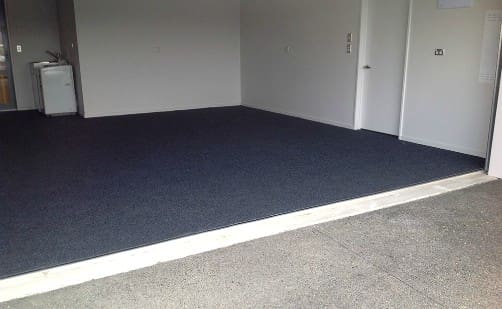 Most indoor outdoor carpet comes in 6' and 12' widths and is available in a variety of colors and textures. Pricing can be just under $1.00 per ft² for the bargain-basement carpet, while the higher quality options start around $1.5 per ft².
When choosing the right carpet for your garage, it's ideal to find one with a rubber marine backing. This backing makes the carpet more resistant to moisture from concrete and wet environments. This is important if you live in an area that receives an abundance of rain or snow that can be carried in with your car.
Where can I buy carpet for my garage floor?
We have found that Amazon is a great resource to purchase indoor outdoor carpet for your garage or basement. They have a large selection of colors and they even ship it for free.
Proper installation of the carpet requires that you glue it down to the concrete. You cannot just tape down the edges like some manufacturers suggest. The forces created from parking your vehicle or turning the wheels on the carpet will cause it to buckle and pull up the edges if you do not glue it down. Fortunately, it's not too difficult to do and can be accomplished as a DIY project in a weekend or less.
A vacuum is all that is required for standard cleaning maintenance. Tougher spills and stains such as oil needs to be cleaned with a warm household dish detergent and a soft brush. Do not use harsh chemicals because it can cause the backing of the carpet to deteriorate.
Because of their synthetic makeup, oils generally will not stain the carpet, but it can require more than one attempt to remove all the oil because of the wicking properties of the material. A previously cleaned oil stain can appear dirty again after it has dried because any remaining oil that was at the base of the carpet is wicked back up to the surface.
Pros and Cons of garage floor carpeting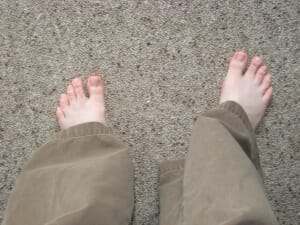 While the idea of carpeting a garage floor has its merits, we do want to point out that it may not be the best garage flooring option depending on how you use your garage.
If it is mainly used to just park your cars, access storage, do laundry, or work on small projects at your work bench from time to time, then installing carpet may be a good choice for you. Plus it feels better on the feet than cold concrete.
If you like to tackle larger projects in the garage such as wood working, car repairs and maintenance, metal shop projects and etc., you most likely should look for a different flooring choice. Wood chips and metal shaving are much more difficult to remove from carpet as well. Also, repeated exposure to automotive chemicals can slowly cause deterioration of the backing of the carpet.
Pros
Soft on the feet
Good anti-slip protection
Good noise absorption
Insulates floor from cold
Comfortable to work on
Looks nice
Vacuum to clean
Fairly easy DIY installation
Cons
Will not stand up to the abuse of larger garage projects
Chemicals can cause the backing and glue to deteriorate
Not good for below grade slabs with moisture issues
Large fluid spills other than water not easy to clean up
Creepers and tool boxes are harder to roll on carpet
A section replaced due to damage is more noticeable
Larger messes require more effort to clean
Admittedly, installing a garage floor carpet does have some nice benefits and can be a good choice when used in the right environment. If your garage sees light duty use without big projects and car repairs, then it just might be the right choice for you.
However, if you're the type of person who seems to spend more time out in the garage with projects, cars, toys, and more, then you might want to consider a more appropriate garage flooring option that will stand up to the abuse and hazards of a high traffic garage.
*** Update ***
There is a new type of garage floor carpet available now that can withstand oils and a variety of automotive chemicals. It's called Garage Grip™ and is constructed of the same materials used to contain spills at oil and gas well sites. We review it here.