This post may contain affiliate links. If you use these links to make a purchase, we may earn a small commission. As an Amazon Associate, All Garage Floors earns from qualifying purchases. You can read our full disclaimer here.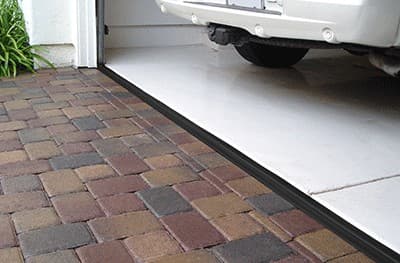 One often over looked detail when installing new garage flooring is a garage floor door seal. For those not familiar, this is the raised vinyl polymer strip that runs the length of your floor from one edge of the door opening to the other. It helps your garage door with sealing out the elements as well as the critters. If you are getting ready to do a garage floor project of your own, take a look at what a garage door floor seal can do for you.
As an Amazon Associate All Garage Floors earns from qualifying purchases.
Benefits of a garage floor door seal
Depending on what area of the country you live in, these floor seals do more than just help keep warm air in your garage in the winter time and cool air in during the summer.
They also help to form a tight seal with your garage door to the floor in order to keep rain water, snow melt, leaves, and anything that crawls from making its way into your garage. They are especially useful if you have a driveway that slopes down towards your garage and allows rain water to pile up against the door and run underneath onto the floor.
Made of a vinyl polymer, these strips are usually raised about ½" and are designed for one side to mate up with your garage door seal. This additional height not only helps to block out rising water, it also helps with sealing gaps created by uneven garage floors.
There are many different brands of garage door floor seals that you can purchase, but a favorite of ours is the Tsunami Seal by Park Smart. It comes with a limited lifetime warranty against defects and is designed extremely well. They are sold as a kit and are available in a variety of lengths from 10' to 20'.
All kits come complete with Liquid Nails adhesive and a caulking gun for application. You can choose from three different colors, gray, black, and tan, with the option for 50' and 100' lengths as well.You can find the best deals on these here from Amazon.
One disadvantage to consider about garage door floor seals is that they can be somewhat of an obstruction if you like to hose your garage out on a regular basis. Because of the raised edge, the water will need to be forced over with a squeegee or water pressure. They also create a small speed bump if you run engine hoists or tool boxes in and out of the garage.
Installation of a garage floor door seal
Installation is easy and directions are provided. Just unroll the floor seal before you start to let it relax and conform to the floor. It helps to do this in a warm area.
While it sits you can clean your garage floor where the seal goes. Once ready, lay the seal out from one edge of the door opening to the other and cut to length. Next, manually close your garage door onto the floor seal so that you can adjust the fit before gluing it down.
Once you are satisfied with the way it is laid out, run a pencil mark on the floor against the edge of the floor seal on both sides. Open your door and then apply the glue according to the directions. Lay the floor seal back onto the floor between the pencil marks while pressing down firmly. You should then close the door to keep pressure on the seal for the next 24 hours. Do not drive over it during this time as well.
When done, you should have a garage floor door seal that will last the life of your garage. It will help keep your new garage floor clean, the crawly critters out, and your floor dry.