This post may contain affiliate links. If you use these links to make a purchase, we may earn a small commission. As an Amazon Associate, All Garage Floors earns from qualifying purchases. You can read our full disclaimer here.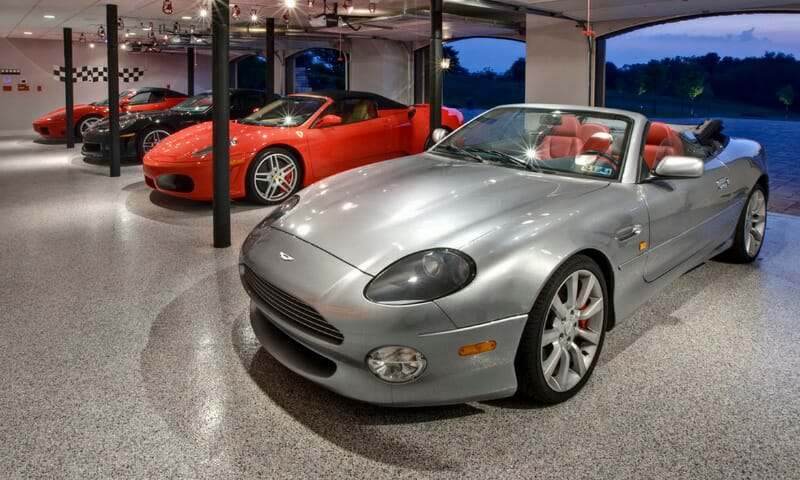 Welcome to our home owner's guide of the various garage flooring options and ideas that are available today.  This is a good starting point if you are not sure about which type of flooring would be best for you and your garage. Here, you can get a brief description as well as some of the benefits of each flooring option.
Epoxy
One of the leading favorites is garage floor epoxy.  Mixed with an A and B compound, this tough resinous coating is usually applied in multiple coats.  You have the option of a solid color or adding a mixture of colored chips to create a bit of texture as well as different color hues.  Warranties of 15 years or more is not unheard of anymore for these tough garage floor coatings.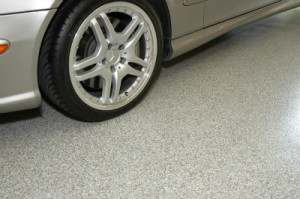 Epoxy coatings are what you typically see in car showrooms, restaurant kitchens, warehouses, and many professional garages. It has great durability, is easy to keep clean, and it resists all types of harsh chemicals that can drip from your car onto the surface of the floor.
They are available in a variety of finishes that can create a nice glossy finish and shine that will completely change the looks of your garage.
New materials such as quartz, custom blends of color chips and fast curing polyaspartic coatings that enable you to use your garage the next day are becoming newly popular as well.
tiles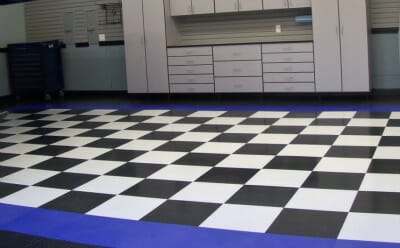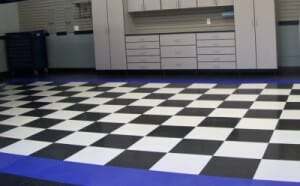 Other garage flooring ideas to consider that are the new hot trend is garage floor tiles.  They are available in a variety of materials and colors from interlocking hard plastic tiles, vinyl composite tile, peel and stick vinyl, and even porcelain tile.  Some of these systems can be installed by the average homeowner in as little as a few hours, while others will require some skill or need to be installed by a professional.
The fascinating feature of a tiled garage is that you can color coordinate the design and look of your garage from retro checkered to something a little more luxurious.
All of these tiled garage floor options are designed to not only make your floor look nice, but to protect it from the elements of a working garage as well.  They offer various levels of resistance to oils, chemicals, stains, and impacts.  They are also designed to be easy to clean and to provide an anti-slip surface.  And you will find that no matter what area of the country that you live in, these custom garage floors will provide you with years of protection.
mats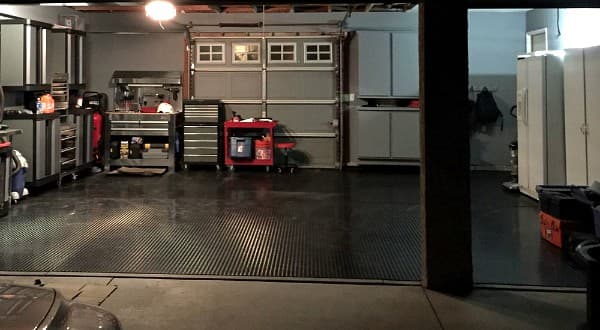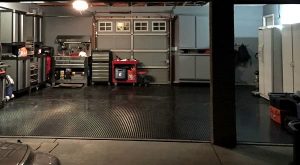 If you want an option for your garage floor that is easy and convenient, then the rubberized vinyl garage floor mats are an option worth considering.
This vinyl garage flooring is available in different colors and textures as well.  It can be as simple as a mat large enough to pull your car onto to keep the concrete free from oil and contaminants or you can do the whole floor.  In addition, some have the added advantage of cushioning for anti-fatigue, they are easy to install and the simplest method for hiding concrete pitting and cracks.  Best of all, some of these can be rolled up and taken with you if you move.
There are also specialty mats and can provide for great flooring ideas. They offer benefits such as lighting, helping to park your car in the same spot every time, or containing liquids from your car from rain, snow melt and ice.  They are truly one of the easiest garage flooring solutions on the market.
Paint

Then the old standby that is still popular is painting your garage floor.  This traditionally is one of the oldest and least expensive ways of enhancing the looks of your concrete.  Water based latex is the easiest to apply or you can upgrade to a 1-Part epoxy paint that adds durability and chemical resistance.  While not the most permanent way to cover your floor, it is definitely a garage flooring option that gives you a large selection of colors to choose from.
Sealers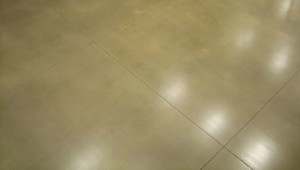 For those who like the idea of the more natural look of concrete, a garage floor sealer may be all that is needed.  A good sealer will prevent concrete floor dusting, resist water, and provide some mode of protection from oils and chemicals.  It will also protect the concrete from road salt, dirt, and help to resist stains. They also make for much easier clean up.
Like garage floor paint, sealers can be one of the least expensive ways to protect your floor and are easy to apply.  If you want something tougher, a clear epoxy coat is a great idea that will provide maximum protection for your floor.
More ideas and options
If you like the idea of turning part of garage in a workout area, we discuss some of the best gym flooring options that you can use in a garage. From rubber flooring to foam mats, there are many options to choose from based on the type of exercise you want to perform.
As you can see, there are plenty of flooring ideas for your garage to choose from. Take the time to evaluate what you think is best for you and your budget and determine if you want to do it yourself or hire someone to do it for you.  Heck, maybe you just need a little information to convince your spouse of the benefits of nice garage flooring, besides the fact that it looks awesome!
If you want a better idea of how some of these garage floor options look you can visit our garage flooring gallery.
Whatever your reason may be, we hope that you find the best garage flooring ideas for you. Please enjoy and use our site to your full advantage.