This post may contain affiliate links. If you use these links to make a purchase, we may earn a small commission. As an Amazon Associate, All Garage Floors earns from qualifying purchases. You can read our full disclaimer here.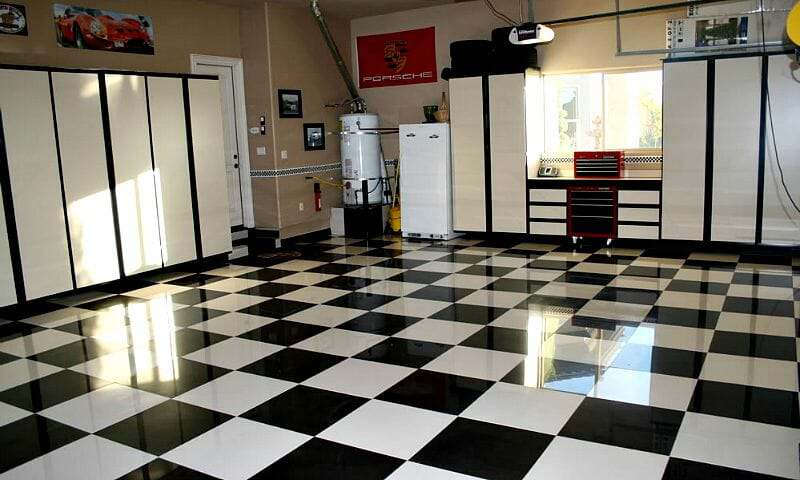 Porcelain tile for a garage floor generally isn't the first thing that comes to mind when reviewing your garage flooring options. Besides, it's only used inside the home and not in the garage, isn't it? Or is it?
Well contrary to what you may have thought, more and more residential garages are being tiled with porcelain today. After all, it's so durable that it is used quite often as showroom floors for auto dealerships, professional automotive mechanic garages, drive-through hotel porticos, and many other commercial applications that involve vehicles – so why not your own garage?
Benefits of Porcelain Garage Floors
The reason it is being used in these numerous applications are quite simple. Porcelain tile looks luxurious, it is extremely durable and is easy to maintain. It genuinely is the most durable and easy to clean of all garage floor tile options.
Because of its extreme high density when manufactured, porcelain absorbs very little moisture. This attribute makes it almost impervious to any kind of stains. The high density construction also makes it frost resistant (some say frost proof), scratch and chip resistant and resistant to impacts and heavy loads. It is also very resilient to abrasion which makes it hard to scratch. Additionally, porcelain tile is not affected by chemicals or cleaning agents and will not fade in sunlight.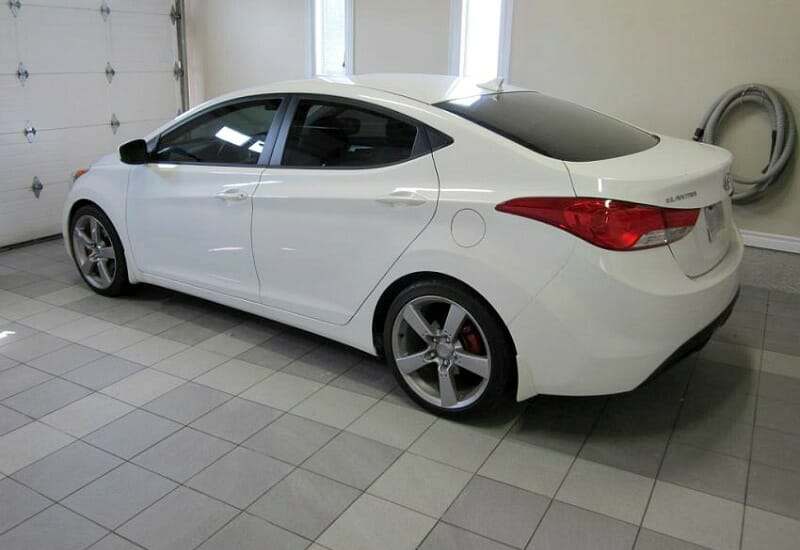 Most porcelain is manufactured as a through-body tile. This means that the color and materials run through the thickness of the entire tile. If it does chip, the color won't change and the area won't be as noticeable. In the event that you do chip, crack, or break a tile, they can always be removed and replaced with a new one.
One ongoing myth about porcelain tile for a garage floor is that it will be too slippery. This actually isn't true. With the correct rating, porcelain will not be any more slippery than standard concrete when wet and sometimes even less so. This is one reason why it is popular for entrances that are exposed to the weather.
Some nice features about porcelain are the abundance of nice colors and textures. Depending on how much you want to spend, you can install tile that looks like stone, marble, wood, travertine and an array of other materials.
It is also available in a variety of sizes so that you may get creative with the pattern on the floor. Most garage floors use a minimum size of 12"x12" and can go as large as 24"x24". Smaller tiles can be used, but it will require more grout and can make a large floor look "busy" if you use too many.
How Porcelain Tiles are Rated
When shopping for porcelain tile for a garage floor, you need to be aware that they are rated for three different categories; hardness, slip resistance, and moisture.
The hardness rating is referred to as the PEI scale (Porcelain Enamel Institute). This helps to determine the durability of the tile in terms of how well the surface stands up to abrasion and traffic before the tile shows any sign of wear. For a garage you want a tile that is rated either a 4 or 5 on the PEI scale. A rating of 4 is for medium commercial use which is satisfactory for a garage floor. A rating of 5 is for heavy commercial use.
Slip resistance is measured as the coefficient of friction on a wet surface. The Ceramic Tile Institute has created three categories based on these ratings. Tile that is rated at 0.60 or greater is considered 'slip resistant' and meets or exceeds OSHA and ADA requirements for a wet surface. A rating of 0.50 to 0.59 is considered 'conditionally slip resistant' and meets or exceeds OSHA requirements. Any tile rated below 0.50 is considered 'questionable' for slip resistance.
Update: 
A new dynamic coefficient of friction (DCOF) rating is now being used for porcelain tile, though some companies may still be using the older rating system. The American National Standards Institute (ANSI) states that tiles selected for level interior spaces expected to be walked upon when wet must have a minimum wet DCOF AcuTest value of 0.42.
The last rating is for moisture absorption. In order to be properly certified as porcelain tile, it must be rated at or below 0.5% for moisture. Such a rating is considered impervious to water. This is what makes it frost proof, stain proof, and water damage proof.
Most tiles should have these ratings displayed on the packaging somewhere for you to see. If you can't find it, consult the manufacturer to determine its ratings.
Porcelain garage tile costs
The cost of porcelain tile varies depending on your choice of size, color, texture, and ratings. Though it can run as high as $5.00 per square foot or more for a boutique type of tile, many people have found porcelain tile on sale for just under $1.00 per square foot at their local home improvement centers. These tiles usually have a minimum PEI rating of 4 and a slip resistance greater than 0.50 wet.
You do need to consider the cost of other supplies that you will need when installing tile, such as grout, thinset mortar, trowels, and etc. Darker grout colors are preferred for their ability to hide dirt and depending on what type of grout you choose, you may have to seal it as well.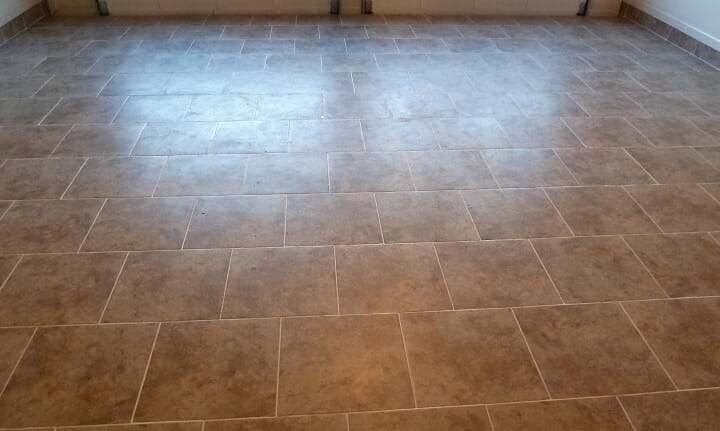 This is a great example of porcelain tile a homeowner purchased on sale and then hired a local tile setter to install it
Some preparation of your garage floor may be required beyond cleaning of the concrete. Contraction joints will need to be filled and it's important to make sure you have a fairly even surface (no extreme high and low spots) before laying the tile. If you have experience with installing tile and choose to do it yourself, you can end up with a beautiful looking garage floor for a fraction of the cost. John Bridge has a great forum to get information about installing tiles and the Tile Council of North America has good information on thinset and grout.
For those of us who are not as skilled, installers can be found to do it for you. Costs for installation vary, but depending on what part of the country you live in people have been getting their tile installed for as little as $2.00 per square foot. Just remember to always ask for references before hiring someone.
If you want to have a tough and durable floor that will add a touch of class to your garage, then installing porcelain garage floor tile may be just what you need. It will last for years and years, it is very easy to clean, and it will give you one of the best returns on your dollar for the duration of the floor.