This post may contain affiliate links. If you use these links to make a purchase, we may earn a small commission. As an Amazon Associate, All Garage Floors earns from qualifying purchases. You can read our full disclaimer here.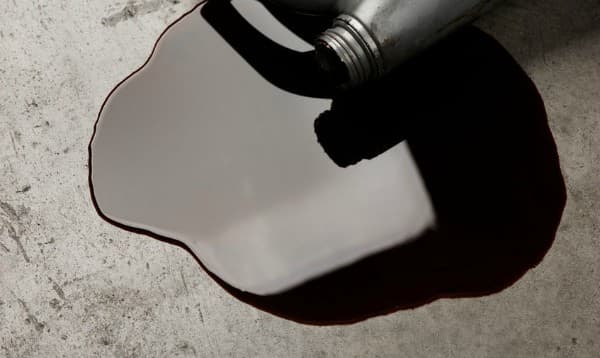 What is the best penetrating concrete garage floor sealer that repels and prevents oil stains? That is the never-ending question of consumers and the challenging quest of companies that sell them. The one irritating problem is that as good as these sealers can be at protecting your garage floor from the natural elements, they traditionally do not perform as well when it comes to oil resistance.
Fortunately, manufacturers have began introducing sealers that resist oil and Concrete Sealers USA is the latest introduction with their PS100 Fluorinated Water, Oil & Salt Repellant Sealer. Based on our review and testing, PS100 may indeed be one of the top performing penetrating concrete sealers at resisting oil and oil stains for your garage floor.
As a quick refresher about garage floor sealers, it's important to understand that penetrating sealers are non-film forming. Unlike a coating that creates a film-forming topical seal, penetrating sealers penetrate into the upper layers of the concrete surface to react with the minerals within.
This reaction creates and forms a breathable barrier at the sub surface that resists and repels most liquids. Since this barrier is not a coating, the concrete retains the same slip resistance, texture, and appearance in most cases.
However, because penetrating sealers do not form a topical coating, petroleum products such as oil are more prone to staining the immediate concrete surface.
Repelling Oil vs Resisting Stains
Before we discuss our review of PS100 and why we think it challenges the best garage floor sealers at repelling oil and oil stains, it's important to learn how these types of sealers work.
Just bear with us here, as the following explanation will form a much better understanding of why PS100 is so effective.
As we stated previously, PS100 is not the only penetrating concrete sealer that repels oil. The market has slowly responded in the past few years or so to introduce sealers that do a better job at this. Our review of GhostShield 8510 oil resistant sealer is a good example and a product that we have high regard for.
However, repelling oil and then resisting possible oil stains on the concrete are often two different matters.
For example, if large drops of oil will bead for a period of time on the surface of concrete treated with a penetrating sealer, then it has successfully repelled the oil. If you wipe it up right away, more than likely there will be no evidence of it ever being there.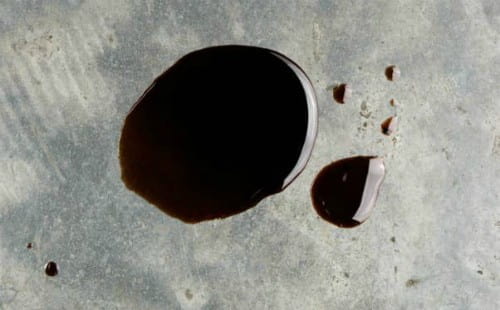 Traditional penetrating concrete sealers typically do not bead or repel oil like this. Though they may bead water, oil has a tendency to lay flatter on the surface and sometimes even run if left to sit.
Penetrating sealers that are touted to repel oil are described as being oleophobic. Oleophobic refers to the physical property of a molecule to seemingly repel oil. PS100 by Concrete Sealers USA is an example of an oleophobic concrete sealer.
The one common ingredient that all oleophobic sealers contain is fluorocarbons. Without getting too technical, this fluorinated material consists of fluorine-carbon bonds that carry a negative charge. This means that they will not easily bond with other materials.
Fluorocarbons have non-stick and friction reducing properties which when used in a sealer, causes oil film to be repelled or more accurately, not attracted. It is similar molecular technology that is used for non-stick cookware and friction reducing parts in the automotive industry.
Based on this knowledge, it's natural for one to assume that if a garage floor sealer repels oil, then it should prevent staining. While this rational sounds reasonable enough, it unfortunately is not the case.
If oil is left to sit on your garage floor for a period of time, the majority of these oleophobic penetrating concrete sealers will leave an oil stain. How much of a stain that is left behind is dependent upon the chemical components of the sealer and to some extent, the surface texture and density of the concrete.
The reason for this oil staining has to do with the fact that the main chemical ingredient of many (if not all) of these oleophobic concrete sealers is silane or a silane siloxane mix.
Silane and siloxane are excellent at repelling water and moisture. It's a common chemical ingredient in many penetrating concrete sealers. However, silanes and siloxanes are oleophilic (not oleophobic). In other words, they have a tendency to attract oil.
In addition, silanes and siloxanes are hydrocarbon based and can allow chemical chains to remain active in the concrete. These active chemical chains look for other chemistries to react with.
If these chemical chains come in contact with another hydrocarbon, such as oil, it can result in a permanent stain in the concrete of your garage floor as a consequence of the oil attaching to the active chemical chain.
So, though these sealers use fluorocarbons to promote oil repellency, their main ingredient is still silane and/or siloxane. The characteristics of these two ingredients can fight with each other. If oil is allowed to sit for a long enough time, it will most likely stain the concrete to some degree (some are worse than others) despite the best cleaning efforts.
How PS100 sealer Challenges the best at resisting oil stains
So, what makes PS100 Fluorinated Water, Oil & Salt Repellant Sealer for your garage floor different than the competition at repelling oil and resisting oil stains? It has to do with the fact that PS100 consists of 100% fluorinated materials with no silanes or siloxanes.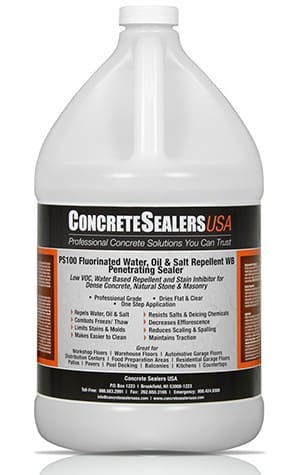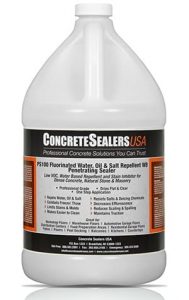 This fluorinated material is very stable and non-reactive. Without the silane or siloxane in the sealer, oil can sit longer on concrete treated with PS100 and not risk the chance of being attracted to and reacting with active chemical chains which can create a more permanent stain.
This means that oil on a garage floor treated with PS100 concrete sealer will clean up and respond better to oil stain removal if required.
In addition, the extremely small molecular structure allows for good penetration into very dense surfaces. This molecular structure is even smaller than silanes and defines true nanotechnology.
So, unlike most companies that have added fluorocarbons to the traditional silane siloxane sealers in order to create an oil repelling (oleophobic) reaction, Concrete Sealers USA has developed a completely new product that is made specifically with oil repelling and oil stain resistance in mind.
Will PS100 prevent oil stains? No. Simply stated, penetrating concrete sealers cannot physically prevent oil staining if left to sit long enough. This is due to their non-film forming properties.
The best they can do is resist oil staining to varying degrees in order to allow oil clean up in a reasonable amount of time. The only way to prevent oil stains on a garage floor is with the use of a topical, film forming sealer.
However, PS100 Fluorinated Water, Oil & Salt Repellant Sealer allows oil to sit longer and clean up better once a stain has set in.
Benefits of PS100 garage floor sealer
Important to mention is that oil repelling and oil stain resistance is not the only benefit to PS100 as a garage floor sealer.
When speaking with Concrete Sealers USA, we learned that besides repelling oil, fluorocarbon materials also exhibit strong water repelling (hydrophobic) tendencies. As a result, PS100 provides excellent water repellency. This means it will protect your concrete from freeze thaw damage, road salts, and deicing fluids.
PS100 Benefits
Superior oil and oil stain repellency
Easier cleanup of oil that does stain
Repels other automotive fluids
Provides reasonable opportunity to clean up spills
Protects against freeze thaw damage, spalling, road salts, and deicing fluids
Protects against efflorescence, mold, and mildew
Offers excellent "hold out" and stain resistance for oil, grease, dirt buildup, and other common contaminants
Level of protection is typically only surpassed through use of topical coatings
No change in visual appearance of concrete
Retains same slip resistance as bare untreated concrete
Does not require a densifier treatment first
U.V. resistant
Low VOC's
No harmful by-products
Budget friendly compared to coatings
Easy to apply
In summary, PS100 Fluorinated Water, Oil & Salt Repellant Sealer offers a level of protection that is typically only surpassed through the use of topical sealers / coatings.
It will provide a reasonable opportunity to clean up automotive chemicals, oil leaks,  and most accidental spills. However, all contaminants should be cleaned up as soon as possible to lesson any chance of staining or further staining. It's a great choice when maximum protection is needed, but topical sealers / coatings are not desired.
One aspect of all penetrating sealers including PS100 that is important to note, is that acids and other similarly caustic chemicals can etch the surface of concrete to some degree. Only specific high performance coatings will stand up to such chemicals.
If you think you need the extra protection of a coating, then you may want to read our review of TS210 by Concrete Sealers USA.
Interesting to note is that PS100 also does well on smooth troweled driveways, natural stone, patios, pool decks, cement terrazzo, stucco, grout, and mortar.
However, we learned while talking with Concrete Sealers USA that the intended best results of PS100 are obtained on interior concrete surfaces such as garage floors, that contain a smooth troweled, burnished, or polished surface.
PS100 is not intended for overly porous concrete, concrete profiled via grinding, or concrete with a broom type finish.
You can learn more about PS100 and its recommended uses here.
Our Review of PS100 Fluorinated Water, Oil & Salt Repellant Sealer
Concrete Sealers USA contacted us about their new oil repelling sealer after it was first released mid last year. They sent us a sample for us to test and review for ourselves. In addition, we discussed the countless number of tests that they conducted in-house against the leading oleophobic oil repelling concrete sealers on the market.
First though, we had to do some unscientific testing of the sealer for ourselves. PS100 is intended for machine troweled and smooth troweled concrete, so we had to find some concrete that fit these criteria. In addition, Concrete Sealers USA provided us with a smooth troweled concrete sample to use as a test bed.
Finding concrete to test turned out to be more difficult than we anticipated. Because we have tested so many sealers, colored stains, and coatings, we didn't have any smooth, bare untreated concrete at the time. We ended up using a small obscure section of a friends shop to run the tests.
Though the test area didn't provide the best color uniformity to easily reveal staining, it still worked well enough.
For the tests we applied tape to the concrete to separate our test areas. We then applied PS100 to the areas left of the tape. The area to the right was left untreated. We then waited the requisite 72 hours for PS100 to achieve its maximum water and oil repellency.
Once the treated areas were ready, we applied a large drop of used motor oil to our first test area on both sides of the tape and let it sit for just over 24 hours. We then wiped up the oil with a soft cloth.
As you can see from the images below, the area on the left that was treated with PS100 did not stain, while the area on the right did.
Impressed by these results, we conducted another test in the second area using other automotive fluids. In addition, we were curious and applied oil from an oil recycling container that was contaminated with small amounts of brake cleaner, carburetor cleaner, and used brake fluid.
In the images below you can see what the fluids looked like 24 hours after they were applied to the treated area on the left and untreated area on the right. From left to right are brake fluid, antifreeze coolant, the contaminated used oil, transmission fluid, and gear oil.
The difference in how they look after 24 hours is remarkable. You can see that with exception to the antifreeze coolant, all the other fluids stayed in a beaded form.
We then wiped up both areas with a soft cloth. The treated area on the left did extremely well with exception to the contaminated used oil. Despite multiple cleanings, there was still a small stain visible.
This was not surprising as we had encountered this once before with similar contaminated oil when it discolored a coating we tested it on. With the addition of the brake fluid, carburetor cleaner, and brake cleaner, the contaminated oil acts like a strong solvent to penetrate the concrete.
Fortunately, cars don't leak contaminated oily mixtures like this and spills of such a concoction are usually cleaned up right away without incident.
Regardless, the stain cleaned up much better than anticipated, especially when compared to the area that was not treated. As you can see, the untreated area left very noticeable stains after multiple cleaning attempts.
Lastly, we applied PS100 to the left side of the smooth concrete sample we received. We then applied used motor oil to the treated and untreated side. 24 hours later, the results speak for themselves.
As we had mentioned earlier in our discussion with Concrete Sealers USA, they actually tested and compared PS100 Fluorinated concrete sealer in-house against 25 different fluorinated oil repellent concrete sealers. PS100 out performed them all.
Included in the testing were some prominent products such as BASF MasterProtect H 1001, Evonik Protectosil BHN Plus, GhostShield 8510, Prosoco SLX100, and Scofield Repello.
In addition, PS100 even out performed numerous purely fluorinated sealers developed for the natural stone market. These included Aqua Mix Sealers Choice Gold, Drytreat Stain-Proof, Laticrete Stonetech Bulletproof, and Miracle Sealants 511 Impregnator.
GhostShield 8510 has arguably been the best performing oil repelling concrete sealer that is targeted towards the garage floor sealing market, so we were curious how it ranked with their testing. According to Concrete Sealers USA, it ranked in the top five of all the sealers that they tested for this purpose, but it still did not perform as well as PS100 Fluorinated concrete sealer.
Application
Penetrating sealers typically are very easy to apply and PS100 is no different. The only prep required is that the concrete be thoroughly cleaned in order to remove any dirt and other surface contaminants. In addition, the concrete needs to be free from any previous sealers, coatings, or curing agents.
Once the concrete is completely dry, PS100 should be applied till rejection with a roller, lambswool applicator, or a microfiber pad. The goal is a wet sheen that will not accept more material. Do not let it puddle.
One application is all that is required, though two applications can be made for the best results. Surfaces that are more porous may require two applications. Coverage rates are 300 – 500ft² per gallon for smooth and power troweled concrete. Rates increase to 500 – 1000ft² per gallon for burnished and polished concrete.
You can walk on the treated area within 6-8 hours and drive on it within 24 hours.
Unlike some penetrating sealers, PS100 should not be applied via a pump-up garden sprayer. Atomization of the fluorinated material can be harmful to the lungs.
One important note to make is that if heavy spot cleaning is required to any surface treated with PS100, Concrete Sealers USA recommends reapplication to that area in order to maintain performance.
You can view the application procedures here.
One added benefit to PS100 is the side effects of over application. Most silane siloxane oil repelling sealers that are over applied will develop a white residue that is hard to remove and can require intense scrubbing.
If you over apply PS100, the resulting white residue can be swept up with a stiff broom. No scrubbing is required.
Final Thoughts
PS100 is certainly unlike other garage floor sealers that we are familiar with. Most concrete sealers use a derivative of silane such as siloxane, silane/siloxane mixes, siliconate, or silicone, though some use silane exclusively. These chemical components are well known for their water repelling and salt protection in certain types of substrates.
Fluorocarbons on the other hand are relatively new to concrete sealers and this is the first product we are aware of that uses fluorocarbon materials exclusively. As a result, it required some research on our part to learn about the different properties and characteristics of fluorocarbons in relation to its use in concrete.
What we learned is that fluorocarbons exhibit strong hydrophobic characteristics. This is what provides the excellent water repellency.
We also learned that it is the main ingredient in special fluorocarbon coatings that are used primarily to resist corrosion from salt water spray and other environmental conditions that need protection from chemical attack.
Furthermore, fluorocarbons are also considered a fluorosurfactant. What Fluorosurfactants do is lower the surface tension of water. This is what aids in penetration of the substrate and performs much better than a typical water-based sealer.
Something else we want to mention is third party testing, such as the ASTM. While other products within Concrete Sealers USA line have been subjected to and received various ASTM ratings, PS100 has not been submitted yet.
We can't state specifically that PS100 is the best at resisting oil stains since we did not test it ourselves against competing products. Only Concrete Sealers USA has done that. However, we were impressed none the less at how well it resisted oil staining and other automotive chemicals in our own unscientific testing.
Lastly, in speaking with Concrete Sealers USA, we learned that they have been receiving positive feedback from both customers and contractors since its release last year.
As we stated earlier, penetrating sealers for a garage floor will never provide 100% oil stain prevention of concrete. Only a coating can do that. However, of all the oil repelling garage floor sealers that are available, we feel that PS100 it putting the challenge to the top performers at resisting oil stains.
In summary, if your goal is a budget friendly garage floor sealer that will retain the natural look of your concrete while maintaining excellent oil repelling and oil staining resistance, then PS100 Fluorinated Water, Oil & Salt Repellant Sealer is a serious contender that you should consider.