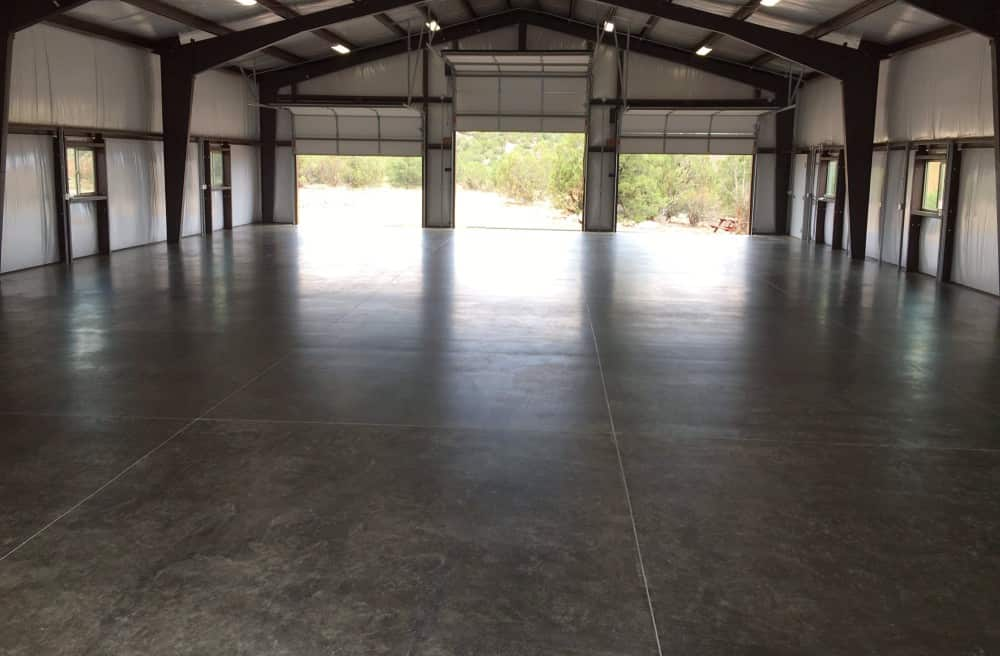 It's not often that we get excited about a new product. However, when Concrete Sealers USA asked us to review a sample of their new TS210 concrete sealer and coating, we did "geek out" a little bit. In short, if you have been looking for a clear concrete sealer and coating that is very durable, easy to apply, and provides great stain protection from oils and automotive chemicals at a reasonable price, then your search may finally be over.
So, what is TS210? It is an environmentally friendly, 2-part water-based, high performance, acrylic modified, aliphatic polyurethane sealer and coating. It is highly stain resistant and does not require acid etching or grinding of the concrete before application.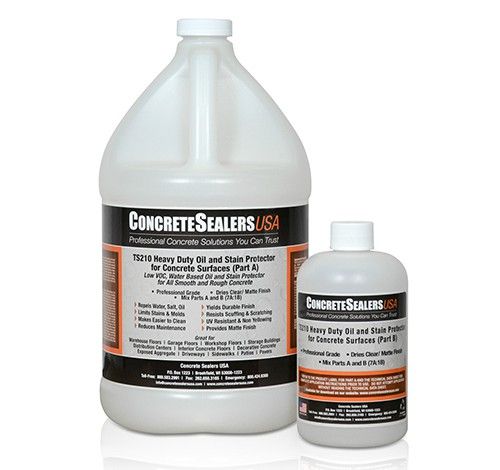 When applied, it not only seals your concrete garage floor or workshop from the elements, it will also provide a thin and durable topical coating with a non-glossy, matte finish. It's a fantastic garage flooring option for those that like the simple look of bare concrete.
Why we are excited about TS210 concrete sealer
High stain resistance, long wear, and easy cleanup are always the key requirements people look for in a garage floor coating. Easy DIY application (no etching or grinding) and a budget friendly price are always the next. The problem though, is that long wear and high stain resistance rarely coincide with easy application and a budget friendly price.
Up until now, acrylic coatings have been the only easy to apply clear coating for bare concrete. At issue, however, is that most acrylic coatings are susceptible to damage from road salts, solvents, and petroleum products such as gasoline and other automotive chemicals. Their abrasion resistance is not great for a busy garage environment either.
Penetrating sealers are budget friendly, easy to apply, and will protect the concrete, but they are not the best for stain resistance. They will not change the look of bare concrete either since they are not a topical, film forming sealer (coating).
If you want a more durable clear coating for the bare concrete of your garage floor or work shop, it requires installation of a clear epoxy or something similar, such as the growing popularity of the newer single-part polyureas.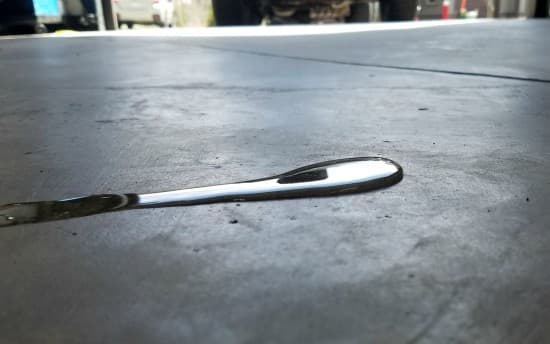 The drawback to these types of coatings, however, is that they are more involved and generally require acid etching or grinding of the concrete surface before application. They are also more expensive.
As a result, there has always been a large gap between the easy to apply, yet not very durable, acrylic coatings versus the high performance epoxy or polyurea clear coatings which provide the excellent stain protection and durability that most people require for their work shop or garage floor.
TS210 concrete sealer actually fills this large gap. Like acrylics, it seals the concrete with a topical coating, it is easy to apply, and does not require acid etching or grinding.
And unlike acrylics, it provides a very durable and thin coating that is highly scratch resistant. It repels oil, gas, and other automotive chemicals in the same manner as the traditional high performance garage floor coatings, but at a less expensive price.
To our Reader's: This post may contain affiliate links. If you use these links to make a purchase, we may earn a small commission. As an Amazon Associate, All Garage Floors earns from qualifying purchases. You can read our full disclaimer here.
Benefits of TS210 as a polyurethane sealer
Polyurethane has always been considered a high performance coating that provides great protection from chemicals and abrasion in a garage as well as industrial environments – more so than epoxy.
The drawback to polyurethane, however, is that it typically does not adhere to bare concrete very well. This is the reason why it is primarily used as a clear or color coat over epoxy floor coatings.
TS210 has solved the adhesion issue to bare concrete by modifying the latest polyurethane nano technology with a new generation of polyacrylate dispersions.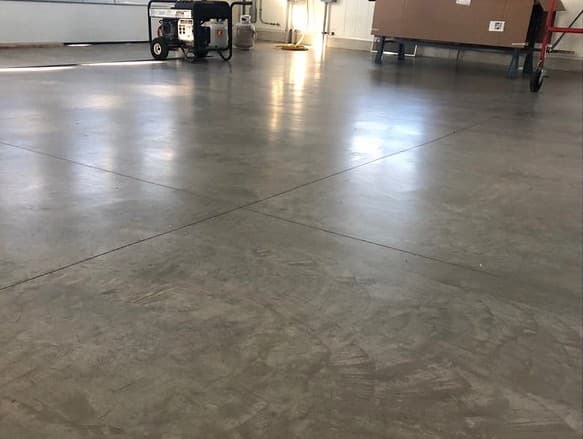 Formulated as a low solids, waterborne polyurethane, it enables the sealer to achieve high penetration into a minimally prepared concrete substrate in order to achieve a good mechanical bond. This penetrating action effectively seals the concrete and allows for more coats to chemically adhere to the sealer.
TS210 Benefits
Repels water
Resists concrete dusting and efflorescence
Prevents intrusion of road salts and deicing fluids
Excellent resistance to gasoline and solvents
Excellent oil resistance
Excellent chemical resistance including acids
Excellent abrasion resistance
Excellent stain resistance
Superior stain protection to penetrating sealers including those with fluorocarbons or flurorine.
No hot tire lift or peeling
Easy cleanup of spills
Will not yellow when exposed to U.V. light
Easy to apply – no acid etching or grinding required
Breathable – can be used outdoors for patios and walkways
Can be applied to color stained concrete
Low VOC's
As you can see, these benefits are fantastic for a clear concrete coating that does not require acid etching or grinding. You can visit their website here to learn more.
In addition, you can review the data sheets to learn more about the performance of TS210. Those are available here. If you are not familiar with technical data sheets, read our article here so you can learn more about why they are important.
We found that TS210 can be applied over color stained concrete as well. It will not create the glossy appearance of typical stained concrete, but it will darken the stain color to create a richer looking finish. It is a good choice if you are not a fan of the high gloss look.
One consideration about concrete coatings is slip resistance. Gloss is a large contributing factor. The more gloss a coating has, the more slippery it will become when wet. Because TS210 has a matte finish, it is much less slippery than most other concrete coatings.
High slip resistance rating!
One of the big surprises with TS210 is the good slip resistance rating. Testing revealed a .65 Wet DCOF under the new ANSI/NSFI B101.3 rating requirements. A rating of .42 or greater is considered desirable. This is a good rating for a coating and is the only one we are aware of that even offers this information.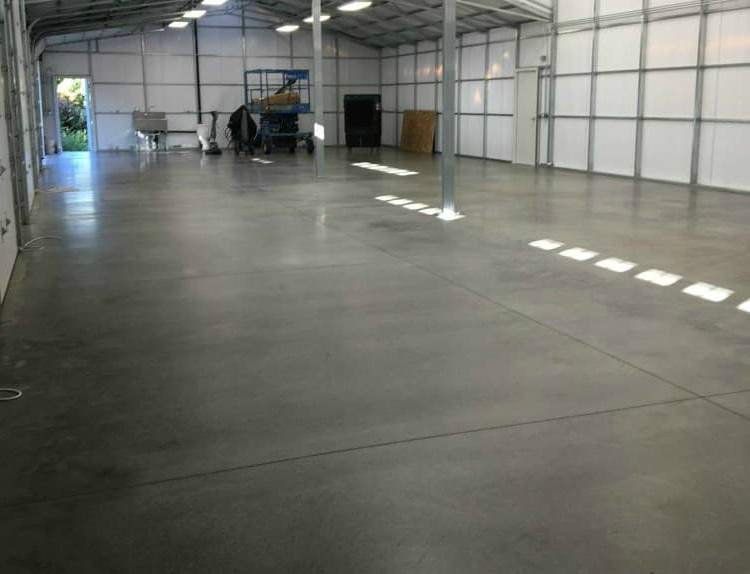 Other coatings would require the addition of a slip resistant additive to achieve ratings higher this. Our unscientific testing for wet slip resistance confirmed to us that this is the least slippery coating that we have ever come across.
What TS210 Concrete Sealer will not do
There are a few things that we want to make clear so as not to create any confusion. Though TS210 Concrete Sealer provides good protection for your concrete workshop or garage floor, it is not the equivalent of a commercial quality, high build, floor coating system.
It is a thin mil coating (< 2 mils) and cannot be used as a clear coat over other sealers, coatings or paint. The specific purpose is for application to bare concrete only. While it does offer similar stain resistance and wear resistance as a high performance clear coat, it goes on thinner and does not have the glossy look.
Additionally, it is not considered a self-leveling coating. It will not seal cracks or fill small irregularities in your concrete surface either. All cracks and surface repairs should be completed before application of TS210.
Due to its matte finish, some might say that it's not a decorative concrete coating. We would disagree since TS210 will slightly darken the concrete and bring out the character of the finish. We've always felt that what one considers decorative is really dependent on the eye of the beholder.
Application
Coverage rates for TS210 is 300 – 500ft² per gallon for broom finished concrete and up to 800ft² per gallon for smooth troweled and power troweled concrete. A minimum of two coats is required. Coverage rates for the second and subsequent coats will increase since the sealer will not be absorbed by the concrete.
Easy application is one of the key benefits of TS210. As long as it will pass a water absorption test, no grinding or acid etching is required. To test your concrete, pour a shot glass volume of water on the surface. If it absorbs the water in 3-5 minutes you can proceed without additional prep.
Providing you do not need to make any crack repairs beforehand, the only other requirement is to properly clean your concrete. It's important to make sure that all oil and grease stains are cleaned as well. If water beads and will not penetrate into the concrete where oil or other contaminants are located, neither will the sealer.
Let the floor dry for a minimum of 24 – 48 hours depending on weather. It's extremely important the concrete is completely dry throughout – not just on the immediate surface.
Remember, TS210 is a two component sealer and coating. It requires mixing 7 Parts-A to 1 Part-B. The mixing is not difficult, but it is the most important process. As long as you follow the instructions you will be fine in this regards. Pot life is approximately 2 hours. This is plenty of time to apply one coat to a typical 2-car garage.
Once mixed, you will apply the TS210 with a pre-moistened microfiber applicator pad. Work in smaller 10-12 ft² sections at a time. It's best to first apply the sealer to the concrete with a ¼" nap roller working out of a paint tray or to use a pump up garden sprayer with a conical spray pattern.
When first applied, the sealer will take on a milky white appearance. You then will run the applicator pad over the surface until the sealer takes on a clear sheen.
We really like this 18″ microfiber applicator. Once the floor is done, it works real well for a dust mop and floor cleaner as well.
Do not let the sealer puddle. Thin applications are what you want, not thick. If you initially applied too much to one section, work the excess into the next section.
Once the first coat is applied, allow it to dry for 2-3 hours until it is tack free. You will then wait 1 additional hour after that before applying another coat. If you wait longer than 48 hours between applications, you will need to first rough up the surface with 120 – 150 grit sandpaper in order to achieve a mechanical bond.
Once the final coat is applied, it will accept light foot traffic after 3-4 hours and heavy foot traffic after 6-8 hours. Wait a full 48 hours before subjecting the floor to vehicle traffic.
Important notes
You cannot apply TS210 to previously sealed, painted, or coated concrete. You must first remove the sealer or coating by grinding or other mechanical means.
For extremely dense concrete, smooth concrete, concrete that has been power troweled, or lightly polished concrete, a priming coat of TS210 may need to be applied first. You can create a primer by adding 1 Part water to 1 Part pre-mixed TS210. Apply the primer coat very thin and then follow the recommended recoat procedures.
Additionally, TS210 Concrete Sealer works best on concrete surfaces that are in good shape without many defects or have not been extensively repaired. Rougher surfaces may require three coats for maximum performance.
You have the option of enhancing the looks to a light sheen by buffing the surface with a high speed floor burnisher. We didn't test this option and recommend contacting Concrete Sealers USA for details.
Our Review and Test Results of TS210 Concrete Sealer
Concrete Sealers USA sent us a sample of TS210 to test and review for ourselves. The concrete that we used as our test surface was 45 years old and had previously been tiled with VCT. The VCT had been removed two years prior and the concrete was grinded in order to remove the old glue. A densifier was then applied to the concrete.
Though the concrete was old, it was still in fair shape and had since been covered with interlocking garage floor tile. Our test area had a small surface crack, a few small divots, and some crazing, but it provided a nice clean surface for us to use. The black marks are color stains from the VCT glue.
We were first concerned about the densifier treatment, but we found that it would still absorb small amounts of water. If your concrete will absorb water, then you can apply TS210.
The provided instructions for application are very good. Since we were applying it to a small 4'x4' test section, we used only a microfiber applicator pad that was pre-moistened with warm water.
Just as the instructions indicate, the sealer took on a whitish color when it was first applied. After working it in with the applicator pad it soon took on a clear, wet sheen. We found that it really does go down easy. We followed the recoat instructions and then applied a second coat.
The first thing we noticed is that the concrete took on a slightly darker look. You can see this in the following images. Though the finish was not glossy, it still was very nice and we liked how it highlighted the different characteristics of the concrete. As an example, some of the surface crazing which was hard to see before, was now highlighted and added to the character.
Click on images to make larger
We then let the coating cure for a full 72 hours before subjecting it to the various stain tests and scratch resistance tests that we performed. Though you can drive on the coating within 48 hours, we wanted to make sure the coating was fully cured before we abused it with our unscientific testing.
Stain testing was first on the list. We applied used motor oil, anti-freeze coolant, DOT 4 brake fluid, automatic transmission fluid, automotive grease, gear oil, mineral spirits solvent, gasoline, carburetor cleaner, and acetone. We wanted to test it against battery acid, but we didn't have access to any at the time.
Apart from the acetone and the carburetor cleaner which evaporated rather quickly, we left all our test liquids and grease on the surface for approximately 24 hours. We show some of these chemicals in the images below.
We then wiped up these areas with just a clean rag. The results were actually quite impressive for a coating that was so easy to apply.
We found that there was no staining or any visible change in appearance to the coating with exception to the brake fluid. When the brake fluid was wiped up, we found that it left a slightly darker translucent stain to the finish. However, when we gently wiped it down with some acetone much of the stain disappeared.
Considering that most brake fluid spills are made while working on a vehicle and are generally cleaned up fairly soon, we decided to do subsequent brake fluid tests of 3 and 6 hours. These test results did not stain.
Keep in mind that no coating is stain proof. If you leave chemicals and oils on a coating for long periods of time, you do run the risk of a stain developing.
Out of curiosity, we did test some used motor oil for 24 hours on the one small crack that was visible. As suspected, the crack absorbed some of the oil and it actually migrated under the coating. As we stated, TS210 will not bridge cracks like some coatings will. This is why it is important that all cracks should be repaired before application.
Abrasion testing of the coating was next. We used a steel floor jack that weighs almost 80lbs. and slid it back and forth over the coating. We also picked it up and then roughly set it down. We did both of these drills multiple times with no obvious visible signs of damage to the coating.
For our next test, we subjected the surface to a jack stand with the thin angled feet. These type of jack stands are known for damaging less durable coatings. We pressed down on the jack stand with our weight and slid it in circles and figure eights. Like the floor jack, we could not detect any obvious damage to the coating.
Does this mean the coating is damage proof? No, not exactly. We feel this is where the benefits of a matte finish are realized. When we leaned down near the ground and shined a light across the surface, you could see some small marks that were left on the finish. If it were a very glossy finish we feel that they would be easier to see.
Undeterred at this point, we set about damaging the coating on purpose with a sharp screw driver. We did this for two reasons. We wanted to see how hard (or easy) it would be to damage the coating. We also wanted to see how easily it may or may not be repaired.
To our surprise it took quite a bit of effort to sufficiently scratch the surface enough to expose the bare concrete. We then roughed up the area with 150 grit sandpaper, wiped it down with denatured alcohol, and then applied freshly mixed TS210 to that area.
After one application the scarred coating was much less noticeable. This was very encouraging results! After we applied the second coat you could only identify the area if you knew where to look.
The reason for our excitement is that durable coatings for the most part are difficult to repair without the repaired area standing out like a sore thumb. Again, we feel the reason for this is the matte finish. If it was a gloss finish, we don't think our results would have been as good.
Where to buy TS210 Concrete Sealer
Currently you can purchase TS210 directly from Concrete Sealers USA. One additional benefit we forgot to mention is that it is available in multiple container sizes as well.
As an example, most concrete coatings are only made available in gallon sizes and larger. This can result in an unwanted expense when your garage is 450ft² and 1 gallon covers up to 400ft². It requires that you purchase another full gallon when you only need enough for an additional 50ft². You should never stretch coverage rates for sealers and coatings.
Concrete Sealers USA offers TS210 in quart size containers as well as 1 gallon and 4 gallon containers. This allows you to save money by ordering what you need down to the quart instead of the gallon. Quart sizes are also great should you ever need to make repairs later in the life of the coating.
Final thoughts
Though our test concrete was not like new, TS210 polyurethane sealer brought out the character in the concrete and impressed us with its high performance stain and abrasion protection. We are confident that it's going to be a very popular concrete sealer and coating for garage floors and workshops once the word gets out. It fills a much needed void in sealers for price, protection, and easy installation.
While it's not a glamorous or highly decorative concrete coating, it does provide a nice functional look to bare concrete that many people enjoy.
You would need to spend much more money and labor to achieve better protection and wear in a coating for your garage floor. Regardless, it's of our opinion that it should perform exceptionally well in a typical garage or shop environment that includes DIY work projects, including the occasional automotive maintenance and repair.
If you want the easy-to-apply benefits and protection of a penetrating sealer, but desire a matte finish and stain protection that is only available from a coating, then TS210 by Concrete Sealers USA should be the answer for you. It will retain the natural beauty of bare concrete for your garage floor without all the work required for a typical garage floor coating.