This post may contain affiliate links. If you use these links to make a purchase, we may earn a small commission. As an Amazon Associate, All Garage Floors earns from qualifying purchases. You can read our full disclaimer here.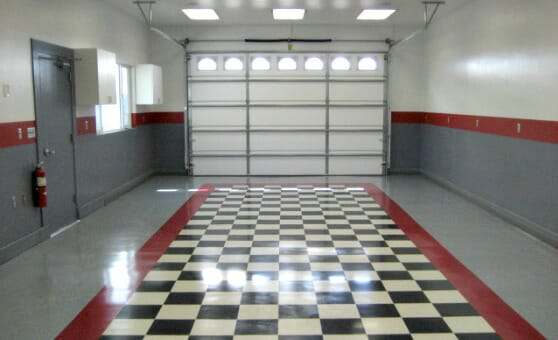 One of the more unique and retro looks for a garage is installing a vinyl composite tiled garage floor. This popular DIY installation is the same commercial grade tile that you have seen in grocery stores, schools, shopping malls, and businesses. It can be installed in your garage and for a price that may surprise you. Waxed and buffed, this garage tile option will give you a showroom shine that your neighbors will envy.
*** Update ***
We originally posted this article 6 years ago. Due to the continued popularity of VCT and people still asking if vinyl composite tile can be used in a garage, we have taken the time to update this article with the latest information.
Benefits of VCT garage floors
Vinyl composite tiles, otherwise known as VCT, are 12" square tiles created with vinyl colored chips combined with a filler of limestone that are heated and pressed into sheets. Glued to your floor, they are extremely durable, resilient to chips and impact, and fairly easy to keep clean.
Once the tiles are sealed and waxed properly, VCT will resist most automobile chemicals and other liquids that would otherwise stain a bare concrete floor. You need to be aware, however, that gasoline and strong solvents can soften or dull the wax fairly quickly if not wiped up right away.
In the event that a tile is stained, they can be lightly sanded to bring back the color. If damaged, they can easily be replaced and a new coat of wax applied.
Because the tiles are coated with multiple layers of wax after installation, they also do a good job of protecting the garage floor against road salts and deicing fluids if you live in a cold climate. Additionally, the glossy finish provides for a brighter garage due to the overhead lights reflecting off the surface.
VCT being installed in a workshop
The most common choice is the black and white checkered motif, but you can design your floor with a variety of color options to choose from. Mixed colors of greys, reds, and blues are popular as well.
One of the most attractive benefits of VCT for a garage floor is price. Starting out as little as .80 cents a square foot if you shop around, a vinyl composite floor can be one of the sharpest looking and more economical garage flooring options that you can install in your garage today.
Installing VCT tiles for the garage
Installation is somewhat labor intensive, but it can still be done in a long weekend (or longer if you like). Armstrong Flooring has good instructions for tile installation and layout as well.
Note: These instructions for laying VCT in a garage are general in nature and designed to give you an idea of what is required. Make sure to follow all manufactures instructions.
This is a good overview of how VCT is installed in a garage
You need to start by thoroughly cleaning your floor with a good concrete floor cleaning solution. Make sure all oil stains are thoroughly cleaned or they will interfere with the adhesion of the glue.
Next, repair any larger cracks or small holes in the concrete with a good crack filling compound and fill your contraction joints with a polymer cement repair mix or crack filler. If you have any areas of large pitting you may have to use a premixed polymer based concrete topping or repair mix to fill in the pitted areas.
The reason for making these repairs and filling your contraction joints is that you can't have any gaps or holes underneath the tile. If you do, it will cause the tile to crack or pull away from the seams of adjacent tiles as they try to fill the depression under pressure of foot or vehicle traffic.
If any of the floor's contraction joints have small trowel ridges built up or if the troweled edge has curled up slightly from when it cured, you will need to grind these smooth. If not, it will telegraph through in the surface of the tiles and stand out. It you are not sure, just place a straight edge or level across the joint.
Though long, this video has great tips as well as examples of how to glue and make various types of cuts.
Next, you will want to snap a line down the center of your garage floor front to back for a reference to lay the first tiles. Make sure to measure out to the edges to insure that you end up close to an even amount of tile on either side when you need to cut for the edge. Move your line over the appropriate amount if necessary to insure that you do.
Visually it's usually best to start the first row across the threshold of the garage door and then begin working up your centerline in a pyramid fashion. This will ensure that all your edges are square and you won't have any misalignment issues. Any cuts to the tile can be made with a utility knife or heavy duty paper cutter.
Do not make the rookie mistake of starting in a corner and working your way out from there. Rooms are almost never square and your pattern will start getting misaligned and forming gaps if you do this.
When you are ready to start, spread the glue with a 1/32" notched trowel on a large area of the concrete. When the glue turns color it has dried enough and is ready to accept the tile.
A great tool to rent for around $20 is a vinyl floor roller. After the tile is laid, use this roller to press out any trapped air under the tile for the best adhesion as you build the tile out. Once you are done, you are now ready to seal and wax the tile.
Drawbacks of a VCT garage floor
Though a VCT tiled garage floor can be fairly durable for the price, it does have some drawbacks you should be aware of. VCT requires higher maintenance in order to keep the nice shine on the floor. You will have to mop the floor occasionally and scrub it at times with a floor maintainer to remove embedded dirt in order to apply another coat of wax.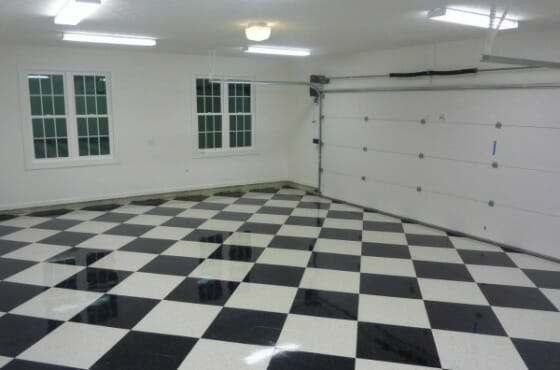 Depending on how much use your garage gets, the build-up of wax may need to be stripped and reapplied again every year or so in order to maintain a nice finish.
VCT floors can also be somewhat slippery when wet. You will want to take this into consideration if you live in a wet climate. There are slip resistant floor cleaners available that can be buffed, however.
Something else to consider with vinyl composite tile is car tires. They can leave rubber marks on the surface occasionally which will need to be buffed out. On some rare occasions a tile can spin loose if you turn the front tires in place without moving. No worries though if this does happen. You can easily replace or re-glue a spun or damaged tile.
If using car jacks or jack stands, it's best to place a spare tile or piece of wood down first to prevent any compression marks that may occur in the tile.
Additionally, solvents (such as gasoline) can soften the acrylic waxes fairly quick if it's not wiped up right away. If any petroleum products do make it past the wax and onto the tile, it will stain the surface of the tile. This usually requires sanding the tile to remove the stain or replacing it.
Is VCT warrantied for use in a garage?
One last note we want to make is that despite the fact that vinyl composite tile has been used in garage environments for decades, manufacturers will not warranty it for use in a garage. Most people who install it in the garage are aware of this fact, but we want to point it out in the event it would influence your decision.
With all this in mind, you can't beat the durability and looks of a vinyl composite tiled garage floor if you are on a budget or want a cool retro look for the garage. It can be installed for much less money when compared to other types of floor tiles and the best part is that it looks like a million bucks!