To our Reader's: This post may contain affiliate links. If you use these links to make a purchase, we may earn a small commission. As an Amazon Associate, All Garage Floors earns from qualifying purchases. You can read our full disclaimer here.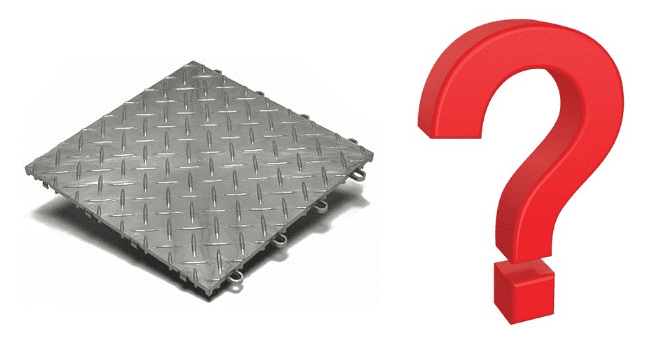 Interlocking garage floor tiles have fast become popular as a viable garage flooring option.  You may have seen pictures of these tiled floors, but what do you really know about them? After all, how durable can plastic garage tiles really be? You may be surprised by the answer.
What makes interlocking garage floor tiles so popular is they create a custom garage floor look that is available in a variety of colors, textures, and functions. They are extremely durable and most importantly, easy to install. Undoubtedly, the most fun is creating your own unique design that matches your style and requirements.
In fact, most garage tile vendors have floor designer pages on their websites that allow you to key in the exact size and parameters of your garage floor. You can then pick and choose colors, styles, and surface patterns to insert into the design in order to create a custom looking garage floor just for you.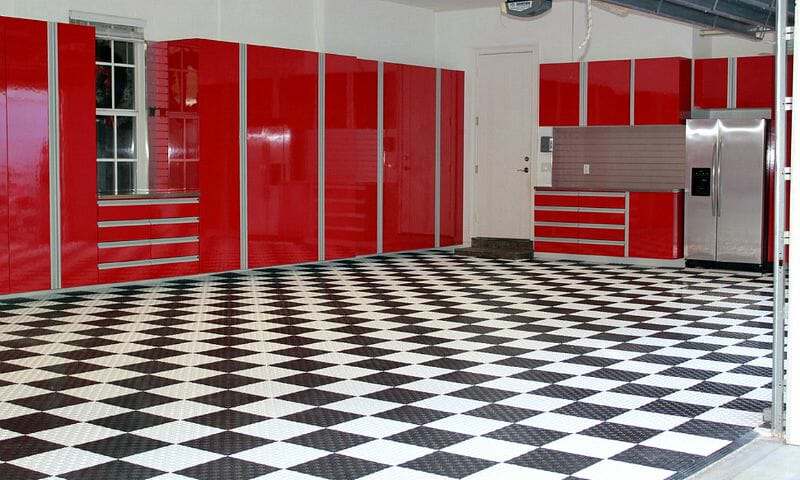 Most installations take only a few hours if you are doing it by yourself and even quicker if you have a helper.  Very little tools are required since the tiles are interlocking and snap in place.  No experience is necessary.
As popular as interlocking tiles are however, they do create quite a few questions among those interested in this type of garage flooring.  Doubts and concerns range from their durability and weight ratings, to how well small wheels roll over the tiles.
With two different materials to choose from, hard plastic construction versus rubber-like PVC, we will review the benefits of each of these tiles. We will also address some of the drawbacks that each material has in order for you to learn the true facts about this popular garage flooring option.
Hard Plastic Garage Tiles
The rigid, hard plastic tile is by far the most popular and versatile of the two construction types. They are made of high-impact polypropylene which is a thermo plastic polymer. Some manufacturers even claim to mix in a small percentage of rubber for anti-slip and anti-fatigue properties as well.
Depending on brand, standard sizing is either 12"x12 or 13"x13", while some manufacturers offer sizes as large as 18"x18". Thickness is 1/2″ as an industry standard, though one manufacturer does produce a particular style at 3/4″ thick.
They are assembled with a peg and loop system that snaps into place with your foot or a tap of a rubber mallet. The strength and structure of this peg and loop system is one of the parameters that can help to determine the quality of one brand of tile over the other.
You also have a choice of either a solid top construction or a ribbed flow-through structure that allows for surface drainage. Popular surface patterns for the solid top construction are coined and diamonds, while some manufactures offer a levant style surface pattern as well. At last count, there was up to thirteen different colors to choose from.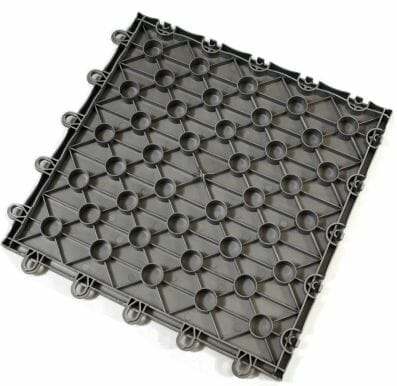 The undersides of these tiles have a hollow core construction with a reinforced grid type system. This creates a much lighter tile that is very strong in order to support thousands of pounds as well as allow for the circulation of air and water drainage underneath the tile.
Due to the high-impact polypropylene construction, nothing really sticks to the tile and therefore makes them very hard to stain. Subsequently, this also makes them very easy to clean.
Besides looking good, there are a number of other benefits as well.  They are resistant to chemicals, oils, grease, hydraulic fluid, road salts, acids, and other automotive fluids. If your vehicle springs a leak or you make a mess while working on your latest project, you can just wipe it right up with a rag and some cleaner.
Most tiles are also U.V. resistant so they won't fade in sunlight.  They are even mold and mildew resistant which is good if you live in a wet climate or have moisture issues in your garage. They are also easier on the feet and legs compared to concrete when standing for long periods.
Another benefit is the added slip resistance from the various surface patterns. You no longer have to worry about a hazardous floor when tracking in water or snow from your vehicle. Like any other flooring however, you still need to use caution around oil spills.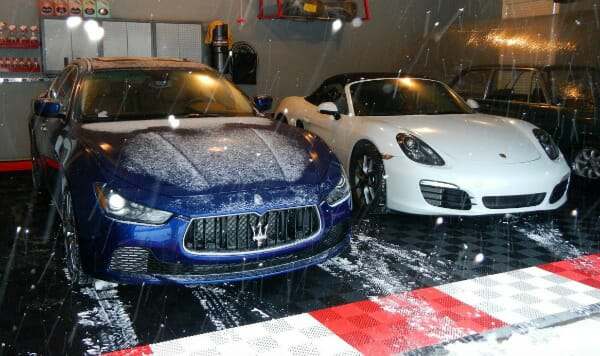 There is one other added benefit that is achieved with the flow-through self-draining tiles. They are excellent for self-draining garage floors or floors with drains. In fact, some people actually wash their cars in the garage when using this style of tile. Since water and snow melt from wet cars can pass through and eliminate the issue of standing water, these can make for a good winter snow tile as well.
The quality and selection of interlocking garage tiles can range from your budget tile options to the more expensive premium brands. Warranties run from 3 to 15 years depending on the product.
How tough are interlocking garage tiles?
So how tough are they?  Well, these plastic garage tiles are plenty strong enough to stand up to the rigors of an active garage.  They are designed to withstand pressures of heavy vehicles and equipment, jack stands, rolling tool boxes, car jacks, and whatever else you may foresee in a busy garage.  Some are rated as high as 5,000 pounds per square inch with a rolling rate for vehicles up to 80,000 pounds.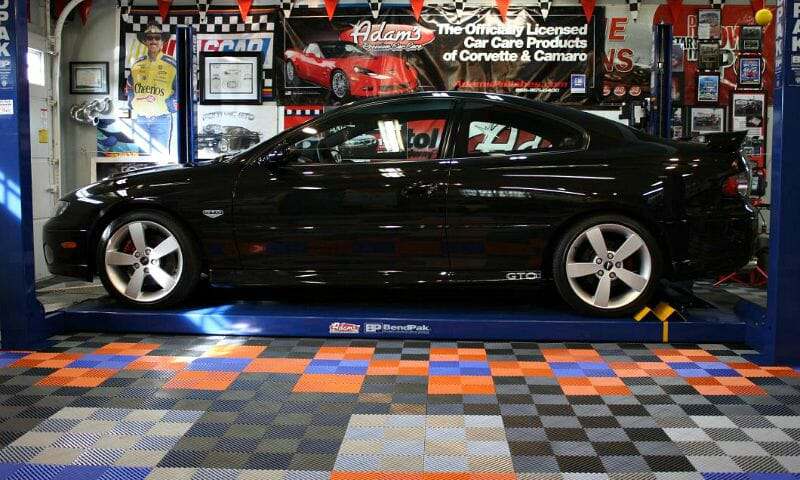 Floor lifts and car hoists can be bolted through the tile to the concrete below with no worries about deforming the tile. Storage racks and cabinets can sit on top of the tiles as long as they don't have a very narrow or small footprint.
They will also withstand sub-freezing temperatures as well as floor temperatures up to 250 degrees. That means indirect or radiant floor heating is not an issue.
Drawbacks to hard plastic garage tiles
As nice as these tiles are however, there are some drawbacks that you need to be aware of. Buckling or tenting of the tile floor when exposed to direct sunlight for a period of time is the one problem that gets the most attention, though occurrences are rare. This only happens to the solid top tiles near or at the garage door when it is open and the floor is exposed to direct sun.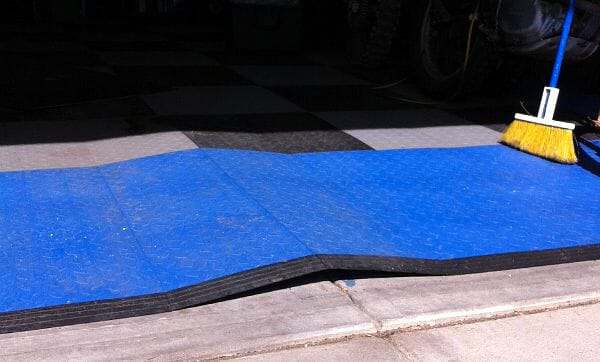 Plastic garage tiles expand and contract with temperature and are why manufacturers recommend leaving a 1/2" gap between the tile and any wall or structure. Tiles expose to direct sunlight for a period of time can expand faster than the rest of the floor causing the buckling if they are not installed correctly.
Sharp objects that are dragged across the surface can gouge and scar the tiles as well. If you are using jacks stands, it's important to use quality stands with the flat bottom plates. If you use stands with the "L" shaped angled legs, the high load on such a narrow surface can damage the tile. It's best to set them on a piece of plywood if that is the case.
Floor jacks can damage the tiles unless you place a piece of plywood or something similar under the wheels. If you don't, the wheels can leave an indentation in the tile that may not relax and smooth out.
If you weld or use torches in your garage, it is recommended that you cover that part of the floor with a welding blanket to protect it.  Sparks and slag from these kinds of projects can melt or permanently scar the tiles.
In the case that you do damage a tile or two, you can easily replace the tiles one at a time.  This is one of the great advantages to this type of garage flooring system.
Lastly, plastic garage tiles are sometimes known to create some noise while walking on them. Though it doesn't happen often, the hollow core construction can create issues with sound bouncing off the hard concrete underneath and cause a clicky clack sound. The remedy for this is to lay down inexpensive landscape fabric to prevent this from happening.
Flexible interlocking garage tiles
The other material of choice for interlocking garage tiles are polyvinyl chloride, otherwise known as PVC.  Combined with plasticizers, these tiles are a softer and more pliable synthetic rubber.  In fact, they are sometimes referred to as rubber garage tiles or vinyl garage tiles.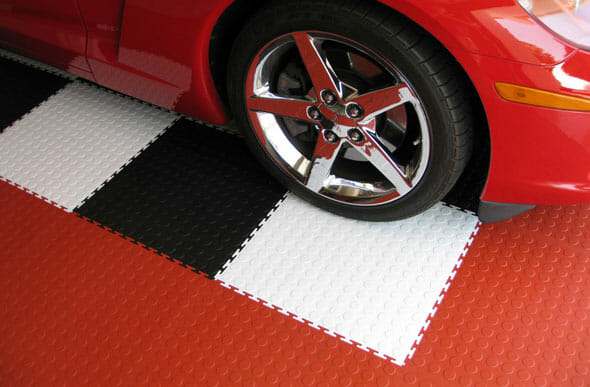 Sizes range from 12"x12" to 24"x24" and are 3/16" to 1/4" thick depending on brand.  They are much heavier than the rigid plastic tiles however due to their solid body construction. This is required due to the flexibility of the tile in order to achieve their heavy load ratings.
PVC tiles connect to one another via a jigsaw style pattern on the sides of the tile. Some of the premium brands allow for a system that hides this pattern and creates a straight seam similar to their hard plastic cousins. The straight seam system is also known for being water tight and can be an advantage at keeping road salts and deicing fluids off of your concrete.
Surface patterns can be limited with PVC tile however. Coined and the smoother levant style are the industry standard, with the diamond and self-draining surface patterns less common.
There are a couple of advantages with PVC garage tiles over their rigid plastic counterparts. First, they are whisper quiet due to their rubber-like construction. They also do a great job of absorbing sound which can eliminate that hollow resonance some garages project.
Another advantage is they provide for a surface that is more conducive to garages that are used more for home gyms and entertainment purposes such as pool tables, ping pong tables, and furniture. Parking the car in the garage is done, but may not be as important.
They also do just as well as the rigid plastic tiles at supporting weight from tool boxes, floor jacks, cabinets, car lifts, and etc. It is not uncommon to see PVC tiles installed as industrial flooring for warehouses as well.
Drawbacks to PVC garage tiles
Price can be the first consideration when comparing tiles. Entry level PVC tiles are about 25% more expensive than plastic polypropylene tiles. And though PVC garage tiles can be just as tough and durable as the hard plastic tiles, they do have one issue that can be a deal breaker for some people.
Car tires can stain the lighter color tiles and leave a black or yellow tinted print on the surface that will not come all the way out – even with the best of cleaning. Black and dark gray are the best colors to use for cars.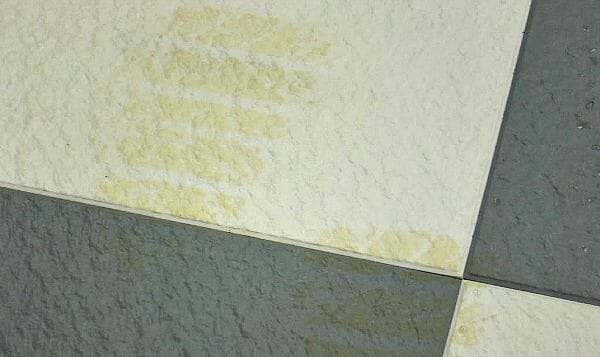 In fact, rubber wheels in general from items such as rubber casters, chairs, and tool boxes as an example, have been known to leave marks in the lighter colored tiles. Black rubber soled shoes have been known to leave marks as well.  Though easier to clean and remove than marks left from car tires, it is still something to consider when choosing colors. If in doubt, check with the manufacturer.
It is also recommended not to let liquids that can stain sit for long periods. It is best to clean them up as soon as possible. The surface of some PVC tiles has a texture that tends to hold onto the offending liquid substance and requires some scrubbing to get out if left to sit.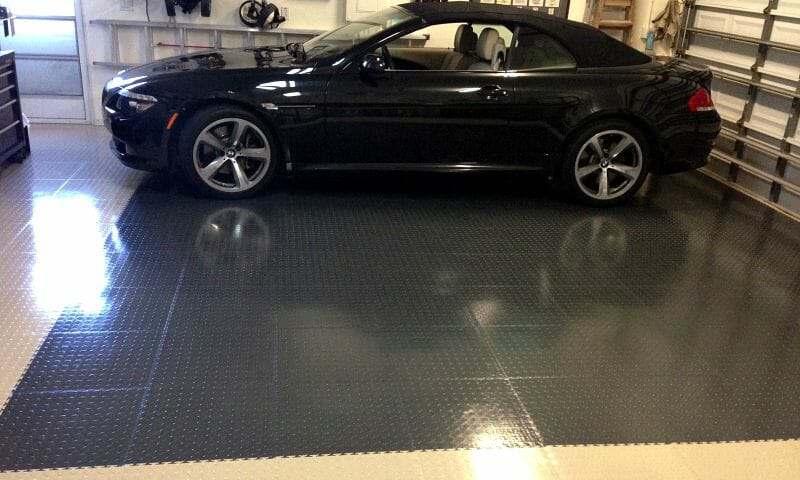 One answer to the staining issues with tires and rubber products is to apply an acrylic coating over the tiles. Most manufactures and vendors have product they sell or recommend. Not only will it protect the tiles from car tire stains, it will give them a glossy finish as well.
Of course just as their hard plastic cousins, dragging sharp objects, welding, and heavy loads from extremely small surface areas can damage the tile.
Lastly, most PVC garage tiles are designed with a solid bottom construction. This does not allow for air or water circulation and can be a problem if you suspect that you have moisture issues with the concrete in your garage.
Installing interlocking garage tiles
One major advantage of interlocking garage floor tiles over other garage floor systems is the free-floating design.  This means that the tiles sit on top of the floor with nothing to affix to.  As a result there is very little floor preparation required prior to installation other than cleaning the heavy grime from the concrete.
Mildly pitted concrete, surface cracks and other imperfections in the floor do not need to be repaired prior to installation unless it is a structural issue that needs attention.
This is a good video that will give you an idea of how interlocking tiles are installed. We do not recommend a rubber underlayment if you live in a wet climate or have moisture issues with your concrete. Synthetic landscape fabric should be used instead.
Depending on which tile you choose, you will need a saw, plastic tile cutter, or heavy duty utility knife for cutting the tiles.  Jig saws and circular saws are the most common for the hard plastic tiles. The utility knife is best for PVC tiles.
Most manufacturers require a 1/2″ gap between the tile, walls, and permanent structures to allow for expansion of the entire floor system.  They also offer a separate beveled edge for the entry of the garage to give it a clean look.
All of the manufacturers provide for easy installation instructions. Installation usually begins by assembling the first row at the garage door and along one wall.  You then can fill in the floor from there, saving pieces that need to be cut or trimmed for last.
Final thoughts
In general, if you are someone who frequently works on cars or other projects in your garage, then the ridged plastic garage tiles are most likely best for you. They provide for the greatest options and function over the flexible PVC rubber garage tiles with no worries about tire stains or staining in general.
However, if you are just using your garage for small projects or to park your vehicles, then PVC garage tiles can have some nice advantages over the hard plastic tiles.
Either way, interlocking garage floor tiles will provide an abundance of protection for your garage floor for years to come. They will also make your neighbors envious, so be prepared for the comments. And don't forget, you can have your entire flooring project completed in less than a day.