This post may contain affiliate links. If you use these links to make a purchase, we may earn a small commission. As an Amazon Associate, All Garage Floors earns from qualifying purchases. You can read our full disclaimer here.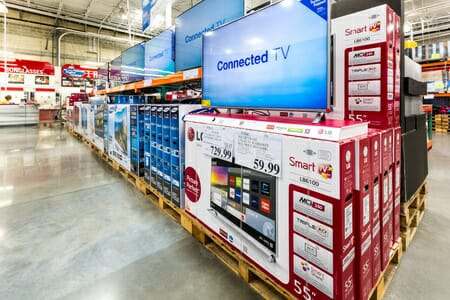 That's right, as much as we may love them; warehouse clubs are not a good place to purchase garage flooring.  In fact, it's the last place in most cases that you should look.  While the price of a particular garage flooring option may seem like a great deal at first, there are many other variables that need to be considered before you make a purchase or you may end up with a case of buyer's remorse.
We admit it.  We are guilty of it ourselves, but you have to give these warehouse clubs credit for it.  Some sort of mental transformation happens when you walk into your favorite warehouse club and logical reasoning seems to go out the window.  It at least helps to explain why we have six extra-large tubes of toothpaste under the bathroom sink.
After all when you see a product you like, you automatically begin to think that if it's sold here then the price must be good.  You then purchase the product only to find out later that it was available with different options, sizes, or colors elsewhere and for many times, a similar price.  This holds true for garage flooring as well.
With that in mind, let's go over a few factors that you need to consider first before purchasing garage flooring at your favorite warehouse club.
Garage flooring selection
When you shop on a warehouse club's website or make a visit to their local store, the first thing you will notice is that there is only a limited selection of garage flooring options.  There is a reason for this and James Sinegal, the retired CEO and co-founder of Costco, helped to explain why this is.
He stated that studies have found that potential buyers presented with few options of a particular product were much more likely to make a purchase than those who were presented with many options.
He used a bottle of 300 count pain relief pills as an example.  Instead of stocking 50, 100, 200, and 500 count bottles in the isles for people to choose from, they sold much more pain relief pills if they stocked only 300 count bottles instead.
This same practice is applied to garage flooring as well.  When you look, you will find that they only sell a small selection of garage floor tiles, mats, and epoxy flooring.  The reason for this is to make it easy for you to decide, thus eliminating hesitation and improving chances of a purchase being made.
The problem with this is that in most circumstances you are making a compromise that may not need to be made.  As an example, some clubs only offer 2 or 3 colors of interlocking garage floor tiles and in one size only.  If you look at other online suppliers you will find up to 19 different colors to choose from and 4 different sizes of tile based on the manufacturer.
Customer service
When shopping in the club or on their website, you will find that there isn't anyone who can help you with questions that you may have about fitment, installation, assembly, or application of their garage flooring products.  Customer service is nonexistent because no one there knows garage flooring.
Nothing creates more questions in garage flooring than epoxy coatings for example.  Unfortunately you will not get any help at the warehouse clubs or on their website with these questions.  Your only option is to call the manufacture of the product and hope they have good customer service.
What if you wanted to know about how a particular color of garage flooring did in terms of showing dirt or tire marks?  Do you need ramp edges on all sides of interlocking garage tile floors or just one?  Will this particular epoxy product work on your older garage floor?  How do I fit these garage floor mats together?
Many times some of these questions come up when doing an installation at home.  The consumer is then required to call the manufacturer, not the warehouse club, to try and get the answers that they need and usually while in the midst of installing their garage floor.
Many of the online suppliers of garage flooring provide great customer service and are there 7 days a week to answer these questions.  Most are experts in their field, plus, they also do a good job at helping to qualify a potential customer for a particular garage flooring option based on the customer's needs and budget.
In addition, many of the online suppliers of garage flooring will gladly send you free samples of their product for you to evaluate.  This allows you to test colors, floor patterns, and get a good idea of the differences of product from one manufacturer to the next.
In other words, there is no guidance or evaluating process from warehouse clubs in helping to determine what garage flooring is best for you.
Packaging
Believe it or not, packaging of the garage flooring products by warehouse clubs can create compromises and have an effect on overall price paid as well as installation issues.
Interlocking garage floor tiles sold by the warehouse clubs are only sold in large quantity packs of 30 to 48 tiles.  This seems fine until you realize that you will only use 6 tiles of a 48 pack to complete your floor.  You can't send back the other 42 tiles that you paid for.
This type of packaging limits you to being creative with your floor design as well.  If you want more than one color of garage floor tiles, you are forced to limit your color choices and design based on the large quantify that you need to purchase for each color.
This holds true with ramp edges as well.  They are sold in large packs only and in most cases you will have to purchase more than you require.
Online garage flooring suppliers however sell garage tiles and their accessories one piece at a time.  This allows you to only pay for what you need and you are not limited when creating floor patterns and designs.
Garage floor mats are another issue.  Mats sold in the warehouse club are rolled up in boxes or heavy plastic wrap.  They are generally packed this way for weeks and sometimes months as they work their way from assembly at the manufacturing plant to their final destination in your garage.
This packaging creates annoying mat curl up at the edges that can take months to eventually lay flat and sometimes never will.  If you order online from the warehouse club it can be extremely difficult to find out how the particular brand you are purchasing has been packaged and stored.
Most American made mats sold by the online garage flooring suppliers are stored flat and only rolled up to ship to your home.  This practice alleviates mat edge curl up and provides for a much better installation experience.
Products made overseas
Lately this has only applied to garage floor mats in warehouse clubs but has on occasion applied to other flooring options as well.  Garage floor mats made overseas tend to have short lifespans and have been known to delaminate, discolor, or deform when exposed to automotive fluids and sunlight.
While warehouse clubs are known for their generous return policies, no one wants to go through the hassle of moving everything out of the garage in order to return your flooring and then have to reinstall it again.
Price
As you may have discovered at this point, the seemingly lowest price does not always mean the best price.  The previous explanation of packaging for floor tiles is a good example.  You might get the lowest price on a 48 pack of tiles, but when you factor in what you will use versus purchasing them one at a time elsewhere, there may not be much of a difference.
Epoxy flooring can get more expensive than anticipated as well.  Warehouse clubs only sell single coat epoxy flooring products.  What if you wanted a clear top coat to go with it or more color chips only to find out that it's not available from the manufacturer or you have to pay much more for it from someone else?
Taxes and shipping are other issues that contribute to the overall best price as well.  In most cases you will pay state taxes for the product from a warehouse club, even if ordering online, because most clubs are located in your particular state.  Depending on the product, you can pay additional for shipping as well.
When purchasing garage flooring from online garage floor suppliers, no sales tax is paid and shipping is usually free in most cases.  This can make a big difference when factoring in overall price.
Final thoughts
So, does this mean you should never buy garage flooring from a warehouse club?  No, but it does mean that the garage flooring you saw at your local warehouse club may be purchased from somewhere else at a comparable overall price and with quite a few more options to choose from.
We do admit that there are times when warehouse clubs will have a special on a particular garage flooring product that just can't be beat in terms of price.  If it's what you want and you are familiar with the product, then by all means buy it there.  There is nothing wrong with that.  I think that's how we ended up with all that toothpaste.
The majority of people however are much better served by the garage flooring experts that you can find online with a little bit of search on your computer.  The overall pricing can be extremely competitive and the service so much better.