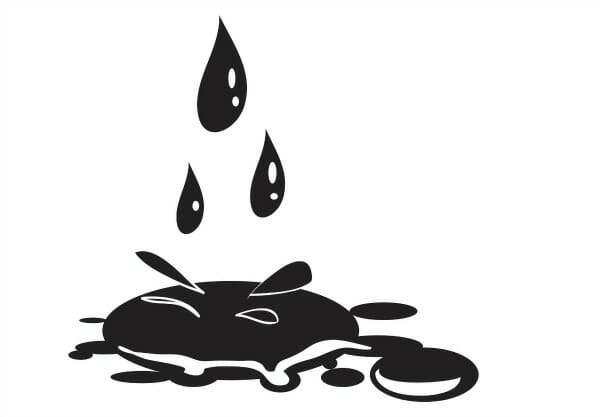 There are plenty of garage floor sealers on the market that are excellent at repelling water, road salts, and preventing freeze/thaw damage to your concrete. But what happens when your car springs a leak and drips oil or other fluids all over your sealed garage floor or driveway? Will the sealer repel the oil or will the oil stain your concrete?
Garage floor sealers come in many forms. In this particular case, we are talking about penetrating sealers that are applied to bare concrete that do not create a cosmetic change to the surface.
As nice as these sealers can be at protecting your garage floor and driveway from the elements, they are less than perfect from protecting your concrete from oil stains. If oil spots from a leaky car are allowed to sit for a while, chances are they will leave a light stain on your concrete after you clean them up.
There is a reason for this. Unlike film forming sealers that create a visible topical coating, think garage floor epoxy for example, penetrating sealers work by penetrating into the concrete and causing a chemical reaction that forms a barrier at the sub surface. Water and chemicals cannot get pass this barrier to enter the concrete, thus protecting it from the elements.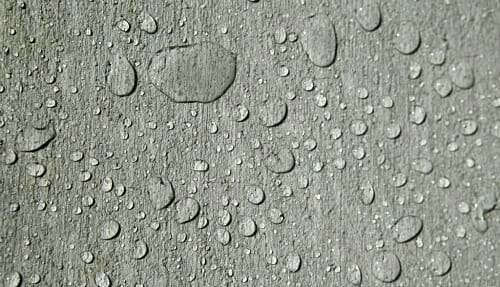 These are very popular due to their relatively low cost, ease of application, and the fact that they will not change the existing slip resistance of the concrete.
Oil however can leave a residue at the subsurface that has the ability to stain the concrete. Up until now, siliconate penetrating sealers have been the best at reducing the chances of oil stains due to their large molecular structure at the sub surface, but they are not designed as an oil repelling sealer.
A concrete sealer that repels oil
Due to the increasing demands for concrete sealers that resist staining, companies are now starting to formulate sealers that do a good job of repelling oils.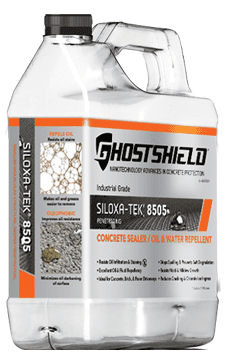 Siloxa-Tek 8505 by GhostShield is one such product. It's a water based sealer that has been formulated especially for use on garage floors and driveways. Their unique blend of siloxane uses nanotechnology and fluorocarbons to create an oleophobic molecular barrier at the subsurface of concrete that repels oils in order to resist staining.
Fluorocarbons have non-stick and friction reducing properties which when used in a sealer, causes oil film to be repelled. It is similar molecular technology that is used for non-stick cookware and friction reducing parts in the automotive industry.
Besides repelling oil, Siloxa-Tek 8505 protects your concrete similar to a siliconate sealer. It will protect your garage floor from mold and mildew, freeze/thaw damage, salt and chloride intrusion, reduce vapor transmission and efflorescence, and still remain breathable.
Benefits
Provides excellent oil repellency and stain resistance
Repels other automotive fluids
Provides for easier cleanup of oil and grease from concrete
Prevents winter freeze/thaw damage
Prevents pitting and spalling from road salts and deicing fluids
Prevents mold and mildew
Prevents Alkali-Silica reaction (ASR) which can cause concrete cracking
Retains same slip resistance as bare untreated concrete
No change in visual appearance of the concrete
Reduces vapor transmission
Less penetration of dirt for easier cleanup
U.V. resistant
Low VOC's
No harmful by-products
Easy to apply
100-year warranty
So, about this 100 year warranty
Though GhostShield will not guarantee against stains, they are the only company to provide a 100 year warranty that the product will remain effective during that time. Having never seen such a long warranty for a product, we did a little digging to see what the warranty actually covers. What we found was actually not too surprising.
GhostShield warranties Siloxa-Tek 8505 Oil Repellent against flaking, chipping, fading, and delamination for 100 years under a host of conditions. One of those conditions is a reapplication once every 10 years.
While the 100 year warranty does sound impressive, we find it a bit gimmicky since most penetrating sealers will not flake, chip, or delaminate anyways since they penetrate into the concrete. Essentially, only a film forming sealer in most instances can actually do this.
This doesn't take away from the fact that it's an excellent product, however, we just think that it can be a bit misleading for someone who doesn't know much about how sealers work.
Application
Though Siloxa-Tek 8505 can be applied as a stand-alone sealer, it is highly recommended that a densifier be applied to the concrete first.
Note: Apply a straight densifier only without any added sealers.
Since the molecular structure of Siloxa-Tek 8505 is so small, the densifier works by filling the larger, porous capillaries deeper within the concrete. The resulting chemical reaction not only creates a denser interior structure that resists moisture, it also strengthens the concrete at the same time.
The densifier will prevent the Siloxa-Tek 8505 from penetrating too deep into the concrete. It allows the small nano molecular structure to fill the remaining voids and create a much denser, oil repellent barrier at the sub surface.
If you were to apply it without a densifier, the sealer can penetrate too deep into the concrete and require multiple, saturated coats in order to build up to the sub surface to be most effective. Applying it in this method would actually be more expensive.
Only one application of the densifier is required while the Siloxa-Tek 8505 requires two applications. You can expect a coverage rate of approximately 250 ft² per gallon for both products.
In most cases, the only preparation is a thorough cleaning of the concrete beforehand.
Application of the densifier and the Siloxa-Tek 8505 is easy and done with a low pressure pump up garden sprayer. You need to wait approximately 48-72 hours after applying the densifier before applying the Siloxa-Tek 8505. This wait period allows for the densifier to chemically react with the concrete.
It's OK to walk and drive on the densified concrete within a few hours of application. We just recommend that you keep the garage floor clean and park your car on some old cardboard or mats to prevent oils from the vehicle tires from being deposited on the concrete before application of the Siloxa-Tek 8505.
Where to purchase Siloxa-Tek 8505
We recommend purchasing from a vendor with concrete sealer experience. Garage Flooring LLC is one such vendor and has become an authorized dealer for GhostShield. They offer the best pricing we have found for GhostShield products which includes free shipping as well as great customer service.
Click here for GhostShield Siloxa-Tech 8505 pricing
Click here for TL37densifier pricing
We recommend contacting them if you have any questions regarding quantity and application.
Is an oil repelling sealer for you?
Siloxa-Tek 8505 is an outstanding sealer that will provide the best protection of bare untreated concrete for a high duty garage floor or driveway. It will not change the look of the surface and it will retain the same slip resistant properties as bare untreated concrete.
If you don't relish the labor, concrete preparation, and cost for a quality garage floor coating, but worry about oil and other automotive fluids in your garage or driveway, then Siloxa-Tek 8505 makes for an excellent choice. Additionally, it is an easy DIY application that never needs to be reapplied again and has a 100 year warranty to back it up.
However, if you want something that is stain proof, or you are one to let oil and other spills sit for long periods of time before cleaning them up, then you may need to reconsider a film forming coating for your garage floor or driveway instead.