This post may contain affiliate links. If you use these links to make a purchase, we may earn a small commission. As an Amazon Associate, All Garage Floors earns from qualifying purchases. You can read our full disclaimer here.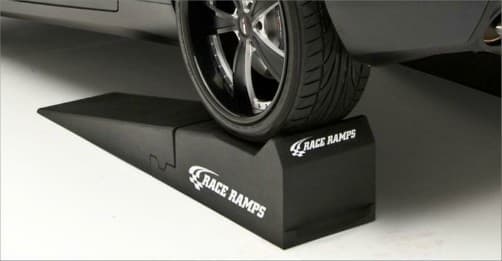 Finding the best car ramp to raise your vehicle higher off the ground for oil changes and other maintenance is important. It can make a big difference between having a reliable and functional ramp or one that you can't trust. As useful as they can be, it's important that you choose the correct one for the job. From low profile car ramps to heavy duty, we review the 5 best car ramps that you can use in your garage, driveway or workshop.
Additionally, we have included in our reviews some of the cons for each of these ramps as well as the pros. We have also included a low profile ramp for those who have cars so low that they can't get a jack underneath.
If you are not sure if car ramps are for you or not, we also have a great review of the top 5 floor jacks as an alternative to car ramps.
As an Amazon Associate All Garage Floors earns from qualifying purchases.
Top 5 Best Car Ramps
Rhino Ramps
First on our list is the Rhino Ramp. This is one of the most popular, basic car ramps that you can purchase today based on the sheer volume of good reviews it receives. It is also one of the best values due to the low price that these sell for.
Made of a plastic polymer, the Rhino Ramp has a 17° ramp angle and will lift your vehicle 6.5" off the ground. It has a rubber pad under the front of the ramp to help prevent slippage when you first drive onto it and they can handle tires with a tread contact patch of 9" in width. They are not the best ramp for low profile vehicles, however.
This is not the best produced video, but you do get a good idea of what Rhino Ramps look like and how they work with a vehicle driving up on them.
Available in a 12,000 pound GVW rating and a 16,000 pound GVW rating, they weigh only 16lbs and 18lbs for the pair respectively. Another nice feature is that they nest together to create less space for storage.
You can get the current pricing here for the 12,000 pound GVW ramp and find the current pricing here for the 16,000 pound GVW ramp.
As good a value as these ramps are, there are some things to consider when purchasing plastic ramps such as these.
The first is that these ramps can slip if used on a smooth surface such as sealed concrete or an epoxy coated garage floor. Most people find it helps greatly to place the ramps on an old rubber mat, bath towel, or cheap non slip rug liner to limit slipping when driving up the ramp.
Additionally, because they are made of a plastic polymer, these ramps can also get brittle. Edges can crack as they flex if used in extremely cold temperatures. There is also the very rare occasional report of a ramp collapsing for no known reason while under weight. Always use the proper safety precautions when using a car ramp.
Race Ramps
Next on our list is Race Ramps. Due to their extremely strong, light weight construction and seemingly endless options to choose from, Race Ramps have quickly become known as the premier car ramp of choice by automotive enthusiasts, car clubs, and racing organizations.
The reviews for these car ramps are stellar. The only real drawback about Race Ramps is their higher price point.
Made of a solid core design and constructed of high density expanded polystyrene foam (EPS), they are sprayed with a hybrid polyurea coating that improves strength and makes the ramps impervious to all automotive chemicals. This coating also makes the ramps extremely resistant to slippage. Race Ramps even claim they can be used on an icy surface without slipping.
These ramps are tested for catastrophic failure with double the max weight. Notice they are sitting on icy snow and do not move.
Race Ramps are extremely stable and impervious to collapse like some plastic ramps. They can be used on most any flat surface including grass, sand, and dirt and will accept most tire widths including truck tires. This is great for service work in a variety of conditions or just for the simple oil change.
As a great car ramp for low profile vehicles, their most popular models are the RR-56 single piece and RR-56-2 two piece ramps.
Did we say two piece? That's right! The two piece model allows you to remove the extended incline part of the ramp that you drive up. This creates access to the underside of your vehicle from the side without the ramp getting in the way.
The 56 represents the length of these ramps in inches and they will lift the car 8" off the ground with a single axle load rating of 3,000 pounds for the pair. You can get the current pricing here
on the single piece RR-56 car ramp and the current pricing here
on the two piece RR-56-2 car ramp.
This is a product overview of the various types of ramps and accessories that Race Ramps offer.
One available option that is very popular is what they call the Roll-Up Ramp. These are smaller ramps that will lift the other end of your vehicle at the same time to gain additional clearance for working under your vehicle. You can check these out here
.
As we stated, Race Ramps has a multitude of options for even higher lift ramps, trailer ramps, and show ramps.
Click here
to view their entire selection, including pricing with free shipping.
Besides the durable construction and the fact that the ramps will not slide when driving a car up onto them, the ability to remove the extended part of the ramp face is a popular option that has made Race Ramps one of the best car ramps to choose from today.
Mini Car Ramp
If you are looking for a simple low profile car ramp that is inexpensive or need one to create a pre-lift to get your car high enough off the ground to slide a jack underneath, then the Mini Car Ramp is our first choice.
Made of a heavy duty honeycomb plastic, this inexpensive ramp will lift your car 2.75" off the ground and provides for a curved wheel groove. Also a great ramp for seasonal storage, the curved surface helps prevent flat spotting tires when cars are stored for long periods. Plus, the low profile ramp angle helps to minimize slippage when driving onto the ramp.
If you have a car or truck that only needs a couple inches or so more clearance to change your oil comfortably, then this is a great ramp for that. However, if you need a low profile car ramp that will give you significant lift to get under the car, then this ramp is not the best for you.
Rated at 4,400 pounds single axle weight for the pair, these ramps are strong enough for most vehicles. You can find the current price here for these ramps.
As a note, remember that these are plastic ramps and do have some drawbacks when it comes to sliding on the floor.
Reinforced Aluminum Vehicle Service Ramp
If you are the type of person who doesn't believe in plastic or foam construction and doesn't mind spending more for a well-built ramp, then this aluminum 2-piece car ramp may be for you.

Manufactured by Rage Powersports, these aluminum car ramps will lift your vehicle 9.5" off the ground. That is generally plenty of room for oil changes and other maintenance. They consist of two separate stands that are 24" long by 16" wide and two removable ramps that are 73.75" long. The two ramps have a single axle weight load rating of 3,000 pounds.
Another nice feature is the low incline of 7.6° which makes for a great low profile car ramp that can lift your car as high as it does. The low angle also helps to keep the ramp from sliding as you drive up an onto it. Plus, being made of aluminum you don't need to worry about rust.
These car ramps are more expensive than most ramps due to their aluminum construction. However, you can get the current price here
 for these service ramps. These are definitely an investment that will last for years and years.


If you don't necessarily need the detachable ramp, Rage PowerSports also has an excellent single piece aluminum low profile ramp for less money.
These have a low 11.5 degree load angle over 66″. The wheel platform is 16″ square and lifts the vehicle 7″ off the ground. With a 3000lb load capacity, you can find the current prices here.
Aluminum truck service ramp
If you need a pair of reliable service ramps for a heavy truck, then the Rage PowerSports option pictured below is one of the best aluminum automotive ramps available.
Weighing in at only 64 pounds for the pair, these ramps will lift your truck 10.5" off the ground to provide plenty of clearance for oil changes and other service maintenance that your truck may need.
They have a load tested 7,000 pound single axle rating. The ramps are 16" wide to accommodate most any tire width and have a 21" platform for the tires to rest on.
Made of heavy duty aluminum these ramps are not cheap, but you can get the current price here.
Weight ratings for car ramps
When reviewing weight ratings or load carrying capacity of car ramps, it's important to understand what they actually mean. As an example, car ramps with a GVW weight rating and car ramps with a single axle weight rating mean two different things.
A GVW (gross vehicle weight) rating does not mean that the ramps will hold all that weight. It means that the ramps are designed to lift and hold up one half of a vehicle that weighs up to that much. In other words, a 12,000 pound GVW rating means the ramps will hold up to 6,000 pounds for the pair.
A single axle weight rating for car ramps means just what is says. As an example, a 3,000 pound single axle rating means that the ramp pair will hold up to 3,000 pounds safely.

Always keep in mind weight bias for vehicles as well. If you are lifting the front of a 3,500 pound front wheel drive car, you can almost guarantee that the front of the vehicle actually weighs more than the back.
Car ramp safety tips
Remember that safety always comes first when using car ramps. Never use them on an unstable surface and always set your brake and use tire chocks to prevent the car from rolling back off the ramp.
Unless you are using car ramps that cannot physically collapse, it's always wise to place jack stands, a tire with a board across it, or some other device underneath the vehicle to prevent injury to yourself or others should a ramp collapse with someone under the vehicle. We have an excellent review on the best jack stands here.
When driving up onto the ramps use a nice smooth throttle and never gun it if the car is not moving. This can lead to driving over the edge of the car ramps or even shooting the ramps back under the vehicle and damaging your car. Sometimes it helps to use your parking brake in conjunction with the throttle to keep the car from lurching forward.
Best car ramps review
From our own personal perspective, we were first introduced to Race Ramps for our car trailer. We have a car with low ground clearance that will not clear the trailer ramps at the front nor the angle at the top to clear the bottom of the car.
After a friend saw how we used a combination of wood blocks and 2 x 6's to extend and lift the ramps, he suggested the Race Ramp trailer ramps and we were impressed. We now have a set of car ramps and accessories from Race Ramps for working on that car in our garage.
We realize that car ramps are just a tool and most people don't want to spend a lot of money if they can help it. After all, they aren't something that most people use every day in the garage. However, when choosing the best car ramps for your vehicle, we recommend to always keep safety in mind and purchase the highest quality car ramps that your budget will allow.