To our Reader's: This post may contain affiliate links. If you use these links to make a purchase, we may earn a small commission. As an Amazon Associate, All Garage Floors earns from qualifying purchases. You can read our full disclaimer here.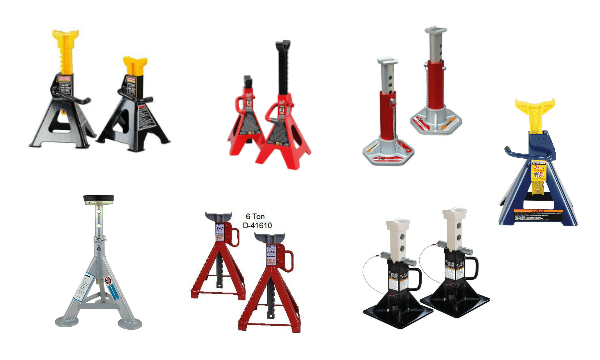 Jack stands are not a high tech piece of equipment that requires extensive reviews in order to pick the top one. However, there are some features and good values to look for when choosing the best jack stand to support your car, truck, SUV, or RV. Not only will it make working on your vehicles easier, it is important for your safety as well.
Substitute jack stands such as bricks, blocks, rocks (yes, we said rocks), cement pavers, and chunks of old wood should never be used. They aren't safe and can break while under load.
As a safety note; a car or floor jack should never be used as a jack stand. If a hydraulic seal or mechanical linkage were to fail under load, your car or truck could come crashing down upon you. There are far too many injuries and deaths each year due to jack failure without the safety of a jack stand.
If you are in need of a new jack, we have an excellent review of floor jacks here.
Are jack stands safe?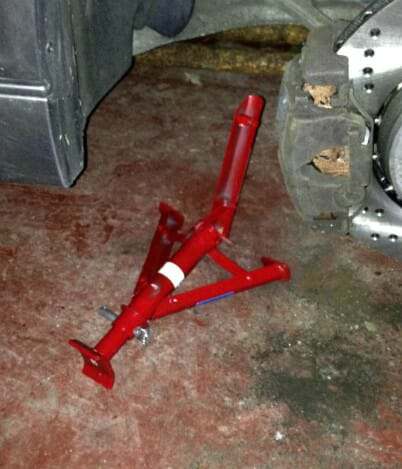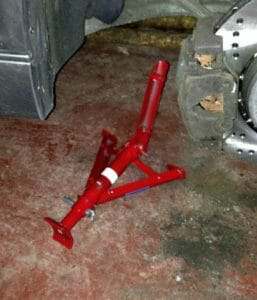 There was a time years ago when jack stand design was like the "Wild West" and manufacturers were selling stands that were not tested very well, if at all. They were hyped as premium quality jack stands.
If you were around people that worked on cars, there was always a story about someone being hurt from jack stand failure. Inferior materials, poor castings, thin gauge metals, or inferior design were all culprits.
Fortunately for the industry, testing, newer safety regulations, and far better design and materials have produced jack stands that are much better today than they used to be. Most injuries these days are from improper use of jack stands and not jack stand failure.
Jack stand design
Most jack stands are made of steel for both strength and economy. However, there are a few aluminum stands available that can have some advantages over steel if weight, corrosion resistance, or easy portability is important. Typically, steel jack stands are considered the best.
In terms of height adjustment, there are two basic designs that get the job done. Of these two, you have a choice of a ratcheting mechanism or the pin type adjustment.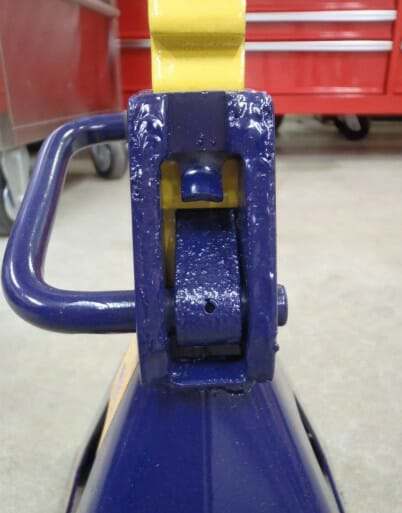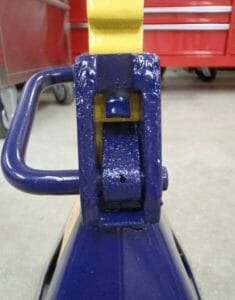 Jack stands with a ratcheting mechanism provide the quickest height adjustment as well as the ability to make the smallest changes in those adjustments.
The one concern that some people have with this design has to do with the rotating cam or pawl that wedges underneath the teeth of the main support post. It is generally held in place to the locking lever with a roll pin.
On rare occasions the roll pin and subsequent pawl have been known to rust and fail over time, disabling adjustment of the jack stand.
This is not a safety issue, however. Even if the roll pin fails, the design of the locking cam will not allow the support post to lower while under weight. It is a safety feature that is designed into the adjustment mechanism and has been used with success for decades.
Pin type jack stands use a high tensile steel locking pin that inserts through the support bar in order to hold it in place.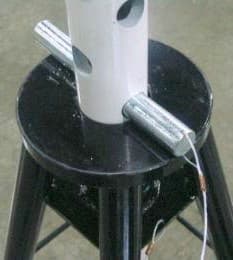 The pin will either rest in a saddle on top of the base of the jack stand or it will pass through a hole in the base and main support post.
Pin type adjustment for a jack stand is considered stronger than the ratcheting style and will not fail. This is why it is a favorite for heavy duty or high weight rated jack stands.
Though it's possible for the pin to bend slightly and make it difficult to pass through the hole, replacement of the pin is much less expensive than replacing the entire stand.
The only disadvantage with a pin type design is that you can't make very small adjustments in height in order to compensate for uneven floor heights or different support points under a car.
Jack Stand Weight Ratings
Contrary to some of the misinformation available about jack stand weight ratings, we want to make clear how jack stands are rated according to the most recent requirements.
The ASME PASE-2014 (Safety Standard for Portable Automotive Service Equipment) states that jack stands must be rated as a pair and not rated per stand. This became effective in late December of 2015. It also states: "Maximum load capacity per matched pair shall not exceed the rated capacity of the individual stand".
Separate from that, test standards require that each jack stand must be able to pass a proof load test of 200% of rated capacity for a minimum of ten minutes, with no more than 0.125" reduction in overall height of the jack stand. This is measured after removal of the load. This is actually a separate testing requirement from the rating standard as a pair.
Essentially, if a pair of jack stands is rated for 3,000lbs, then separately they must have a minimum rated capacity of 1,500lbs each.
Now that we know a little more about design and weight ratings, let's discuss which stands may be best for you.
The following is a list of jack stands rated best for budget, value, construction, and weight capacity. We have also listed which stands protect the finish of your garage flooring the best.
Keep in mind that a high majority of jack stands these days are made overseas in China or Taiwan in order to keep costs down. However, the quality in general is still very good in most cases. Though harder to find, we have also included jack stands made in the U.S.A. as well.
As an Amazon Associate All Garage Floors earns from qualifying purchases.
Best Budget Jack Stands
If you are on a budget and want to find a suitable jack stand for the least amount of money, then nothing really beats the price and performance of a set of Torin Big Red jack stands.
With an all steel construction and ratcheting height adjustment, these are the least expensive jack stands available that you can purchase and still feel confident about their safety.
They are available in 2-ton, 3-ton, 6-ton, and 12-ton load ratings based on your needs and they come with a 1 year limited warranty.
If you have a small car, you can't find a better deal on a pair of 2-ton jack stands for under $20.
The price was so good on these that we ordered a set of the 2-ton stands to test for ourselves on some of the smaller cars in our family. We were satisfied with the welds as well as the finish. They have been in use for over 2 years now without any issues.
One possible concern with the construction of this type of jack stand is the bottom of the legs. They are a 90 degree angle with a sharp bottom that can scratch garage floor coatings and other finishes if you are not careful.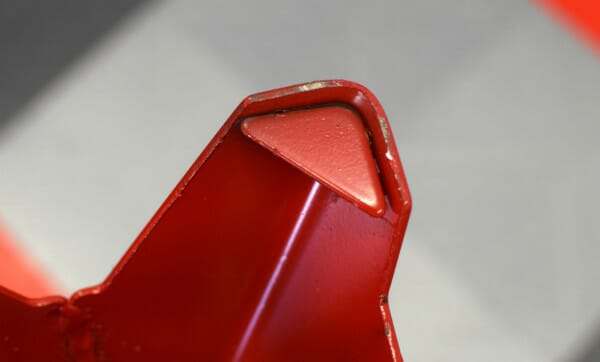 They will also sink into asphalt and dirt when under load, as well as leave permanent marks in pavement and other soft surfaces.
Torin also makes these same jack stands with a double locking option if you feel more comfortable with the added safety.They have an additional cutout in the top of the base to insert an angled pin under the teeth of the support post.
In the rare occurrence of a complete failure of the ratcheting mechanism, this pin will hold the support post in place under load. This pin should never be used separately if the ratcheting mechanism becomes defective.
Though they do cost a little bit more, the extra expense is worth the piece of mind if you are one to worry.
If your budget allows for it, one of the best values is the Craftsman 4-ton rated jack stands.
These are an all steel construction with a ratcheting height adjustment. They come with an attractive black finished base and safety yellow support posts.
With a 4-ton rating, these jack stands have a minimum height of 12" and a maximum height of 18". This height range and weight rating makes for a very versatile stand that can be used for small cars on up to standard sized trucks and SUV's.
Aside from the wide range of vehicles they can be used for, one of the best features of these jack stands are the foot plates that are welded to the bottom of each leg.
These plates spread the load much better than the Torin jack stands and will not sink into asphalt, dirt, wood, or other soft surfaces. They are also much easier on the finished surface of garage floor coatings and other concrete finishes.
Best Quality Jack Stands
One of the best quality jack stands that we have been using for years now is the ESCO 10498 3-ton jack stands. We have a full set of four that are our preferred stands to use. In fact, these are hugely popular with many automotive enthusiasts who work on their own cars.
The ESCO 10498 is an all steel construction, pin type jack stand with a tripod design. They come with a powder coated finish to resist rusting, instead of an enamel paint finish that is standard with most jack stands.
One distinct advantage to the tripod design is that they work very well on irregular surfaces. You will never have a problem of getting them to set flat like you can with a four legged stand.
Aside from the tripod design, the two main features of these stands which make them so popular are the removable flat rubber support pad top and the large round feet.
The flat rubber top works very well on unibody cars where it isn't always easy to find support points that will accept the standard V-shaped jack stand post. In fact, this is one of the best jack stands for pinch welds. The rubber also protects the paint and finish where it comes in contact with the vehicle. This is one of the many features where ESCO jack stands receive high praise.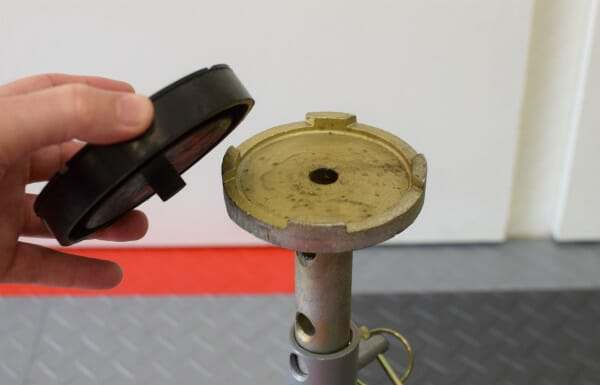 Removal of the pad reveals a nice round metal perch with four raised tabs to help secure round lift points or axles from sliding on the stand.
The flat round support feet are on a 12" base for better stability and provide a large contact area that distributes the load exceptionally well. This feature, along with the locking pin type design, make ESCO one of the safest jack stands available.
Unlike the typical sharp angle iron legs of most jack stands, these also work great on softer surfaces such as wood, asphalt, dirt, and even interlocking garage floor tiles.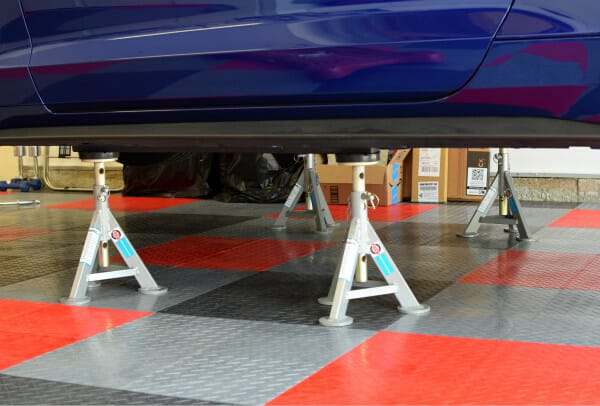 With a support height of 13"-21", these jack stands will work for a wide variety of vehicles. One thing to consider if you have a small car, however, is the minimum support height of 13". You will want to make sure that your current jack will lift the car high enough for these stands.
Also, be aware that the ESCO jack stands are sold individually and not in pairs.
Best aluminum jack stands
Aluminum jack stands are not as prevalent as their steel counterpart, but they can have their advantages. One of the best aluminum jack stands is the Torin Big Red T43004 Double Locking Aluminum model.
These aluminum stands are rated at 3-tons with a pin type adjustment. They have a minimum height of 10.75" and a maximum height of 15.5".
At a weight of just over 5 pounds each, they are easy to transport or stow away. And with a very attractive red anodized finish on the support columns, they would look good in any garage.
The column and support post of the stand use aluminum tubing while the support base is cast aluminum. They are shipped in pieces and require that you slide the red column into the top of the cast support base and attach it with the supplied screw. It's a simple process that only requires a screwdriver.
Their shorter height works very well for smaller cars and the pad on the support post is fairly flat which makes it easier to use on unibody cars. Because they have a larger flat bottom support plate, they distribute the load extremely well and will not leave marks in asphalt or other surfaces.
The advantage to these aluminum jacks stands is they will not rust if exposed to inclement weather. Because they are extremely light and compact, they make for easy storage in garage cabinets or other areas of your garage if you don't have a lot of room. They will also fit well in the trunk of your car.
Something to consider is that these stands may not be the best in terms of stability for use on surfaces that are not fairly level. Though the cast aluminum base is a hexagonal shape (much better than circular which can act like a wheel if tipped), it's still not as wide as most traditional jack stand bases that have a 3-ton rating.
One other note to make is that these are advertised as double locking. Apparently Torin considers the ball lock at the end of the pin that is inserted through the column and support post as a secondary lock. We find this misleading. If the pin were to fail (rare), the ball lock at the end of the pin would not prevent the support post from lowering.
Best American made jacks stands
US Jack Garage Stands are the only jack stands that are 100% made in America that we have been able to source. It is the brand that is used by the U.S. Military, Boeing, Snap-On, and Lockheed Martin.
These American made jack stands are of excellent quality and should be considered if they are within your budget.
Their 3-ton and 6-ton stands are the most popular. They are an all steel construction that features a double locking security system that utilizes two ratcheting pawls (instead of one) to lock in the support post.
The wide base uses heavy gauge stamped steel with a perimeter ring welded to the legs.
They are also the only manufacturer we know of that uses ductile iron support posts for a ratcheting jack stand instead of the more common cast iron posts. Ductile iron will bend without breaking whereas cast iron is brittle and will break when bent.
The 3 Ton D-41609 Garage Stands have a minimum height of 11" and a maximum height of 17.75". The base is 10"x10".
The 6 Ton D-41610 Garage Stands have a minimum height of 16.25" and a maximum height of 25.25". The base is 11"x11".
With exception to the ESCO 3-ton stands, US Jack Garage Stands have some of the widest bases available for increased stability.
The one issue we have with the base is the angle iron feet. For the price, these stands should come with a wider foot plate in order to avoid the issues of sinking into asphalt, soft surfaces, and damaging garage floor finishes.
What about Hein-Werner?
Hein-Werner is a jack stand that used to be made exclusively in the U.S.A. However, Hein Werner was bought a few years ago by the Shinn Fu Company of America, Inc. and the stands are no longer 100% U.S. made.
The box the stands are shipped in are labeled "Assembled in U.S.A" while the sticker on the jack stand says Made in the U.S.A.
So what the heck does that mean exactly?
After a little digging, we discovered that the jack stand base is made overseas and the cast iron support post is made in the U.S. The base is then shipped to the Hein-Werner factory in the U.S. where the jack stand is assembled (insert post in base) and boxed at the Hein-Werner factory and gets the aforementioned labeling.
Since there are very few U.S. made jack stands available, we felt compelled to list them. Their 3-ton jack stand has a minimum lift height of 12″ and a maximum lift height of 19″
The 6-ton Hein-Werner stands have a minimum lift height of 16.25″ and a maximum lift height of 25.75″
While the quality of the Hein-Werner jack stands is better than Torin, for example, the fact that this stand is only partially made in the U.S.A., yet marketed to make you think otherwise, leaves a sour taste in our mouths. The pricing is very good for what you get, however. We'll let you be the judge on this.
Best heavy duty jack stands
Last on our list is the best heavy duty or high weight rated jack stands for large trucks, SUV's, RV's, motorhomes, and other commercial vehicles. There are a few good options to choose from, however, based on their lower price and high quality we recommend the Omega 3225B Heavy Duty 22-Ton jack stands.
These stands are a beast. They are a pin type stand with welded heavy gauge all steel construction. The support post has a large V-shaped saddle to firmly support axles and frame rails.
The minimum height is 13.3" to a maximum height of 19.7", with a massive locking pin of approximately 1" in diameter.
They come with a convenient carrying handle and storage slot for the locking pin when not in use. With a 22-ton weight rating per pair, there isn't much you couldn't support with these stands.
Jack Stand Safety Tips
When you receive your new jack stands, be sure to inspect them right away. Don't wait until the first time you need to use them. Check the welds and make sure that all features work properly. If your stands have four legs, they should set even on flat ground.
If you have a ratcheting post stand, make sure all safety features work properly. Pull the post up to the highest setting and wiggle it back and forth while pushing down on it at the same time to insure it does not slide down. If there is a defect in the ratcheting mechanism it will generally show up here.
Most ratcheting jack stands have a tab near the top of the base that you can bend inwards once the support post is in place. Some have a cotter key that is pushed through the bottom of the support post. This will prevent the support post from pulling out should you pick up the stands by the post or hold the jack stand upside down. It does not affect the safety of the stands.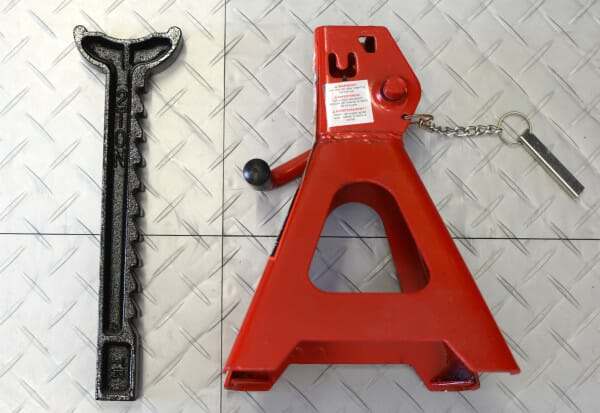 These tabs take a bit of effort to bend so we choose not to. It's up to you. We like to be able to pull the post out to inspect the ratcheting mechanism occasionally and bending the tab to pull the support post out is an annoyance. We just make sure to hold the stands upright by the base when carrying them.
If you have a pin type jack stand, make sure that the support posts slide freely within the column and that the locking pins fit properly through all the holes.
Be sure to consult your vehicle's user manual if you are unsure about the proper lifting points of your vehicle. Though a particular point may look strong, it's possible for that point to bend or even fail once the weight of the vehicle is lowered onto the jack stand. This is especially true for unibody vehicles.
Final Tips
If you are not sure that a jack stand is necessary for what you need or you are uncomfortable with using them, we have reviews on car ramps that can lift your car or truck off the ground instead.
When comparing jacks stands, the wider based stands are going to be more stable than narrow based stands. Always choose the wider base if you can. Also, support posts with a real deep "V" shape may work fine for supporting axles, but they do not work as well for unibody cars since the pinch welds and support points of these cars do not fit well into the deep recess of the post.
Remember that your safety depends on the quality of the jack stands and how you use them. Always buy the best jack stand that you can afford and never use a jack stand with a defect of any kind. Jack stands can be replaced, but your life can't.