This post may contain affiliate links. If you use these links to make a purchase, we may earn a small commission. As an Amazon Associate, All Garage Floors earns from qualifying purchases. You can read our full disclaimer here.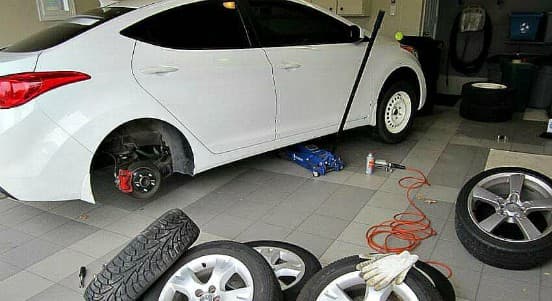 Choosing the best floor jack for your garage sounds simple enough — that is until you begin your search and quickly get overwhelmed by all the choices. There are smaller car jacks, budget floor jacks, low profile jacks, high-lift jacks, aluminum jacks, 2-ton, 3-ton, and heavy duty floor jacks just to name a few. So we decided to make things easier for you by narrowing down all these choices as we review the top 5 floor jacks based on your needs.
The jacks that we have listed are rolling hydraulic floor jacks designed for cars, trucks, and SUV's. Also known as trolley jacks for the rolling frame they are affixed to, these types of jacks are easy to move around your garage, driveway, or workshop and are known for being very versatile as well as stable.
One thing we want to note is that most floor jacks available today are made overseas. American made floor jacks can be purchased, but you will pay on average three times or more the price for one. While we would like to recommend American made jacks, it just doesn't make economic sense due to the fact there seems to be little evidence that such a jack performs three times as well and is worth that high a price for the average consumer.
If you are not sure that a hydraulic floor jack is for you or not, we also have an article on choosing car floor ramps that be of help for you.
For those of you who like a quick rundown of our choices, we have them listed in the following table. However, we do encourage you to read up on our complete evaluation of each jack, including the pros and cons, from our list below.
As an Amazon Associate All Garage Floors earns from qualifying purchases.
Top

Pro-Lift F-767 Grey Low Profile Floor Jack - 2 Ton Capacity

Prime

Eligible

Check Price

Top

Pittsburgh Automotive 3 Ton Heavy Duty Ultra Low Profile Steel Floor Jack with Rapid Pump Quick Lift

Prime

Check Price

Top

Arcan XL2T Black Low Profile Steel Service Jack - 2 Ton Capacity

Prime

Eligible

Check Price

Top

JEGS 80006 4000lb Low-Profile Aluminum Floor Jack Garage Car Truck

Prime

Check Price

Top

Powerbuilt 620422E Heavy Duty 4000 lb Triple Lift Jack

Prime

Eligible

Check Price
---
Best Budget floor jack
If you don't have much room to store a full size floor jack or you are on a tight budget, then it only makes sense to try and find a smaller floor jack that will meet your needs.
That is why the first jack on our list is the Pro-Lift F-767. This is a smaller, budget car jack with a 2 Ton lifting capacity, all steel construction, and a lower profile design.
It's primarily designed for small to medium sized cars and trucks, though it will work fine on larger vehicles. If you just need a jack for the occasional oil change, tire rotations, or changing out for winter snow tires, then this is a great choice for an inexpensive jack.
The smaller size makes for easier storage and it even has a convenient lifting handle for when you need to pick it up. At just 30lbs, it's fairly easy to store away or roll around the garage floor. This is also an ideal car jack for those that live in an apartment or condominium and only have a small amount of space to keep a jack.
One fact you may need to consider is that the smaller size reduces the total lifting height to 14". While this height works fine for most applications, some may find the height too limiting for larger trucks and SUV's.
Benefits and specifications
All steel construction for long life and durability
Lower profile design with a lift pad height of 3-1/2" to 14"
Bypass valve protects from over pumping
Easy lift handle for transporting
Great choice for a smaller garage, condo, or apartments
Low price
Lastly, a common question is the amount of effort required to lift a car since the jack is smaller and has a shorter pump handle. Well, we are happy to report that pumping under load does not create any extra effort. It just requires more pumps to lift your vehicle than the larger models do.
---
Best value floor jack
There are quite a few floor jacks to choose from in this category and is one of the reasons people tend to get overwhelmed when trying to make a choice. Finding the best value can be hard, particularly if you don't know what to look for.
We narrowed down the choices, however, and believe that one of the best floor jacks for the money is the Heavy Duty 3-Ton Low Profile jack by Pittsburgh Automotive.
This jack has many of the features that people look for in a hydraulic floor jack and it does it at an inexpensive price. In fact, we like it so much that our own family members have purchased three of these so far.
To start, it has a 3-Ton capacity which means it can lift large trucks as well as cars. It also has a very low profile design with the lifting saddle pad at only 2-7/8" and a maximum lift height of 19-3/4". It's one of the best low profile jacks available and it fits well under our lowered track car. The rapid pump dual piston design actually lifts cars fairly quick as well. Pittsburgh states 3-1/2 pumps, but we feel 4 full pumps is more accurate.
A feature that we really like is the extra-wide front steel wheels. This helps to keep the jack stable and spreads the load better if you are working on a softer surface such as asphalt or interlocking garage floor tiles. The all steel construction also makes for a very durable design. Though it is not a lightweight at over 70lbs, it's right in the ball park for a steel floor jack of this size.
Benefits and specifications
Low profile – Excellent for sports cars, lowered vehicles, or flat tires
Lift pad height of 2-7/8" to 19-3/4"
3-Ton lifting capacity – Great for both cars and heavy trucks
All steel construction with extra-wide front steel wheels
Weight – 74lbs
Dual piston rapid pump design
Meets 2005 ANSI/ASME Pald Standards
Universal joint release mechanism insures accurate control when lowering
Foam bumper pad on lower lift handle to protect vehicles
Great low price makes for best value
One quick note, the lifting handle is a 2-piece design which has turned out to be a benefit for when we need to transport the jack in the back of a car or in the storage compartment of the car trailer. The two handle pieces are no longer than the jack itself which makes it very convenient.
---
Best Low Profile Floor Jack with High Lift
Sometimes just having a low profile for a floor jack is not enough. The ability to get the jack far enough under the car to lift at a particular cross frame member can be an important requirement as well. Another requirement may be the ability to lift the vehicle high enough to place on tall jack stands — sometimes both.
This is why we list the Arcan XL2T 2-Ton low profile, high lift service jack as the best jack to meet these requirements. What makes the Arcan XL2T unique is the 32" reach that far exceeds most low profile floor jacks.
However, just having a long reach is only part of the equation. Arcan supplements this reach with a low profile trolley frame that allows the jack to roll far under the car. Most low profile jacks don't do this since the frame of the jack gets much taller a few inches or so past the saddle pad.
The results of this design is a 2 -3/4" lifting pad height that can lift as high as 24". This long reach creates an excellent jack for lifting exotic sports cars and lowered vehicles that require access to lifting points far under the car. It also makes for convenient lifting of trucks and SUV's where you need to roll the jack far under the vehicle to reach lifting points that may require a higher than normal lift height.
Benefits and specifications
32" long reach, low profile design with a high lift
Lift pad height of 2-3/4" – 24"
Extra-Wide front steel wheels
All steel construction for long durability
Weight – 97lbs
Dual piston rapid pump design
Meets ASME Pald 2009 Standards
Universal joint release mechanism insures accurate control when lowering
Foam bumper pad on lower lift handle to protect vehicles
Great value for a low profile, specialty floor jack
As a note, do not confuse the Arcan XL2T long reach jack with the Arcan XL20. The XL20 is a standard sized floor jack that does not have a high lift and long reach. It also has a taller lift pad height of 3-1/2".
---
Best aluminum floor jack
Aluminum floor jacks have slowly been gaining in popularity. Though more expensive, they are well-liked by the performance car crowd who frequently participate in autocross, drag racing, and other high performance driving events.
Their weight savings make for easier transport and most perform just as well as their all steel counterparts. Plus, we have to admit the fact that some of these aluminum jacks are just damn good looking.
Our choice for the best aluminum floor jack is the Jegs 2-Ton service jack. At just 49lbs it's one of the lightest jacks in this group. It comes equipped with convenient side handles for easy lifting when transporting, plus a two piece pump handle for easy storage in the back of a car or storage compartment.


The dual piston rapid pump design makes for quick lifting with a rubber protected saddle pad to protect from scratches to the underside of the vehicle. It's constructed of thick aluminum for stability and strength, including all steel front wheels and rear casters.
Though the weight savings advantage for garage use doesn't have that big an impact, it can be very convenient if you need to store the jack someplace other than on the garage floor.
Benefits and specifications
Light weight at only 49lbs
Thick aluminum construction for added durability
2-Ton lifting capacity
Lower profile design with lifting pad height of 3-1/2" to 19-1/2"
Dual piston rapid pump design
Safety valve prevents overloading
Universal joint release mechanism insures accurate control when lowering
Rubber padded lift saddle to protect underside of vehicle
Two piece pump handle with foam bumper pad
Best value for an aluminum floor jack
We recently purchased this jack for easier transportation in a car trailer after numerous friends of ours referred us to the use of aluminum jacks. We have to admit that it's an impressive looking jack and very well made.  At 33lbs lighter than the 3-Ton Pittsburgh Automotive floor jack that we have been hauling around, it's definitely a welcome addition and has performed flawlessly to date.
For those that feel they need a heavy duty aluminum floor jack, Jegs has a 3-Ton version of this jack with all the same features as well.


It weighs in at only 58lbs for a 3-Ton jack and gets tremendous reviews by those who have purchased it.
---
Best multi-use floor jack for vehicles, ATV's, and motorcycles
Sometimes a traditional floor jack just isn't enough to get the job done for some people. In these cases, a multi-use floor jack that can also lift ATV's and motorcycles in addition to cars and trucks can be a better choice.
If you find yourself in this category, then the Powerbuilt Heavy Duty Triple Lift Jack is the best multi-use jack since it does all that and more.
Besides the great reviews for this jack, what makes it unique is the large, flat padded platform that is affixed to the lifting arm. This platform makes for a functional lifting pad for motorcycles, ATV's, transmissions, differentials, lawn tractors, and more. Just lift out the saddle pad and it's ready to go.
With a 2-Ton lifting capacity, it has a minimum lift pad height of 6" with the saddle pad in and 5-1/2" with the saddle pad out. The max lift range is 17-1/2" with the saddle pad in and 17" with it out.
Another great feature to this jack is that the all steel design also includes a safety lock-out pin that will hold the jack in place and eliminate the need to use jack stands. Plus, it has built in tie-down loops over the rear casters. This allows you to use tie-downs when securing a transmission, differential, or motorcycle to the large lift pad.
There are some things that you need to be aware of, however, with a multi-use jack such as this. The design does not allow for a low profile so it may not fit under some smaller vehicles and sports cars. The max lifting height of 17-1/2" may not be high enough for tall trucks and SUV's as well and should be considered.
Benefits and specifications
All steel design with a 2-Ton lifting capacity
Lift pad range of 6" to 17 1/2"
Weight – 85lbs
Removable saddle pad
Large padded lift platform is 12" long by 9-3/8" wide
Built in tie-down hooks over rear casters
Locking safety bar eliminates the need for jack stands
Meets or exceeds ANSI standards
Great low price
Also, because the large lifting pad is permanently affixed to the lifting arm, the width of the jack may prohibit using the saddle pad on some lifting points on the sides of a vehicle when accessing them from directly in front or behind the vehicle.
---
Hydraulic Floor Jack Maintenance Tips
The first think you want to do when you receive your new floor jack is to properly bleed or purge the system of air. Air can sometimes be introduced into the system during the assembly, shipping, and transportation of the floor jack and could potentially cause it to fail while under load.
The process is simple and your instruction manual should describe it step by step. It usually just requires opening the release valve by turning your jack handle counter clockwise, then remove the oil fill plug with a screwdriver, and then pump the handle up and down ten times or so. Reinstall the fill plug and you are ready to go. Even though it's new, checking the oil level at this time is advisable as well.
Periodically inspect your jack, including the oi level. Jack fluid can be purchased from your local auto parts store, home improvement center, or here on Amazon. Keep the hinge points and wheels of your jack well lubricated and check for loose nuts and bolts. Some jacks even have Zerk fittings for this. Always use a heavy grease and not oil.
Never use your jack as a jack stand. More people have been hurt due to jack failure without use of a supporting stand. We have reviews of the best jack stands here if you need a set.
When transporting a jack, always open the release valve. Never transport it on its side or upside down. Doing so can cause air to enter the closed system and cause jack failure when lifting.
Finally, keep your jack clean and store it in a dry environment. It will last longer and make it easier to inspect or notice leaks.