This post may contain affiliate links. If you use these links to make a purchase, we may earn a small commission. As an Amazon Associate, All Garage Floors earns from qualifying purchases. You can read our full disclaimer here.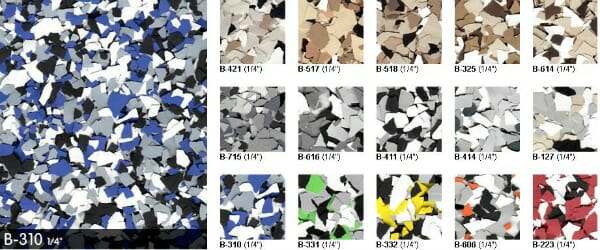 Often referred to as color flakes, color chips, or epoxy paint chips, these little explosions of color can help create some beautiful custom garage floor coatings with just a little creativity. Besides some distinct advantages to using them, they also tend to create a lot of questions about color combinations, floor coverage rates, the size of the flakes, and how to apply them.
Editor's note: This article was originally published in June, 2013. We have updated it for accuracy and to reflect current trends.
In order to avoid some of the typical confusion that occurs with this topic, we discuss what color flakes are made of and answer some of the more common questions that you may have. In addition, we specify when you may not want to use color flakes at all.
What are Vinyl Color Flakes
Known in the industry as decorative vinyl color flakes, they are actually polymer paint aggregates made up of a combination of acrylic and vinyl resins. This combination creates a thin flake that is 4 – 5 mils in thickness. They are U.V. stable and are available in over 150 custom colors. They can even be custom color matched.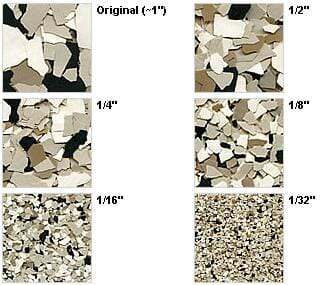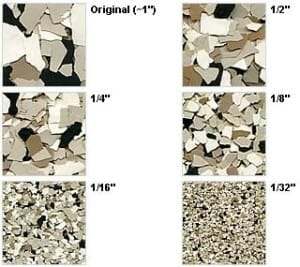 The shape of the flake is random and is available in sizes from 1" in diameter all the way down to 1/32".  The 1/4" flake is the most common size used in garage floor coatings.
Colors are blended together to create a particular look and then applied at a coverage rate that is determined by you. Typical coverage rates are light, medium, heavy, and full refusal.
Full refusal is when you apply the color flakes until the entire floor is covered and they will not stick anymore. One advantage to full refusal color flakes is that you can custom design your garage floor to almost any color combination you like.
As a tip, it's always wise to err on the side of caution and get a little more flakes than what you think you may need when purchasing them.
One thing to keep in mind when determining your color choices is the base color coat of your floor. Grays and tans are the most common base floor colors, but you can do off whites and other colors as well. If you are doing a garage floor to full refusal, it's still important to keep the base color coat in the same color tone range as the color flakes.
Light coverage – requires .002 lbs per sf.
Medium coverage – requires .01 lbs per sf.
Heavy coverage – requires .04 lbs per sf.
Full coverage – requires .15 lbs per sf.
Keep in mind these industry numbers are approximate and results can vary with application. We always recommend having extra on hand in case you run short.

Besides the obvious advantages of custom color combinations, color flakes also provide some sound deadening qualities and hide sub-surface imperfections in your concrete depending on how much flakes are applied. This means spider cracks and concrete patch work are less likely to show through the epoxy coating when using a heavy application.
In addition, vinyl color flakes are also flexible and strong. When applied to full refusal, they will add a minimum of 5 mils of thickness to your floor, improving both the durability and impact resistance of the surface.
Lastly, unlike epoxy they are U.V. stable. If you apply them to full refusal on an epoxy coating and then clear coat with a U.V. stable polyurea or polyurethene, you will never experience ambering (yellow tint) from exposure to direct or strong indirect sunlight.
There are some examples where you may not want to use color flakes. If your garage is used primarily for working on cars or other projects that may involve smaller parts such as nuts, screws, springs, cotter pins and etc, a coating without flakes is the preferred option.
The reason for this is that all those flakes tend to camouflage and hide these small parts. When dropped on the floor, you can spend quite a bit of time hunting the part down among the background of flakes. A garage floor coating with no flakes provides a solid color that makes it easy to find small parts.
Torginol is one of the leading manufacturers and distributors of color flakes. They can be purchased directly or through most garage floor coating companies and vendors. They offer an overwhelming selection of colors and sizes to choose from. Our recommendation is to view their Signature Collection to get a good idea of what color combination you may like.
Most of their selections are a three or four color blend. This has proven to be the optimal number of colors that provide the best combinations that are pleasing to the eye. With so many combinations to choose from, it's generally easiest to choose a predetermined blend. However, you can experiment with your own custom color blends if you like.
Torginol actually has very cool custom color designer. Just click on the garage floor image you like and then click "Color Flakes". You can then choose to design your own blend on the right. They even offer the option to upload your own image of your garage floor to experiment with.
When doing your own blend, we recommend picking a dark color and then a light color to start with. Black and white is a good example. Pick a medium color for the third or forth option and then experiment with the blend ratios.
Just remember that flakes blend well when looking at them from a height of 5′ – 6′ instead of less than 2′ from your computer monitor or cell phone.
How to Apply Vinyl Color Flakes
When applying a garage floor coating yourself, the color flakes are always applied immediately after the application of the base color coat of your epoxy coating. You want to start application within 10 minutes of the final back roll while the coating is still soft and tacky. This allows the flakes to slightly sink into the coating in order to achieve a good bond.
Once the flakes have been applied, it's very important to apply a clear top coat. The top coat is what locks in the color flakes and protects the color coat. A thinner top coat will provide some texture to a heavily flaked garage floor while a thicker top coat will create a smoother surface without as much texture.
One thing to keep in mind: though you may have some surface texture from a thinner top coat, it will not increase the anti-slip properties much more than what a smooth surface provides.
Additionally, home improvement store DIY garage floor kits only provide enough color flakes for a light coverage rate. This is because they do not include a clear top coat in their kits. Anything more than a light coverage results in flakes peeling up in high traffic areas when a clear coat is not used. If you want more flakes, you will need to purchase them separately along with the proper clear coat.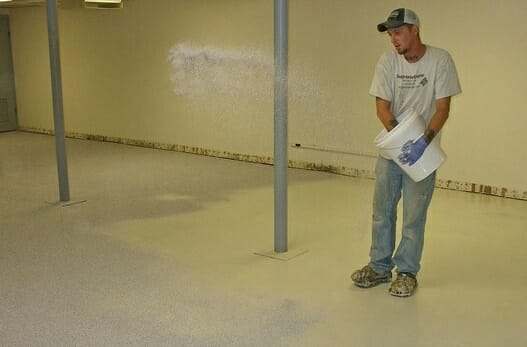 Color flakes being applied to full refusal – Photo courtesy of Supreme Crete
The most common question that people ask is; "What is the best method for applying color flakes"?
The most effective method is to place them in an empty bucket and then grab a small hand full at a time and toss them high into the air like you are feeding chickens. They should be close to bouncing off the ceiling. This allows for the flakes to disperse much better as they arc up into the air and then land back down on the coating in a nice and even dispersal.
The best way to practice your particular coverage rate is to toss them onto your clean concrete floor before you apply the epoxy. Do a small section to get the hang of it and then sweep them back up.
If doing your garage in sections, we highly recommend dividing your flakes up into equal amounts for each section. This will prevent over application of the first sections without enough left over for the remaining sections.
Do not toss the flakes directly at the floor! This will create dense areas of flakes that spread out in a "V" shaped pattern and are very hard to correct for.
If you are applying the flakes to full refusal, use a slightly modified method of not tossing them as high, but with larger handfuls of chips. You can work rather fast this way making sure you cover the entire floor.
If applying flakes to full refusal, you will need to remove all loose flakes that did not adhere to the floor. You should have quite a bit that were not able to reach the coating to stick. If you don't, there will be problems with bare spots. Once done, sweep and then vacuum up the loose flakes. After that you will need to scrape the surface to break off flakes that are clumping in piles or sticking straight up in the air.
The easiest way to do this is to tape a 10" steel drywall taping knife to the end of an extension pole used for rolling. Keep the angle fairly shallow and push the scraper like you are sweeping a floor. You will not scrape the coating if enough flakes were applied. Once you are done, sweep again and then use a shop vac over the surface.
Because the surface is rough and irregular, the shop vac does a good job of pulling up any remaining loose color flakes. We even recommend using the plastic floor attachment of the shop vac as a final scraping tool as you go. Don't fret about getting every last color flake. What you don't get will become part of the top coat.
Tip: Some people recommend using a leaf blower to gather the remaining chips to a corner for easy pick up. This works fine, but use an electric leaf blower, not gas. Gas blowers can drip and blow solvent contaminants onto the floor that will create fish eyes in your top coat.
If not applying flakes to full refusal, you will still need to lightly scrape the flakes in order to break off any that are sticking up in the air at funny angles.
We like using a 10″ plastic drywall taping knife instead of a metal one like the full flake floors. In addition, apply a strip of duct tape across the edge as extra precaution to prevent scratching since the epoxy will not have fully cured yet.
Once the flakes have been scraped and cleaned up, you are now ready to apply the clear coat.
Now that you know how to use color flakes for an epoxy floor, have fun choosing your colors and the desired affect that you want. Whether you are applying your garage floor coating yourself or hiring a contractor to do it, you can feel confident in knowing that you chose the right color flakes and coverage rates for your taste.