This post may contain affiliate links. If you use these links to make a purchase, we may earn a small commission. As an Amazon Associate, All Garage Floors earns from qualifying purchases. You can read our full disclaimer here.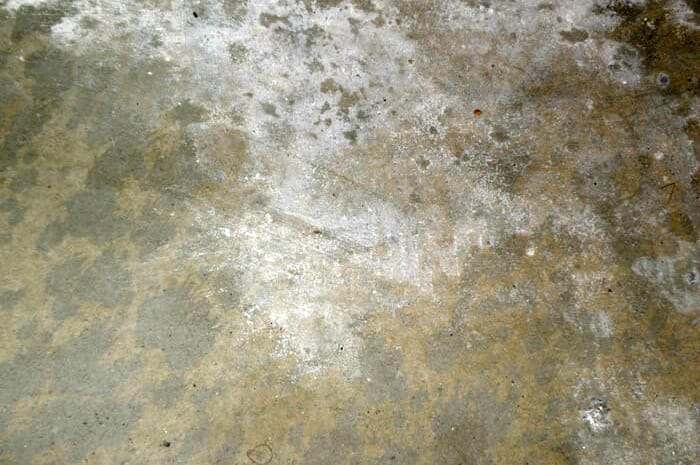 How much moisture does your concrete transmit? This is an important question that needs to be addressed before you decide to apply epoxy or paint to your garage floor or basement. If you are unsure, then you need to perform a simple moisture vapor transmission (MVT) test at the surface of your concrete before a coating is applied. Your coating, as well as your hard work, may be destined to failure if you don't.
As hard and dense as concrete seems to be, it is actually very porous. Moisture beneath the slab will permeate to the surface of the concrete. Because coatings such as epoxy are impermeable and do not breathe, water vapor and moisture can't pass through the coating. The build up of this moisture under the coating can cause it to peel or delaminate. Though paint will breathe, anything greater than light moisture vapor will cause paint to peel as well.

For slabs that are below grade, hydrostatic pressure can develop if moisture transmission is blocked. This pressure can be strong enough to pop chunks of concrete along with it if a high performance epoxy or coating has been applied.
Your concrete may already show signs of moisture issues and you don't even realize it. If there are any areas of your garage floor or basement that always seem to have a white powdery residue that comes back after cleaning, then you most likely have efflorescence. Efflorescence is created when moisture travels through the concrete, condenses and evaporates, and then leaves a residue of calcium hydroxide (white powder).
If you have an area of your concrete or garage floor that always seems damp, then this is a sign of moisture problems as well. This can sometimes be the caused by leaky pipes or drains under the slab or poor drainage from the perimeter of the slab.
So, where does this moisture come from? In simplified terms, the porosity of concrete causes it to act like a sponge. If the ground that your slab was poured on is naturally damp due to climate or other factors such as water drainage or irrigation issues, then your slab will naturally draw in moisture from the ground.
If the surrounding air at the surface of your slab is drier than what is underneath, then the moisture that your slab has collected will be transmitted to the surface of your floor as it tries to equalize. This reaction can be enhanced if your slab was poured below grade. In other words, lower than the surrounding earth.
How to moisture test concrete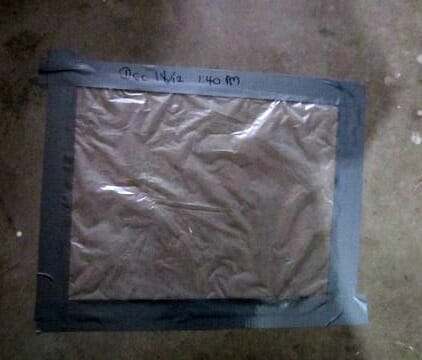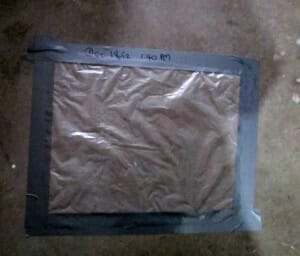 The easiest way to determine if you have moisture that transmits through your concrete is to test for it. A simple way is to perform the ASTM-D-4263  Plastic Sheet Test. You can do this simply by cutting a 16"x16" piece of plastic sheeting and taping down the perimeter with duct tape to the surface of your garage floor.
After letting it sit for 24 hours, peel it up and look for any condensation on the underside of the plastic or look for a dark spot on the surface of the concrete. Water on the underside of the plastic or a dark spot on the concrete is created from moisture. If none exists, then you should be fine. If you do have moisture then you will want to do a calcium chloride test to see how much moisture you have.
Great information on how to perform a calcium chloride test as well as check your concrete's PH level.
A calcium chloride test is used to determine exactly how much moisture you have emitting from your concrete. This is done by placing a pre-weighed petri dish of calcium chloride on the slab an then covering it with a sealed plastic container. After a predetermined amount of time, you remove the petri dish and re-weigh it. Once you determine the weight difference, you generally can enter the results on the manufacture's website or look it up in an included pamphlet.
Calcium chloride moisture test kits can easily be purchased here at Amazon. You will also need to purchase an inexpensive digital gram scale if you do not already have one. You can find them here at Amazon as well.
As long as your results are less than 3 lbs of moisture flow per 1000 square feet per 24 hours, then you will be safe to apply most coatings.
If your results are higher than that, then you will need to consider applying a moisture blocking sealer or moisture blocking epoxy primer before coating your garage floor. Of course there is always the alternative of deciding on a different garage flooring option.
One important factor you need to be aware of is that a moisture test many times is only indicative of the current conditions. In other words, you may not have any moisture at all if you are testing during a period when there has been little rain in your area of the country. It is best to test during the wetter part of the year when possible moisture issues would be most prevalent.
Of course, if your slab is above grade, doesn't show any signs of moisture, and you live in a fairly arid part of the country, then doing a moisture test is most likely not necessary.
Just remember, of all the things that need to be considered before you decide on an epoxy coating or paint for your garage, determining if you have a moisture issue is the first step. It's easy and fairly quick to do and can save you from the disappointment and anguish of a failed floor coating.