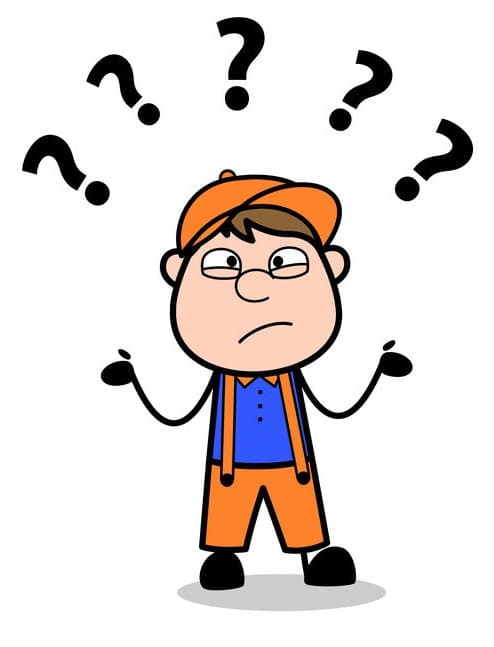 "Why do I have to etch new concrete for a garage floor coating? After all, the concrete is new and shouldn't require etching, correct?" These are some of the most common questions we get from those who want to apply epoxy or a DIY garage floor coating kit. This happens after reading the application instructions. If you are not that familiar with concrete coatings, then we can understand why the question of etching would come up.
The short answer is: Yes, even new concrete needs to be etched before applying epoxy or a similar type of garage floor coating.
Etching is part of the concrete preparation process. In fact, proper preparation of the concrete before a coating is applied is the most important part. Poor concrete prep is the leading cause to epoxy floor coating failure.
Also known as concrete surface profiling (CSP), the process of acid etching opens the pores of the concrete and creates a rougher surface. This is needed due to the viscous nature of epoxy and other coatings. They are very thick in consistency – much thicker than paint for example.
This thickness does not allow epoxy to penetrate into the surface of concrete very well. Nor does it allow it to create a strong mechanical bond. When the pores of concrete are opened up and the surface is made rougher, epoxy and other garage floor coatings will penetrate into the concrete and create a tenacious bond with the surface as it cures.
New concrete can restrict penetration of epoxy even more than older concrete does. The reason for this is that the surface has been freshly troweled smooth. This creates even less mechanical grip and access to the pores at the surface.
Concrete surface profiles are often referred to in the industry as CSP. A number assigned to the CSP dictates the actual profile or roughness of the surface. You can see magnified examples of CSP profiles in the chart below.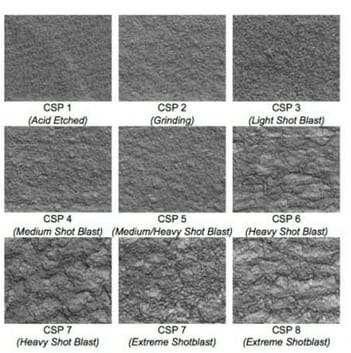 The majority of garage floor coatings require a minimum surface profile of CSP-1. This can usually be achieved by etching the concrete. Some of the thicker industrial coatings may require a minimum CSP-2 profile. This can only be achieved through grinding of the concrete.
Is grinding better than etching? Grinding will always create a rougher and more desirable surface profile. However, many garage floor coatings and DIY epoxy kits can do well with etching if it is done properly.
Cleaning the concrete surface of dirt, oil, and other contaminants before etching is important as well. Oil in particular will not allow epoxy or other garage floor coatings to penetrate into the concrete. In addition, acid etching will not remove oil.
If you attempt to apply a coating over an oil stain that was not cleaned properly, the oil will actually repel the coating. It will create what is known as fish eyes. These are crater-like openings in the coating that begin to form after the coating has been applied.
Important to note is that you need to match the strength of the concrete etching product you use with what the manufacturer or vendor recommends. Not all concrete etching solutions are created equal.
For example, a citric concrete etch typically is included with the lower performing DIY garage floor coating kits that you can purchase from your local home improvement center. Also known as a "Clean & Etch", these are Eco friendly and safe for the environment.
Nevertheless, this particular type of citric acid etch is also the least effective at etching concrete for coatings. They tend to work well enough in most circumstances for these epoxy kits. Most of these kits are low in solids content (not as thick) and do not require as rough a surface profile. However, you would not use this type of product for a higher quality coating.
Acid etching is the best for providing a true CSP-1 surface profile of your concrete. However, muriatic acid is not Eco friendly and requires taking the proper steps to be safe and successful.
If acid etching is not for you, there are safer etching alternatives. These are stronger than what you can find at your local home improvement center.
Are there garage floor coatings that don't require etching?
Once it's discovered that etching of the concrete is required for a garage floor coating, a typical question follows up. "What coating can I use on my garage floor that doesn't need etching?"
The answer is almost none. However, Rust Bullet is one manufacturer that makes a garage floor coating that you can apply without having to acid etch the concrete.
Their decorative option is called DuraGrade Concrete. The more industrial looking version is Rust Bullet for Concrete.
Before you get too excited though, pay close attention to the water absorption requirements. The concrete needs to pass this test before Rust Bullet Concrete or DuraGrade can be applied. If the concrete is too smooth or does not absorb water very well, then you will still be required to rough sand or etch the concrete surface.
Before Rust Bullet introduced itself a few years back, there were no traditional garage floor coatings to speak of that did not require etching or grinding of the concrete. And to our knowledge, there have not been any others to choose from since.
The simple fact of the matter is that the manufacturers of concrete coatings know there is not a substitute for proper concrete prep. If you don't want issues with your garage floor coating peeling, then etching will be required.
In short, if you want to take advantage of the many benefits of a quality garage floor coating, then there is no getting around the fact that proper concrete prep is required. You will need to etch your concrete at a minimum before applying epoxy or a similar coating to your garage floor.
To our Reader's: This post may contain affiliate links. If you use these links to make a purchase, we may earn a small commission. As an Amazon Associate, All Garage Floors earns from qualifying purchases. You can read our full disclaimer here.