This post may contain affiliate links. If you use these links to make a purchase, we may earn a small commission. As an Amazon Associate, All Garage Floors earns from qualifying purchases. You can read our full disclaimer here.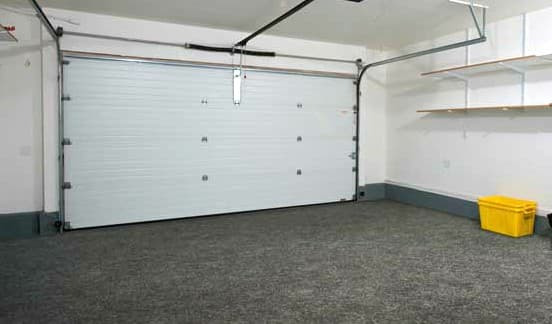 Finding a relatively inexpensive solution to keeping your garage floor clean and dry can be a challenge. It is for this reason that we decided to review the Drymate garage floor mat. If you need a mat that can absorb water, collect dirt, mud, oil drips, and generally help to keep your garage floor clean, then see why the Drymate mat may be the solution for you.
The advantages of garage floor mats are plenty and the Drymate mat is no different. They typically install in minutes, they protect the finish of your garage floor, they cover cracks, and they hide unsightly oil stains as well as other cosmetic issues with the concrete. The Drymate mat, however, offers additional benefits that most other garage floor mats do not have.
Benefits of a Drymate Garage Floor Mat
So, what makes a Drymate mat different from other garage floor mats?
The main difference is with the mat materials and construction. Unlike other garage floor mats that are made of heavy polyvinyl, the Drymate garage floor mat is made of fabric. It is constructed of 50% recycled fibers and has a waterproof bonded backing that the fabric is attached to.

With a thickness of just over 1/8", the result is a mat that is much lighter than polyvinyl mats. Weighing in at just 17lbs for the largest size, it makes for easy installation and repositioning, if necessary, for cleaning.
The waterproof bonded backing serves two purposes. First, the rubberized texture of the backing helps to keep the mat adhered to the surface of your garage floor in order to reduce slipping of the mat. Second, it doesn't let fluids like water and oil leak through to the surface.
The fabric of the mat has a texture similar to felt and can hold up to five times its weight in liquid. This is a big advantage over traditional garage floor mats. Because it absorbs liquids so well, it does a good job of preventing them from running onto other areas of the garage and making the floor slippery.
If you live in an area of the country that has high rain fall or light snow during the winters, this can mean the difference between a wet slippery garage floor and one that stays relatively dry and slip free. In fact, the Drymate garage floor mat was originally developed and is manufactured in the Midwest for just this purpose.
If the mat begins to become too saturated, just use a squeegee to push out most of the water. This will help the mat to dry out much quicker.
One important note to make; if you receive medium to heavy snowfall you would do much better with an actual winter containment mat instead. Heavy snowmelt from vehicles can overwhelm the capacity of the Drymate mat.
Drymate fabric garage floor mat uses
Additional benefits include stain resistance as well as mold and mildew resistance. The mats do a good job of trapping dirt and other debris that is tracked into the garage by your vehicle. This can be a nice benefit for those with an attractive garage floor finish. It actually helps to keep your entire garage and floor clean.
It also does a good job of absorbing oil and will not break down from exposure to petroleum products. This is excellent for oil stain protection as well as safety. If you have a vehicle that leaks a lot of oil, however, we would recommend a special oil absorbing mat instead if you are considering the Drymate mat specifically for this purpose.
Besides being water absorbent, an often overlooked benefit of a fabric mat is that they absorb sound. Your garage will lose some of that hollow resonance that a concrete floor can create.
One other additional benefit that we found when reviewing the Drymate mat is that it provides a softer and more inviting look, similar to carpet, and can actually provide a thermal barrier from cold concrete. This is one reason why you see the occasional carpeted garage floor.
If you are the type of person that has always liked the idea of carpeting for your garage floor, then this mat may be just what you need. Concrete floors are hard and a fabric mat just feels better under foot as well as bare feet. They also do well for laundry rooms.
Since the mats are not real thick, they are easy to cut to fit with a sharp utility knife or construction scissors. This will allow you to fit the mats to the contours of your garage floor and lay them edge to edge.
For a more permanent fit you can adhere the edges and seams with a special double sided carpet tape, but it will limit your ability to easily roll them up and take outside to clean.
Cleaning the mats is fairly easy. Vacuuming works well for general dirt and debris. For more thorough cleaning jobs, just roll them up and take them outside to hose down on your driveway or lawn. They will clean right up with soap and water and are lightweight to move. You can even use a pressure washer on a lower power setting with a fan tip.
Drymate mat sizes
The Drymate garage floor mat comes in two standard sizes. You can choose from 7'.4"x 7' or 7'.4"x20'.
They also have a smaller specialty size of 7'4"x8' for motorcycles, ATV's, and golf carts, as well as a runner mat size of 29"x 8'.
Where to Purchase Drymate Garage Floor Mats
Some of the best options you can find on the Drymate garage floor mats are here from Amazon. They provide excellent shipping as well as an easy to use return policy. Be sure to check stock as these mats are very popular in the winter month.
How does Drymate compare to the Armor All Fabric garage floor mat?
This is a popular question that we tend to get as Armor All has a very similar mat to the Drymate mat. In fact, it's the same mat!
Armor All Fabric Garage Floor Mats
RPM, Inc. is the company that both manufactures and distributes product for Armor All® Protective Mats and Drymate® Surface Solution Products. These are the same mats, just marketed under different names.
Amazon tends to have more sizes for the Armor All fabric garage floor mats over the Drymate mats. Check here for the current pricing of the Armor All mats.
What we don't like about Drymate garage floor mats
When we reviewed the Drymate mat, one of the first things we noticed when unpacking it is the wrinkles you get when it is first laid out on the garage floor. This is due to the way the mat has to be folded to fit in the shipping box.
Fortunately, we found that these wrinkles will disappear in a short amount of time, particularly in warmer weather. It also helps to lay the mat out in the sunshine first if you can. If you receive the mat in the winter time, it's best to keep the box in the house for 24 hours to warm up before you unpack it in the garage.
The Drymate mat also had a tendency to bunch up it you turn the steering wheel of your vehicle when it is not moving. This is due to the flexibility of the fabric construction and the light weight of the mats. Make sure that the vehicle is rolling first before you make any large turns of the wheel and you should be fine.
Cleaning the mat is generally fairly easy, but we have found that some debris can be hard to completely remove from the mat. Pine needles, for example, or prickly leaves tend to stick to the fabric and sometimes need to be picked off by hand. Metal shavings from hacksaws can be hard to remove as well.
Be aware that if you have a garage floor coating or painted garage floor, the rubberized backing can sometimes stick to the surface of the coating. Paint has been known to peel off the garage floor and stick to the mat. If you have a coating or paint with a slightly tacky feel, then the Drymate mat should not be used.
Final Verdict
The Drymate garage floor mat, as well as the Armor All mat, is definitely a good solution for those looking for a low cost alternative to keeping your garage floor clean and dry. They really do work well for light snow fall, rainy climates, and general dirt collection from your vehicles and tires.
However, one thing to keep in mind is that a fabric mat solution like this will not last forever. These are not a heavy duty garage floor mat. They will eventually wear out and need replacing. How long they last is also dependent on how busy your garage floor traffic is.
The Drymate mats are relatively inexpensive, easy to clean, easy to install, and you can just roll them up and take them with you if you move.